7 Days of Pie: Frank Fat's banana cream pie is a Sacramento classic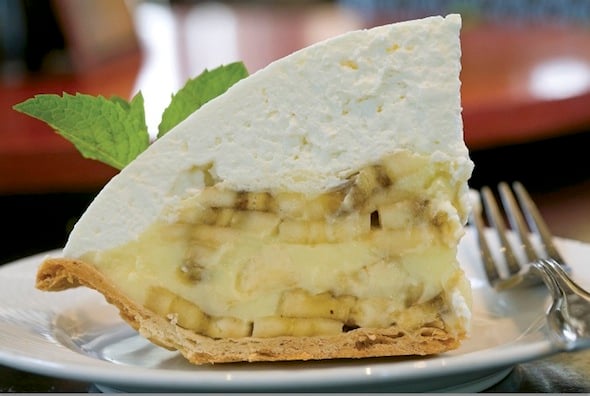 Fall is here, and Thanksgiving is right around the corner. If you're looking for just the right dessert to take to your holiday gathering, share with the office or just enjoy at home, we have you covered: Every day this week, we've been dishing out highlights from the region's seasonal bounty of pie, from pumpkin to pecan to fruit and beyond. Today, the final entry of the series features what is arguably Sacramento's most famous dessert.
THE PIE: Banana Cream Pie, from Frank Fat's
WHY IT'S SPECIAL: After 75 years downtown, the iconic restaurant makes its famed banana cream pie from scratch daily, using virtually the same recipe conceived by founder Frank Fat and his original chef in the 1940s. Loaded with freshly sliced bananas and rich custard inside a buttery, flaky crust and topped with a cloud of creamy, fluffy whipped cream, it is easy to see why the dessert is regarded as Fat's—and possibly Sacramento's—quintessential dessert. (Their chocolate cream pie is no slouch, either.)
CHEF NOTES: "Every year, it's getting more popular, and I think that's because our banana cream pie [in particular] is very light and not overly sweet," said Lina Fat, former executive chef of the Fat's Family of Restaurants. "Instead of people feeling heavy after a long meal, they leave refreshed."
COST: $23
WHEN TO ORDER: For Thanksgiving, order by Nov. 25 at 5 p.m.
WHERE TO FIND IT: Frank Fat's. 806 L St. 442-7092. Also available at Fat's Asia Bistros in Roseville (1500 Eureka Rd.; 787-3287) and Folsom (2585 Iron Point Rd., 983-1133). fatsrestaurants.com
Also in Sactown's 7 Days of Pie
Day 1: Lemon raspberry meringue pie at Tower Café
Day 2: Spiked pecan pie at Karen's Bakery and Café
Day 3: Pumpkin pie from Selland's Market-Cafe
Day 4: Apple buttermilk pie from Abel's Apple Acres and ollalieberry pie from Sweetie Pie's
Day 5: Harvest brew pie from An Honest Pie, apple pie from Ikedas, and gluten-free pumpkin pie from Flour Garden
Day 6: Perfect pear pie is in season at Freeport Bakery