Choose Your Own Adventure
Sacramento, class is in session. Whether you want to learn how to surf or sail, fly-fish or fly a plane, craft a cocktail or a cocktail table, we've found teachable moments all over town. Got skills? Here are 50 fun ways to add more arrows to your quiver (literally--our how-to list includes archery lessons). Let us edutain you!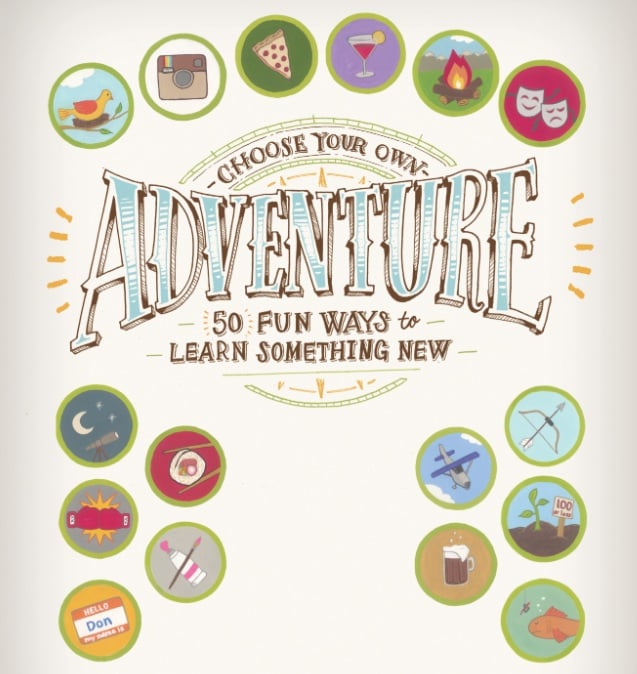 Run Away with the Circus
Looking to elevate your exercise routine? Aerial Evolution turns you into a fitness high-flier. First-timers should try "Aerial Silks 1" or "Aerial Conditioning & Flexibility," both of which are offered two to three times a week at $15 a pop. While the conditioning class is like a circus-style TRX workout, the silks class is your entrée to altitude. In it, you'll rise a foot off the floor and twist upside down. After about two weeks of regularly attending classes, you'll be prepared to ascend 10 feet in the air. The gravity-defying moves might be intimidating to the uninitiated, but Aerial Evolution owner and operator Matt Wright vows that if you can do downward dog, you can soar on silks. "It's just a really fun workout," he says, adding that, literally, "an hour flies by." $12-$15. Multiple locations. 245-0284. sacaerialevolution.com
Paddle into the Sunset
Dip your toes into water sports by taking Sacramento State Aquatic Center's "Sunset Paddle" kayaking classes. Held on select Fridays from March to November at Lake Natoma, the sessions give you access to the waters in the Sierra foothills at a time when other types of boats are prohibited, leaving you to paddle in peace and tranquility. No worries if you've never picked up an oar. Prior experience isn't a prerequisite. You'll start at the boathouse to receive basic kayaking and safety instruction before climbing into a single or double kayak for a two-and-a-half-hour guided tour along the lake's wooded shoreline to Texas Hill, once home to a Gold Rush mining camp. Keep your eyes peeled for deer and Canadian geese, especially when you slip into a lagoon tucked near Mississippi Bar. If you're interested in additional aquatic activities, the center offers different strokes for different folks, from canoeing lessons to sunrise stand-up paddleboarding outings. $30. 1901 Hazel Ave. Gold River. 278-2842. sacstateaquaticcenter.com
Earn Your Spurs
Horse around at Shadow Glen Riding Stables, a facility located in the Gold Fields District of the Folsom Lake State Recreation Area that provides lessons and trail rides seven days a week. You can learn equine essentials in tutorials such as "Intro to Horses," which covers grooming, saddling and bridling, or "The Works," which features a preliminary riding orientation. Once you're comfortable in the saddle, you'll be chomping at the bit to hit the miles of pristine nearby trails that extend as far away as Squaw Valley and share the same paths gold miners traveled more than a century ago. You can even ride off into the sunset during special outings that boast spectacular views of neighboring Lake Natoma's shimmering waters. Intro to Horses: $70. The Works: $100. 4854 Main Ave. Fair Oaks. 989-1826. shadowglenstables.com
Gain Insta-fame
Whether you already speak in hashtags or just want to step up your social media game, bring your smartphone to midtown's Outlet Coworking complex for "Instagramming with the Pros." During the three-hour session, UC Davis communication professor Nik Palomares, local photographer Will Thompson and social media specialist Faith Lopez (who runs Visit Sacramento's popular Instagram page and was named one of Italian Vanity Fair's top 10 Instagrammers to watch in 2013) will show you tips on how to gain Instagram followers (they have 160,000 among them), using cool photo-editing apps, social media etiquette, and how aperture and shutter speed apply even to iPhones. During the last hour of class, you'll put your newfound skills behind the phone camera to the test with an "Instawalk" outside. $39. 2110 K St. eventbrite.com
Editors' Note: This lesson is no longer being offered. Please check the class website for updated information.
View Galaxies Far, Far Away
You don't need to be a rocket scientist to investigate the mysteries of the final frontier. "Explore the Night Sky," a six-week course taught by Don Machholz, an amateur astronomer who has discovered 11 comets, at Sierra College's Grass Valley campus in the spring and fall (next class begins Sept. 29), examines awe-inspiring phenomena, planetary movements, constellations and features like star clusters and double stars. You'll also get ample observation time—greatly aided by the relative lack of light pollution in Nevada County—to practice navigating the night sky with telescopes, binoculars and the naked eye. Put your astronomical knowledge to work at Machholz's so-called "star parties," which take place when once-in-a-blue-moon celestial events occur, such as Mercury's transit across the sun on May 9. $89. 250 Sierra College Dr. Grass Valley. 781-6280. sccommed.org
Master the Art of Small Talk
Become a small-talk sensei with a personal coaching session with Robert Scherer, owner of Sacramento's Dale Carnegie franchise. During these classes, Scherer instructs students on key strategies for making a good first impression, and how to engage a stranger or acquaintance in thoughtful conversation—including asking open-ended questions (such as "How do you balance work and life these days?" or "What do you like about your job?") and answering questions like "What do you do?" with a response that will continue the dialogue. For more in-depth study, Dale Carnegie offers eight-week courses that cover subjects like how to better remember names and facts, and ways to develop more confidence under pressure. Armed with newly acquired talking tools, you'll be winning friends and influencing people in no time. $400 per hour for personal coaching; $1,795 for eight-week course. 929-3911. sacramento.dalecarnegie.com
Cross Your T's and Dot Your I's
Penmanship is a lost art. Find it again at a lettering workshop taught by Rosaura Unangst, a Sacramento-based calligraphy and watercolor artist whose Pigment & Parchment wedding stationery has been featured in Spanish Vogue. She covers the basics of pointed pen calligraphy such as angling your hands correctly to perfect the loopiest letters and mixing ink colors. If you want more ways to put pen (or paint) to paper, check out Unangst's other classes, including "Watercolor 101," "Watercolor Florals" or "Hand Lettering," and let your fingers do the talking on your next thank-you note. $50-$125. West Elm at The Fountains. 1198 Roseville Pkwy. Roseville. 705-0782. pigmentandparchment.com
Channel Your Inner Bear Grylls
Sierra College's "Wilderness Survival Techniques" seminar will toughen up any city softie. Jeff Adorador, who teaches real search-and-rescue teams and put his own survival abilities to the test living in a teepee for three years, explains how to meet basic needs while you're off the grid and demonstrates crucial skills, such as building a fire and purifying water. Dress comfortably because much of the class, which is offered in the spring and fall semesters, takes place outside in a small wooded area by the school's Rocklin campus. You'll be getting your hands dirty erecting temporary shelters and foraging for foods like miner's lettuce and blackberries, and by the end of the all-day, seven-hour session, be well equipped to answer the call of the wild. $89. 5000 Rocklin Rd. Rocklin. 781-6280. sccommed.org
Fly the Friendly Skies
Soar over the capital city during an introductory flight lesson with Captain Augustine Joseph, owner and founder of JetExe Aviation based at Sacramento Executive Airport. The veteran airman began his career in the Indian Air Force in 1984 and opened Sacramento's Advance International Aviation Academy flight training school in 2013. Last year, Aircraft Owners and Pilots Association ranked it among the top 10 flight schools in the nation. The hour-long private lesson begins with a briefing on how a plane operates. Once you're filled in on the mechanics, you're ready for takeoff (well, technically Joseph handles the ascension and landing, but you'll take the lead once you reach cruising altitude) in either a Cessna or Remos single-engine lightweight aircraft for a taste of what it's like in the cockpit and to get a bird's-eye view of Sacramento sites, including the State Capitol, Tower Bridge and the forthcoming Golden 1 Center. $149. 6273 Freeport Blvd. 421-6756. jetexe.com
Bake a (Pizza) Pie
Napoli Culinary Academy may stand on a strip-mall-heavy stretch of Fulton Avenue in Arden-Arcade, but inside it boasts a charmingly kitschy recreation of a Naples street scene, from faux laundry lines to Chianti-bottle décor. That reflects owner Hassi Sadri's professional devotion to Naples' most famous culinary product: pizza. Sadri, who founded the nonprofit cooking school-cum-restaurant 19 years ago, is the head judge for the International Pizza Expo in Las Vegas, and he passes on his pizza expertise—like how not to tear the dough and how to cook pies in home ovens—to students in popular classes that are offered Wednesdays through Sundays (including a "family night" kids' class on some Saturdays), complete with dough-tossing. But it's not all pizza: The school also offers classes in Italian fare and wide-ranging international options such as Filipino and Persian cookery. In the classes, students watch a demo and then get in the kitchen to prepare a feast—which they then consume for a lavish meal. Buon appetito! $100. 1401 Fulton Ave. 971-0600. napoliculinaryacademy.com
Create a Glass Menagerie
Playing with fire isn't frowned upon at Rainbow Glass in Carmichael. In fact, it's standard practice during the shop's glassblowing classes held every second weekend of the month. In a back studio sits a kiln that heats up to 2,100 degrees and is insulated with material developed by NASA's Apollo program. Phillip Teefy, who owns Rainbow with his wife Hazel and studied under legendary glass artist Dale Chihuly, has been teaching glassblowing for nearly 40 years. Things will start to sizzle as you learn how to gather, inflate and shape molten blobs and transform them into translucent tumblers, vases and bowls. Now, that's what we call a glass act. $119. 4556 Auburn Blvd. 483-3843. rainbowglass.org
Become a Speed Racer
Prepare for life in the fast lane at K1 Speed's Karting Academy at the Rancho Cordova racing center. Led by professional driver Patricio Jourdain, who has raced in NASCAR Mexico and Spain's Formula BMW, the one-day course revs you up with classroom sessions and a track walk-through reviewing racing concepts like extreme accelerating and braking, and taking tight turns. Then, buckle up for four practice sessions on the raceway with one-on-one feedback from Jourdain. Reaching speeds of up to 45 miles per hour, these aren't worn-out carnival go-karts—the high-performance electric vehicles have 20-horsepower motors. Zoom zoom. $99. 3130 Bradshaw Rd. 368-7223. k1speed.com
Quiet the Mind
Is your mind more cluttered than your hall closet? You might want to try TM. If you're a David Lynch fan, you probably know what that abbreviation stands for. For the uninitiated, it's transcendental meditation. Lynch, who launched a foundation to implement TM programs around the world, isn't the only celeb sold on the practice. Oprah Winfrey, Hugh Jackman, Ellen DeGeneres, Jerry Seinfeld and others tout its benefits, which reportedly include reduced stress levels, more energy, lower blood pressure and improved memory. In a nutshell, TM is a silent meditation technique practiced for 20 minutes twice a day utilizing a mantra to calm a person's thoughts until he or she transcends thought entirely to reach an inner stillness. Learning the method begins with attending a free introductory talk with Natomas-based instructor Bruce Saunders, which covers how transcendental meditation works and why it's unique in the field of meditation. (The full training process takes place over four sessions lasting about an hour each, and costs $240 per meeting.) "Whereas other forms [of meditation] rely on control where you are performing an exercise to try to rid the mind of thought that occurs on the surface level of the brain, TM utilizes the nature of the mind so it naturally takes us deep within," says Saunders. Free for intro talk; $960 for the subsequent sessions. 570-2121. tm.org/sacramento
Create a Selfie-Portrait
Decades before the age of the selfie, Andy Warhol understood the power of documenting—and often deconstructing—one's own image. The Pop Art megastar chronicled his life in Polaroid pictures that fixated on his face. Tap into his selfie-referential genius by taking Crocker Art Museum's "Create a Selfie, Warhol Style" class that culminates with you transforming a digital selfie into an acrylic painting. For inspiration, the course kicks off with a tour of the Crocker's new Warhol exhibit (which includes portraits of stars like Judy Garland and Sylvester Stallone) and continues with lessons given by local artist Patris Miller, who instructs you in basic painting techniques and assists you in rendering your visage on canvas. After this brush with fame (or at least the famous), you'll be able to transform any ordinary selfie into a potential #masterpiece. $90-$115. 216 O St. 808-1182. crockerartmuseum.org
Editors' Note: This lesson is no longer being offered. Please check the class website for updated information.
Go Hog Wild
Farm-to-fork may be part of Sacramentans' dining DNA, but Taylor's Market owner Danny Johnson and meat department manager Paul Carras have made it their mission to teach patrons the missing link between the pasture and the plate with their "Butchering 101" series. At the introductory "Basic Butchering Principles and Techniques" class on Oct. 22 or Nov. 29—which will feature hogs from Stone Valley Farm in Alamo or cattle from Richards Grassfed Beef in Oregon House—you'll learn knife theory (i.e. how to handle one) and the value of different cuts of meat from T-bone to tenderloin. After class, fill up on a complimentary lunch from Taylor's with deli items like sandwiches or spaghetti. $40. 2900 Freeport Blvd. 443-6881. taylorsmarket.com
Blow the Blues
If the thrill is gone from your musical hobbies, put your money where your mouthpiece is. Sacramento legend Mick Martin—who has played blues harmonica for more than 50 years, hosted the Capital Public Radio show Mick Martin's Blues Party for 25 years, and shared stages with the likes of Jimmy Smith, Bo Diddley, Mick Taylor and Freddie King—has honed methods that will transform you from a harmonica novice to ace in four lessons. Come prepared for these Sacramento Learning Exchange classes by bringing a Big River or Golden Melody 'C' harmonica. (Martin recommends a Hohner Big River variety that has plastic separators between 10 air holes.) You'll learn the history of blues music, how and why certain sounds are made, the right way to inhale and exhale (fun fact: the harmonica is the only reed instrument that emits notes with inhales), and two playing techniques (tonguing and lipping). "I've devoted my life to promoting the blues," Martin says. "I love keeping the genre alive." $99. 1111 Howe Ave. 929-9200. learningexchange.com
Get into a Sticky Situation
Well-known Sacramento artist Danny Scheible, creator of Tapigami—surprisingly elaborate and sophisticated sculptures formed entirely from humble masking tape—has taught seminars in his homegrown tape techniques at places like Pixar Studios and the Exploratorium in San Francisco. But he'd never taught regular classes here, and he feared he was losing touch with his local community. Great news for those who've admired (or wanted to contribute to) his mobile, ever-growing "tape city" installation: As of January, Scheible has started offering weekly Saturday and Sunday workshops (for both kids and adults) at his Curtis Park studio. He demonstrates and coaches students on the ingenious base for all Tapigami sculpture (the trick? Rolling tape into a long, sticky-side-out tube), after which students learn how to make objects like flowers and animals. In the future, Scheible hopes to expand to evening classes at local breweries. $40. 2500 Sutterville Rd. 838-3132. tapigami.com
Roll a Cigar
Earn each puff of a stogie at Art of Cigars, a Folsom lounge that holds "Cigar Rolling 101" classes every few months. The three-hour sessions commence with a short video and orientation, and are followed by a demonstration by teacher Marvin Ruiz, a torcedor (cigar master) from Nicaragua. Afterward, Ruiz helps you carefully craft a cigar to your taste. Every student goes home with at least five freshly rolled ones, and you can add to your assortment from the lounge's selection of hard-to-find boutique and local cigars like the moonshine-infused Gold Country Cigar, made in-house and speckled with glimmering 24k gold. $80. 330 Palladio Pkwy. Folsom. 358-9112. artofcigars.com
Take the Plunge
You can't dive to great depths without first conquering shallower waters. North Sacramento's Dolphin Scuba Center preps you for deep-sea excursions in fish-free confines with its "Intro to Scuba" class. One Saturday a month for three hours, a certified scuba instructor leads a group of 10 to 12 students to a 45-foot by 28-foot, 8,000-gallon indoor swimming pool that's heated to a balmy 92 degrees. There, you'll be thoroughly educated on each piece of scuba equipment, including the mask, fins, snorkel, air supply monitor, buoyancy control device, and a vest that reduces the pressure of the air coming from the tank for easy breathing. Future underwater explorers will also learn emergency tactics, such as getting water out of a filled mask and sharing air with a dive buddy. $80. 1530 El Camino Ave. 929-8188. dolphinscuba.com
Make Your Own Furniture
Join the maker movement by warming up to woodworking at "Sawdust 101," a beginners' class that takes place over 16 hours on weekends. Dugan Essick, who teaches carpentry classes out of his Grass Valley home, begins with a tour of his 2,800-square-foot shop that he built himself. Next, he trains you how to safely wield tools such as table saws, band saws, spindle sanders and cordless drills before you embark on constructing a step stool, caddy or chopping board. Essick provides the wood as well as thoughtful oversight, and you provide the skills. "I have people come in who have never made anything before," says Essick. "I want them to learn that they can make anything." $285. 15087 Lost Lane. Grass Valley. 530-264-6062. essickwoodworkingschool.com
Become a Spin Doctor
Drop a beat at the "Groove University" course taught in the UC Davis Experimental College by Mike Cagley, aka DJ Destiny, a former Sacramento Kings disc jockey who has performed with acts like Ginuwine and Mos Def. The popular six-week course gets you up to speed on the basics of the art form, and the different skills in a DJ's toolkit, including elements of mixing, scratching and music theory. You'll also hear insights from guests like Sleeprockers, a Sacramento-based DJ group, and get hands-on practice with professional-grade software and equipment like analog and digital turntables. $90. 1 Shields Ave. Davis. 530-752-1990. ecollege.ucdavis.edu
Weild a Mighty Sword

Cross swords during the basics classes offered at Davis Fencing Academy, owned by Simon Pitfield, a London-born UC Davis graduate with a master's degree from the French Academy of Arms. Occurring five days a week, the sessions educate beginners about the three weapons used in fencing: foil, a balanced blade that favors neither the attacker nor the defender; épée, a rigid sword that favors the defender; and saber, which is lightweight and most attack friendly. Novice fencers are also taught commands, such as "advance" (move toward your opponent) and "extend" (elongate the weapon-holding arm), and how to move correctly in a manner that Pitfield describes as a crab-like shuffle. Each month, instructors focus on a particular aspect of fencing like feints (maneuvers) or parries (the four different ways to block an attack). En garde, prêts, allez! $60 per month. 2121 2nd St. Davis. 530-758-7087. davisfencingacademy.com
Make a Maki
Stop, chop and roll your way to becoming a sushi master at Mikuni's "Sushiology" classes, where you'll step behind the scenes with the popular restaurant group's chef-owner Taro Arai. At "Sushiology 1A"—held next in the Roseville location on Oct. 12 and 26—learn the history of sushi, which dates back to the ninth century, and make temaki (hand rolls) and inside-out uramaki (e.g. a California roll). Or head to "Sushiology 1B," which next takes place on Nov. 9 at Mikuni in Roseville, to build some of the local chain's original creations (such as the Fair Oaks roll), as well as find out how to select the freshest fish ("The eyeballs have to be clear," counsels Arai) and adroitly dip the sushi knife in water to cleanly slice fish. At the end, your edible masterpieces become your meal, accompanied by beer, sake and appetizers like crispy gyoza. Plus, with a take-home kit that includes a bamboo mat and sushi knife, you'll always be ready to roll. $65. Locations vary by class. mikunisushi.com
Cook Farm-Fresh Meals
Find your farm-to-fork footing at private, in-home cooking classes led by chef Laura Kenny, a local food advocate who co-wrote the popular cookbooks Placer County Real Food and The Art of Real Food. For the full locavore experience, your group can start at the Auburn or Roseville farmers' market, where Kenny will introduce you to regional farmers and offer tips on selecting seasonal ingredients. Armed with fresh produce, you and the gang will then head to your kitchen, where you'll prepare a rustic, multicourse meal together—sample dishes include seared scallops with a Meyer lemon relish, roasted romanesco, citrus vanilla crème tartlets or strawberry trifles. Home eat home. $45-$65 per person (additional $10 for farmers' market tour). 530-906-3215. realfoodcaterer.com
Steam a Wow Bao
Expand your kitchen horizons by turning baos, which have been a staple in Chinese cuisine for 18 centuries, into a star at your dinner table. Sally Wu, an instructor at the Confucius Institute at UC Davis, reveals how the steamed buns go from dough to dish in an evening class put on by Sacramento Learning Exchange. The session begins with a quick tutorial on the ingredients, including a filling containing chicken, mushrooms and bamboo shoots. Students then practice rolling and pinching the dough to construct buns and encase the contents. While the dumplings cook in a stainless steel steamer for 12 minutes, Wu discusses the history and legend of bao—for example, it's believed a Chinese general dreamed up the savory treat as a diversionary military tactic. Then it's chow (bao) time. $45 (plus $15 for materials). Lulu's Commercial Kitchen. 701 16th St. 929-9200. learningexchange.com
Editors' Note: This lesson is no longer being offered. Please check the class website for updated information.
Perform Feats of Clay
Get some hands-on art training and maybe even spice up your love life a bit at MyStudio's couples pottery class called "The Ghost Experience" (the title is a playful nod to the sexy pottery scene in the 1990 romantic drama Ghost starring Demi Moore and Patrick Swayze). The studio's owner and teacher Lisa Johnson starts off with basic tips on technique—including how to center the clay and "throw the bowl" on the wheel—and then stands back as you mold your clay into a decorative bowl (to be glazed weeks later). And no, you won't share a wheel like Demi and Patrick did, but feel free to exchange furtive glances if you must (keep your hands on the wheel, people). "The couples who have the most fun are those who can embrace the process rather than the outcome," Johnson says. Even if your bowl would be laughed off Pottery Barn's shelves, this hour-long date experience is far more hands-on than your standard dinner and a movie—even one starring a shirtless Swayze. $30 per couple. 2325 J St. 476-4121. mystudiosacramento.com
Become a Vino Virtuoso
Amateur oenophiles can drink in knowledge (and plenty of vino, too) at "Demystifying Wine & Wine Tasting," a first-ever Sacramento Learning Exchange class taught by Owen Smith, director of winemaking for Mendocino County's Redwood Valley Cellars. The interactive seminar (Smith encourages questions) begins with the basics, like what wine is and how it's made. Then Smith goes further behind the label by delving into topics like wine vocabulary, the cause of disparity in bottle prices, the role of oak and the science of developing great wine. The evening ends with tastings of various varietals like grüner veltliner, a European white wine. $49 (plus $25 for materials). 1111 Howe Ave. 929-9200. learningexchange.com
Editors' Note: This lesson is no longer being offered. Please check the class website for updated information.
Watch a Hawk Like a Hawk
The first indication that you'll get up close and personal with a raptor at West Coast Falconry comes via a stern warning after you book an introductory falconry class: Do not, the email states, wear anything with fur or feathers. Master falconers Kate Marden and Jana Barkley introduce participants to their beautifully trained, majestic hawks, owls and falcons and to the ancient sport of falconry, which has been fascinating people ever since its first mention in the 4,000-year-old poem Epic of Gilgamesh. Only six falconry centers in the U.S. are licensed to let amateurs handle their birds; one, West Coast Falconry, occupies a peaceful valley outside Marysville, where the birds can take wing and hunt. The school offers a full range of classes (on weekends, Fridays and Mondays), from a basic falconry experience, in which participants don the traditional leather glove and learn to call a Harris hawk, to the longer, more scenic "Hawk Walk" excursions. All include plenty of insider information about raptors and training them—and the promise that you'll get nose to beak with what Marden calls "the 'it' birds of the 21st century." $60-$350 per person. 10308 Spring Valley Rd. Marysville. 530-749-0839. westcoast-falconry.com
Fear No Beer
Sacramento's ongoing craft-beer renaissance has seen new breweries and biergartens open around the region, beer bikes roll down the streets of midtown, and suds flow at local beer festivals year-round. The boom has also proven to be an educational do-it-yourself opportunity, with more and more adventurous hopheads trying their hands at home brewing. Shops like The Brewmeister make it easy to get started, offering classes for beginners who learn everything from when to drop hops into your boiling brew (hint: the earlier you add them, the more bitter the beer will be) to crucial sanitization standards (after all, you wouldn't want wayward bacteria to ruin your fermentation) and the proper way to bottle, carbonate and store your final product. While you don't need to buy materials to take the class, if you want to take what you've learned home, costs can add up quickly—a beginner's equipment and brewing kits will set you back as much as $350. However, the lesson is invaluable, and the more beer you make, the more the savings add up—one batch can make for at least a month's worth of happy hours. We'll drink to that. $25. Multiple locations. shopbrewmeister.com
Build a Lego City
Coloring books are making comebacks for adults. Why not Legos? That's what Davis Arts Center executive director Stacie Frerichs thought when she created "Connecting With Legos," a series that gives the titular toy building blocks the grown-up treatment. Students taking the classes, which are taught by Lego experts at Play-Well TEKnologies, work together in small groups to assemble 4-foot-tall plastic structures inspired by worldly locales. Mesoamerican temples are on the syllabus for February and, as an extra incentive, the classroom will be stocked with chili-infused chocolate from Latin America. The curriculum for March includes building Japanese pagodas as well as snacking on sushi and sipping sake. Next, can we agree to reinstate naps? $50. 1919 F St. Davis. 530-756-4100. davisartscenter.org
Editors' Note: This lesson is no longer being offered. Please check the class website for updated information.
Create a Garden of Eatin'
How does your garden grow from decorous to delicious? Find out during Redwood Barn Nursery owner Don Shor's "Easy Edibles" class, which familiarizes you with consumable plants that thrive even if you have the brownest of thumbs. During the two-hour seminar, which is hosted by UC Davis Extension, Shor walks you through the vegetables, herbs and fruit trees you should choose given the climate, soil and water conditions of the Sacramento Valley, and how to properly tend to them to produce food year-round. "This [class] really is for anyone with a little sunshine, a little space, and a desire to grow something edible," Shor says. "People often feel overwhelmed by gardening. I want to make it simple." $55 (including required membership to UC Davis Extension's Osher Lifelong Learning Institute). 1909 Galileo Court. Davis. 800-752-0881. extension.ucdavis.edu
Editors' Note: This lesson is no longer being offered. Please check the class website for updated information.
Learn to Hang Ten
If you've ever wanted to learn to rip, but were dissuaded by the Pacific's mighty swells and chilly temps, you can make waves at SurfXtreme. The indoor complex in Elk Grove, which offers group and private sessions, is home to the Flow Rider, an automated surf simulator that shoots water at 30 miles per hour up a slope to replicate ocean waves, but is also newbie friendly with positively tropical 84-degree waters and a trampoline-like surface that absorbs the impact of falls. Before riding the wave standing up (an experience co-owner Kathi Ellis compares to a combo of snowboarding, skateboarding and wakeboarding), start with bodyboarding, an excellent activity to acclimate to balancing in the fast-moving surge. You'll be riding the waves in no time. $20-$22 per hour. 3443 Laguna Blvd. Elk Grove. 676-4747. sxsac.com
Get into the Swing of Things
You name the dance, and you can likely learn the moves within a few visits to Spotlight Ballroom in West Sacramento. Wanna swing? Step onto the 5,000-square-foot Junckers hardwood floor (the same standard employed on the set of Dancing with the Stars) with co-owners Ron Thompson and Scott Kaufman, a former Intel engineer and real estate marketer, respectively, who launched Sacramento's popular Midtown Stomp swing group in 2005 and merged their club with this well-established studio on the other side of the river in 2013. Spotlight's staff showcases Latin, salsa and other ballroom specialties as well, with free half-hour private introductory lessons and a pair of private follow-ups rounding out the basics for $99. From there, lessons guide students toward their specific goals, from competition and performance to an old-fashioned social network. "We see this all the time with people who have never danced before at all—[they] come out and fall in love with it," Thompson says. "It really does become a lifestyle." Free for intro class; $99 for follow-up classes. 2534 Industrial Blvd. West Sacramento. 649-3269. spotlightballroom.com
Make the Perfect Martini
Get shaking—and stirring—during the "Cocktails 101" seminar taught by Chris Tucker, beverage director at the midtown hot spot Hook & Ladder Manufacturing Co. During the class—the first in a new series of cocktail courses held at the restaurant on the second Saturdays of select months—would-be mixologists will taste base spirits vodka, gin, rum, tequila and whiskey to discern the differences between them, and study when to use liqueurs like triple sec and orange liqueur as well as mixers like Amari and bitters in drinks. Tucker will also delve into garnishes, essential bar tools like mixing tins and Hawthorne strainers, and muddling techniques, before helping students build 10 classic cocktails, including a Manhattan, martini, gimlet and mojito. $45. 1630 S St. 442-4885. hookandladder916.com
Sail Away
Do you dream of retiring to a sailboat but don't know your port from your starboard? (Which is to say, your left from your right, when you're facing forward on the deck of a boat?) The Sacramento State Aquatic Center can swiftly get you in ship shape with its beginning sailing classes, which run through October on the tranquil waters of Lake Natoma. The instruction is aimed at the complete novice, with sessions over 14 hours that combine such essentials as sail positioning and control (aka "trim"), knot tying and docking, and basic safety—up to and including how to recover your boat from capsizing. (Needless to say, participants will get wet—you'll want to bring a towel.) Graduates receive a pass for a two-hour boat rental and a fun new way to splash around in Sacramento's replenished lakes all summer long. $180. 1901 Hazel Ave. Gold River. 278-2842. sacstateaquaticcenter.com
Take a Pilgrimage to the Pope of Foam
Does your brew fall flat? A week of picking the brain of prominent brewing science professor Charlie Bamforth, aka the Pope of Foam, will transform that swill into successful suds. Serious home brewers, aspiring brewery founders and staff from beer brands small to big, such as Bike Dog, Sierra Nevada and MillerCoors, flock to his UC Davis Extension "Introduction to Practical Brewing" course that stretches over 31 hours every few months at the cost of $1,400 (the next tutorial starts on Dec. 12). It includes two opportunities to brew beer (the first at a state-of-the-art 1.5-barrel pilot brewery), a trip to Sudwerk Brewery to catch brewing in action, a sensory session in which students share their batches, lectures exploring everything from raw materials to finished products, and plenty of time to lob questions at Bamforth. Don't expect him to go easy on you. "If you haven't got a reasonably thick skin, it's probably not the class for you," says Bamforth. The result, though, is worth any bruised egos. As the Pope of Foam asserts, "It should make you a much better brewer." $1,400. 392 Old Davis Rd. Davis. 800-752-0881. extension.ucdavis.edu
Shoot like Katniss Everdeen
Bring The Hunger Games to life at Rocklin's Wilderness Archery. Technician Matt Letunic hosts adult archery lessons on Monday nights at the 58-year-old pro shop. Archers learn about commands ("clear," for example, means everyone is done shooting, and archers can collect their arrows), body positioning (hint: feet should be shoulder-width apart with one shoulder angled toward the target), holding bows and shooting. Lessons are taught with a recurve bow, a traditional wood and string instrument with no mechanical additions. By the end of the hour, you'll be primed to hit a target 10 yards away. As proof of your Katniss prowess, Wilderness Archery lets you take your arrow hole-riddled target home with you. $35 ($25 without rentals). 4870 Pacific St. Rocklin. 630-8700. wildernessarchery.com
Host a Trunk Show in Your Backyard
With towering elms, budding maples and brightly dotted fruit bearers surrounding us at almost every turn, it's hard to forget that Sacramento is the City of Trees. But it is easy to neglect our resident leafy giants, especially during drought years. At Green Acres' "Tremendous Trees" workshop, horticulturalists will provide tips on irrigating your trees without wasting water and picking the best saplings for your yard, like an Autumn Blaze maple that can grow up to 50 feet tall or a shady Chinese hackberry that produces a sweet orange fruit, which is a good food source for birds. And your vegetation education doesn't have to stop there. Drop by the nursery for additional February workshops, including "Starting from Seed" to select your spring veggie lineup and "Roses De-Mystified" to properly cultivate the aromatic flowers. Free. Various locations. idiggreenacres.com
Climb the Walls
Reach the summit at Peak Adventures' introduction to outdoor rock climbing. During a daylong expedition on Oct. 15, set out with your fellow Spidey wannabes to Placerville's Cosumnes River Gorge, a destination nestled in western Sierra known for several hundred smooth granite climbing routes. Before making any upward motions, you'll get schooled on the basics of knot-tying, equipment (FYI, it's all supplied) and belaying, a technique that uses friction to avoid long falls. The first order of business is hiking a 50-foot cliff to anchor 200-foot-long nylon ropes at the top. Once back at the base of the rock, everyone pairs up, and takes turns belaying and climbing (and then coming back down). If you can't make it to the intro class, custom trips for groups of six or more are available. $68. 278-6321. peakadventures.org
Go Fish
If you've ever wanted to try your hand at fly fishing (who didn't after watching Brad Pitt cast for trout in the gorgeously filmed A River Runs Through It?), it's time to get your feet wet at American Fly Fishing's introduction to the sport. The classes begin every Saturday morning at the shop's Arden-Arcade facility, where students get acquainted with different fly fishing rods (they work either in whippy "soft action" or stiffer "fast action" fashions), various knots to attach a "fly" (lure) to the line, important accessories for vests and hats, including nippers to cut a fly off a line, and insects attractive to fish. Then on Sunday, students are fitted in waders and boots, and head to the rolling American River to put their newfound knowledge to practice, using forward strokes and back casts. $50 per class. 2752 Marconi Ave. 483-1222. americanflyfishing.com
Play for Laughs
There are few more humbling experiences than telling a joke that nobody laughs at. On the other hand, few experiences rival the thrill of cracking up a room full of people. Sacramento Comedy Spot's "Stand-Up 101" class doesn't guarantee a long, happy life of the latter, but it does explore the range between those extremes and deconstructs the elements of a good stand-up set. Over the four-week Monday night course, pro comic and instructor John Ross helps students develop five-minute routines of their own; the process is as much about adjusting to an audience's perception of you as it is about the jokes in the routine itself. (For example, whenever you're bombing—and you will bomb—acknowledge as much to coax the audience over to your side.) The sessions, which draw enrollees from casual stand-up fans to aspiring comics to seasoned public speakers looking to refine their technique, culminate in a performance of your material at Comedy Spot's popular Sunday night open mic. $150. 1050 20th St. 444-3137. saccomedyspot.com
Make Killer Coffee
For the cost of a large coffee drink, you can learn the traits and techniques that go into making a fresh, delicious cup at home. At its East Sacramento roastery, Chocolate Fish combines tasting and brewing classes on the third Saturday of each month, a two-and-a-half-hour session in which rookies and geeks alike learn about the flavor variations inherent in different coffee-growing climates and elevations, or in the nuances of bean processing and roasting. (The first lesson, according to Chocolate Fish co-owner Edie Baker: "Get your palate good.") The brewing course helps visitors learn how a French press, Aeropress and other brew methods enhance everything from the fruit acidity of a Central American coffee to the berry-like sweetness of African beans. And you can't beat the price: Chocolate Fish applies the $5 registration deposit to your purchase of beans after the lessons, making this top-flight coffee class practically free. $5. 4749 Folsom Blvd. 451-5181. chocolatefishcoffee.com
Bake and Break Bread
Rise to the challenge at Tess' Kitchen Store's "Advanced Bread Series" in Grass Valley. Your teacher will be Alan Tangren, a Chicago Park native and veteran of Alice Water's Chez Panisse in Berkeley, where he worked as a pastry chef and forager for 22 years. Shape free-form loaves into grape clusters and bake pain de campagne (country bread), or, using a mill, grind local grains to produce pumpernickel and Eastern European rye loaves dusted with caraway seeds. Each stage of making bread is explored, from preparing a sourdough starter to kneading, proofing and scoring dough. After the class, nosh on your fresh-out-of-the-oven bread with cheese and salad. $100. 115 Mill St. Grass Valley. 530-273-6997. tesskitchenstore.com
Editors' Note: This lesson is no longer being offered. Please check the class website for updated information.
Act Your Way Through Anything
Just because you haven't acted since you killed it in your high school's production of Our Town doesn't mean your dream of becoming Daniel Day-Lewis or Julia Louis-Dreyfus is dead. B Street Theatre's "Integrated Acting, Tier 1" class, which meets for eight consecutive Monday evenings, whips you into performance shape. Greg Alexander, a B Street actor who most recently played Ebenezer Scrooge in the company's original production of A Christmas Carol, guides you through various acting exercises that make you comfortable in front of an audience, and expand your awareness of your body and voice in a stage environment. You'll also practice partnered scenes and monologues before the class culminates in a final presentation. Start rehearsing your acceptance speech now. $260. 2711 B St. 443-5300. bstreettheatre.org
Give Hallmark the Heave-Ho
When you care enough to send the very best, send a handmade card that you crafted yourself. Paper Garden in the Pavilions Shopping Center—a stationery destination founded by former KOVR reporter Stephanie Nishikawa-Yee in 2006—holds weekly classes (in October and November, themes include "Handmade Holiday" and "Happy Fall") where students build up to six cards and receive pointers on turning embossing powder into shimmery stamp patterns, affixing die-cut flowers to cardstock and transforming fresh ink into floral designs. So channel your inner Martha Stewart, and make your next card a keeper. $35-$40. 565 Pavilions Lane. 487-2737. papergardenboutique.com
Throw Punches like Muhammad (or Laila) Ali
Get ready to rumble at Flawless Boxing & Fitness on Broadway. The gym, which was founded by professional boxer Brandon Gonzales in 2013, requires you to start with a 30-minute intro class offered Monday and Thursday evenings prior to entering the ring. Warning to the fledgling fighter: the orientation isn't a breeze. The trainer first gets your blood pumping with jump roping, then situates you in the correct boxing stance. Footwork and jab drills are up next before you learn how to expertly wrap your hands. The gloves come on if you stick around for the subsequent class, during which boxing beginners test their new techniques on 100-pound banana bags. $107 for monthly membership. 600 Broadway. 640-6321. flawlessboxingfit.com
Create a Chicken and Egg Situation
Find out how to rule your roost—and reap the benefits of fresh, delicious eggs—in the "Raising Backyard Chickens" class taught by Brian Fikes and Greg Howes, who have been parenting poultry for more than two decades and run the artisan chicken enclosure company Two Flew the Coop. A collaboration between Soil Born Farms (whose American River Ranch hosts the class) and the Sacramento Natural Foods Co-op, the yearly lesson gives you the rundown on raising birds from chicks to egg-laying maturity, including how to select the right breed and predator-proof a coop. If a flock sounds daunting, don't chicken out: Fikes and Howes will explain how to create a maintenance plan so you'll only need to spend a few minutes each day on your fine feathered friends. $30-$35. 2140 Chase Dr. Rancho Cordova. 455-2667. sacfoodcoop.com
Set Free Your Inner Birder
If you don't know a raptor from a rail, Roger Adamson will get you up to flight speed. In his two-hour UC Davis Extension class entitled "Birding the Yolo Bypass Wildlife Area," the former president of the Yolo Audubon Society will help you spot many of the nearly 250 bird species that populate the migratory region—including waterfowl that gather in the thousands in the winter, powerful Peregrine falcons, and petite meadowlarks—as well as semiaquatic animals like river otters and beavers. You will also get tips on the best binoculars, scopes and field guides to try. And don't worry if you're a newbie birder. "The classes aren't directed toward experts," Adamson says. "They're meant for people who are interested in getting out or learning something new about our area." $45 (including required membership to UC Davis Extension's Osher Lifelong Learning Institute). 1515 Shasta Dr. Davis. 800-752-0881. extension.ucdavis.edu
Heed the Sirens' Call
If you prefer your exercise not just hot, but hubba hubba hot, you should matriculate at Siren Burlesque Academy, where the Sacramento-based troupe Sizzling Sirens holds workshops that school you in sultry moves. Included in the lesson plans are "How to Dance in Heels," the "Chair Dance" and "Burlesque for Your Lover." Held the first Sunday of every other month at the Firehouse 5 dance studio in Southside Park, the classes don't require Dita Von Teese-level skills, just an open mind, willingness to let loose, comfy clothes—and a pair of 3-inch heels. Students leave each two-hour tutorial with choreographed mini-routines, a better sense of balance and a serious workout. Here, the only prohibition is inhibition. $20 in advance; $25 drop-in. 2014 9th St. houseofsizzle.com
Pass the Puck
Let's say you've played sports recreationally for years, and you're up for a new challenge. Or maybe you're newly interested in organized sports, but don't want to jump headlong into a league full of more seasoned players. Either way, lace up and take Roseville ice rink Skatetown's exhilarating "Learn to Play Hockey" course, which instructs dozens of men and women—mostly novices to a game associated with northern winters and frozen ponds—in hockey fundamentals. Coaches Jeff Eastburn and Brian Hayes guide their classes from proper skating technique and stick handling to hockey rules and strategies, eventually graduating to scrimmages that prepare students for Skatetown's league play. The setting is fun, casual and low contact, and even though full hockey gear is required (Skatetown's equipment bundles start at $200)—think of the whole exciting package as a $30-per-week investment that skates circles around any personal trainer at the gym. $460. 1009 Orlando Ave. Roseville. 783-8550. skatetown.biz