Inside Issue 51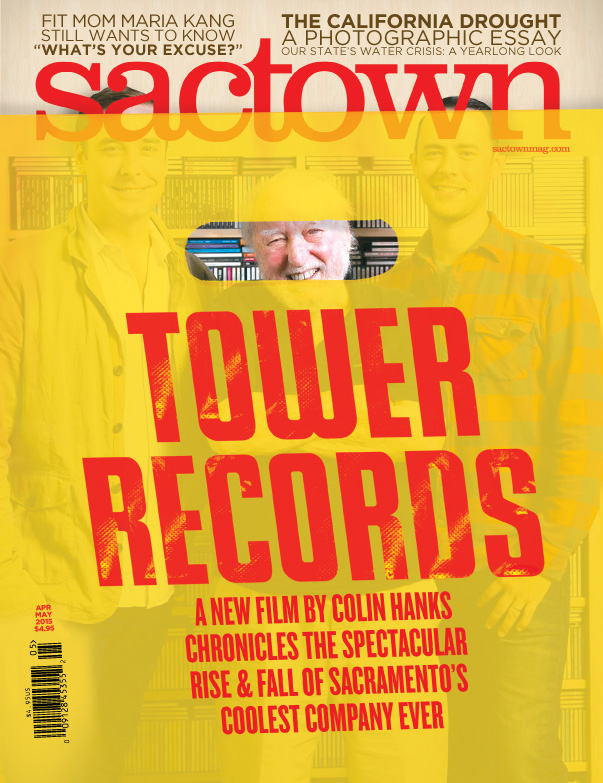 Inside the
April/
May
2015
Issue
A Long, Strange Trip
From its roots in a drugstore at the base of Sacramento's Tower Theatre to its peak as a global, billion-dollar retailer whose most loyal customer was Elton John, the wondrous, winding journey of Russ Solomon's Tower Records was as exciting and terrifying as it was positively improbable. Now, with a new film that chronicles the company's epic rise and fall, actor-director Colin Hanks brings the story of his hometown's most famous, freewheeling brand to life on the big screen. (Cue the music.)
What's Her Excuse?​
Meet Maria Kang, a working mother in Elk Grove who also happens to be one of America's most polarizing fitness and lifestyle gurus. Get to know the woman behind the "No Excuse" movement, who's been gathering disciples and making enemies along the way.
State of Emergency
With California battling its worst drought in over 1,000 years, life in our state is changing in ways big and small. Photojournalist Max Whittaker spent a year chronicling many of those changes and meeting the people struggling to overcome them, from farmers in the Central Valley to snow surveyors in the High Sierras. With our economy, our lifestyle and the future of our state in the balance, now is the time to turn a weather eye to one of our biggest natural threats..

Riverfront Essay
Long before we became known as America's Farm-to-Fork Capital, Sacramentans beamed with pride at the City of Trees moniker. But one of the trees responsible for that label is disappearing at an alarming rate. Here's why we need to stem the losses before it's too late.

Riverfront Q&A​
After 15 seasons with the Oakland A's organization, the Sacramento River Cats thrilled San Francisco Giants fans throughout the region last fall by switching affiliations to the reigning World Series champions. With the new season starting April 9, River Cats general manager Chip Maxson talks about what the change means to fans, what else is new at Raley Field for 2015, and our one-of-a-kind ballpark cuisine that has them buzzing all the way down in Florida
Play​
Mondavi Center trips the light fantastic with guitar icon Bill Frisell and a psychedelic blast from the past; where to get your vinyl fix on Record Store Day; Cinderella gets a Bibbidi-Bobbidi-Boo makeover from Rodgers and Hammerstein; follow the Yellow Brick Road to Davis for The Wizard of Oz on stage; chef Robert Irvine gets cooking at Cache Creek
Dish
From the ashes of a local institution, a pair of ambitious chefs deconstruct and elevate American standards at their new restaurant Cask & Barrel; Bistro 103 keeps it fresh and local in Auburn; get grilling at Arthur Henry's
Driving Range
​With its world-class brewery, top-ranked farmers' market, sleek boutiques and breathtaking canyon views (not to mention, the National Yo-Yo Museum), a little springtime trip to Chico can turn into a big adventure.

Why Not Here?
From Cleveland to Nashville, music-themed museums draw huge across the country, but each is limited by the genre it celebrates. We should create the ultimate music museum by honoring the ultimate music institution: Tower Records.