Inside Issue 59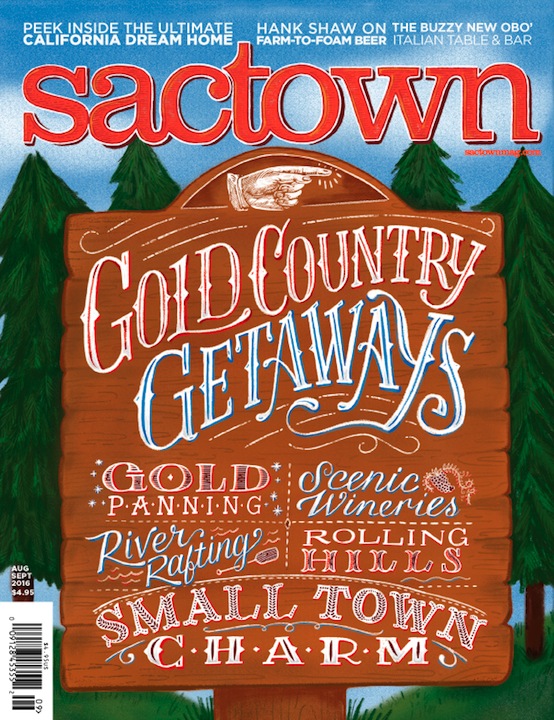 Inside the

August/
September
2016
Issue
Pick up your copy on newssstands now!
For a list of local retailers, click HERE.
Gold Country Getaways
​The hills the 49ers mined during the Gold Rush remain rich in opportunities for fun and adventure. From rappelling down a 165-foot cave to panning for gems, picnicking at a flower farm and bedding down in a glamping tent, we've got your ultimate guide to 10 charming small towns in Gold Country.

The Botany of Beer
Move over farm-to-fork, here comes farm-to-foam. With brewers in the region foraging for native herbs or adding fruit from area growers to jazz up their suds, wild foods expert Hank Shaw explores the growing local beer movement.
Westward Home
An East Coast couple with a taste for all things colonial leave their traditions—and assumptions—behind while planning their modern new house in Davis. Here's how two local architects helped them embrace a California state of mind.
Riverfront Essay

Sacramento is the only major city in California with a part-time city council. So when did we get the monopoly on wisdom? (Answer: We didn't.)

Riverfront Q&A
​Don Roth has spent the past decade as executive director of the Mondavi Center, which has hosted everyone from classical music icons like Itzhak Perlman to more contemporary performers like Elvis Costello. With his 10th Mondavi season starting on Sept. 24, Roth steps out from behind the curtain to talk about must-see acts, the Sacramento's surprising love of the ukulele and a bucket list that includes Bob Dylan.
Play
Granite Bay open water swimmer Haley Anderson goes for the gold in Rio (she already has a silver from London); '80s icon Cyndi Lauper just wants to have fun when she comes to Thunder Valley; the buzzworthy Nevada City Film Festival makes the case for why it's our region's Sundance

Dish
​The Selland family crosses the ocean to find inspiration for its new Italian restaurant; Station 16 gets its sea legs in midtown with pescatarian-friendly dishes like succulent lobster rolls and shellfish skillets; Cielito Lindo's inventive Mexican flavors match its sprightly décor; Oak Park's new Vibe Health Bar caters to the kale and kombucha crowd with tasty, zingy results
Why Not Here?
After being rejected by San Francisco and Chicago, George Lucas still needs a home for his Lucas Museum of Narrative Art. Let's form a rebel alliance against competing cities and get him here.