Inside Issue 62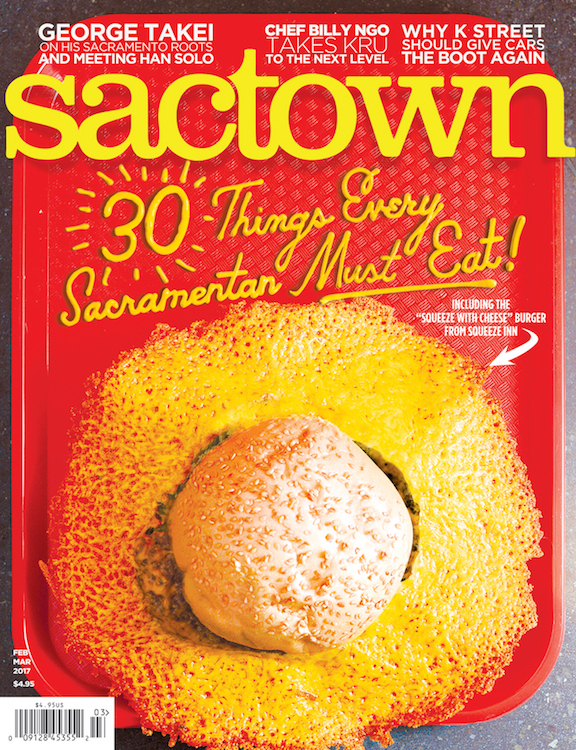 Inside the

February /
March 2017
Issue
Get Sactown delivered to your door. Subscribe HERE!
30 Things Every Sacramentan Must Eat
From forever favorites like Squeeze Inn's Squeeze with Cheese and Frank Fat's banana cream pie to instant classics like Bacon & Butter's flawless flapjacks and Mother's chicken-fried mushroom po'boy, here is our guide to 30 essential edibles in the Sacramento region. If you live here, or are even just passing through, this is required reading—and eating. Get ready to start ticking off your gustatory "must" list.
The Man Who Fell for Earth
​Kim Stanley Robinson's eco-thrillers have garnered the Davis author every major sci-fi award, from the Hugo to the Nebula. Meet the man Time magazine has called one of its "Heroes of the Environment" and learn why he's considered a literary rock star in Antarctica.

Riverfront Essay
​Why K Street should be reconverted back to a pedestrian mall. It's time to stop talking the talk and start walking the walk again.

Riverfront Q&A
​As a television pioneer, LGBT rights activist and social media icon, Star Trek star George Takei has more than once boldly gone where no man had gone before. Now he's leading the way again, raising awareness about the imprisonment of Japanese Americans during WWII. The veteran actor and internment survivor, whose family hails from Sacramento, talks about that dark chapter in our country's past and why it's his life's mission to ensure that history won''t repeat itself.
Play​
The folks behind last year's hyper-popular Art Hotel gear up to launch ArtStreet; Alan Cumming gets "sappy" in Davis; Rent makes a 20th anniversary stop in Folsom; Jack Gallagher returns to B Street with a new one-man show
Dish
​Top chef Billy Ngo builds a new Kru in East Sacramento; Pushkin's opens a gluten-free, brunch-for-lunch spot in midtown; SacTown Sports Bar hits a home run with its Brown Butter Burger in Old Sacramento; Downtown Commons goes down-home with Sauced BBQ & Spirits

Why Not Here?
In Seoul, a bridge outfitted with LEDs and fountains shoots water over the Han River and puts on kaleidoscopic light shows. We can think of another river city where a similar display might make a splash