Inside Issue 73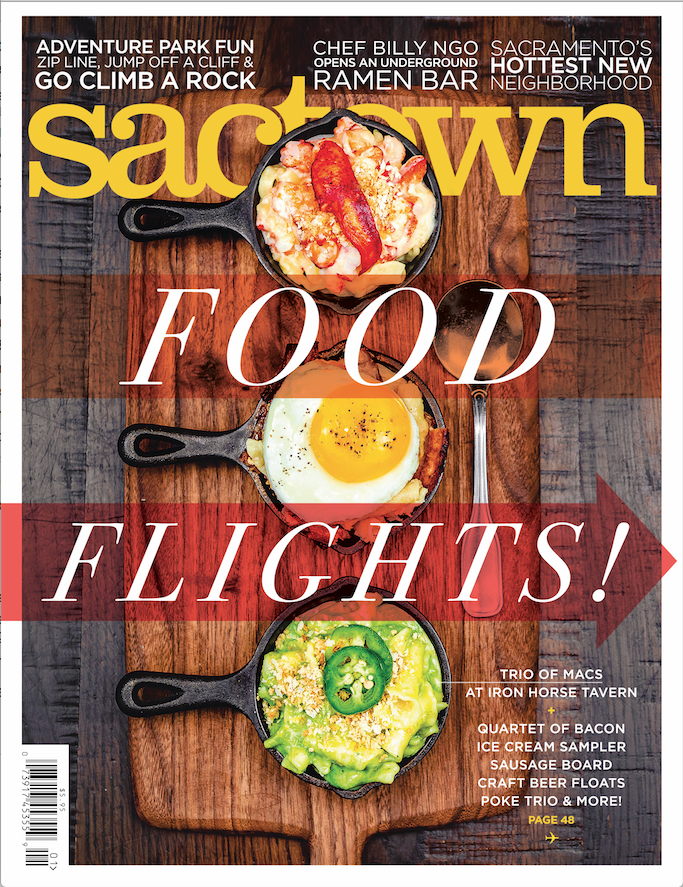 Inside the

December 2018/
January
2019
Issue
Get Sactown delivered to your door. Subscribe HERE!
Flights We Fancy
Food flights! From a trio of house-made ice cream to a quartet of bacon strips and a quintet of frozen cocktails, we've got eight great medleys that are triple (or quadruple or quintuple) the fun. Turn the page and get ready for takeoff.
The Boy with the Dragon Tattoo
Billy Ngo of Kru has made his mark on Sacramento's growing culinary scene, earning a reputation as a kitchen wizard that many of the city's other top chefs turn to for a great meal. On the verge of opening an underground ramen bar a block away from the Golden 1 Center, the heavily inked Ngo shows that the secret to his success is much more than skin deep.
The Ice Blocks Cometh
While its cool name nods to its past as a cold storage plant, the Ice Blocks is one of the hottest new hoods in town. Get to know this design-forward R Street district that almost never was, and how it literally rose from the ashes to become a paradigm of the new urban ideal.
Riverfront Essay
Curves ahead: A newly proposed bridge may be our arch de triumph—why we're hopeful and what we can all do to help create an icon that spans into the future.

Riverfront Q&A
​The '50s sure are nifty for Bailey De Young, who stars in The Marvelous Mrs. Maisel as Imogene Cleary, the title character's best friend and fellow mid-century mom. We catch up with the Sacramento native (and 21th-century mom) about playing a not-so-desperate housewife, what to expect in season two, and catching the acting bug on the Music Circus stage at age 10.
Holiday Gift Guide

Wanna be a hometown hero this holiday season? From a mid-mo birdie abode made in Nevada City to a new crave-worthy caviar trio by Passmore Ranch and boxes of dark chocolate toffee crafted in Gold River, we've got some great ways to gift local this year.
Play
​Go climb a rock and learn the ropes at the new Quarry Park Adventures; the musical Waitress serves up Sara Bareilles songs that are nice as pie; Sacramento Theatre Company's winter cabaret show showcases the Fats Waller classic "Ain't Misbehavin'" and all that other jazz; humorist David Sedarisvisits the Harris Center to talk about his American life; Sacramento Ballet artistic director puts a fresh, female spin on The Nutcracker; Global Winter Wonderland glows anew at Cal Expo; go cuckoo for cacao at a downtown chocolate festival
Dish
Tiger roars into the spotlight and delivers New American meals on wheels, dishing out plates like pickled deviled eggs, farro fried "rice" and salmon tartare via dim-sum-style carts; for one local mom, Christmas dinner now means Korean rib eye and sweet potato glass noodles instead of prime rib and potatoes; head to Cacio in the Pocket for the namesake pasta and other homestyle Italian dishes; whether you're gluten-free, dairy-free or nothing-free, Pushkin's Restaurant in midtown has got you covered

Why Not Here?
A pair of Dutchmen built an eye-catching outdoor climbing tower in their hometown that doubles as a stunning piece of sculptural art. It's time for Sacramento to scale new heights too.