The Big Print on Top Docs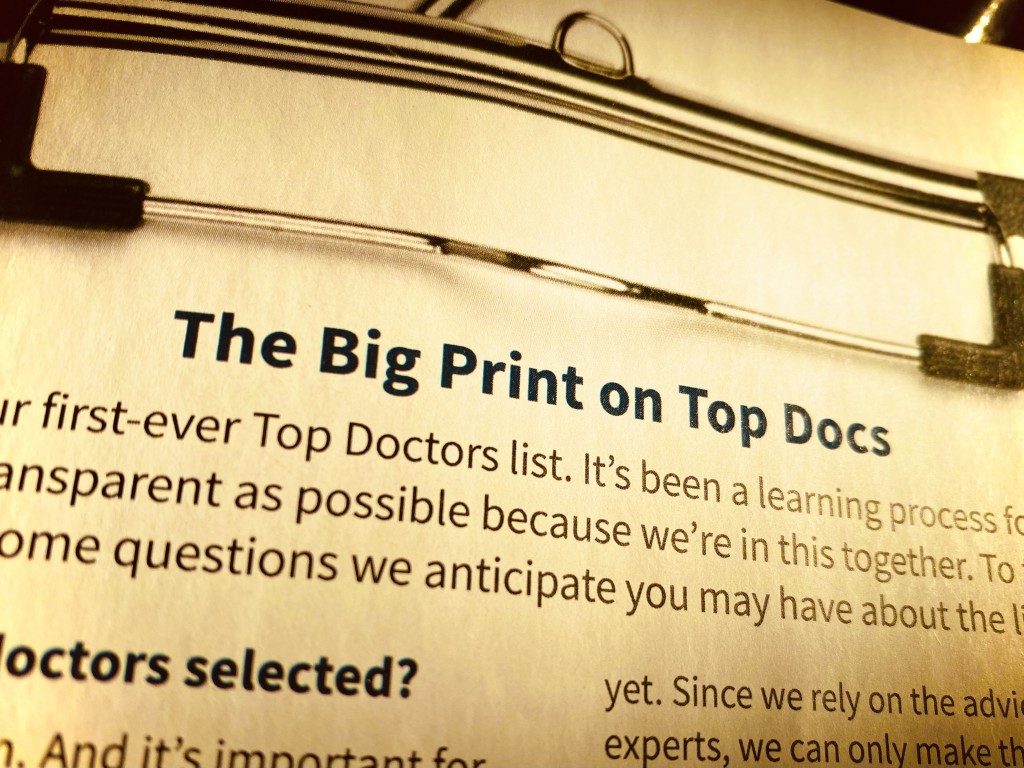 Welcome to our first-ever Top Doctors list. It's been a learning process for us, and we want to be as transparent as possible because we're in this together. To that end, here are some questions we anticipate you may have about the list.
How were these doctors selected?
This is a great question. And it's important for you to know that we didn't actually select these doctors. Other local doctors did. We feel like physicians know other physicians better than we ever could. Our role in this was to partner with the national healthcare research firm Castle Connolly, who conducts surveys and compiles and vets Top Doctor lists for publications like New York magazine, Philadelphia, Boston, Atlanta, Chicago, San Francisco, San Diego and many other city magazines around the country. Castle Connolly also boasts an impressive medical advisory board, which includes chairs at Yale School of Medicine, Memorial Sloan Kettering Cancer Center and the University of Pennsylvania, and professors at Weill Cornell Medical College, as well as many other prestigious institutions.
I don't see my doctor on the list and she is a great doctor.
We don't doubt it. The fact that your great doctor may not be on this list isn't because they're not worthy. It's simply that the physicians that were polled did not nominate them, perhaps because they didn't know them. It's important to understand that Castle Connolly does not poll every single doctor in the region, and of the ones they do poll, not every doctor responds. Doctors are busy people and they get a lot of email. It's also important to note that Castle Connolly only included doctors who, at the time of their vetting process this summer, were accepting new patients.
So you're admitting these aren't all the great doctors in the region.
Of course. There are hundreds of doctors who likely deserve to be on this list but simply aren't yet. Since we rely on the advice of medical experts, we can only make the list as good as the doctors who respond.
Do any of these doctors get on the list because they advertise?
Absolutely not. That's Castle Connolly's policy and ours, as well. Yes, these doctors had the option to advertise in our "Featured Profiles" ad section (which is clearly marked as an advertising section at the top of each page) if they chose to publicize more information about their practices and areas of specialty, but that was only after they were notified that they would be on the list. In other words, it's impossible for a doctor to buy their way onto the list.
How do you plan to make this list even better next year and beyond?
We already have ideas, and we'll be looking to engage with readers, doctors and health systems to get feedback on how to make this a stronger community asset. Our goal would be to reach more doctors, increase the response rate and ferret out more highly qualified doctors who you can turn to for advice and treatment. To that end, we encourage you to write to us at topdocs@sactownmag.com with suggestions on how to improve our list. Even city magazines who have been doing this for decades have fine-tuned their processes over the years, and we promise to do the same.