The Fisher King
He started by selling sturgeon under the W-X freeway and grew to become a blue-chip name on local menus. But after finding a niche crafting bespoke caviar for top chefs around town and Michelin-starred restaurants from San Francisco to New York, Michael Passmore is now casting a much wider net in the hope of bringing his cult cured roe to the masses. Caviar-topped Tostitos? You might just get hooked.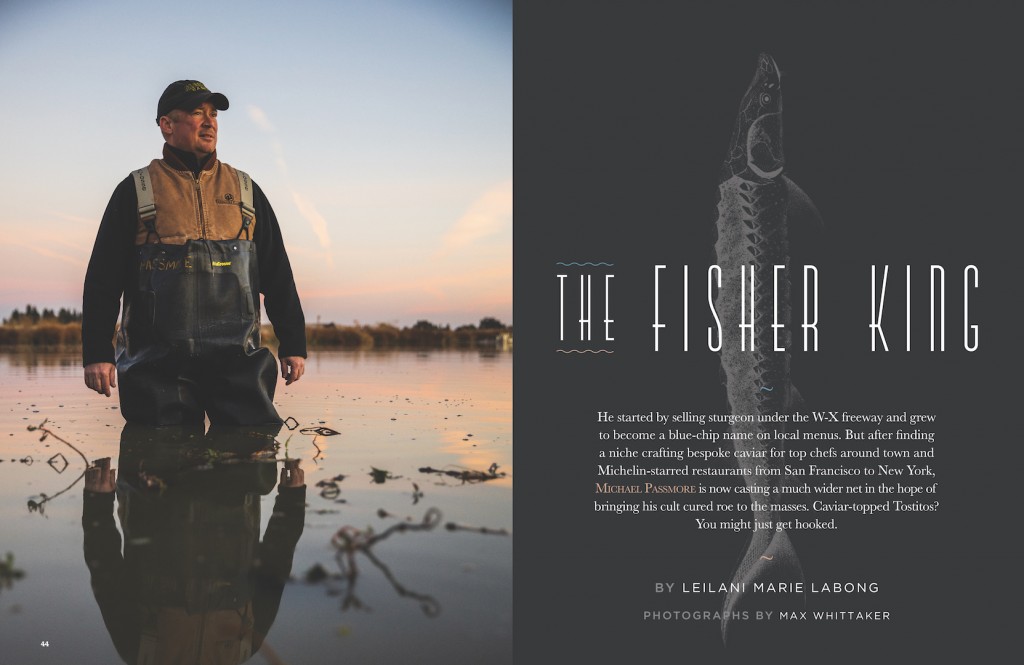 On a Thursday in early October, it's sunny and predictably sleepy in Sloughhouse, a rural community east of Sacramento. Before the GPS could tell me that Passmore Ranch was 1.2 miles up the road, I spotted a familiar landmark: A white, weather-beaten manse that was, in its early aughts heyday, the Southfork of Sloughhouse, where a J.R. Ewing doppelganger might hang his hat. Now the operations headquarters of fish farmer Michael Passmore's aquaculture and artisan caviar business, the structure is still a stately—and unusual—sight rising from the low hills of golden grass. A nostalgic nod, perhaps, to the landscape of his native North Texas, or the panhandle of Oklahoma, where his maternal grandfather owned a cattle ranch, and where he learned to ride a horse.
This isn't my first time to the ranch, 86 acres of "elbow room" that Passmore, then an aspiring environmental lawyer, purchased in 2005, six years after moving to the Sacramento area from Dallas. I visited a year ago with mutual friends to verify the hype about his cult-favorite domestic caviar, which was described in a 2014 blind taste test for Food & Wine as "the most interesting of the six!" The Passmore Ranch entry was also called "briny, a little smoky and downright oceanic," quite the feat considering the eggs were harvested from fish raised in a landlocked area more than 100 miles from the Pacific Ocean. That day, we consumed the caviar, the salt-cured roe of his farm-raised white sturgeon, in all of the gloriously unpretentious ways that this former Marine—whose daily ranch uniform comprises broken-in Wranglers and snug baseball caps—prefers to eat it.
"When I was first thinking about making caviar [in 2009], I saw the same information over and over again on the internet—serve caviar chilled, use a mother-of-pearl spoon, eat in small bites, accompany with champagne. I thought to myself, 'Rarely is anything so cut and dry,' " says Passmore, who had been raising sturgeon strictly as a meat fish for several years, until his chef clients asked what he was doing with the roe. And even though his life experience with caviar had been "unremarkable" up to that point, the fish farmer recognized a glittering opportunity, not just for his business, but also to challenge himself even more. "I like to turn big dials," he adds.
For the impromptu Caviarpalooza 2018, our host opened a bag of Tostitos, which proved to be nice and sturdy for scooping the delicate fish eggs. We tried the caviar garnished atop fresh-steamed white rice (my favorite preparation), and carefully lumped onto lumpia, those addictive Filipino spring rolls, plus generously dolloped upon Kraft macaroni and cheese, which is how Passmore's wife, Vandy, likes to celebrate her birthdays. And lastly, heaped on a clenched fist—an irreverent, narcotic-inspired "bump." Of the latter, late Russian tsars—thought to have eaten golden Osetra caviar from sturgeon in the Caspian Sea during royal feasts—are certainly rolling over in their graves. Ditto the ancient Greeks—Aristotle reportedly recorded instances of sturgeon and its prized roe being ushered into banquets amid trumpet fanfare.
Hoping to inspire the kind of warm and relaxed hospitality that comes naturally to him, Passmore launched a monthly subscription service called Caviar Club at the end of 2018, three years after starting his retail caviar arm. Targeting home cooks and consummate entertainers, the fledgling venture is expected to build a following far beyond his lengthy roster of chefs, which reads like a who's who of the restaurant industry: Randall Selland of The Kitchen and Ella; Billy Ngo of Kru and Kodaiko; Food Network personality Tyler Florence, also chef-owner of Wayfare Tavern in San Francisco; Jeremy Fox of Birdie G's in Santa Monica; and Alex Guarnaschelli of Butter in New York.
"I was frustrated with the á la carte ordering because the consumers were just bouncing in and out. There was no continuity. I realized that I couldn't serve them in the way I wanted to if they just kept jumping around," explains Passmore, 47. "I really didn't want to build something so fair-weather." A fateful conversation with Florence was the germ of the three-tiered subscription service, which delivers 120 to 720 grams of caviar—plus surprises like smoked sturgeon or a sampling of Birdie G's trout roe, custom cured with traditional Jewish spices like caraway and dill—to your home each month. The damage for such an indulgent delivery? A minimum of $250 to—gulp—$1,500 per month. For the blissfully fair-weather among us, 15-gram jars of the sturgeon caviar range from $45 (Circle 41) to $117 (Ranch Reserve) each. The former, an estate-cured selection, bears the registered "41" cattle brand of his grandfather's Oklahoma homestead; Passmore added the circle to represent the family. Loyalists—such as chef Joey Elenterio, previously of Wayfare Tavern, and pastry chef Edward Martinez, formerly of Hawks and San Francisco's Lazy Bear—even have the Circle 41 logo tattooed on their ribcages.
"There have been many times that I've been entertaining at home, wishing I had some caviar," says Florence, who is so devoted to his friend's product that his custom-built Triumph Rocket 3 motorcycle was color-matched to the pewter-gray beads of Passmore's estate-grown Ranch Reserve. "I just asked him, 'What if caviar could magically appear?' "
Enjoy caviar with any snack-aisle selection you please, but rest assured that caviar's luxury price point and reputation are not without merit. The delicacy is expensive because female sturgeon typically only start producing eggs after seven years, and those eggs must be harvested by hand, and from there, artisanal skill is required to turn them into caviar. Passmore takes his curing technique seriously, even inviting top chefs like John Tesar of Knife in Dallas and Christopher Kostow of the highly acclaimed Restaurant at Meadowood in St. Helena to the ranch for "caviar think tanks." The fish farmer, otherwise out of his element, would pick their brains about a Goldilocks-style dilemma that he's turned into a leading edge in the crowded caviar industry: bespoke curing, done according to a chef's desired specs for flavor, texture and maturity.
Speaking of, did you know that the eggs of 60- to 100-year-old Iranian beluga sturgeon have reportedly fetched $1,000 per ounce? In the case of caviar, older (elder?) is certainly rarer, but "better" is a highly subjective term. Passmore personally hates the grading system of fish eggs. "There's absolutely a place for different kinds of caviar," he says. In his own line, there are four types of cured fish eggs, from estate-grown premium white sturgeon caviar to estate-cured steelhead trout roe infused, using a top-secret method, with flavors such as truffle, whiskey and mirin, the sweet-tangy Japanese rice wine. Still, most can agree that any degree of sliminess is a bad sign and beads should have a firm structure and pop in the mouth (keep the caviar beyond its use-by date—usually 30 refrigerated days from packing—and these trusty hallmarks of freshness and quality are no longer binding).
"Michael's not the only game in town, but his work is very high quality," says chef Kyle Connaughton of Michelin darling SingleThread in Healdsburg, whose proprietary caviar cure calls for a minimal amount of salt in order to let the flavor of the roe come through. He has lately been using the beads as seasoning rather than star—for instance, a tiny spoon-tip of caviar on a custardy sabayon-style farm egg ups the ante on traditional Maldon sea salt. As far as the competition goes, there are a few that call this region home, including Tsar Nicoulai Caviar (in Wilton) and California Caviar Company (in Elk Grove), but Connaughton is likely referring to Sterling Caviar in nearby Elverta. The pioneering sturgeon-caviar producer—a giant enterprise with over 200,000 sturgeon—supplies the likes of chef Chris Cosentino of Acacia House in St. Helena, who likes to spoon the beads generously onto golden-fried pork schnitzel, and Joshua Skenes of Angler in San Francisco and Los Angeles, who wraps his reserve in banana leaves and warms the parcel over a wood fire. Sterling's yearly yield (approximately 10 tons) in 2015 was roughly 20 times that of Passmore's comparatively tiny operation (1,000 pounds), according to the San Francisco Chronicle. The boutique producer has since learned to keep mum about such statistics, to avoid unsporting comparisons. "The yield, whatever it may be, would always be too much for someone and not enough for someone else," says Passmore. For what it's worth, in 2018, Sterling's caviar production weighed in at about 12 tons.
This region's Mediterranean climate bodes well for raising white sturgeon through aquaculture, or fish farming. It's one of the reasons why Sacramento has become the nation's caviar capital. For Michael Passmore, thriving aquaculture is a matter of growing fish in the closest, most uncomplicated representation of their native environment—sturgeon, trout and bass flourish in fresh, clean aquifer water with a natural temp in the low to mid-60s, whereas salmon, primarily a saltwater fish, would not.
Some playful cooking experimentation also emerged from those think tanks of yore, including a dish of sturgeon ovaries, a byproduct of the roe harvest, sautéed simply in butter. Tesar, who serves Passmore Ranch caviar at his restaurant on top of—cue the defibrillator—bone marrow fortified with bacon fat, has long been making the ovary dish, as well as sturgeon-skin chicharrones. The latter is well suited to the thick and leathery hide of the Jurassic-era fish, no doubt an evolutionary response to the frigid waters of the subsequent Pleistocene ice age. Passmore credits his good buddy and second-ever client, Billy Ngo, with first serving the puffy crackling at the old midtown Kru, alongside a kimchi-ponzu dipping sauce. The holy grail of bar snacks.
~~~
Ipull my quasi-suv into the circular drive behind Passmore's hulking Dodge Ram 1-ton pickup—a true ranch vehicle with chunky, oversized tires and plenty of caked-on mud to prove it. He emerges from the white house and greets me with a warm smile. "Let's go to lunch," he says in his Texas twang. Mattis, the brawny English lab who's named after the former secretary of defense, jumps into the truck first, eager for a ride-along.
Passmore has a healthy ruddiness and looks trimmer than I remember. The last time I saw him, about a month or so after Caviarpalooza, he had Ngo in a chokehold during a jiujitsu class, which he joined to gain back his fitness, the peak of which was probably during his reconnaissance training in the Marine Corps (he enlisted right after high school). "You know, jumping out of planes, crashing down doors, shooting weapons, blowing shit up," he explains. Turns out that running a boutique fish farm—which Passmore started in 2005 to help his neighbor and mentor, aquaculture pioneer Ken Beer, cultivate one fish crop per year—requires a different kind of physical combat (ever tried wrangling a 200-pound sturgeon?) and more desk duty than those idealistic early days, when he was moving over 300,000 cubic yards of dirt with his Kubota tractor and a little help from his friends in order to dig eight fish ponds. Today, those same ponds hold catfish, silver carp and black bass until they reach market weight, and then off to restaurants they go. Within a day, or even hours of harvest, whole fish will arrive at Thomas Keller's legendary French Laundry and Sacramento's first Michelin-starred restaurant, The Kitchen, among others.
Alas, an old shoulder injury would cut Passmore's jiujitsu ambitions short, and he attributes his leaner composition to daily 5 a.m. sessions on the elliptical machine at his home gym; regular 2-mile sunrise runs around the ranch with Mattis; and weekly high-intensity interval workouts at Orangetheory Fitness with Vandy. At our lunch spot, The Gate in nearby Rancho Murieta, he dutifully orders a Little Gem lettuce salad with grilled shrimp, but then dumps an entire shot glass of simple syrup into his iced tea, a proprietary hack for sweet tea, the beloved beverage of Southerners everywhere. Just the sight of the viscous sugar solution plunging into the amber depths of the glass makes my teeth hurt.
When we return to the ranch, I expect to help him feed and sort fish, push some dirt around with the tractor, or try my hand at making caviar. But instead, our afternoon is filled with countryside pastimes like chatting in the rocking chairs at the residence (different from the white house, it's the modern hacienda that Passmore spent 10 years building while he and Vandy lived in an RV on the property), walking the trails around the fish ponds and watching the white sturgeon, which range in age from freshly hatched to 14 years old, swim circles inside tanks that look remarkably similar to those above-ground pools that make such great fodder for America's Funniest Home Videos. There's a lull in activity at the ranch, one that I didn't expect, but it seems fittingly autumnal. I soon recognize it as an energy-preserving mode in preparation for the coming months: Peak caviar-buying season spans Christmas through Valentine's Day and the big roe harvest (female sturgeon are fattening up with eggs as we speak) happens in late winter or early spring.
This region's Mediterranean climate bodes well for raising white sturgeon through aquaculture, or fish farming. It's one of the reasons why Sacramento has become the nation's caviar capital, producing more than 80 percent of the delicacy consumed in the U.S. Depending on how the roe looks when the sturgeon are tested—a biopsy that involves a small belly incision and a straw—Passmore can harvest the eggs of females as young as 5 or 6 years old. While the species is native to the Sacramento River, it is considered "conservation dependent"—that is, recreational anglers can only catch up to three per year and commercial sturgeon fishing has been banned in California since 1954. Regional aquaculture operations have been sustainably cultivating sturgeon and other seafood in their landlocked, aquifer-fed ponds and tanks since 1983, when Beer started The Fishery in Galt and everyone followed in his wader steps. For Passmore, thriving aquaculture is a matter of growing fish in the closest, most uncomplicated representation of their native environment—sturgeon, trout and bass flourish in fresh, clean aquifer water with a natural temp in the low to mid-60s, whereas salmon, primarily a saltwater fish, would not.
A natural raconteur, Passmore spins many yarns as we sit in the rocking chairs. I learn that he was a strong-willed kid who took life lessons the hard way, like when he ran amok during high school and only graduated with his class by the skin of his teeth, gaining the value of hard work not by doing it, but by avoiding it. "It was never a challenge of intelligence—I was just not interested in directing my work ethic in a classroom," he says. (A born motorhead, Passmore also racked up so many speeding tickets as a teen that he had to apply for a "moral waiver" in order to join the military.) I learn that his grandfather the cattle rancher suffered from dementia in his golden years, but was always a hard man to get to know, as you might imagine old cowboys to be. Sometimes Passmore will come across a vintage photo of his grandfather fishing the stock ponds on his Oklahoma ranch and wonder if aquaculture wasn't an inherited interest after all. I also learn that his mother has Alzheimer's disease. Passmore lovingly wrote this caption on a recent Instagram portrait of Faye, who lives in a care facility in Elk Grove: "Helpless to do anything but love on her and take her for who and where she is. There is an upside to this disease, though. She doesn't remember what an ass I was as a kiddo."
He talks about how his law-school ambitions were upended by the aquaculture bug, a so-far incurable pursuit. He quit Lincoln Law School in East Sacramento after just one year to raise fish. (Though the Marines had wiped out his underachieving ways, marrying Vandy, a scholarly overachiever who graduated early from high school and college, was most influential in his brief academic pursuit.) He talks about dirt biking the famous Baja 1000 course this past summer on his 2012 KTM 990 Adventure, which he bought for his 40th birthday, picking it up in New York and driving it all the way home: "Being on a motorbike is the only thing that quiets the cacophony of to-do lists in my head," he says. He talks about his short-lived adventures in online dating: Vandy, whom he married in 2003, was only the  second woman he met via the long-defunct Matchmaker.com. "Is that what she told you? Nah, it was Footfetish.com," he jokes. In July 2001, they arranged to meet at a park in Elk Grove; Passmore moved there in 1999 for a new job in the background-check business, his post-military career of choice. They happened to be wearing the same outfit—khaki shorts, black T-shirt and flip-flops. "It was meant to be," says Vandy, 42, a fourth-grade teacher at Cosumnes River Elementary.
And as he proudly waxes on about being awarded an honorary "Women in Ag" pin for being the hardest-working dude in the predominantly female crew at the Tower Bridge dinner in September, I realize it is literally impossible not to like this guy. He has built a loyal following with his authenticity and charisma (the deep well of campfire stories doesn't hurt either). Patrick Mulvaney, chef-owner of Mulvaney's Building & Loan, fondly recalls the days when he would have to preposterously net live sturgeon out of the back of Passmore's truck because the purveyor didn't have a license to sell processed fish. Naturally, he can't resist giving his pal a good ribbing. "Michael works hard, but he also has a line of bull a mile long," he says.
---
READ MORE: Stronger Together – Patrick and Bobbin Mulvaney discuss Passmore, Mulvaney's B&L and more
---
Such deep camaraderie among his chefs may land Passmore, say, all-you-can-eat sushi (he famously wore a groove into the corner stool at the old Kru in midtown, where he would consume whatever Ngo placed in front of him for hours on end). Or a coveted seat for an 11-course dinner at SingleThread, even though he was wearing dirty motorcycle clothes. Having personally delivered their custom caviar on his 2019 BMW Adventure, as he is wont to do, Passmore demurred at the invitation, but chef Connaughton and his wife Katina, SingleThread's farmer, were resolute. Then there was that one time David Breeden, the chef de cuisine at The French Laundry, hijacked another of Passmore's motorcycle deliveries—this time of steelhead roe, which TFL chefs winnowed down for service from an already small batch, one bright orange, jewellike orb at a time—by putting the purveyor in a closet-sized office and feeding him 16 dishes still in the concept phase. What's next? Entrusting him with the nuclear codes?
However, hands down the best perk of being on the inside has been the culinary and business guidance from people with unique insight into the food and farming industries. Kelly McCown, executive chef at The Kitchen, gave his frequent motorcycle companion his game-changing two cents during a 2009 plateau in fish sales, owed to a lack of education amongst cooks about sturgeon in particular. The fish has an odd set of care instructions, given that its delicate flavor only comes through on the other side of a weeklong rigor mortis, challenging preconceived notions of freshness. "It takes a certain level of chef to understand and embrace these things," says Passmore. "I asked Kelly, 'What's wrong with these guys?' It's like I was trying to sell Versace to Target." In that moment, McCown, a veteran of the illustrious Napa Valley dining scene, raised the bar for Passmore. "I told him to position himself with the high-end chefs in the market," he says. "I knew that if he got his product into those restaurants, there would be a trickle-down effect."
One such high-end chef, Christopher Kostow of The Restaurant at Meadowood, soon became a regular client, serving the sturgeon—beloved in his ancestral Eastern Europe—in true three-Michelin-star fashion: poached in olive oil and grilled, then topped with koji-cured foie gras and kimchi caramelized in brown butter, and finally draped in a blanched-cabbage-leaf sauce flavored with grilled sturgeon bones. In his critically acclaimed 2014 cookbook, A New Napa Cuisine, Kostow devoted a different recipe, coal-roasted sturgeon with fermented quince, to the farmer. "He raises the finest sturgeon I have ever seen," he wrote in the headnote.
"I would call that a monumental leap in product placement, considering Michael got his start selling fish underneath the freeway," says McCown, referring to the big Sunday farmers' market at 8th and W. But were it not for those humble beginnings, Passmore would not have encountered his first local chef client, Randall Selland, who unlocked the Sacramento restaurant scene for him. Now the River City contingent of the "Passmore Posse" includes chefs like Ngo, Mulvaney, Oliver Ridgeway of Camden Spit & Larder and Michael Fagnoni of Hawks. Recalls Selland, "Michael had fish swimming in a pool that looked like something my wife and I would buy for our grandkids. How could I not stop to talk to him?"
~~~
When Passmore enlisted in the Marines, it fulfilled a family tradition to serve the country—his father was an Army colonel. The extremely physical and regimented experience was just what the wayward kid needed. Now with the benefit of hindsight, the most valuable takeaway from his four-year term was not the finer points of reconnaissance but rather a simple inquiry: Did you die?
"When there is seemingly no way out, no other options, nowhere to go, just let the situation develop and evolve," he explains. "A way forward will reveal itself eventually, and until then, at least you're not dead."
Granted, aquaculture and caviar hardly compare to top-secret military operations, but nevertheless Passmore returns frequently to that great leveler of mantras, especially in business, and especially now.
"This is a really intense time for us," says Passmore cryptically. He's devoted the last few years to figuring out how to scale his business, a not-for-the-faint-of-heart, numbers-crunching endeavor that involves a real unpacking of his ultimate vision for the ranch. "But hey, I'm not dead, so I'm going to keep plugging away."
In his critically acclaimed 2014 cookbook, A New Napa Cuisine, Christopher Kostow devoted a recipe for coal-roasted sturgeon with fermented quince to Passmore. "He raises the finest sturgeon I have ever seen," the three-Michelin-starred chef wrote in the headnote. "I would call that a monumental leap in product placement, considering Michael got his start selling fish underneath the freeway," says chef Kelly McCown of The Kitchen, referring to the big Sunday farmers' market at 8th and W.
Butter Restaurant's executive chef Alex Guarnaschelli, who likes to serve the Ranch Select caviar atop hot pasta tossed in crème fraiche and lemon, has a lot of empathy for him. "Fish is so complicated and Michael has chosen one of the most complex products to make," says the Chopped judge. "Finding the right funding and keeping a business capitalized would be a struggle for anyone, but he has such determination and integrity as an artisan. He is made for this work."
Vandy, the black-and-white reality check to Passmore's blue-sky ambition, has faith that her husband will pull off his dream homestead, which includes an aquaponics operation of niche crops like lotus root, wasabi and truffles—the musky fungus, an obsession of chefs and scent-sensitive Labrador retrievers and Belgian Malinois everywhere, grows on the underground roots of trees like white oak and hazelnut. A more sophisticated on-site caviar production facility, potentially on the ground floor of the weather-beaten manse, is also part of the short-term outlook. But although caviar has been the bulk of his revenue lately, if he digs the extra stock ponds for striped and white bass like he wants to, that will probably change. His steelhead trout, raised off property, is also a favorite among chefs, appearing on menus in springtime—chef Rodney Wages of Avery in San Francisco, for instance, likes to cure Passmore Ranch trout in salt and brown sugar, grill the skin until it's almost blackened, and then smoke it the rest of the way. "I see a business as a constantly evolving beast," says Passmore. "You're always evaluating it and looking for opportunities for improvement, streamlining and sustainability—whatever's going to make it stronger and better."
Considering the modern aquaculture industry is on track to right the wrongs of overfishing, Passmore seems perfectly poised. According to Eating Well, approximately one-third of the wild fish on the planet are depleted due to overfishing. The Monterey Bay Aquarium Seafood Watch, long considered the foremost source on sustainable fish, reports that all 26 species of sturgeon in the wild have been severely depopulated. This is due in part to the mafia-style black marketeering of wild sturgeon roe, which led to a USDA ban on caviar imports in 2006. With the instability of the fishing industry in the Caspian and Black seas—the historic origins of what was once considered the world's finest caviar—domestic producers have been filling the gap with gusto. "I think caviar is something that we've seen as imported and inaccessible," says Guarnaschelli. "Michael is working hard to make sure those myths are debunked. We can obviously raise fish and produce amazing caviar in this country."
But Passmore doesn't appreciate sustainability as a trend or buzzword, since it's the natural way of life for most farmers, especially the ones who live in landlocked areas and tap into an aquifer of not unlimited supply to fill their ponds and water their crops—get him started on water rights and that aspiring environmental lawyer rears his head. "Sustainability is very, very closely tied to finances," he says. "Waste is just bad business."
To wit, using each drop of water multiple times is foremost, thanks to a waste-removing wa-ter treatment system. Furthering their current water recirculation efforts, an aquaponics operation would be another heir of water recycled from their tanks and ponds. Using every part of the fish, which are fed a sustainable, mostly plant-based diet, is also in the long-range plan. Since harvesting roe often requires killing the fish, Passmore has worked with the chef-founded food development company Pilot R&D to make provisions of all unwanted sturgeon parts. Sturgeon-skin chicharrones and sturgeon fish sauce may be coming sooner or later to an artisan grocery store near you. "I've told Michael a bunch of times that his longevity will be with the home consumer," says Mulvaney.
As we walk along the pond trails, the ranch unfolds in the distance, almost without interruption, and Passmore's vision fills every square inch. But these days, dreams are only as real as the money needed to back them. Passmore, who has never paid himself a traditional salary (Vandy's income as a veteran teacher of 21 years has often supported the ranch), is entertaining the possibility of outside investment. "I'd rather have a smaller piece of a much bigger pie," he says.
Several great blue herons creep along the water, taking flight as soon as they see Mattis coming toward them at a full clip. He inevitably bounds into one of the ponds with a big splash, surely scaring the living daylights out of some unsuspecting bass (Passmore has always wondered how the dog's white fur stays so clean in such a dusty place, but I think the answer is obvious). We stop at a small orchard to pick some sun-warmed fruit and continue on the path, our conversation replaced by the crunch of crisp pears, the rustle of gravel under our feet and the sound of a silver carp gently breaking the surface of the water.