10 delicious ways to celebrate National Cheeseburger Day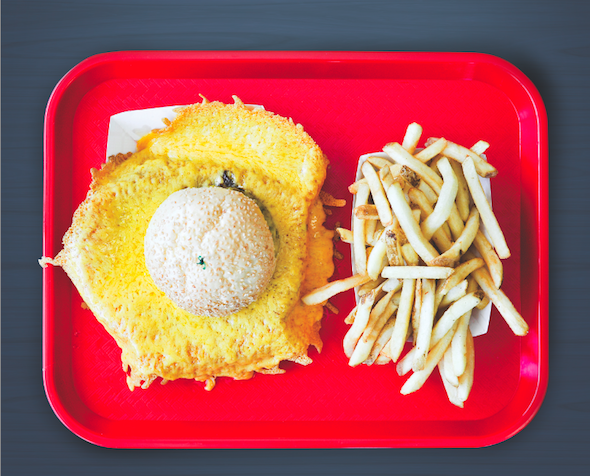 Happy National Cheeseburger Day, Sacramento! Many will celebrate the occasion at tonight's annual Burger Battle at Cesar Chavez Plaza, where chefs from Broderick Roadhouse, Ettore's (both 2013 winners), de Vere's Irish Pub and a dozen other eateries will face off for burger bragging rights (and for a good cause, raising money for the Crohn's and Colitis Foundation of America). While tickets for the Burger Battle are sold out, we've singled out 10 delicious Sacramento-area spots where you can get in the spirit of Cheeseburger Day today—or any day.
Broderick Roadhouse
Nicknamed "Ring of Fire" by the restaurant's staff, this West Sacramento institution's Johnny Cash burger features a smoked pepper-crusted Niman Ranch beef patty topped with cheddar, applewood-smoked bacon, fried onions, barbecue sauce and a touch of spicy, house-pickled peppers between a fresh-baked onion roll. If that weren't enough to recommend it, the decadent delight took home the People's Choice award at last year's Sacramento Burger Battle. 319 6th St. West Sacramento. 372-2436. broderick1893.com
Cookies Drive- In
This small, family-owned East Sacramento burger stand has built a generational following with both its traditional burgers as well as those made with such exotic ingredients as camel, ostrich and kangaroo—all cooked with the same unfussy methods and recipes (hint: meat, salt and pepper) for nearly three decades: Each patty is hand pressed and grilled medium well with American, Swiss or cheddar on a steamed French bun. 5640 H St. 457-8353.
Dad's Kitchen
Among the wide, wonderful array of burgers on the menu at this beloved Land Park eatery (as well its recently opened Orangevale outlet), it's tough to eclipse the flagship Dad's Burger, which packs blue cheese and bacon onto fresh beef delivered daily from 5 Dot Ranch beef in Sonoma. Each patty is cooked bacon-side-down, creating a crispy coating that keeps the blue cheese melted yet contained with its flavorful fellow ingredients. A fluffy yet sturdy artisan bun from Village Bakery in Davis ensures that all that will stay in place without crumbling. 2968 Freeport Blvd. 447-3237. ilovedadskitchen.com
The Firehouse
Although this classic Old Sacramento favorite is known for executive chef Deneb Williams' creative cuisine, drop by for lunch to enjoy the restaurant's Steakhouse Burger. Caramelized onions are sautéed alongside fresh mushrooms to add a sweet, earthy flavor that complement the spicy horseradish havarti and peppercorn aioli topping this burger, served on a brioche roll. 1112 2nd St. 442-4772. firehouseoldsac.com
Flaming Grill Café
For the adventurous eater, any burger at the Flaming Grill Café can be made with an assortment of unique and exotic meats and/or toppings: Try a bacon cheddar burger with a perfectly cooked ostrich patty, a mushroom Swiss burger with wild boar, or a carnitas burger with 10 ounces of freshly ground chuck mixed with bacon and onions and topped with homemade carnitas, pico de gallo, and guacamole. Regardless of whatever adventure you choose, your burger is handmade to order on grilled buns baked fresh daily. 2319 El Camino Ave. 359-0840. flaminggrillcafe.com
Formoli's
Formoli's approach to a good cheeseburger is to keep ingredients simple, but be complex in terms of preparation. Take for instance the popular cheddar whiskey burger starts with a handmade patty made with 5 Dot Ranch ground beef, grilled with a secret combination of seasonings, whiskey demi sauce and sharp cheddar. Scratch-made habanero aioli adds a creamy kick to this burger, served on a ciabatta roll from Bella Bru and topped with Little Gem lettuce. 3839 J St. 448-5699. formolisbistro.com
Ikedas
Come to Ikedas for its market featuring local produce, nuts and baked goods, and stay for the burger bar, where customers bring their imaginations to bear on patties of freshly ground beef with a secret blend of 12 herbs and spices served on a house baked sesame seed bun. Indulge in Ikedas famously crisp and fresh traditional produce toppings, or venture into offbeat flavor combinations like the Inferno, made with ghost pepper cheese, sriracha, bacon and jalapeños. Don't leave without dessert, either—especially a slice of freshly baked pie made with peaches, apples and berries picked daily on site. Locations in Davis and Auburn. restaurant-bakery-auburn-ca.com
Nationwide Freezer Meats
Originally a small butcher shop founded in the late '60s, this family-run diner still uses a classic approach for their renowned French Steakburger. Cooks hand trim and grind U.S.D.A choice steak from Harris Ranch, serving up burgers with as many as four juicy one-third-pound patties (just ask for the "Quad" French) beneath blankets of American cheese. There are no wild toppings on this burger—only red onions, tomatoes, crisp lettuce and Thousand Island dressing on a fluffy French roll adorn this fresh, flavorful labor of love. 1930 H St. 444-3286. nationwidefreezermeats.com
Redrum Burger
A Davis tradition for three decades, this burger destination has in recent years introduced its customary garlic, salt, white- and black pepper spice blend to expanded menu variations like ostrich, bison and other exotic meats. Whether you stick with a classic beef cheeseburger or try a more daring variety, savor your burger with one of Redrum's famous milkshakes, including fresh fruit flavors like blackberry, cherry and pineapple. 978 Olive Dr. Davis. 756-2142.
Squeeze Inn
With nine locations spanning Sacramento, Roseville and Napa, fans of Squeeze Inn's infamous cheese skirt can now satisfy their cravings anytime, anywhere. The secret to the skirt's gooey yet crispy texture is what happens underneath the hood that covers each burger during the cooking process: After the final flip of the patty, a handful of ice inside the hood creates a steamy chamber, melting a quarter pound of grated cheddar on top of the patty while allowing the cheese to become crispy without burning—a technique worthy of its own holiday. Various locations. 386-8599. thesqueezeinn.com
Related Links
– LowBrau founders bringing new restaurant to West Sacramento riverfront
– 6 local spots to celebrate National Cheese Pizza Day, from slice to pie
– Federalist brings new beer, bocce and food destination to midtown