Best of the City 2017
Elvis cinnamon rolls crowned with peanut butter and bacon, heavenly angel food cake French toast, a hidden tearoom to cozy up to, a steampunk bicycle repairium, a mobile boutique in full bloom, grape-clove shrub syrup for your homemade soda, a basketball tale that became a Cinderella story, and much more. Behold this year's top crop of the people, places and things that make our hometown a home run—or a slam dunk—for everyone.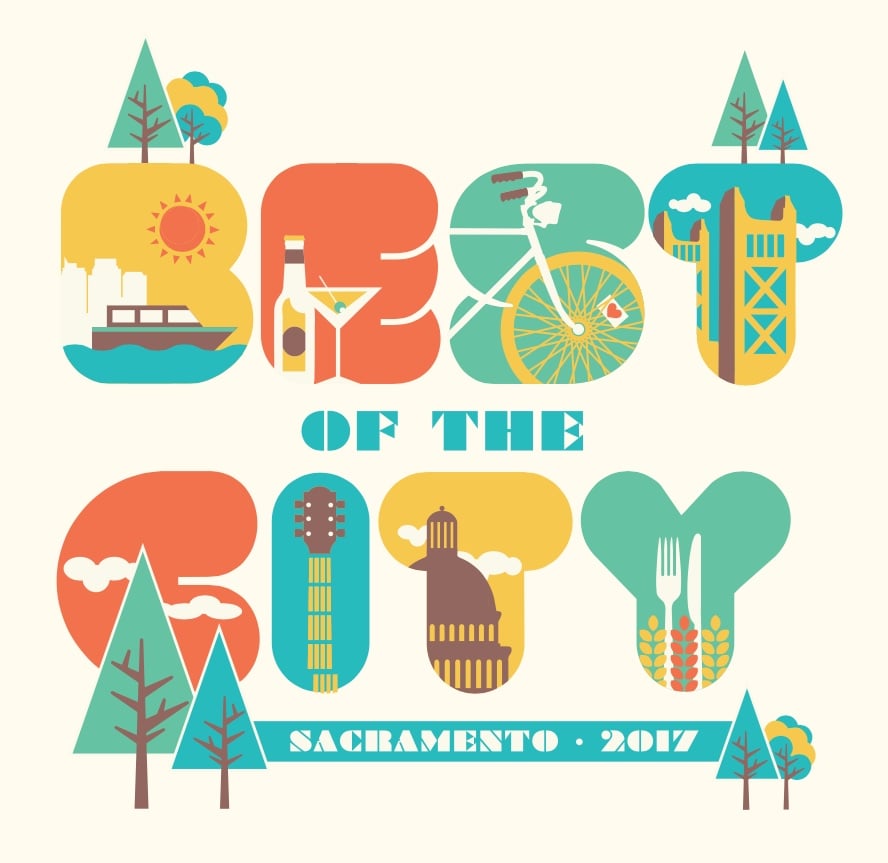 ---
Visual Feast for a Starving Artist
If you're an aspiring painter or sculptor whose earnings as a barista are earmarked for art supplies, you probably already know which galleries have the best free wine and cheese spreads on Second Saturday, but you may not have realized that the new Jan Shrem and Maria Manetti Shrem Museum on the UC Davis campus, which opened last November, has free admission all day, every day. Get a crash course in local art history from the museum's recent acquisitions (on display through June 30th), featuring works by an illustrious group of former UCD professors, including Wayne Thiebaud, Manuel Neri, Roland Petersen and William T. Wiley. The facility can be toured in an hour, but plan to spend at least half a day: The sculptural building is itself a work of art, its gridded concrete and aluminum canopy an homage to the industrial agricultural heritage of the region with its slatted beams painting an ever-changing light show across the welcoming plaza. Bring your camera or your sketchpad and feel free to linger—your gallery can always reach you via the museum's free Wi-Fi should one of your masterpieces suddenly sell. 254 Old Davis Rd. Davis. 530-752-8500. manettishrem.org
Reason to Break Bread
Bring a group of friends to Woodland's Morgan's on Main and prepare to get handsy—with the Pull Apart Bread appetizer, a savory, monkey-bread-like starter cooked up by executive chef John Gamboni. The dish begins with little balls of dough tossed in garlic-infused butter, which are then layered inside a bowl with Parmesan cheese, fresh chives and even more garlic butter, and baked to order. The resulting warm, homey clump of bread has a deliciously soft and chewy interior that releases a steamy cloud of garlic aroma when you break open the smooth top crust reminiscent of a pretzel's outer shell. Leave the knives and forks aside and use your mitts to divvy the softball-size loaf into bite-size portions, which are ideal vehicles for moving the accompanying creamy béchamel cheese sauce from ramekin to mouth. The hands-on app perfectly exemplifies the two-year-old restaurant's motto of "Eat. Share. Drink," though the sharing part with this particular dish may prove challenging. You'd better order two, just to be safe. 614 Main St. Woodland. 530-402-1275. morgans-on-main.com
Burrito Virtuoso
If you're downtown looking for lunch and you've got a fiver in your pocket, seek out the rainbow umbrella that can be found most weekdays (weather permitting) on the southeast corner of 7th and I streets. Underneath it you'll find Señor Burrito, aka Roberto Lopez, selling $5 burritos, the same way he's done for the past 23 years. The 71-year-old Sacramentan grew up in Mexico City and digs his gig as downtown's go-to burrito man. He says he tried to retire last year, but his loyal regulars wouldn't have it, so he came back. And the burritos? Lopez's scratch-made fillings—choices include carnitas 'n' beans and chicken chile verde 'n' rice—are tasty and hearty, prewrapped (read: no substitutions) in a handmade tortilla that is thicker and chewier than your store-bought variety and served with au jus. It's a little taste of Sacramento history—with a side of chips and salsa.

Fries That Are Just Ducky
You're stumbling from taproom to biergarten, the latest triple IPA limited release sloshing around in your hollow leg, when you're gripped by an impulse that dates back to at least 3000 B.C., when a Sumerian much like yourself first indulged in a bit too much of the hop and thought, "What I need right now is a big plate of grease!" But there's no reason this beery gut bomb need be lowbrow if you're anywhere near LowBrau, the midtown German beer hall where you can order up another round along with a heavy helping of the wildly popular duck fat fries. The golden spears are made from Kennebec potatoes cut into thick wedges with the skin left on for texture. They're blanched, fried and tossed in garlicky duck fat from Stockton-based Grimaud Farms, then sprinkled with salt, pepper and chives and served with your choice of four dipping sauces (go for the creamy beer cheese, our favorite and head chef Brock Macdonald's too). With just the right proportion of salt to grease and a smooth umami undercurrent from the rich, pleasantly gamy duck fat, nothing does a better job of setting you up to handle that last pint of imported doppelbock. 1050 20th St. 706-2636. lowbrausacramento.com
#FoodPorn Star
Since joining the Tahoe Park breakfast mecca Bacon & Butter in October 2014, pastry chef Nena Rasul has been churning out myriad morsels just begging for their close-ups on Instagram. Think shimmering jam-filled Danishes, one-offs like the bacon Butterfinger bonut (a cross between a biscuit and a donut, of course) or salacious indulgences like Elvis cinnamon rolls with banana, peanut butter and bacon (pictured)—all broadcast fresh from the oven, making for one of the most drool-worthy photo feeds in town. Word to the wise: The inventive patissier rarely repeats flavors, so if a particular post of, say, churro doughnuts or blueberry cream pie provokes a craving, then run—don't walk—to claim said treat, because with Bacon & Butter's hungry Instagram followers (over 15,000 and counting), the object of your desire may be gone faster than you can type #foodporn. 5913 Broadway. 346-4445. baconandbuttersac.com
Spot to Tune Up a 1977 10-Speed
Don't be fooled by the entry, a ramshackle fence tucked behind a beauty salon in the Poverty Ridge neighborhood. Once you venture into the bike-filled yard of Addison's Bicycle Repairium you'll feel like you've walked into a mechanistic, steampunk wonderland. Inside the spacious tin shack that is the shop floor, you can peruse shelves of books while you wait, or better yet, belly up to the clubby wooden bar that looks like it once graced a Gold Rush-era saloon (you'll have to bring your own beverage) and have a chat with owner Addison Quarles while he fixes your flat. If you're used to being judged by bike shop snobs who think your ride isn't cool enough for school, prepare to be charmed. A trim, courtly gentleman in jeans, suspenders and a wool vest, the 28-year-old Quarles learned to work on classic bikes and cars from his dad while growing up in Rancho Cordova, and in 2013 opened the Repairium, where he found his calling. He knows his way around just about any two-wheeler you might schlep in, but give him a vintage Raleigh with a lugged steel frame and you might just get back the ride of your life. 2311 S St. 554-8845
Place to Toast the End of Prohibition
As the seat of the Gold Rush, early Sacramento was overflowing with so many breweries and liquor distilleries it was known in some circles as the "wettest" city in the country—until Prohibition abruptly shut down the party in 1920. Although Prohibition was repealed in 1933, state ordinances from the alcohol-free era lingered on the books—something Cris Steller and Gordon Helm discovered in 2008 when they attempted to open a tasting room for their El Dorado Hills distillery, Dry Diggings, and found themselves afoul of the law. Undeterred, Steller founded the California Artisanal Distiller Guild and launched a lobbying campaign that resulted in Gov. Brown signing Assembly Bill 933 in 2013, which revoked rules that forbade distilleries from operating tasting rooms. Two years later, Helm and Steller opened theirs, which is an homage to the Sacramento area's hooch-filled heyday and features vintage photographs of 1800s-era Placerville, Tiffany lamps, a corrugated tin ceiling from the 1850s, and, of course, a bar where you can chill as you swill Dry Diggings' line of 21 bespoke spirits—like the "31 N 50" bourbon or Diamond Springs vodka, which won the American Distilling Institute's title of best new vodka in 2015—and drink up, knowing you don't have to "speak easy" (i.e. quietly) or risk being thrown in the pokey. 5050 Robert J. Mathews Pkwy. El Dorado Hills. 542-1700. drydiggingsdistillery.com
Shock to the Chakra System
Of course we love the quiet, kick-back vibe at Asha Urban Baths, a new co-ed spa-style bathhouse (yes, everyone wears swimsuits) located just north of Broadway, which opened late last year. Asha, attached to the adjacent yoga studio of the same name, lets you chill out in several ways: by floating in the soaking pool, melting away tension in the steam room and lolling quietly on a chaise longue or in the massage room. But what we're really addicted to is the literal chill the bathhouse offers, in the form of a cold plunge pool (kept at a nippy 59 degrees Fahrenheit), recommended for use just after leaving the dry sauna or steam room. Dunking all the way in takes a bit of liquid courage, but it feels as refreshing and purifying as jumping in a cold creek after a hot hike. And you won't believe how good the warm pool will feel afterward. So take the plunge—at Asha, no matter the temperature, the water's always fine. 2417 27th St. 837-3290. ashaurbanbaths.com
A.M. Ice Cream
If you've been driving into San Francisco and standing in line at Humphry Slocombe for a scoop of the famous cornflake-cookie-and-bourbon-laced Secret Breakfast every time you get a hankering for a decadent frozen eye-opener, welcome home. West Sacramento's Devil May Care ice cream parlor, which opened last November, has cracked the code with its cult-favorite version of the most important meal of the day: Coffee & Doughnuts. The obsession-worthy sensation is a mainstay on the rotating menu (check the shop's Instagram page for the current lineup), despite taking a bit of extra time and effort to make. Using fresh ground beans from local roasteries like Insight or Old Soul, chef-owner Jess Milbourn cold brews the coffee directly in the ice cream base—twice—then adds crumbled old fashioneds from City Donut. Like all his creations, the result is an intense, dreamy concentration of flavor that stirs the soul while it wakes up the body. 322 3rd St. West Sacramento. 572-0456. devilmaycareicecream.com
Reason to Watch Paint Dry
Our creative community likes to make a big impression—whether it's with the Art Hotel or ArtStreet or the 2016 Sacramento Mural Festival, an event that was expected to produce building-sized works of art, to be sure, but which wildly exceeded expectations when it captivated our town for eight days last August, becoming a celebratory happening. The 11 participating artists fanned out to sites scattered throughout the city's urban core, tasked with the daunting responsibility of creating enduring, placemaking pieces in mere days—with nowhere to hide. But the painters' spirits were buoyed by a tide of admirers who thronged to watch the works in progress. Muraling requires some athletic prowess—like the confidence to hug a ladder or hang off a cherry picker while wielding a brush or spray can—so it's no wonder it became a spectator sport. The event was such a whopping success that this year, organizers—led by art auctioneer David Sobon—have reinvented it as the Wide Open Walls fest (Aug. 10-20), with an expanded lineup that includes over 40 artists, spots beyond the grid (like Natomas, Del Paso Heights and Oak Park) and a packed schedule of intentionally interactive happenings—from walking tours to pop-up exhibits and even a mural-finding phone app—modeled after the spontaneous ones that formed last summer. It might sound like an ambitious step up, but where there's a wall, there's a way. wow916.com
Political Toonsmith
Sacramento Bee cartoonist Jack Ohman's searingly witty take on California politics is so deft you'd never know he isn't a native—making it all the more impressive that the Pulitzer Prize committee awarded him its top honor last April for a portfolio of drawings whose highlights range from a multi-panel depiction of the political corruption of the former first dog Sutter Brown to the scathingly satirical yet poignant "U.S. Citizen Mass Shooting Report Form." As recently as 2012, the nationally syndicated cartoonist was being named a finalist for the very same award for his work at The Oregonian, where he had been drawing barbs for almost 30 years. But fate intervened, and by the end of that year, he had moved down to Sacramento to take up the pen in honor of his best friend, Bee cartoonist Rex Babin (also a Pulitzer finalist), after Babin died of cancer. Four years later, this South Land Park denizen has fallen madly in love with the River City, so Sutter Brown's sister, Colusa, might want to put up a new sign at the governor's mansion: Beware of Cartoonist.

Food Desert Oasis
Sacramento Food Bank & Family Services is putting the philanthropic pedal to the metal with a new truck that makes the rounds to food deserts throughout Sacramento County—urban neighborhoods with little or no access to fresh fruits and vegetables. Part of the food bank's Produce for All program, the vehicular vendor stops at easy-to-access locales like Tahoe Park's Hiram Johnson High School and Natomas' Peach Tree health clinic, where prepackaged green groceries from area farms (such as Davis Ranch in Sloughhouse and Soil Born Farms in Rancho Cordova) are handed out for free to all who show up. Along with bags brimming with seasonal staples that can range from carrots and potatoes to strawberries and apples, the truck dispenses printed recipes for the day's crops and tips on food storage. Since its March debut, the truck has distributed more than 40,000 pounds of nature's bounty to those in need. To that we say, keep on truckin'. sacramentofoodbank.org
Christmas in a Cup
You'll want to put on your ugliest sweater, kiss under the mistletoe and hum "Mele Kalikimaka" after just a single sip of The Painkiller, one of the classic island-inspired libations served up at the new tiki bar known as The Jungle Bird, which took flight in midtown last October. While the sweet, citrusy beverage comprises such tried-and-true tropical cocktail ingredients as coconut cream, and pineapple and orange juices, plus a hearty 2-ounce pour of Pusser's British Navy rum, it's the sprinkle of cinnamon and freshly grated nutmeg that conjures aroma-fueled images of sleigh rides and pine trees. Served in a tin white-and-blue camping mug, which further distinguishes this killer concoction from the rest of the menu's vibrantly hued, umbrella-laden drinks, the super-satisfying, soul-warming blend of holiday spices, tart tropical fruit nectars and rich coconut cream will have you dreaming of a white sand Christmas. 2516 J St. 476-3280. thejunglebird.com
Minimalist Maker
Amid all the reclaimed wood cutting boards, embroidered textiles, quirky ceramics and other avowedly handmade goods flooding Sacramento's thriving maker scene, Genesis Duncan has carved out a niche with her clean, beautiful designs. As the founder of Graphic Anthology, the Oak Park artist creates prints and greeting cards that eschew overwrought, insincere whimsy in favor of sharp lines, unfussy shapes and bold type treatments to convey everything from love and birthday wishes to the simple grace of a forest. (Duncan counts her "Geometric Trees" pattern among her most popular and favorite illustrations.) Her work has earned her a national following since she sold out her first offerings on Etsy in 2010, with retailers like West Elm now carrying her line, and has become a ubiquitous presence here at art fairs and in shops (such as Oak Park's Miel boutique and midtown's Relles Florist), making Duncan a local card-iologist worth writing home about. graphicanthology.com
Secret Zen Retreat
It's easy to overlook BenBen's Hidden Tea Room, which opened last June and occupies a former apartment on 19th Street between K and L. But climb the few steps to this pocket-sized nook, and you'll feel like you've found the perfect spot to sip your cares away. Entering the urban oasis evokes an almost-audible "ahhh," as does the first sip of carefully brewed teas, both traditional (like Earl Grey or genmaicha) and original blends, like a tangy hibiscus with orange peel and blossoms, or a chocolate tea blooming with deep cocoa flavor. The aura of peace includes tiny Zen raking gardens, Buddha boards to paint on, cushy chairs, soothing spa-style music and an alluring array of teas displayed prettily in jars, all hand-blended by Benjamin Beck, a self-taught tea obsessive inspired by his family's teatime tradition and his own commitment to veganism and health. Beck co-owns BenBen's with wife Anastasia, who has a background in botany and horticulture. The Becks' arrival in Sacramento was serendipitous: Looking to leave their busy SoCal lives, the couple took a long road trip up the California coast two years ago, seeking the right town to open the tea shop of their dreams. Upon arriving in midtown Sacramento, they felt an instant sense that it was the perfect spot. The feeling is definitely mutual. 1120 19th St. 573-7361. benbens.neocities.org
Walking Waffle
Paris has the croissant, New York City the bagel, and now Sacramento has its own potential signature breakfast food in Waffle-in-Hand, a portable treat so comforting, tasty and built for speed that you'll never want to hoof it to the office without one. In the same two minutes it takes the friendly baristas at The Mill to make your cappuccino, they can kit you out with this to-go version of the Boulevard Park coffee shop's Liège-style Belgian waffle, thought up by co-owner Nick Cookston-Minton, who spent several months testing recipes before debuting the morning confection on the menu early last year. Instead of a runny, overly sweet batter, the waffle is made with yeasted dough, yielding a denser cake with a complex, subtle flavor. Made to order until 3 p.m. every day, it's handed to you piping hot, lightly dusted with powdered sugar and cleverly wrapped in a folded paper coffee filter. The Mill also offers waffles on a plate with sauces like warm maple syrup and wildflower honey on the side, but we think the perfectly fluffy pastry is best on its own and on the go, making your morning routine anything but ordinary. 1827 I St. 469-9683. themillsacramento.com
Thing Since Sliced Bread
Davy Bui, proprietor of The Drunken Loaf, may not have been the first reader to have his culinary world rocked by Michael Pollan's 2013 book, Cooked, the sustainable food guru's paean to artisanal methods of brewing, baking and culturing. But last spring, when Bui couldn't find bread for sale to match the kind he taught himself to make from Pollan's instructions, he took matters into his own hands—literally (the tipsy business name is a play on the naturally leavened bread's fermenting process, which he initiates two days in advance of baking any loaf, kneading upwards of 250 pounds of dough each week). And we're so happy he did. His sourdough, which uses whole wheat flour milled in Woodland at Community Grains, is rustic and aromatic, and his best-selling sesame-Gruyère "Goddess Loaf" is highly addictive, with pockets of strong, melty cheese dotting the bread's soft, chewy interior. You can find Bui at the Oak Park farmers' market, or you can pick up a special order from his home kitchen in Curtis Park every Sunday—but call it in early, as this baker already has a cult following that thinks he's the best thing since, well, you know. 2667 21st St. 397-8107. drunkenloaf.com
Driver with Indy Spirit
Last May, 25-year-old Alexander Rossi entered his very first Indianapolis 500. In a stunning upset, the driver, who was born in Auburn and raised in Nevada City, coasted to the finish line, winning the famed race and becoming the first American-born rookie to accomplish that feat since 1928. And by coasted, we don't mean he was taking it easy. He was coasting—literally—because he was out of gas. You see, halfway through the race, Rossi was in the middle of the pack, so he and his crew quickly devised an outrageous Hail Mary plan to skip the final fuel stop. (Was there a Pixar buff in the group? Lightning McQueen fans will remember the cocky Corvette—another American rookie—skipping his own final pit stop in the movie Cars.) Rossi's team projected that he'd run out of fuel somewhere between two laps and a half-lap before the finish line. His only chance: Drive slower—yes, slower—in the final laps to conserve fuel. It worked, barely. His car, starved of fuel, stopped shortly past the checkered flag and had to be towed to the winner's circle for the ceremonial (and perplexing) milk toast. Did life imitate art? We'll let you decide. Ka-chow!
IPA That's OMG
Moonraker Brewing made some big sudsy waves in February, when owners Dan and Karen Powell, along with head brewer Zack Frasher, entered their Extremis brew, a West Coast triple IPA, into the prestigious Double/Triple IPA Festival beer contest at the Bistro in Hayward—and won, beating out some stiff competition, including Russian River Brewing's Pliny the Younger, a world-renowned triple IPA with a devoted fan base (enthusiasts have been known to camp overnight to try the elusive rock star brew during its annual February two-week release). Moonraker debuted Extremis when the brewery launched in Auburn last April, but shelved it because of the beer's whopping 10 percent ABV (alcohol by volume), until Frasher brought it back for the competition, where its fresh, tropical flavor profile and easy drinkability secured the victory. With its newfound fame, expect to see Extremis pop up at the beer maker's taproom every three to six months (you can check its website for on-tap updates). And lest you think the one-year-old Moonraker a one-hit wonder, RateBeer.com recently ranked it California's top new brewery (and ninth best in the world), making this hop-happy newcomer a legend in the making. 12970 Earhart Ave. Auburn. 530-745-6816. moonrakerbrewing.com
Twice-Baked Bread Pudding
The concept of leftovers for breakfast is nothing new, but midtown's Magpie has us rethinking our cold pizza ways with its decadent Savory Bread Pudding, a weekend brunch menu favorite that upcycles unsold bakery loaves from Magpie's sister cafe Nido, like croissants and scones, and restaurant refuse like cut-off pieces of sandwich buns. The bread base changes constantly, but it's the mix-ins that make the dish: end pieces of spicy salami from Fra' Mani in Berkeley, house-made Beeler's pork sausage (well seasoned with sage, ginger and garlic), juicy bacon, and Sierra Nevada organic white cheddar. This comforting mélange is doused in a custard mixture and baked until the interior is dense and moist and the top is perfectly crisp and golden. The finishing touch is key: pure maple syrup drizzled over the browned, bready mound adds velvety sweetness, making each mouthful an ideal bite of pure breakfast goodness and updating the old saying on thriftiness to "Waste not, want seconds." 1601 16th St. 452-7594. magpiecafe.com
Milkshake Shake-Up
You can practically hear the brakes on your scroll bar squealing when you stop to stare in stupefied wonder at The Works whenever it pops up on your Instagram feed—something it does often, as nobody who encounters this monstrous, monumental confection can stop themselves from posting a photo of it. The invention of The Parlor Ice Cream Puffs in Arden-Arcade and Roseville, The Works is even more jaw-droppingly over the top when you see it in real life. The concoction begins with one of the shop's 16 flavors of ice cream (our favorite is the sea salt caramel), which is whirled into a frosty milkshake, then topped with a warm churro or Nutella-filled glazed doughnut, capped with a generous mound of whipped cream, drizzled with chocolate, caramel or peanut butter sauce, and finally, bedecked and bedazzled with toppings like crushed Butterfinger bars, gummy bears, marshmallows or Cap'n Crunch—combine a few, or brazenly demand all 27 of The Parlor's garnishes, if you dare. And be sure to snap a pic of the final work of edible art—you'll want something to motivate you as you try to shake off the shake on the treadmill later. Arden-Arcade: 2620 Fair Oaks Blvd. 977-3997. Roseville: 1490 Eureka Rd. 781-7833. theparloricecream.com

Pop Sensation
We're fizzy with excitement over North Sacramento-based Burly Beverages' line of small-batch syrups and shrubs (a blend of vinegar, fruit juice and sugar) for making custom sodas. In 2013, founder Gabriel Aiello gave up fast food, smoking and ultra-sugary, mass-produced pop to jump-start a healthier lifestyle, but found his soda habit the hardest to quit, especially his go-to ginger beer for mixing with bourbon. Using natural ingredients like ginger root, turbinado sugar and apple cider vinegar, Aiello developed his own ginger beer recipe, launching Burly Beverages in the fall of 2015. His liquid concoctions—pour 1 ounce of syrup into 8 ounces of seltzer for a fresh, refreshing alternative to store-bought pop—are informed by seasonal produce (in June and July, expect flavors like apricot-sage and tart cherry cinnamon) and range from a crisp, sweet cream soda to an earthy and bright grape-clove and an old-timey root beer with such a manly sarsaparilla punch it may put hair on your chest. At Aiello's brand-new speakeasy-inspired soda shop on Del Paso Boulevard, you can now sample his effervescent elixirs straight from the source (plus non-Burly drinks like Cheer-wine and a Harry Potter-inspired butterbeer). If that isn't a reason to break out the bubbly, we don't know what is. 2014 Del Paso Blvd. burlybeverages.com
Breakfast for your Brain
You may not be in the habit of pairing deep thoughts and aha moments with your first cup of coffee, but that's the norm at CreativeMornings, a global morning lecture series that launched its Sacramento branch last December and is held every third Friday of the month inside midtown's E. Claire Raley Studios for the Performing Arts. If you're looking to rub elbows with Sacramento's creative movers and shakers, they're gathered here, sampling breakfast bites, sipping cups of joe, snapping selfies at a photo booth and exchanging numbers at the "collaboration station." But this is far more than a networking event, with speakers who can surprise and amuse, like former Capital Public Radio producer Melody Stone, who in January shared how she created a story series from roadside curiosities—like why a sign on Highway 50 here indicates the distance to Ocean City, Maryland (it's a callout to the East Coast end of the coast-to-coast route; there's a corresponding sign about Sacramento in Ocean City). It's a testament to CreativeMornings' spirit and format that the talks can also be radically thought-provoking and unsettling, centering on an intriguing theme like "taboo," "moments" or "mystery" (In June, local digital strategist and cancer survivor Ethan Martin will lead a discussion about "survival"). The program, which is free to attend, will leave you with just enough nibbles of inspiration to get your creative juices flowing and go forth to seize the rest of your day. creativemornings.com
Boutique with Petal (and Pedal) Power
Exclamations of "Ooh, that's sooo cute," and "OMG, I need this!" float from Bloom Mobile Boutique as you step inside to join other shoppers in discovering its expertly curated collection of handicrafts—some useful, some ornamental, all of the gifty persuasion. Owner Jodi Pyle's pop-up shop on wheels, which launched last December and makes the rounds of regional food truck events, occupies a converted flower delivery vehicle, the logo splashed across the exterior in loopy calligraphy along with a burst of painted petals. The Tahoe Park-based entrepreneur offers a carefully arranged display of artisanal goods—mostly from around the state—including dainty gold rings with California-shaped charms by Los Angeles jeweler Seoul Little and handmade notecards by San Francisco-based Soul Paper with cheeky sayings like, "I donut know what I would do without you." If you've got a green thumb, you can pick up a succulent in a hand-painted planter—if not, try a whimsical, wood-framed portrait of cacti by Auburn artist Lindsay Duck. If your fancy gets tickled, but you just spent all your cash at the nearby taco truck, don't worry: Pyle accepts credit cards via Square for purchases. Blooming fantastic. 287-3955. bloomtruck.com

Intersection of Innovation
In 2015, nearly 50 years after Davis installed the country's first protected bicycle lane, planners returned the city to the vanguard of bike-friendly America with another first in the nation: a protected bicycle intersection. Referred to as a Dutch Junction for emulating (if not precisely echoing) similar infrastructure in The Netherlands, the intersection appended four telltale green cycling paths to preexisting crosswalks at Covell Boulevard and J Street. The crosswalks and bike lanes are joined at concrete elbows on each corner, separating both cyclists and pedestrians from notoriously speedy car traffic on Covell. Two years later, the safe, intuitive and relatively inexpensive (at $1 million, paid for largely by the housing development on the intersection's north side) results have sparked similar projects in San Francisco, Berkeley, Chicago, Austin, Salt Lake City, and other major U.S. cities. They also raise a new question for Davis, where nearly a quarter of residents bike to work: What will this trailblazing city think of next? We're sure its wheels are turning as we speak.
Cool Hot Chocolate
Long before Ernesto Delgado—who owns Tequila Museo Mayahuel, La Cosecha and Mesa Mercado—became an admired local restaurateur, he was a curious kid sitting in the kitchen of his family's home in the western Mexican state of Michoacán, watching his mother stir chunks of Abuelita (which means "grandma" in Spanish) chocolate into steamy milk with a wooden whisk. That ritual became so engrained in his palate's memory that he created a dessert in its honor at Mayahuel three years ago, using the same popular, cinnamon-spiced Mexican cocoa brand. La Abuelita Ice Cream is a frozen, summery version of the classic winter treat, with the velvety richness of a cup of hot chocolate and the dense, creamy texture of homemade ice cream—so thick you must brace the cup with your hand to dig in for a spoonful. Topped with a cloud of cinnamon-dusted whipped cream and a cinnamon stick, it's served in a coffee mug to round out the nostalgic post-dinner, pre-bedtime experience. Sweet dreams. 1200 K St. 441-7200. experiencemayahuel.com
Arch De Triumph
The bow on the hopeful package that is Oak Park's renaissance is the grand sign that marks the 35th Street entrance to McClatchy Park. When the neighborhood was established as Sacramento's first suburb in 1903, the 30-foot-tall Oak Park arch announced the terminus of the streetcar line that ferried early commuters and later visitors to the Joyland Amusement Park. Although the exact date of the structure's demise is unclear, it was likely a casualty of a general decline that began after Joyland burned down in the 1920s. When the area began its comeback in the early aughts, its business association got the idea to reconstitute the historic sign, and in December 2016 a new replica of the original iron Beaux-Arts-influenced frame went up. "Let's meet at the arch," is now a common phrase between neighbors in this tight-knit community that prides itself equally on its past and its future.
Journey of Spicy Discovery
European adventurers once sailed into unknown seas looking for spices. We might not go quite that far, but we will venture to park downtown. Our reward? A voyage of flavor findings at The Allspicery, the 2015 winner of Downtown Sacramento Partnership's annual "Calling All Dreamers" contest for retail start-ups, which store owner Heather Wong entered on a whim, born of her difficulty with local sourcing of seasonings that she encountered on global travels. Her brainchild, Sacramento's first spice shop, glows with neat, enticing jars of zesty aromatics: bright yellow turmeric, salts in pastel pink, brick-red chilies (like urfa biber, a Turkish chili flake that Wong says "changed her life"), and everything from fair-trade saffron grown in Afghanistan, which Wong is particularly proud to carry, to cubeb berries. Opened last April, the specialty emporium also offers teas (mixed-in-house allergy tea has been a recent hit), flavored sugars and cocoas, plus wonderful blends like Everything Bagel mix, shichimi togarashi (a Japanese red-pepper sprinkle), an espresso spice rub with Chocolate Fish coffee, or our latest favorite, zhug, a dusky-hot Yemeni mélange of cumin, coriander, tianjin chilies, cardamom, cilantro and more, which enlivens everything from scrambled eggs to olive oil for dipping crudités. Everything is fresh, fragrant, well priced and available by the ounce in small bags, making new discoveries easy—especially since The Allspicery validates parking. 1125 11th St. 389-7828. allspicery.com

Cinderella Story
Everybody loves an underdog, right? The Bad News Bears. The Mighty Ducks. Rocky. Now you can add the Aggies to that list of scrappy, against-all-odds heroes. The UC Davis men's basketball team made school history—and stunned the sporting world—when it entered the NCAA Division I Tournament, albeit as the 16th-seeded team, for the first time ever this year. Picture our boys in blue and gold—and head coach Jim Les, a former Kings guard—exploding with excitement upon hearing their team's name during the broadcast of Selection Sunday at The Davis Graduate sports bar. Did they care that no last seed had ever won a bracket matchup? They did not, and neither did we, because we'd fallen head over heels for this team, a love that blossomed even as Davis—cheered on by none other than actor Rob Lowe, who donned a UCD cap for the occasion—went down swinging against the top-seeded Kansas Jayhawks in the first round at the Big Dance, proving that nobody puts an Aggie out to pasture without a fight.

Buzzfeed-Fueled Phenom
If you've been stopping into BJ Cinnamon for your crumb cronut fix since the family-owned donut shop opened in Folsom in 2011, you may be mystified by the long line suddenly snaking out the door. Mystery solved: In March, BuzzFeed released its list of the "Best Bakery in Every State," which declared humble BJ tops in all of California. The news spread like molten hot frosting, and soon throngs of foodie pilgrims spilled out the front door and into the parking lot, hoping to nab a maple bacon bar or chocolate coconut cake doughnut. Barbara "BJ" Pho and her family, who run the shop together, now bake into the wee hours, making over 600 of their signature cinnamon rolls every weekend to meet the feverish demand. Well, guess what? Those gooey, warm rolls, glazed to order, are totally worth the wait. But what keeps us coming back is the Pho family's hospitality, the way they remember your name and often slip you a few doughnut holes even after you've paid. Fair warning, though: Just because overnight fame hasn't gone to BJ's head doesn't mean that cronut isn't going straight to your hips. 402 E. Bidwell St. Folsom. 608-8824
Supermarket Circular
When the legendary pioneer of California cuisine Alice Waters declares that local grocer Darrell Corti "knows everything about everything," how do you know what she means? You read the newsletter he writes, that's how. In a folded-paper missive published roughly seasonally by Corti Brothers (ask for it in the wine department if it isn't on display, or, less fun, browse back issues on the store's website), the gourmand writes with encyclopedic knowledge about the foods stocked at his East Sacramento market, offering up poetic paeans to specialty items like Loison Colomba bread ("made in the shape of a flying dove"), artisanal Italian artichoke hearts ("when you taste these their flavor astounds with its preciseness") or humble Pickapeppa sauce ("bright flavor to pick up jaded appetites"). A historian, too, Corti quotes Thomas Jefferson in lauding a Piemonte wine and a Benedictine nun from the Middle Ages to describe a cookie. In addition to the depth of his expertise, the grocer's zeal for all things zesty is always at the fore, especially when he's sharing a discovery. "When was the last time you drank a bottle of Armenian wine? At one time this would have been cause for a stunned, perplexed look," he wrote recently. "It is charming to be swept off one's feet by a new wine, and I was. You will too!" Consider us charmed. 5810 Folsom Blvd. 736-3800. cortibrothers.com
Honey of a Melon Mocktail 
With all the buzz attending the rise of craft cocktails in Sacramento, it can be easy to overlook the mixological magic that goes into a great, alcohol-free mocktail. Consider Iron Horse Tavern's watermelon fizz, as refreshing in the summer months as it is sunny in the winter—truly a drink for all seasons (and designated drivers). Don't let the fruity name scare you off: The watermelon purée base, responsible for the drink's rosy pinkness, is subtle. The beverage's primary appeal comes from its marriage of lemon juice and honey—two dependable, sweet-sour lovers from way back—with the gentle kick of ginger ale. Served in the sturdy elegance of a mason jar garnished with a lime wedge, it looks as good as it tastes. And with no booze added, you don't have to be bashful about ordering a second glass. Yes, we'll have another (and another and another). 1800 15th St. 448-4488. ironhorsetavern.net
Little Slices of Heaven
Don't be surprised if a chorus of cherubim trumpeting "Hallelujah" sounds off in your head when you take your first bite of the angel food cake French toast at BarnBurner. The Rocklin breakfast-lunch spot, owned by husband-wife team Gabe Harris and Tiffany York Harris, specializes in classic homey brunch foods with a unique spin, and its celestial twist on traditional French toast has been praised to the high heavens by saints and sinners alike. Chef Gabe takes thick, triangular wedges of the pillowy sponge cake (whipped egg whites give it that airy loft), quickly dips them into a bath of heavy cream, eggs, vanilla, brown sugar and cinnamon, and rests them gently on the grill, where the segments get a gossamer-thin crust. Finished with a handful of blueberries and strawberries and a swirl of whipped cream, the French toast—which Tiffany developed in honor of her dad, who counted angel food cake as his favorite dessert—is fluffy, light and (surprisingly) not overly sweet, resulting in a dulcet morning meal that is simply divine. 4800 Granite Dr. Rocklin. 259-1751
Meditation Class for the Unenlightened 
A recent Harvard study indicates that eight weeks of daily meditation can rearrange the gray matter of the brain, a neurological reboot that can result in improved memory and mood. But what to do if you're one of those who has just never felt the woo, if talk of crystals and chakras makes you cringe? You'll feel right at "om" at the low-key Lion's Roar Dharma Center, a Buddhist temple housed in a former Armenian church in midtown, where every other Monday evening there's a refreshingly nondenominational and beginner-friendly hour called "Just Plain Sitting." Following the traditions of Tibetan Buddhism, a kindly and oh-so-chill fellow (wearing a plaid shirt, not a saffron robe) will gladly instruct you on technique, the gist of which is to sit in a relaxed yet erect posture (on a chair or floor cushion, your choice), paying attention to your breathing and letting the thoughts that intrude go by instead of diving down rabbit holes to chase them. As it turns out, sitting around is deceptively challenging, but the center's beautiful khanga-lined space and the quiet support of like-minded strangers create a supremely serene environment that gently encourages focus and gives a whole new meaning to the term "happy hour." 3240 B St. lionsroardharmacenter.org
Cafe with Political Intrigue 
Whether you're a freelancer looking for an excuse to use your outside voice for a change or a cubicle dweller looking for a break from the tyranny of the beige, your new have-laptop-will-travel location of choice should be the freshly renovated Statehouse Café on the sixth floor of the State Capitol. Why is this the ne plus ultra of workaday coffeehouse hangs? Whether you prefer to perch at the bar-height communal table hewn from a redwood tree that fell in Capitol Park or lounge in a mid-mo club chair under an artichoke globe pendant lamp, you can rest assured that there will be good lighting and plenty of power outlets, as interior designer Jenn Crabbé and restaurateur Chris Jarosz of Broderick fame had busy lobbyists in mind when they revamped the former cafeteria last winter (the pair are retooling the Capitol's entire dining program over the coming year). Other perks: Heavy building security means you can leave your gear while grabbing a refill, and you can work through lunch, thanks to a grab-and-go menu of fresh salads, sandwiches and daily specials like mushroom soup with balsamic reduction and Vietnamese vermicelli salad with carrot, daikon and mint from head chef Dan Watterson, at under $10 a plate. But the afternoon hours are our favorite (the cafe is open weekdays from 7:30 a.m.-4:30 p.m.), when the legislators and analysts have gone back to their digs and there's nothing but the arboreal view and the hushed thrum of history in the making to keep you on task, whether you are writing the Great American Novel or a letter to your assemblywoman. California State Capitol. 1315 10th St. statehouserestaurant.com
Steak Charmer
We adore Cielito Lindo, the refined Mexican eatery that rose from (literal) ashes at 37th and J streets in East Sacramento. (Chef-owner Ramiro Alarcon, who opened his tiny restaurant-that-could in September 2013 to spread true Mexican gastronomy north of the border, had to close his dream business just seven months later due to a fire, but reopened with an expanded menu in June 2015.) While many of Alarcon's creations are restrained, and all boast complex flavor profiles, there's one that could hardly get bigger or better: the pepito de arrachera, a hearty steak sandwich that's a modern take on a traditional Mexican torta. In it, a soft, yeasty baguette-style roll is loaded with delicious contrasts: meaty slices of grilled flank steak, fiery chipotle, a smear of earthy refried beans, refreshing pico de gallo and cool avocado. Alarcon's genius for combining seemingly incompatible flavors (don't miss the aguas frescas in flavors like the refreshing celery-pineapple) adds up to a lunch-only sandwich that's elevated enough for the most refined palates, but filling enough to satisfy the largest appetites. 3672 J St. 736-2506. cielitolindo.us
Tasty Pasty
"Pasty" may rhyme with "nasty," but the meat pie it refers to—the sole menu offering of East Sacramento's quaint, long-running Pasty Shack—is anything but. Pasties originated hundreds of years ago in southwest England when miners, in need of a hearty, portable lunch, wrapped savory beef stew in sturdy crust. The traditional, well-browned, oblong turnovers came with them as they emigrated to U.S. during the Gold Rush, including to the Grass Valley area. The Pasty Shack, which occupies a minuscule spot on J Street near 48th (look for the smiling orange pasty stickered to the front window and painted on a wall), has been dishing up hot, savory, easy-to-love meat pies to loyal Sacramentans since 1948. While its meat and potatoes—literally—is still the classic Cornish pie (which contains, yes, a beef stew with chunks of hearty potato), the Shack includes fresh new spins on its menu: We especially love the spicy Friday special, a chile verde pasty with pork, refried beans and a chili-rich sauce. It might not be recognizable in Cornwall, but it's the perfect California take on a uniquely British tradition. 4746 J St. 454-9630
Art Book Oracle
Ducking into Richard L. Press Fine & Scholarly Books on the Arts on a leafy corner in Boulevard Park is like crossing a magic threshold into Harry Potter's Diagon Alley. Once inside, you're in a timeless world, with a calligraphed sign that reads "Occasionally rare, frequently scarce, always fine." Then you meet Press: a smiling, spectacled gentleman sitting at a cluttered, Dickensian desk at the back of the clean, organized, yet joyfully jumbled shop. He'll gladly give you a tour of his 7,000 titles—mid-century architecture over here, decorative arts of the 20th century there, more in the back. The shop doesn't see a lot of foot traffic— seems the young Warehouse Artist Lofts residents haven't discovered him yet—but his customers are loyal, like grocer Darrell Corti, for whom Press tracks down hard-to-find culinary titles. You're welcome to dip into that rare 1987 monograph on painter Eric Fischl, have a seat in a Bertoia chair or grab a piece of candy out of a bowl designed by Finnish sculptor Tapio Wirkkala. At 85, Press, a former librarian with a PhD in anthropology, has been in business for almost 40 years, and this shop is his masterpiece. If you're looking for a priceless edition, you won't find one better than Press himself. 1831 F St. 447-3413. richardpressartbooks.com
Queen of Cute
The Japanese call it "kawaii"—the irresistible aesthetic of cuteness that has spawned global phenomena from Hello Kitty to Pokémon to Pusheen the Cat. Elk Grove-based illustrator Tiffany Tam has staked her own claim to the kawaii kingdom via her Mochi Bear Studio, the brand under which the 24-year-old UC Davis student designs her series of clever—and, yes, heart-tuggingly adorable—hybrids of animals and food that appear on products like plush dolls, coin pouches, earrings and enamel pins. Take for example her punny "Avocuddle" drawing (featuring the titular fruit warmly embracing its own smiling seed—a design inspired by a running joke between Tam and her 5-year-old son, Ayden), her fluffy-eared ice cream cone "Strawbunny," or her wry plays on Japanese cuisine like "Stegosaurus Nigiri." Tam's work has stirred a growing interest among fans everywhere from Instagram to Kickstarter (where she has pulled off two successful Mochi Bear projects this year) to anime conventions and even area high schools, where her drawings have helped give such forbidding concepts as cell biology their own huggable, anthropomorphic spin. How kawaii. mochibearstudio.weebly.com
Puur Bliss
These days, gourmet sweets seem to lurk temptingly by every upscale market's register, but all too often they're disappointing. Not so the sea salt caramels from Puur Chocolat, the four-year-old confectioner started by pastry chef Ramon Perez (raised in Nevada City as the scion of Citronée Bistro, he once staged at Paris' Pierre Gagnaire and other three-starred Michelin destinations). The chocolatier, based near McClellan Airfield, is perhaps best known for his gorgeous, rainbow-hued bonbons, but we're obsessed with his humbler caramel sticks, which offer an object lesson in quality and attention to detail: Satisfyingly toothsome, they yield tenderly to the bite, and their deep chestnut shade gives a clue to their quality. Perez starts with a dry caramel (adding neither water nor glucose to the sugar as he cooks it), a more difficult technique that leads to darker, more complex and more flavorful caramel syrup taken to the edge of the sugar's smoke point. Next, Perez adds Clover Organic cream (skipping the sweetened condensed milk many others use for convenience) and emulsifies the caramel mixture three times to ensure the finished candies are perfectly smooth—with the exception of the crunchy burst of Jacobsen sea salt from Oregon. Available online and locally at shops like Andy's Candy Apothecary, these rich, rod-shaped beauties are our new favorite checkout treat, bar none. 530-277-0139. puurchocolat.com
Hors D'Oeuvre Addiction 
The zucchini chips at Lucca remain as craveable and compulsively eatable as they were when they first appeared on the restaurant's original menu in 2003 (and, later, on the menu at Lucca's sister eatery Roxy). Their allure is undeniable, arriving on the table in a hot, fresh, decadent heap that prompts you to groan, "Oh, I can't finish those," just milliseconds before you plunge in like a kid jumping into a pile of crisp fall leaves and inevitably devour every last crunchy sliver. Like all genius, the secret of the chips' success is rooted in both simplicity and consistency: Lucca's kitchen pros thinly shave more than 40 pounds of zucchini daily on a Japanese mandoline, refrigerate the slices for a day to achieve minimal (but crucial) dehydration to avoid sticking, then dredge them in flour before frying them in rice bran oil and finishing with a flurry of kosher salt and chopped parsley. With chips this finger lickin' good, bet you can't eat just one. 1615 J St. 669-5300. luccarestaurant.com

School Lunch Meat
At the UC Davis Meat Lab, the beef, pork, lamb and chicken are butchered by students in the college's ag program, who also staff the store—little more than a concrete closet next to the campus slaughterhouse. These fresh-faced farm scholars will gladly give you a professional agrarian's view on grass-fed vs. grain-finished (their meat is the latter). Flats of chicken and quail eggs—whose shells are as thick as porcelain and whose yolks are the color of sunshine—share space in the chiller with dry-aged tri-tips, hanger steaks and pork chops (smoked or au naturel), and in the freezer you'll find tubes of ground beef or pork, chorizo or zesty Italian sausage. On the grill, the hanger steak has such intensely beefy flavor that if you've grown up on typical supermarket meat, you might find it gamy, but if you've ever been to a real steakhouse in Brazil or Argentina, you'll be misting over with nostalgia. And that chorizo—it's like a fiesta in your mouth. The meat lab is only open Thursday and Friday afternoons (from 1-5:30 p.m., cash or check only), and may be closed during school holidays, so call ahead if you don't want to be left asking "Where's the beef?" 446 La Rue Rd. Davis. 530-752-7410. animalscience.ucdavis.edu/facilities
Dine-In Gas Station
Ask anyone in the know where to get the best Indian food in Sacramento and the answer will always be "at home." Restaurant culture didn't exist in India until recently, save for the traditional dhaba, or truck stop, where curries and chai are served in disposable clay cups. So it's only fitting that one of the best new Indian buffets in town is inside a Chevron in West Sacramento. Manager Dino Anklesaria has been known to slip a few exotic khattu mithu (sweet and sour) Parsi dishes from his native Bombay into the lineup since the spot reopened as Curry Paradise last fall, alongside regular offerings like a dusky goat curry fragrant with cardamom, buttery chicken tikka masala bright with fenugreek, and chana masala tangy with amchoor (dried green mango powder). At Indian restaurants in Britain—where the "curry shop" tradition first flourished—apprentices can train for years before earning the right to bake naan, and new head chef Rajoo Phria has been at it for a decade, so it's no surprise that the best dish at this Chevron station is a humble basket of crispy yet chewy tandoori garlic naan. Now that's what we call cooking with gas. 705 Harbor Pointe Pl. West Sacramento. 273-6777. curryparadiseca.com
Icing on the Beefcake
Last August, Freeport Bakery owner Marlene Goetzeler innocently posted a photo to Facebook of a cake that her shop had just done on special order, with Barbie's longtime beau Ken in full drag, sporting a buttercream ball gown, flower sash, tiara, necklace and earrings. The sight of this masculine mini mannequin frosted in female formalwear caused an uproar online. At first, detractors accused Goetzeler of exploiting her Land Park business to support the transgender community, but soon folks from countries as far afield as Ireland, New Zealand and Taiwan flocked to social media to defend the local bakery. Goetzeler decided to embrace her newfound status as an ambassador for acceptance, and the shop now sells shirts bearing the slogan "More Cake, Less Hate," and donates $5 of each sale to a Sierra Forever Families program that helps homeless transgender, gay and lesbian children find adoptive parents. Over the past year, Freeport's decorators Carol Clevenger and Emily Poage have created dozens of edible confections featuring the strapping studmuffin in festive gowns inspired by holidays like Thanksgiving, Chinese New Year and Bastille Day (pictured). No matter what he's wearing, the message of inclusion that this gallant gateau conveys will always take the cake. 2966 Freeport Blvd. 442-4256. freeportbakery.com