Best of the City 2020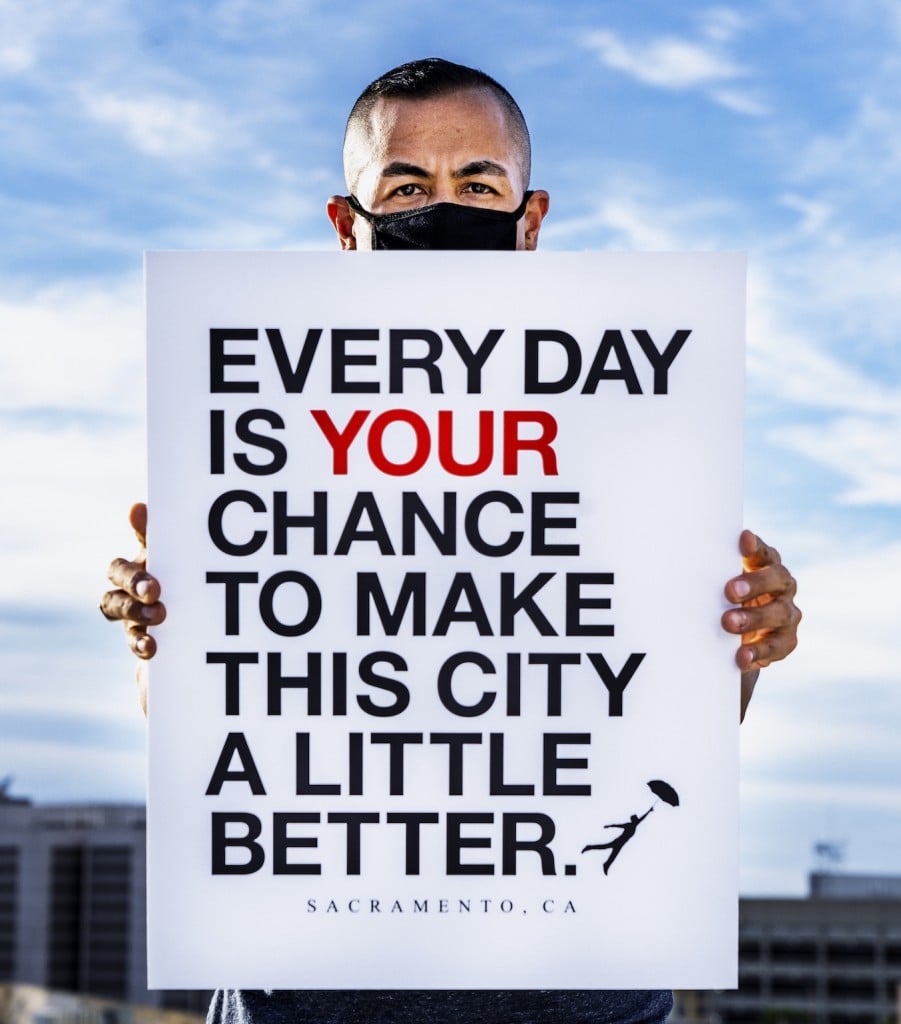 As Mahatma Gandhi once said, "In the midst of darkness, light persists." Through the fog of 2020, here are 25 people, places and things around the region—from our heroic health care workers fighting on the front lines of COVID-19 to local artists painting the town with messages of strength and hope—that have managed to shine particularly bright this year.
Sign of the Times
One quiet morning in 2011, Alex Trujillo stealthily rappelled down the façade of the vacant-eyed, boarded-up Copenhagen building on the blighted 1000 block of J Street. Disguised as a construction worker, the West Sacramento-based artist—with the help of a friend—worked quickly to fill an empty signage frame with an exhortative message rendered in bold, blocky black and red Helvetica Neue type: Every Day Is Your Chance to Make This City a Little Better. Quite improbably, this example of guerilla art remained in place for almost a decade, a stirring reminder that the future belongs to all of us. The Copenhagen structure was demolished in June, but Trujillo's words, more meaningful now than ever, seem to have been set free to occupy our collective consciousness. More than 20 stenciled images of the slogan suddenly popped up all over the downtown grid this past summer, coinciding with Black Lives Matter protests—with Trujillo staying characteristically mum about their origin. He does, however, share that Scranton, Pennsylvania, has the quote decorating the doors of its city hall, and he's working with officials in Ponte Nova, Brazil, to create Portuguese and Spanish versions of the graphic, and that Old Sacramento has also expressed interest in spreading the message. While Trujillo doesn't know exactly when or where the motivational emblem might appear again, the J Street sign was thankfully saved before the Copenhagen met the wrecking ball, so a chance to spot its return is as good a reason as any for downtown denizens to keep looking up. everydayisyourchance.com —Curtis Yee
Guy for the Jobs
With the coronavirus upending the restaurant industry, one figure has emerged as an unlikely leader in the effort to help food workers get back on their feet, and that's the Mayor of Flavortown, Guy Fieri. Over the past few months, the shock-haired restaurateur and host of Diners, Drive-ins and Dives and Guy's Grocery Games—who honed his cooking skills in the culinary arts program at American River College—has become a one-man philanthropic juggernaut, stumping nationwide on behalf of jobless service workers. Partnering with the National Restaurant Association Educational Foundation, the man BuzzFeed recently called "a Hot Wheels car come to life" has helped raise more than $23 million and dole out over 40,000 grants through the nonprofit's Restaurant Employee Relief Fund. True to form, the inventor of the Mac-Daddi-Roni salad has found unconventional ways to raise the funds, including selling signature "Flavortown" coolers and co-hosting a charity nacho-making contest with Bill Murray. Now that's a one-two ticket we can all throw a vote behind in 2020. rerf.us —C.Y.
Sisters with a Plum Gig
Lauded by Vogue and given the stamp of approval by Goop, Le Prunier is a sunshine-hued cult beauty oil with an unsuspecting origin—the 1,500-acre Taylor Brothers Farms in Yuba City, the world's largest grower of organic plums. The silky skin quencher is cold-pressed from plum seeds, nestled in the pit of the fruit, which had been a byproduct of the farming. That is, until the Taylor sisters (Jacqueline, Allison and Elaine), who grew up working on the farm, figured out that if a plum is considered a superfood for its high level of age-fighting polyphenols and nourishing potassium, then its seed—the very germ of its existence—must be a concentrated source of these skin-worshipping organic compounds. The sisters' scientific sleuthing has proven a fruitful endeavor—just a few drops of this golden elixir make us look and feel like glow-getters. leprunier.com—Leilani Marie Labong
Asian Hot Chicken
Talk about a hot tip: Inspired by one of their line cooks, who started spicing up Kodaiko Ramen & Bar's fried chicken sandwich with kimchi for his lunch, the downtown restaurant's kimchi-obsessed chef-owners Billy Ngo and Takumi Abe added the kicky version to the menu in January. This Eastern spin on the popular Southern dish starts with a chicken thigh that's panko-coated and golden-fried before it's dipped into a pepper-infused oil and tucked between two sweet and pillowy slices of Japanese milk bread. While cayenne is the standard method of combustion—at least at Prince's Hot Chicken Shack in Nashville, where the piquant poultry purportedly originated as punishment for a philandering fellow—Kodaiko's katsu plunge is made with dried peppers like citrusy sansho and smoky chipotle, which are first toasted to aromatic heights, then ground into a powder and blended into warm oil. Adding even more punch to the Spicy Kimchi Chicken sando are its sidekicks, including a slather of tonkatsu sauce (a kind of deliciously pruney, spice-balancing Worcestershire) and a slaw of the namesake house-made Napa cabbage kimchi. Trust us—you'll want to stack up on napkins (and keep the ice-cold cans of Japanese lagers coming) for this one. 718 K St. 916-426-8863. kodaikoramen.com —L.M.L.
Flu Fighter
While backpacking through Guatemala in 2003, Leo Hickman picked up a stomach bug. A member of his host family concocted a mysterious tea for him, the contents of which his Spanglish could not manage to decipher. Nevertheless, it was recovery at first sip, and within 24 hours he was cured. Nearly two decades later, Hickman, now a certified tea sommelier, spreads the gospel of the hot drink to his customers at Classy Hippie Tea Co. in Oak Park, which houses the brew guru's own blends made with globally sourced whole tea leaves and other plants that have long been used in ancient health approaches like traditional Chinese medicine and Ayurveda. (Note: The cafe has been temporarily closed, but you can order loose-leaf tea online and Hickman plans to open an East Sacramento location—which will boast a flower and herb garden.) A cup a day could keep the doctor away, and that's why we're keeping the kettle on: Classy Hippie's herbal Breathe Right medley has been pandemic-popular, stimulating the respiratory system with cooling eucalyptus and peppermint, plus a pinch of antioxidant-rich rose petals thrown in for good measure. The quarantine-fatigued can take fermented pu-erh straight up—Hickman's morning steep of choice—to help ward off depression and anxiety. And since immunity is always something of a holy grail, Hickman's lemon-ginger oolong—a woodsy, partially oxidized tea with a high caffeine content for energy—is fortified with pieces of detoxifying dried lemon and spicy ginger, a known flu combatant. At this tea shop, you'll always be drinking to your health. classyhippieteaco.com —L.M.L
Ways to Boost Your Quarantine Creativity
During shelter-in-place, Tuesday can look a lot like Monday, which looks a lot like Sunday… you get the Groundhog Day picture. To help the quarantine fatigued inject some verve and variety into this seemingly endless monotony of days, Position Interactive launched That Stuck at Home Life on April 27, a free curated catalog of 30 different indoor activities to be done over the course of a month, one per day. Each is marked by an original illustration—the downtown design firm pooled mostly local artists for the project, giving them carte blanche to exercise their imaginations with the sole design brief being a strict color palette that included pale grayish blue, muted pink and feisty coral red. The result is an Instagram grid of joyful, highly clickable pieces of art: Carrots are marked with dotted lines and annotated with vegetable cuts like "julienne" and "brunoise" in Kyle Marks' graphic for Day 3 that leads to a tutorial on mastering knife skills; a woman outlined in electric red whips her hair around her disco-ball-lit living room in Jason Malmberg's image for Day 20's directive to get down and dance; and a masked homage to American Gothic by Anthony Nathan symbolizes Day 29's call to recreate art masterpieces at home. Stuck in a rut or not, you can start the monthlong creative challenge anytime— just think of it as Whole30 for the soul. thatstuckathomelife.com —Jessica Rine
Horchata with a Whole Lotta Buzz
Camellia Coffee Roasters sweetens the pot of morning coffee with its horchata cold brew, which unsurprisingly is the R Street cafe's most popular refreshment. To make the milky ambrosia is no feat of instant coffee, requiring at least a full day of preparation: For the house cold brew, a bulk batch with a 1:2 ratio of coarse grounds and water steeps for 24 hours, while the house-made horchata—an authentic recipe of white rice, cinnamon sticks, sugar, water and whole milk—requires the same length of soak. Caffeine fiends have been known to order the "dirty horchata" (as it's known in coffee circles)—a slightly sweet, delicately spiced mixture of one-third cold brew and two-thirds horchata—with an extra jolt of espresso, while mainliners of the buzzy beverage like us watch Camellia's Instagram page closely for announcements of half-gallon jugs for sale, available since June for preorder on a first-come, first-served basis. Whether you sip it by the cup or chug it by the jug, we can think of no sweeter way to chase away your pandemic brain fog. 1104 R St. camelliacoffeeroasters.com —L.M.L.
Box of Herbal Essences
In May, certified herbalist Carissa Rose Hayes and Maggie O'Knapp, a self-proclaimed "femme feral," launched an herbal CSA—a new extension of their natural food and medicine co-op, the Quercus Collective—from their home, an idyllic 35-acre commune in Grass Valley called Werewolf Ranch. Drawing from the plant wizardry of the property's Native American ancestry (the Nisenan tribe thrived in the area before the Gold Rush), Hayes and O'Knapp create homemade tonics, teas and tinctures using the bounty from their garden, with a supplement of herbals responsibly foraged from the Sierra foothills. A year's CSA subscription includes several wellness packages, each timed to a solstice or an equinox to ensure living rhythmically with the seasons and delivered to your home (or available for pickup at Werewolf Ranch). The debut offering, a summer solstice box, included a tincture made with the sap from milky oats, known to nourish the nervous system; an aches-and-pains salve infused with inflammation-reducing Balm of Gilead, as well as willow bark and pine needles, both superior soreness soothers; and digestive bitters brewed with such legendary tummy tamers as dandelion, mint and licorice that, incidentally, have come in handy for our quarantine (over)eating habits. The fall bundle—released on Sept. 22, the autumn equinox—included a lung syrup of respiratory heroes like marshmallow root and mullein. With the winter blues on the horizon and the pandemic blues already here, we eagerly await our next out-of-the-box box. $150 or $220 per subscription. quercuscollective.com —L.M.L.
Fruit-Ful Otter Pops
With our skinned-knee days long behind us, we have been known to wax nostalgic over a good old-fashioned freezer pop—even if we all know that those frigid, neon-hued wands of high-fructose corn syrup and chemicals are no longer cool in any of the right ways. Lucky for us kidults, Wheel Lemonade has updated and elevated the tubed treat with its new line of better-for-you and (in our humble opinion) better-tasting fruit pops, which the Elk Grove-based beverage company—known for its line of 40-plus not-too-sweet lemonade concoctions like watermelon cinnamon and strawberry tarragon—introduced in late May. Made of puréed fresh fruit, some of which is sourced from local wholesaler Produce Express (whose partners include area farms like Del Rio Botanical and Capay Organic), plus real sugar and a dash of water, the freezies have featured flavors ranging from a sweet roasted peach to pulpy pineapple to an aromatic lychee. Owner Robert Cao plans to carry the pops throughout the year at the Natomas and midtown farmers' markets (with new seasonal offerings), but if you want to be a cool customer, get there early. These limited-edition treats often sell out—apparently we're not the only ones looking for a tasty blast from our past. wheellemonade.com —C.Y.
Shop for Uncommonly Good Gifts
Let's not sugarcoat it. The process of finding a good gift usually sucks. But the quirky, LGBTQ-friendly baubles and on-trend female empowerment tchotchkes at Oak Park's Strapping Store—which opened a new midtown outpost in May—will make even the worst gifter a pro at present-ing. From timely objects of desire like a "What Would Fauci Do?" mug and a pair of "Social Distancing Sucks (But Please Do It!)" tube socks to timeless items like a baby onesie that says, "Hey Mom, those dark circles really make your eyes pop," and a gaggle of fabulously foul-mouthed pressies that are NSFW (and definitely not safe to print here)—all of which are brilliantly curated by owner Susan Stewart—you'd be hard-pressed to not find the perfect card or gift and have a damn good time doing it. Psst: Whatever you get, do opt in for the complimentary gift-wrapping—the signature hot pink paper stamped with bananas is almost as much fun as what's inside the box. Oak Park: 3405 Broadway. Midtown: 1731 L St. strappingstore.com —J.R.
Holey Union
Who can argue that two desserts are better than one? Certainly not the many fans of Sweet Dozen's genre-blending dochi. What's a dochi, you ask? Take mochi, the pleasantly chewy Japanese treat made of rice or tapioca flour and commonly served in flavors like mango, green tea and black sesame. Now marry it with a light, fluffy, deep-fried doughnut, and you get a toothsome experience that adds a bounce to your bite. Made using tapioca flour from Hawaii, each dochi at this doughnuterie is molded into a six-segmented ring for easy snacking. The lineups at both Sweet Dozen's shop near Carmichael and mobile food truck rotate often, but menu staples include the semisweet matcha dochi covered in coconut flakes and our favorite, the glazed dochi dotted with Fruity Pebbles. Mochi doughnuts are only available on weekends, and co-owner Jeremy Khamphay says takeout business has been brisk, so you'll want to preorder your batch of this match made in deep-fried heaven to guarantee your own happily ever after. 5207 Madison Ave. 916-344-2000. sweetdozen.com —C.Y.
Place to Say (Grilled) Cheese
They say every great artist's vision is tinged with at least a hint of lunacy. By that standard, Carol Mundy, chef-owner of Shift Grilled Cheese & Coffee House in North Sacramento, is the Vincent van Gogh of sandwich artists, an impressionistic visionary whose creative comfort food creations—23 grilled cheeses in all—are as dizzying as they are dazzling. Choose your own edible adventure: You can go savory (try the Da Philly with tender brisket, garlic jack, fontina, mushroom, green bell pepper and red onion) or breakfasty (we would love to start each morning with The Kitchen Sink, a melty meld of bacon, egg, Havarti, cheddar and mixed berries jam on grilled French bread dusted with cinnamon sugar) or, yes, even sweet (the S'more Please, pictured, with chocolate, marshmallows, fontina, Havarti and honey on grilled wheat, is a combo that shouldn't work, but does—bonus points for the extra pull-apart fun factor). Whichever way you choose, just remember that cheesy does it, so you can't go wrong. And if it sounds a little out there, it's probably an ooey-gooey masterpiece. 1616 Del Paso Blvd. 916-999-0601. shiftcoffeedelpaso.com —C.Y.
Philanthropic Pivot with a Lovin' Spoonful
The day after Gov. Newsom issued a statewide order on March 15 for restaurants to shift to takeout only, Canon's owners Clay Nutting and Brad Cecchi (pictured), and Patrick Mulvaney met with representatives from UC Davis Health, the nonprofit Fresher Sacramento and other organizations to determine how local eateries might act as micro-commissaries, distributing food to people in need. The group sprang into action and in just two weeks launched Family Meal Sacramento, partnering with fellow area restaurants (like Allora, Camden Spit & Larder and Binchoyaki), community centers, churches, school districts and the Sacramento Housing and Redevelopment Agency to provide more than 100,000 meal kits, each comprising four hearty heat-and-eat dinners—think bacon and corn chowder, pasta Bolognese, Caesar salad, Swedish meatballs and chicken enchiladas (much of which was made from donated food, including 5,000 pounds of lamb vindaloo from Dixon's Superior Farms and 2,000 pounds of post-St. Patrick's Day corned beef from Niman Ranch). The innovative initiative inspired similar programs in Yolo County and Roseville, and even the statewide senior-oriented meal service Great Plates Delivered, ensuring that this community gift is one that will keep on giving. @familymealsacramento on Instagram —J.R
Modern Mercantile
Within the brick walls of an actual Gold Rush-era shop on Auburn's main drag, Martin Mattox owners Tim and Linda Arbogast have curated heirloom-inspired goods—some new, some vintage—in the spirit of what the forty-niners may have picked up while they were panning on the nearby banks of the American River. Rough-and-tumble denim, for example, is made out of rare yardage from the historic Cone Mills White Oak selvedge plant, now shuttered. Bandanas by Bandits, printed with Western graphics like thunderbirds and rocky buttes, double as face masks and hair ties. And the Hollow Tree candles recall the 1800s with scents like the Prospector (a fragrant, foresty blend of bay leaf, juniper and balsam) and the Railroad (mahogany, cognac and leather). The store, which opened in 2018, has recently devoted a corner of its nostalgic, Western tableau— you'll find serape-draped leather chairs, walls covered in faded blue jeans, trays of horsehair jewelry and drawers brimming with old apothecary bottles—into a five-and-dime of artisan essentials, from forged iron utility shears to Newcastle-based North Fork Chai Co.'s Cowboy Coffee Rub, a spice mixture of java, cocoa, chipotle and cumin that'll make sure that your grilling game's got game. 823 Lincoln Way. Auburn. 415-521-0207. martinmattox.com —L.M.L.
Sprouts Worth Shouting About
If you've ever ordered Kru's showstopping sashimi bowl or Hawks Provisions' avocado toast, you may have noticed vibrant shoots nestled against your sliced tuna or tiny leafy green stems precisely placed atop your brunch dish. These edible accoutrements, or microgreens, come from Sacramento Sprouting Company, a small, 1,200-square-foot urban farm in North Highlands run by married midtowners Matt and Stephanie Weber. What was once a healthy hobby—the pair started growing the petite crops in 2016 at Matt's father's Natomas home as a way to get Dad to eat his veggies during a bout with cancer—became a healthy business when, in early 2017, their soil-grown microgreens got attention on Instagram from then-Kru chef Tyler Bond. Soon after, local restaurant distributor Produce Express came calling, and now the Webers' chervil, purple cabbage and other microgreens can be found topping the kimchi udon at downtown's Binchoyaki or braised pork belly at Auburn's Carpe Vino. You can try them at home by nabbing 2-ounce bags of freshly harvested sunflower sprouts or the "916 Mix" (which typically includes purple cabbage, wasabina mustard, pink stem radish and red Russian kale) every other Saturday at the Midtown Farmers Market, where the Webers will happily recommend recipes—make a quick warm salad with crispy pancetta and peppery pea sprouts, for example, or swap out iceberg lettuce for the 916 Mix in your sandwich for a satisfyingly bitter crunch. One bite, and you'll see why these tiny microgreens are a mega hit. @sacsprouts on Instagram —J.R.
Real-Life Superheroes
Like most health care workers (HCWs) around the world, Sutter Medical Center ER nurse Anna Ryan (pictured top left) never expected to live through a pandemic. "There are many contagious diseases out there that we could die from, like tuberculosis or the flu, but COVID is a whole different ball game," she says. "We're very much exposed and we can't control what comes through the doors, but we take whatever comes." In early July, Yolo County reported an alarming "0% of staffed ICU beds available." Tweeted West Sacramento Mayor Christopher Cabaldon, "This is not a drill." Meanwhile, Sacramento County Public Health Officer Dr. Olivia Kasirye recently expressed a surge-related concern about "whether or not we have enough staff and PPE (Personal Protective Equipment)." While occupational hazards of health care workers are at an all-time high, they tend to override feelings of stress, anxiety and the sleep deprivation that typically ensues to obey instead unspoken rules of endangerment and solidarity with their fellow front-liners. For this selfless act, we are forever in their debt. "We just want to be part of helping the situation," says Ryan. According to state data, just under 45,000 HCWs in California have tested positive for COVID-19, owing in part to a lack of PPE. To help address that critical need, Ryan and her sister, UCSF nurse Selena Srabian, launched the Protect with Heart project in June, which provides hospitals across the country—from Sutter Medical Center to New York's Lenox Hill—with free protective scrub caps fittingly emblazoned with a colorful heart design by Sacramento artist Tim Collom. "After all, you're only a health care worker because you love the job," says Ryan. —L.M.L.
Takeout for a Fromage Fanatic
Pre-pandemic, Cellar Door Platters' elegantly arranged charcuterie platters were appetizing additions to bridal showers and backyard birthday parties. But when stay-at-home orders came down in March, owner Julie Cassotta swiftly pivoted her midtown-based catering company to offer a more intimate eating experience, delivering artfully crafted cheese boards directly to customers' doorsteps. Cassotta carefully packs an 8-by-8-inch box with a quartet of cheeses diverse in taste and texture (she changes the variety each week) for Friday and Saturday drop-offs. You might, for example, find a fennel- and lavender-flecked mound of creamy chèvre from Cypress Grove, a pungent wedge of Emmi Roth navy-studded blue cheese, thick slices of Stepladder Creamery's straw-colored Paso Vino cut with military-like precision, or chunks of Vella Cheese Co.'s dry jack with a dusky cocoa rind. And with just-right accompaniments like a rosette made from sopressa salami, sourdough crisps from Petaluma's Rustic Bakery, petite jars of Naturacentric flavor-infused honey (we particularly liked the floral hibiscus) and punny Jamnation jams (like a pluot and honeysuckle blend called Plum and Get It), as well as nuts and dried and fresh fruits, these dairy deliveries will have you feeling like a very big cheese indeed. $60. cellardoorplatters.com —J.R.
Two-Wheeled Tutorial
Since the pandemic, bicycling has emerged as one of the most popular ways to get around, what with all that fresh air and exercise built into the activity. For those wanting to get back in the saddle or are new to it, Bon Vivant Bike Tours—which was launched in May by Sacramento cycling expert and public health consultant Becky Garrow— offers an intro Bike with Confidence lesson ($35 per person). Held at your home or a nearby park, the 75-minute class focuses on doing the ABC Quick Check. During this hands-on tutorial (your hands, not Garrow's—how else are you supposed to learn?), she shares pro tips as air is pumped into tires (use the specs embossed on the wheel as pressure guide), brakes are inspected (a thumb's width of distance between handbrake and handlebar indicates good deceleration potential) and chains are cleaned (a toothbrush works well to scrub off grime that can hasten wear and tear). After that safety routine and a lowdown on bicycle signals, you'll take a very short ride down the street just to make sure everything is rolling smoothly. If you have more pedal power, add on a private guided tour ($40 per person), like the Lady Bird excursion or a cruise on one of Garrow's favorite local paths, the American River Bike Trail, and you too will be spinning your wheels in no time. 916-359-9631. sacramentobiketours.com —L.M.L.
Covid-Conscious Card Company
Face it, there are occasions when heartfelt greetings from Hallmark don't quite cut it—like being shut indoors for months due to a global pandemic. Times like these require sentiments with a little more edge and a lot more humor. Enter Spacepig Press, whose understated yet polished cards feature such COVID-era-appropriate emotions as "I miss you almost as much as I miss toilet paper," and "Happy existential crisis day Birthday!" Christine Byrne, who started the company—named in honor of her pet guinea pig Jane—two years ago from her Tahoe Park home, stamps her clever, irreverent greetings primarily in black or red ink (or a combination) onto velvety soft cotton paper in white or cream, using a circa 1920s Chandler & Price letterpress, a 1,500-pound behemoth bought off Craigslist and lovingly named Petunia. Pre-pandemic, you may have seen Byrne at local maker fairs like River City Marketplace and Oak Park's First Fridays and done a double take at her other smirk-inducing cards, like "Happy smother your feelings with potatoes and wine day Thanksgiving!" No matter what the holiday, Spacepig's written witticisms make the perfect snail mail for that person you feel obligated to give a card to truly love. spacepigpress.com —J.R.
Boozy Virus Beaters
When COVID-19 hit, hand sanitizers seemed to disappear from supermarket shelves overnight. So our region's distilleries took on the sobering task of turning their talents toward helping all of us stay safe. Equipped with the ability (and permits) to buy or make ethyl alcohol—the key component in the virus killer—and a recipe from the World Health Organization that also mixes in hydrogen peroxide and glycerol, local spirits makers, including El Dorado Hills' Dry Diggings Distillery, Rancho Cordova's Gold River Distillery, Sacramento's J.J. Pfister Distilling Company, Winter's Patio 29 Spirits Company and Grass Valley's South Fork Vodka, set to work, shifting their production lines from crafting small-batch liquor to producing big batches of liquid disinfectant. Since March, the distilleries have produced upwards of 35,000 gallons total of the hand-cleansing compound—much of which has been donated to local hospitals, restaurants and law enforcement—and plan to continue making sanitizers until the need is met, in addition to bottling up their boozy beverages, lifting our spirits in more ways than one. —J.R.
Potted Plant Pop-up
Ever since the Miridae Mobile Nursery rolled into town in May, we've been finding ourselves acting like bees in an enchanted garden, swarming the truck for a potted Western goldenrod to call our own. An offshoot of the locally based Miridae landscape architecture firm—whose name is a tribute to the family of plant bugs that owner and UC Davis ecology expert Billy Krimmel admires for its vital role in creating a healthy habitat for flora and fauna—the traveling garden party was transformed from an old Isuzu box truck, formerly graffitied within an inch of its existence. The silhouettes now emblazoned on the striking matte black rig—deer grass, lupine, tarweed and turkey mullein—represent the new nursery's focus on natives. Listen for the lorry's uplifting custom jingle of nature sounds like poppy seedpods popping and monarch caterpillars chewing on milkweed, which heralds its routes through residential neighborhoods around the region, from Woodland to Orangevale, and other destinations like Davis' Sudwerk brewery and the Natomas farmers' market (check Miridae's Instagram page or website for upcoming stops). Upon arrival, music and misters are switched on and four portals on the trailer open to reveal a plethora of potential acquisitions, from potted plants like common yarrow, Woollypod milkweed and California fuchsia, to tomato, cucumber and pepper starts for your vegetable garden to local artisanal steel planters and macramé plant pot holders. I scream, you scream, we all scream for this self-styled "ice cream truck of nurseries." miridae.com —L.M.L.
Bike Ride That's on the Right Track
With our hometown nicknamed America's Farm-to-Fork Capital, we think it's only right that we at least occasionally put down our forks and make a pilgrimage to the farms that produce such beautiful bounty. Next time, though, instead of embarking on a scenic drive, follow in our tracks and book a railbike tour from the River Fox Train (formerly the Sacramento RiverTrain), which launched the service in June. Departing from a newly built station in West Sacramento, you'll take your railbike—a surprisingly comfy bicycle that glides over a train track (it's built for two, so bring a member of your quarantine crew)—for an unhurried 90-minute, 15-mile spin, soaking in views of the Sacramento River, tomato farms, rice fields and groves of evergreens along the way. Tickets—$125 per two-seater—can be reserved online or by phone, but you'll want to act fast, as only up to 10 railbikes are allowed per outing to help facilitate physical distancing. Pro tip: Snag a spot on the prime Saturday night jaunt, and ride off into the country sunset. 800-866-1690. sacramentorivertrain.com —C.Y.
Murals with a Message
If our city's walls could talk, they would be saying—boldly, loudly and unequivocally— Black Lives Matter. In the immediate aftermath of the George Floyd killing and protests, local artists let their fingers do the talking, covering building façades with words like "United We Rise," which appear next to a portrait of a young Black girl near 24th and S streets, and paintings like the one by Summer J. Heart showing a raised Black fist surrounded by rainbow stripes outside the Sacramento LGBT Community Center. Thought-provoking works also popped up around town on boarded-up storefront windows. Many were the result of efforts by Boards for Change, an initiative created by three area women, Kimberly Prince, Lina Washington and Shannan O'Rourke, who worked with more than 30 artists—including David Garibaldi (his contribution, We Will Grow, depicts a Black person whose masked face is framed by roses)—to tell visual stories of solidarity, strength and hope. Other examples of plywood art included the series of murals at downtown's Oblivion Comics & Coffee (pictured), which displayed pieces like Norman Ayles's portrait of the Black Panther and Delgreta Brown's Growth, featuring black silhouettes rising above greenery. In midtown, Leon A.C. Willis partnered with Disability Rights California and worked with fellow Black artist Darnell Horton to use the boards outside the nonprofit's office to share a powerful message. Paraphrased from a speech by Martin Luther King Jr., it feels as relevant today as it did in 1965 when the civil rights leader uttered the sentiment in Selma, Alabama, after Bloody Sunday: "Our lives begin to end the day we become silent about things that matter." —C.Y
Dinner and a Talk Show
Every Friday, chef Byron Hughes leads The Cook In, a cooking class on YouTube Live with a downtown vibe and uptown dishes— think seared scallops on creamy potato purée with sautéed corn and smoky Spanish chorizo, or a vibrant seafood paella—plus Zoomed-in guests. The show is the pandemic pivot of the Last Supper Society, a pop-up dinner company that Hughes, who honed his culinary skills at restaurants like Canon and Kru, founded with branding expert (and former pro baseball player) Ryan Royster, who serves as co-host and producer. The duo has successfully streamlined an intimidating prospect—the elevated home-cooked dinner: Sign up for each session via text and purchase a box of fresh ingredients to pick up at a designated location on class day; then tune in at 6 p.m. that evening for a breezy lesson that gets dinner on the table approximately one hour later. (The classes are held permanently on YouTube, which allows advanced home cooks to fast-forward and kitchen newbies—guilty as charged!—to hit pause.) While dicing a shallot (leave on the root tip to keep the bulb together during knife work) or revealing the secrets of a silky potato mash (warmed cream and a blender blitz), Hughes savors local wine, hypes local olive oil and chats up area guests like Mona Bahraini, owner of Oak Park cacti nursery The Prickly Pear, and Sacramento Pride director Jordan Hosein-Hedmann, who beam in via video and follow along to represent gourmet hopefuls everywhere. $22 for dinner for one; $40 for dinner for two. 916- 249-3192. lastsuppersociety.com —L.M.L.
Way to Have Your Coffee and Eat It Too
There are two ways to eat the tiramisu doughnut from Donuts & Coffey: warm and fresh, the coffee-infused cream oozing out the sides, or after it's been in the fridge for about a day, when the custard has stiffened slightly to an airy, mousse-like consistency. Think of it as the difference between a latte and a frappé. Either way, you'll love this crave-worthy morning pick-me-up that's been a top seller at the East Sacramento establishment since it opened in April. The doughy orb, filled with gorgeous, cloud-like custard—made with egg yolk, sugar, mascarpone, heavy cream, brewed espresso and Mexican vanilla—and dusted with powdered sugar and cocoa powder, was inspired by the classic Italian dessert that Thana Ny, who owns the new shop with her fiancé Aaron Coffey, makes for family gatherings. The confection perfectly captures the taste, with hints of robust coffee and delicate vanilla in each luscious bite. Early birds often deplete the ready-made supply by 8 a.m., but late risers need not worry: You can get the doughnut filled to order anytime. While you're waiting for your edible caffeine boost, pack your box with Donuts & Coffey's other standouts, like the maple bar topped with a slice of candied bacon, the blueberry-glazed old fashioned and the seriously addictive cronut bites. But whatever your sugar fix, trust us, this sweets shop will hit your sweet spot. 5611 Folsom Blvd. 916-999-0232. donutscoffey.com —J.R.