Best of the City 2019
As they say, there must be something in the water here—Sacramento's got it going on. From a cool moonlight hike to a cooling moo-less milkshake, from fiery hot street food to a fire-breathing street dragon, and from an Olympic-caliber butcheress to an Olympic-caliber aquatic center, here is our list of the places, people and things making big waves this year.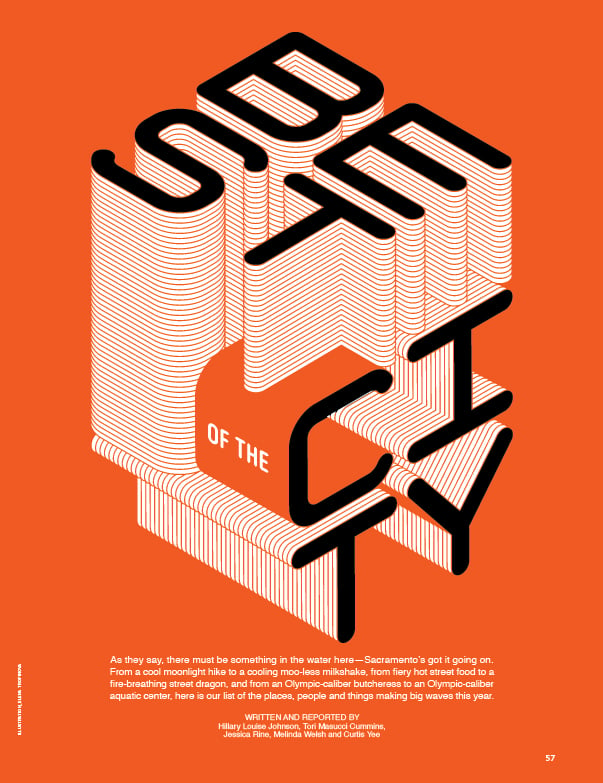 Hippy-Chic Chick
Molly Leary's career as an influencer grew as organically as the oft-photographed bougainvillea outside her rustic Auburn home. Years ago, Leary left a job in tech to become a sales clerk in a San Francisco vintage clothing store, and the rest, as they say, is herstory. The musician-slash-fashion-designer-slash-vintage-dealer and mother to two young daughters parlayed her perfect eye for all things crunchy and floaty into the ultimate lifestyle business. Leary relies almost exclusively on Instagram stories under the handle @SquashBlossomVintage to sell perfectly preserved, high-end specimens—the kind of garb Janis Joplin might have worn on stage to growl out "Piece of My Heart," alongside a curated selection of originals, like her own bell-bottomed crocheted jumpsuits, which were featured by Vogue and Elle, and are hand-stitched by local crochet artist Jane Oh. The fashion maven's pieces, posted weekly, sell out quickly, so you've pretty much got to be a follower to be a customer. So turn on, tune in and get decked out. —Hillary Louise Johnson
Hot Take on a Hot Trend
If you've yet to encounter the foodie phenomenon known as Nashville hot chicken (diners in LA's Chinatown have been known to wait up to four hours to sample Howlin' Ray's rendition), be warned: Legend has it the fiery foul was invented by an angry woman looking to sear the taste buds off a cheating man. But fear not, the sandwich version at Jake Bombard and chef Cecil Rhodes' Nash & Proper food truck, which first hit the streets last summer, is a syncopated masterpiece of jazzy hot and cool flavor tones that awaken your palate to the rhythmic possibilities of spice in ways you may never have experienced. You can order the sammie naked (heat free for kids and kidults), mild (cayenne), medium (plus habanero), hot (plus ghost pepper) or cluckin' hot (only on a dare, please). We recommend starting with the medium: a pillowy white bun cushions the blow of the chili-inflected crust encasing a juicy boneless chicken thigh. Just when your lips begin to tingle, the crisp, cool pickles, fresh green slaw and smoothly unctuous fuego sauce join the mix, modulating the high notes and letting the symphonic rush of sensations build until your eyes are watering and your head is expanding the way it did the first time you heard John Coltrane or Charlie Parker riff on a standard—in other words, when it comes to fried chicken, you may never want to walk (or cluck) on the mild side again. 916-426-6712. mroycartography.com —Curtis Yee
Magic Act in A Glass
While it could be said that every cocktail is a bit of a magic show, we're oohing and ahhing over Echo and Rig's eminently Instagrammable smoky Old Fashioned, which ups the ante by adding smoke and mirrors to the recipe. The sleight of hand starts with the DoCo steakhouse's house Old Fashioned: Crafted using scratch-made demerara syrup, angostura bitters and bacon-infused Bulleit bourbon (for which melted thick-cut bacon fat is steeped in the whiskey then strained through cheesecloth), the drink has become so popular that it's now constantly on tap. But order up an off-menu, plume-filled version of it, and abracadabra, your elixir gets locked into a mirror-backed, glass-sided jewel box of a smoker and vanishes in puffs of aromatic applewood smoke, which floods across your table upon release, piquing your nostrils just as the mysterious beverage is delivered with a flourish. This newfangled Old Fashioned tastes so magical that every time we're downtown we will happily volunteer to make the cocktail disappear—into our belly. 500 NW J St. 916-619-8939. echoandrig.com —C.Y.
Underground Beer Bank
The folks behind the beer vault at The Bank have cracked the code on how to get your hands on an embarrassment of sudsy riches. Located in the heavily fortified basement of downtown's historic D.O. Mills Bank building (recently converted to house an elegant food hall, replete with gilded columns, marble floors and soaring ceilings), the luxe subterranean bar boasts 68 self-serve taps that dispense liquid gold by the ounce via key card, so you can selectively tipple your way through a personally curated tasting menu of diverse offerings, including a rotating row of regional standouts. So go ahead and grab a swig of Device Brewing's Kid Casual blonde ale, then savor the flavor of a Belgian like Brouwerij Bosteel's Tripel Karmeliet, or a hard cider from Oregon's 2 Towns Ciderhouse. If you find one you like, invest in a pint and settle into a plush velvet couch in the steampunk-chic environs of an actual vault—the original circular vault door with all its mechanical gears and cogs intact is on display. This is one good time you can take to the bank. 629 J St. 916-557-9910. thebank629j.com —C.Y.
Drama Queens
Theater geeks worldwide are still buzzing about a June article in The Atlantic positing that Shakespeare might well have been (gasp!) a woman all along. To quote Lady Macbeth, "Unsex me here!" Combine this revolutionary revelation with the fact that, back in the day, the Bard's plays were performed exclusively by men, and we've set the scene deliciously for Sacramento's all-female Shakespeare troupe, Wildflower Women's Ensemble. Since 2015, the gender-bending gentlewomen have mounted two abridged productions every summer (the company aims to produce all 37 plays in the playwright's canon) in downtown's Fremont Park, turning a patch of concrete in the grassy plaza into a makeshift stage. Grab your blankets and lawn chairs and settle in for Wildflower's season closer, Othello, Aug. 22-25—the outdoor locale does invite ambient noise, but part of the fun is knowing this is how Shakespeare's plays were originally seen, amid the hustle and bustle of daily Elizabethan life. Plus, the free admission, casual setting and 6 p.m. start time practically beg you to bring a picnic dinner to spread out while you watch the show (each lasting 90 minutes or less) presented by these leading ladies, who handily put the lie to Hamlet's observation, "Frailty, thy name is woman." wildflowerensemble.com —Jessica Rine
Maker Who Puts his Stamp on the City
Three years ago, U.K. expat Nick Barry was on the hunt for locally themed gifts to send across the pond to family and friends, but nothing struck just the right kitschy-cool note. At the same time, the Land Park-based graphic designer was reacquainting himself with printmaking, which he had studied in his late teens. Armed with a hunk of linoleum and a carving tool, Barry crafted a stamp with "Calif*ckyeah" emblazoned across a Tahoe-esque landscape of lapping waves, pine trees and a sunburst peeking over a mountain range, then started selling prints and T-shirts with that design under the label SacMementos on Etsy. The online line has since expanded to include the popular oversized "Greetings from Sacramento" tea towel—which is what Barry eventually shipped to England as presents—imprinted with detailed depictions of Sacramento landmarks like the Tower Bridge, Governor's Mansion and Capitol building (the towel is also sold at East Sacramento's The Kitchen Table). The 33-year-old maker draws each stamp on tracing paper before transferring the illustrations to linoleum and painstakingly carving out the negative spaces by hand, taking anywhere from one to six hours to make each design for screen printing—no pixels involved. Whatever he comes up with next, this expert etcher gets our stamp of approval. sacmementos.com —J.R.
Fried Bird in Hand
Chefs have long been putting creative spins on the classic chicken and waffles, but husband-wife team Nicholas and Misty Alafranji may just have the most inventive take of them all with their pop-up restaurant HauteBird, which launched last October and specializes in morsels of boneless fried chicken served up street-food style in a waffle cone. The tasty, not-overly-sweet waffles brim with juicy, meaty chunks of breaded-and-fried-to-order chicken breast tenders that retain a lightly crunchy exterior and practically melt in the mouth. Choose among flavorful, globally inspired sauces (up to three per cone) to coat the chicken, from the eye-wateringly spicy Jamaican jerk glaze to the mild and earthy jalapeño cilantro ranch to the cool, tangy Misty's Comeback Sauce, named after the chef half of HauteBird, who owned a cafe in Brooklyn before the couple moved to North Natomas five years ago (Nicholas, who works in finance, holds up the business end). The Alafranjis plan to open a brick-and-mortar location in Oak Park next year, but you don't have to wait until then to get your hands on this indulgent treat. Check the mobile eatery's Instagram or Facebook page to see where it'll pop up next (go-to spots include Bottle & Barlow and Device Brewing in midtown) and hop over there—no waffling. hautebird.com —J.R.
Badass Butcheress
When Cindy Marlene Garcia isn't working behind the newly renovated meat counter at the Davis Food Co-op, the local butcher can be found sharpening her knives at contests around the world—in April, she brought home the gold from a young butchers' challenge in Perth, Australia, and in June appeared on the History Channel's new competition series The Butcher. A year from now, the self-named "meat chick" will be front and center at Golden 1 Center as the first and only woman to compete as part of the U.S. team in the World Butchers' Challenge, aka the "Olympics of Meat." Meanwhile, back at her home base, inquiring carnivores can seek Garcia out at the Co-op (she's easy to spot in her signature black rabbit ear beanie) for expert advice the next time beef is what's for dinner. —Melinda Welsh
Dolled-Up Duvet
When her sister gave birth to a baby girl in 2014, Yuba City-based crafter Glenn Ann Bayne decided to stray from her typical new-baby present of a handmade blanket. Drawing from her love of paper dolls, Bayne crafted a covering adorned with one and Velcro-backed outfits to stick onto it. A year later, she and her sister Laura Villevieille, launched Paper Doll Blanket, posting a video of Bayne's daughter playing with one of their creations on Facebook; the video went viral, garnering over 9 million views. Gifting sisters, grannies and godparents can now fully customize each 35-by-41-inch cotton blanket, choosing its border and background color, as well as the 28-inch-tall doll's skin, hair and eye hues, hairstyle and gender—and collect more than 40 different stick-on ensembles, from princess dresses and a Nutcracker soldier to a flamingo swimsuit and classic jeans-and-tee combos. And we're not the only fans: In March, Chrissy Teigen posted an Instagram story of her daughter Luna outfitting her paper doll blankie, giving us just one more reason why we can't keep these quilted cuties under the covers. paperdollblanket.com —J.R.
Milkshake Mimic
Whether you're avoiding dairy to benefit the planet or your waistline, nothing triggers FOMO on a hot summer day like the sight of your dairy-downing bestie guzzling a cold, creamy milkshake without a care in the world. But fear not: Burger Patch—which has been serving up a menu of plant-based burgers and fries since it opened in midtown in May—lets you keep your cool with its Earth Quake Shake. The 16-ounce frozen beverage is made from a perfectly balanced blend of cashew, soy and almond milks and comes in vanilla or chocolate—we like the former, but love the latter for its rich, cocoa taste—or a mix of both flavors. (Secret tip: Order the off-menu Cookie Quake Shake, and your drinkable dessert will come with chunks of vegan salted chocolate chip cookies on top.) Husband-wife owners Phil and Danea Horn ran through over 20 variations on the recipe to nail just the right degree of dairy similitude, and while the two are keeping the exact ratios under wraps, they rely heavily on cashew milk to get the right consistency (in fact, the Horns blended cashews to order at the first couple of Burger Patch pop-ups in 2017, an experiment that led to two broken Vitamixes). The result is a lusciously delicious shake that you can gulp to the last drop or dip your herb-tossed fries into—without having a cow. 2301 K St. theburgerpatch.com. 916-750- 4200 —J.R.
Polymusical Phenom
When Neil Nayyar was 7 years old, his parents Raj and Sukhi enrolled him in drum lessons. Within two days he was playing like an old pro—and he was already skilled at piano. Whenever the precocious kid from Elk Grove walked into a music shop, he'd pick up whatever instrument he could reach and instantly produce a melodic sound. At 12, he set out to become a world record holder by mastering 44 different instruments, a goal he blew past handily. Today the ebullient 13-year-old, who is as masterful a showman as he is a technician, has 107 different instruments in his repertoire—and we do mean different, from the Australian didgeridoo and Nigerian udu to the Indian Saraswati veena and Chinese guzheng. And although he's perfectly capable of figuring out the basics of any new contraption, he's as committed to quality as to quantity, and has studied proper technique from 78 different teachers. You can hear him play at any number of county fairs and local festivals, or watch him dominate the competition this Aug. 10 during an "Elk Grove's Got Talent" concert, but it's only a matter of time before this one boy band goes national and gets the golden buzzer on America's Got Talent. neilnayyar.com —H.L.J.
Uncanny Can Design
New Glory Craft Brewery's bevy of polychromatic beer cans have us torn between wanting to taste the rainbow inside and wanting to collect them all to line the mantelpiece. The striking designs—which range from Pop Art-esque to psychedelic to geometric—are the brainchild of Erica Lux, a graphic designer who runs New Glory with her husband Julien and art directs the labels (many of which feature her own illustrations) to reflect the brewery's penchant for offbeat ingredients and tongue-in-cheek names. Take the Choco Truck, for instance: an imperial stout made with cacao nibs, peanut butter and Madagascar bourbon vanilla whose purple can is studded with a scatter print of tiny chocolate tacos; or the Citra Dream, an IPA whose can is splashed with pretty layered paint drops and looks like it should be on display at a local art gallery instead of in your fridge; or the Flippin' Good, a "pancake" brown ale created using maple sugar and bourbon vanilla beans whose flapjack-blanketed label makes you want to have beer for breakfast. If one of the brewery's uncommon cans—a new flavor is released every Friday at both its Sacramento taproom and its recently opened Granite Bay restaurant—catches your eye while scrolling on Instagram, hop to it: these limited-edition brews tend to disappear as quickly as rainbows. newglorybeer.com —Tori Masucci Cummins
Superhero Scribes
"Part of the journey is the end." "No amount of money ever bought a second of time." "I thought you were a Build-a-Bear." Those soon-to-be classic lines may have been uttered by Robert Downey Jr. in Avengers: Endgame, but they were written by Christopher Markus and Stephen McFeely, a pair of UC Davis alums who penned the screenplay for the superhero blockbuster, as well as for its predecessor, Avengers: Infinity War, Thor: The Dark World and the Captain America trilogy. The wordsmiths, who are both 49, have been working together for over 20 years, soon after they met in 1994 as students in the graduate creative writing program at Davis—their other film credits include the Chronicles of Narnia series and the 2004 HBO movie The Life and Death of Peter Sellers, which earned nine Emmys, including best writing. Last year, the dynamic duo became Co-Presidents of Story for AGBO, the production company of the Russo Brothers, who directed the last two Captain America and Avengers installments, portending more Marvel-ous collaborations ahead. Aggie Avengers assemble! —T.M.C.
Flights of Fancy
You can save the diamonds and pearls for New Year's Eve, but bubbles are an everyday luxury now, thanks to Fizz Champagne & Bubbles Bar, which opened in DoCo last October across from the Golden 1 Center. Owner and "chief champagne officer" Raymond James Irwin stocks more than 150 different varieties of champagne and sparkling wine from regions as far-flung and unexpected as England and South Africa. You can boldly pop the cork on a $400 bottle here, or sample one of about 15 daily offerings by the glass, but for our money, what makes Fizz a genius bar is its quintet of three-glass flights. From the $20 Around the World to the $49 Baller featuring premium brands like Veuve Clicquot and Dom Pérignon, each trio is served in tulip glasses (wider than flutes, they let you take in the drink's aroma with every sip) and on elegant table mats printed with descriptions of each wine (your server will further tip you to the details of flavor profiles and proper drinking order). For a varied taste of bubbly from its namesake region, try the $40 Champagne in the Membrane flight—the 2-ounce French pours are ever-changing, but a recent favorite was the complex and floral Brut Mosaïque, which went down perfectly with an order of briny oysters and crispy truffle-topped duck fat fries. So raise a glass, or three—these triplet sets are definitely worth toasting to. 615 David J. Stern Walk. 916-573-3909. fizzinsac.com —C.Y.
Spin Cities
K Street's new All City Riders, which launched in February, brings high-concept spin cycling to the urban core with a black box experience that is part video game, part discotheque, part travelogue and all adrenaline. Set up on one of 21 bikes wired to gauge your heartbeat and output (special shoes are provided) and when the lights go out you'll find yourself pedaling up and down the simulated hills of Santorini (for example), via a large 20-by-8-foot video screen, with your avatar projected in front of you. Look, there you are, mid-pack—feel like putting on a burst of effort to pull ahead of your classmates? Go ahead. Like other video games, this one is addictive, thanks to the immersiveness and competitiveness—whether you're sharing your stats with the big screen, or just competing with yourself to best your own numbers. To keep you interested, in addition to animated videos of global destinations, the gym screens actual filmed footage (think GoPro) that lets you sprint through the streets of cities like New York, Paris, Berlin and Sacramento. And Friday evenings, a celebratory week-ending workout set to music videos might take you to Coachella with Beyoncé—your new happy hour motto may just be "I came to slay." 708 K St. 916-469-9868 allcityriders.com —H.L.J.
Attention Spans
"Bridging the gap between coffee drinkers and coffee farmers." That's Pachamama Coffee's mission, according to co-founder Thaleon Tremain. And that goal is interpreted quite literally with a quartet of bridge-themed table designs that local artisan Eddie Stein modeled after four classic Sacramento spans. In Pachamama's midtown cafe, which opened last year, the overlapping triangular trusses of the I Street Bridge form the base of the long table lining the storefront window. Replicas of the swooping cables and ladder-like towers of the Guy West crossing hold up the top of a smaller table, while another mimics the funky geometric angles of the Jibboom Street overpass. Our favorite is the one that started it all, an oversize community table featuring a slab of live-edge reclaimed redwood supported by sentinel-like pillars that evoke an upside-down Tower Bridge. For the best views, forget minding your manners: you gotta crouch or bend down to fully stan these spans. 919 20th St. 916-960-3564. pacha.coop —J.R.
Star-Studded Storytime
Forget the popcorn flicks dominating the movie box office, there's nothing to feed the imagination quite like sitting in a hushed room listening to a great story read aloud by a dramatic actor. At Stories on Stage Sacramento, held at the Clara studios in midtown and currently celebrating its 10th season, the authors are right there in the room with you as local performers bring their works to life, making good on the series' promise to deliver "electrifying prose and crackling theatre." (The program's success inspired the launch of an offshoot series in Davis in 2013.) Each show, which is free to attend (a $10 donation is suggested), typically spotlights an established author and an emerging writer who both introduce their stories before the reading and sign books afterwards—past evenings have featured such literary luminaries as noted dystopian sci-fi author Maggie Shen King, National Book Critics Circle Award winner Anthony Marra and National Medal of Arts-winning memoirist Tobias Wolff. The 2019 season wraps up with two fiction shows in August and September, and a non-fiction performance in October featuring Christine O'Brien, author of Crave: A Memoir of Food and Longing, and local essayist Jan Palmares Meadows, who is working on a memoir about growing up in a gambling-loving family. If you're looking for entertainment, we think this is one page-turning event worth betting on. storiesonstagesacramento.com —M.W.
Four-Legged Lawnmowers
If you've visited Elk Grove, Lincoln or West Sacramento in spring or summer, you may have seen these cities' seasonal workforces in action—herds of hundreds of goats nibbling their way through river banks and greenswards. Does this method of trimming back fire-hazardous vegetation strike you as somewhat medieval? It's actually a sophisticated solution to a sometimes thorny problem. Grazing goats, you see, can munch and mulch up a wide variety of plant life, depositing it back as fertilizer, and better still, they can make their way up and down delicate, hard-to-reach river banks that can't be reached by mechanical equipment of any kind. They're also adorable. The herds have become so beloved that all three cities have put up web pages where you can track the goats' movements and learn more about their fascinating, er, biotechnology. To an idea that's as entertaining as it is eco-friendly, we say mow, mow, mow, you goat. —H.L.J.
Once-in-a-Full-Moon-Hike
What could top the spectacular scenery of the Sierra foothills, you ask? Try bathing it in inky darkness and a shimmer of soft, silent moonlight to gain an instant appreciation of the phrase "less is more." Placer Land Trust holds its moonlight hikes most months between spring and fall (the moon's phases must cooperate, so check the group's website schedule) on a preserve in North Auburn that is otherwise closed to the public, making this guided 4-mile loop even more of a discovery. Your group of 20 or so night stalkers follows a single track through gently rolling hills dotted with rare blue oak and black oak—the Land Trust docents will point out vegetational highlights along the way—arriving eventually at a knoll perfect for taking a rest and watching the sunset. As the darkness wraps around you like a soft, cool blanket, it's time to break out the flashlights and headlamps (hint: bring one with a red light option, as the frequency doesn't interfere with night vision). The leisurely descent takes you along a gravel fire road with excellent footing, along which you'll be treated to a beautiful moonrise, letting you see nature in a whole new light. placerlandtrust.org —H.L.J.
Place to Make a Splash
Over a decade in the making, the new 106,531-square-foot Elk Grove Aquatics Center was worth the wait. It's that rare community facility that manages to be all things to all people, a bustling, beatific melting pot where seemingly the whole town turns up on summery Sundays for nearly 1 million gallons of splashy fun. Tots and toddlers bob along on the lazy river (a doughnut of shallow water with a current for floating), the tweens line up for the two spectacularly twisty-turny 30-foot-long water slides, and the teens tackle a giant inflatable obstacle course that includes a rope swing. Parents watch from shaded loungers, while solo adults quietly and efficiently knock out yardage in the Olympic-size competition pool. If wearing a bathing suit in front of 1,500 strangers doesn't give you pause, you can order an Oreo milkshake or a Polish hot dog from the snack stand—or bring your own carrot sticks. The aquatic center strikes a perfect balance between community pool cool and water park splashy—if you're a mellow-minded mermaid or merman, think of it as Raging Waters without the rage. 9701 Big Horn Blvd. Elk Grove. 916-883-2782. yourcsd.com —H.L.J.
A Place to Architecturally Digest
In its first summer of operation, Drake's Barn, which opened in West Sacramento last October, is proving to be one cool gathering place during the day and one cool way to warm up at night. Recently installed shades and misters keep visitors to the hopping beer garden from roasting before the sun sets, and roaring firepits take the edge off the Delta breeze come nighttime. Fair warning: Although Drake's can surely accommodate you with its 400 chairs, snagging a prime spot fireside to quaff your Denogginizer is a bit like getting a good spot at a beach-blanket concert, so get there early and plan to stay late. Better yet, go on a weekday (along with the rest of the week, Drake's is now also open on Mondays and Tuesdays when there is a River Cats game at neighboring Raley Field). Or arrange your group around a hot wood-fired pie from on-site restaurant PizzaSmith, served in the shade of the Barn's ultra-modernist pavilion by Dutch landscape architect Jerry van Eyck—we especially love the classic New Haven-style "apizza"—and don't forget to ask for a side of the signature ranch-style Barn Dressing for dipping if you want to experience a little slice of heaven. 985 Riverfront St. 510-423-0971. drinkdrakes.com —H.L.J.
A Reason to Drink Pink
While stars like Drew Barrymore, Antonio Banderas and Nicki Minaj have long dabbled in winemaking as a glamorous side business, three-time Grammy winner P!nk has taken celebrity viticulture to the next level. In 2016, the 39-year-old pop singer, who dropped out of high school to pursue her music career, quietly snuck back into the classroom, enrolling in a 16-hour intensive wine chemistry course at UC Davis, where most of her fellow students had no idea they were studying fermentation and titratable acidity alongside the writer of anthems like "Raise Your Glass" and "Sober." The singer uses her birth name, Alecia Moore, in connection with her Santa Ynez Valley-based Two Wolves winery—whose assistant winemaker Alison Thomson earned a master's degree in viticulture at Davis—where she is deeply involved in every step of the process, from planting to pressing to bottling. With her first three wines—a cabernet sauvignon, cabernet franc and petit verdot—selling out within a day of their release when the label launched last November, Moore seems destined to hit the big time just like her alter ego. twowolveswine.com —C.Y.
Feet Feat
Johnny Cash may have made Folsom a household name, but professional adventure athlete Ryan Robinson made his hometown famous all over again this past May when, while barefoot and wearing a harness, he stepped onto a 1-inch-wide line strung 50 feet above the American River Canyon, attempting to traverse 1,919 feet between Lake Natoma Crossing and the 100-year-old Rainbow Bridge. Robinson completed the challenge in a mere 35 minutes on his first and only try, setting a world record for the longest bridge-to-bridge highline walk. The Folsom-raised slack-liner—who has been featured in publications like National Geographic and has competed on four seasons of NBC's American Ninja Warrior—is no stranger to dizzying heights, having crossed highlines between natural and man-made structures in locales ranging from Yosemite to Tasmania to Shanghai. On the day of his record-breaking feat, Robinson shared with his 100,000-plus Instagram followers that he had been dreaming of trekking across the canyon for years—we can only imagine how proud the Man in Black would have been to see this sportsman walk the line. —T.M.C.
Box of Surprises
These days it seems you can find a subscription box brimming with goodies for just about anyone, from beauty junkies to shoe fiends to puzzle addicts. So in April 2018, Janis Watson, who owns the Roseville home décor shop Terra Cottage, decided to get in on the action, creating a monthly subscription box ($29.74 for subscribers; $34.99 for one-time purchase) that features up to six handcrafted items—think soy candles by Washington state's Dandelion Wishes Candle Co. or boho-chic pillow covers by Oregon-based Saguaro & Pine—plus a bonus lifestyle item like leather hexagonal earrings by Roseville-based Covet, or moisturizing skin balm from Sacramento apothecary Salt & Shea, the better to feel fabulous in your elevated environs. For locals who want the surprise packages but want to avoid the pesky shipping fees, Watson offers in-store pickup, giving you a chance to think outside the box and peruse even more ideas to make your home perfectly Pinterest-worthy. 426 Vernon St. Roseville. 916-899-6721. terracottageshop.com —J.R.
Fiery Street Art
A swirling blue dragon has taken up residence in a quiet cul-de-sac in Davis. The fire-breather is a vibrant part of a glorious street mural by artist Danielle Fodor that sprawls over 13,000 square feet of pavement in the northern section of town. Titled Elemental, the work is inspired by the four elements—earth, water, air and fire—combining nature and fantasy, with multihued hummingbirds, looping butterflies, a white egret and, yes, a mythical dragon. After nine months of planning, a four-day painting party was convened last October, when 450 community members chalked grid lines and applied color by the bucket. To see for yourself, begin your tour of this surreal suburban paradise at the end of Bianco Court in Davis, head straight to the painted river, then follow the water until you arrive at the Hacienda Avenue cul-de-sac. For the full labyrinth effect, walk in on the blue and out on the yellow—and prepare to be a-mazed. daniellefodor.com —M.W.