10 delicious ways to roll with it on International Sushi Day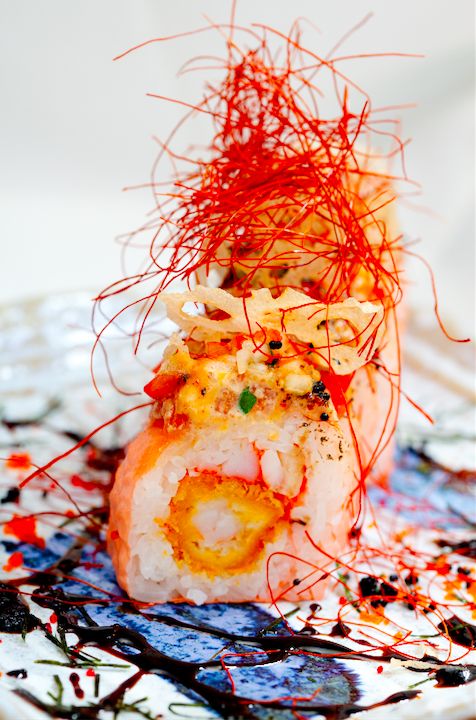 As International Sushi Day rolls around on Thursday, June 18, we've packed together 10 of the region's most popular rolls—from a fiery seafood sensation to a sweet roll made with Rice Krispies Treats—for you to sink your teeth (and chopsticks) into.
Akebono
If South Land Park is your home base, you might be familiar with the Ichiro roll from this local sushi hot spot. The popular customer favorite is stuffed with delicate pieces of seared tuna (torched briefly on an open flame) and creamy slices of fresh avocado. The roll is then topped with raw salmon (which arrives fresh to the restaurant daily), bits of green onion and a combination of the restaurant's special sauces, including Sriracha and a house-made spicy mayonnaise. $9.50. 4960 Freeport Blvd. 731-8288. akebonojapaneserestaurant.com
Azukar Sushi
Go big or go home with the Buffalo roll at this Natomas all-you-can-eat sushi bar. This specialty roll fuses two Japanese favorites: beef teriyaki and sushi, by stuffing the seaweed and rice roll with tender chunks stir-fried beef (which is marinated overnight in soy sauce and garlic to add a sweet and spicy taste) and thin slices of caramelized onion. The fusion dish is topped with slices of fresh green onion and drizzled in a sweet ginger sesame dressing and a rich teriyaki sauce. $9.95. 1516 W El Camino Ave. 504-1121. azukarsushi.com
Blue Nami
If you think you can't have sushi for brunch, you haven't tried the Tora! Tora! Tora! roll from this local sushi chain. Wrapped inside a fluffy egg omelet, this savory roll is filled with slices of zesty grilled chicken (marinated overnight in sugar, soy sauce and Korean hot pepper paste), tempura shrimp and tangy artichoke hearts. Garnished with a house-made mango salsa and nutty quinoa, this offbeat sushi roll will hold you over all day long. $17.95. Roseville: 1465 Eureka Rd. 787-1177. Folsom: 330 Palladio Pkwy. 983-3388. Orangevale: 8807 Greenback Ln. 988-2300. bluenamisushi.com
Ju Hachi
After becoming a finalist in the 2006 Sushi Masters event—during which California sushi chefs went head to head to make their best rolls—executive chef Tapa Watanabe's Double T-Roll has been a signature menu item at this downtown Japanese bar. The innovative dish features delicate cuts of tuna, spicy snow crab and avocado inside a thin soy wrap, which is covered with an egg roll wrapper and lightly fried to add an extra crunch. The double-wrapped roll is served on a layer of sweet unagi teriyaki sauce mixed with a spicy orange mayonnaise to provide an extra kick. $16.50. 1730 S St. 448-3481. juhachirestaurant.com
Kru
Brighten up your day with the Sunshine roll at this celebrated midtown sushi mecca. Created by chef-owner Billy Ngo, this modern classic is stuffed with crispy tempura shrimp, spicy tuna and chunks of fresh green apple, which add a tartness and crunchy texture to the soft, vinegar-seasoned rice. On top of the roll, you'll taste special toppings like seared walu (lean Hawaiian sea bass) and arare (tiny crunchy rice crackers), as well as sushi staples like fresh avocado, micro cilantro and crispy fried leeks. Finishing off the dish are drizzles of Kru's signature house-made sauces, including a creamy spicy garlic sauce and sweet chili oil. $14.50. 2516 J St. 551-1559. krurestaurant.com

The Snap Crackle Pop Roll at Tokyo Fros brings dessert to a whole new level with Rice Krispies Treats cereal and fresh berries.
Lou's Sushi
Artful simplicity is the key to the Six Item roll at the popular midtown sushi joint, which fills this customer favorite with crispy tempura shrimp and house-ground spicy tuna and tops it with raw salmon, creamy avocado, lemon juice and slices of broiled jalapeño, which are made by drizzling the pepper with a spicy soy mayonnaise and broiling it to add a spicy and citrusy flavor. $14.50. Lou's Sushi. 2801 P St. 451-4700. lousushi.com
Mikuni Kaizen
Fine art meets fine food with the Triple P Garibaldi roll at this Mikuni offshoot located in the Fountains at Roseville. Named after Sacramento-based performance painter David Garibaldi, this eclectic roll includes deep-fried panko shrimp, kanikama (imitation crab), spicy tuna and blanched asparagus. The roll is then topped with fresh tobiko and pieces of crispy lotus chips, drizzled with a tangy house sauce and torched to add a smoky taste. Mikuni's executive chef Taro Arai was inspired to create The Triple P roll (which alludes to Garibaldi's motto "paint with passion and purpose") by the artist's portrait of Albert Einstein dressed as a sushi chef, which can be found on the walls of Kaizen. $16.95. 1017 Galleria Blvd. Roseville. 780-2119. mikunisushi.com
Soho Sushi
For spice lovers, this Rancho Cordova sushi stop takes fiery to a whole new level with its Flaming Dragon roll. Wrapped in tin foil and served on an open flame, this specialty roll also cranks up the heat with spicy tuna dressed in a piquant house-made mayonnaise, and includes traditional sushi ingredients, such as deep-fried shrimp, avocado and crab meat, and toppings like masago and fresh slices of yellowtail and shrimp. $17.95. 3101 Zinfandel Dr. Rancho Cordova. 853-1100. sohosushisac.com
Tokyo Fros
At this Japanese-American fusion sushi bar in Arden-Arcade, the Snap Crackle Pop roll is just as it sounds. Wrapped inside a crunchy yet chewy house-made Rice Krispies Treat, this dessert roll—which is topped with a light drizzle of the restaurant's house-made raspberry sauce—ditches the fish for fresh fruit, filling the marshmallow bar shell with seasonal favorites like raspberries, blackberries, blueberries and strawberries, which are joined together by a house-made vanilla pudding acting as the "mayonnaise." $7. Tokyo Fros. 2224 Fair Oaks Blvd. 648-1115. tokyofros.com
Zen Toro
Land meets sea with the Surf and Turf roll at this popular Davis sushi eatery. On top of the fusion roll, guests can find crunchy tempura pop (crispy tempura batter flakes), fried tempura onion slivers and thin slices of rare tataki beef, which are lightly seared and seasoned with traditional tataki seasoning (including seven different types of peppers) in order to give the meat a spicy and savory flavor. Crispy tempura shrimp and fresh cucumber slivers Inside the roll, The entire dish is then drizzled with the restaurant's signature creamy garlic mayonnaise and a tangy teriyaki sauce. $12.50. 132 E St. Davis. 530-753-0154. zentorosushi.com
You Might Also Like
Mikuni announces new location in Folsom
New Shabu Extreme fuses Taiwanese and Japanese food in Davis
Local artist David Garibaldi goes global: Meet the man who's putting the "dope" in Dopey.