10 fiery ways to enjoy International Hot and Spicy Food Day in Sacramento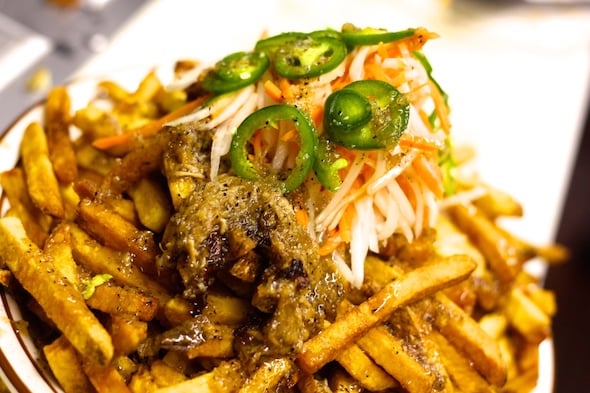 In honor of International Hot and Spicy Food Day this Friday, Jan. 16, it's time to crank up the heat with some fiery and spicy dishes around Sacramento that will curb the winter blues. Ranging from sinus-clearing to delicately sweetened and spiced, here are 10 great dishes, delicacies and treats for those heat seekers looking to add a little extra kick to their day.
Broderick Roadhouse
This West Sacramento institution's banh mi fries are the perfect fusion of American comfort food and light, tangy and spicy Vietnamese flavors. Made with house-pickled vegetables, slow-pulled pork, scratch-made citrus caramel sauce, and jalapeño slices atop Broderick's twice-fried french fries, the incendiary treat provides an even bigger kick with one of Broderick's spicy burgers like the El Charro (made with smoked pepper-encrusted beef, pepper jack cheese and hot pickled jalapeño slices. 319 6th St. West Sacramento. 372-2436. broderick1893.com
Vampire Penguin
For a cool and refreshing treat with just a hint of heat, the Mexican candy-flavored "snow" confection at this dessert destination hits the spot. It starts with a dome of mango-infused shaved ice, which is then topped with a rich caramel sauce and watermelon chunks that perfectly contrast the snow's addicting fluffy, light-as-air texture. A generous sprinkling of Tajin (a Mexican seasoning made with dried chilies, salt and lime) adds the perfect tangy finish to this dessert with just the right amount of heat and spice. Multiple locations. facebook.com/VampirePenguin916
​Mulvaney's B&L
No Hot and Spicy Food Day celebration would be complete without a dollop of searing, bright orange "Ass Fire" sauce from the kitchen of adventurous chef Patrick Mulvaney. The punishing heat of the sauce comes from habañero peppers cut into rings and smashed with whole cloves of garlic, tossed with salt, a bit of vinegar and fermented for three weeks. Mulvaney's sells cups of Ass Fire on its own as a side or offers it to diners with any of their dishes. Alternatively (and less infamously), Mulvaney's hatch chile gratin serves up the serious spice with both lunch (seared mahi mahi with eggplant caviar) and dinner (smoked pork chop) entrées alike. 1215 19th St. 441-6022. mulvaneysbl.com
Thai Spice
This popular Thai restaurant on Broadway keeps it simple while staying true to its name. The signature yellow curry (available in chicken, beef, shrimp and vegetarian options) comes in temperatures ranging from mild to extra-spicy, while the friendly staff helps diners determine the level of spice most suitable for them. If the thought of braving extra-spicy Thai sounds intimidating, worry not: The addition of silky coconut milk to this dish helps tame the heat while adding a delicately sweet flavor. 2721 Broadway. 455-9580.
3D Candies
Made with jalapeño-infused cream, white chocolate and adorned with a candied Fresno chili pepper, 3D Candies' unique jalapeño caramel is designed to be rich, soft and comfortable with just the right amount of spice. Although the level of heat varies with each pick of fresh chilies, the rich and silky coating ensures this candy never becomes overbearing. While 3D proprietor Cindy Straub doesn't have a storefront, customers can pick up her candies at Corti Brothers or Taylor's Market, or arrange delivery by ordering online or by calling Straub directly. 799-8418. 3dcandies.com
Akebono
Made with an array of secret spices, shiitake mushrooms, tofu, egg and oodles of thick and toothsome noodles, Akebono's ramen can be ordered with flavors so torrid that it's sometimes referred to as "Challenge Ramen." At this level, the ramen is said to be four times hotter than Akebono's other varieties, which guests can also request under the mere "hot," "very hot" and "super hot" options. 4960 Freeport Blvd. 731-8288. akebonojapaneserestaurant.com
Preservation & Co.
Handcrafted in the heart of the grid using local habañero peppers and pickling cucumbers, Big John's Habañero Dill Chips are some of the spiciest pickles this midtown foodie mecca makes. Named after co-owner Jason Poole's grandfather (who helped fund Preservation & Co. when Poole started out), the spicy slices complement everything from a savory burger to a Bloody Mary. Especially fearless heat seekers, meanwhile, might try a dash of Preservation's Hellfire Sriracha Sauce—a condiment derived from Fresno chilies that is so hot that Poole wear a gas mask to produce it. 1717 19th St. 706-1044. preservationandco.com
Hidden Sichuan
Head down to this popular Elk Grove eatery for a taste of some of China's spiciest dishes, made using both traditional and modern recipes. Whether you go veggie (with the hearty and spicy eggplant), carnivore (with the Hunan beef with squash and carrots in a fire sauce), or stick with the rich and soupy (and beloved) dan dan noodles, what sets all of this restaurant's cuisine is its aromatic quality—ensuring that none of their dishes' nuanced flavor profiles are overpowered by their spicy kick. 9160 E. Stockton Blvd. Elk Grove. 686-8696. hiddensichuan.com
Sandra Dee's BBQ and Seafood
For a perfect accompaniment to this Southern-inspired restaurant's smoky barbecue ribs, try the sweet and spicy corn. Stir-fried in-house daily with sweet yellow corn, fiery jalapeño slices and fresh onion, the offering has emerged as one of the restaurant's most popular side dishes for its sweet crunch and lingering kick. Request it with Sandra Dee's mac 'n' cheese for a nice balance of creamy flavor and bold spice. 601 15th St. 448-6375. sandradeesbbq.com
Tres Hermanas
No celebration of spicy food would be complete without a fresh, fiery salsa, and this K Street favorite delivers with one of the more formidable offerings in town. Best of all, it's standard (and bottomless) with every meal and made in-house daily with fire-roasted tomatoes, chilies and garlic. For even more salsa-y goodness, try the chile verde, made with tender pork simmered in a deliciously spicy yet tangy green salsa made with roasted green tomatillos. 2416 K St. 443-6919. treshermanasonk.com
Related Links
–Bacon Fest Sacramento gears up for fourth delicious year
–Hawks Provisions & Public House set to open in March
–9 fine soups to warm you up this winter in Sacramento