10 Questions for Sacramento Kings President Chris Granger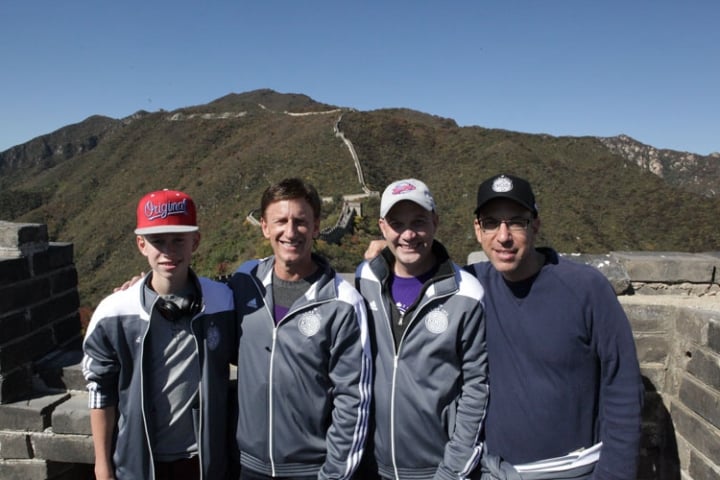 Sactown caught up with Kings President Chris Granger this morning while he was waiting for his flight from China to take off, returning to Sacramento from the team's preseason exhibition matches there. Despite being tired, grubbing on plates of unidentifiable food and getting whooped at Ping-Pong by a bunch of kids, Granger says the experience was "spectacular."
How was the trip?
It was an A+ trip all around. Our players had a fantastic time. Our owners loved it. Our partners had a fantastic time. It was just really good. I mean, the fans here in China are so knowledgeable and so passionate about the game that we just had a great time interacting with them.
How are Kings fans different in China than they are here?
The difference is that in Sacramento, we are Kings fans. I think the fans here in China are largely NBA fans so I think its more about appreciating the athleticism of our players, appreciating the teamwork and just appreciating the general charisma of the NBA athlete.
Which Kings players are best known there?
DeMarcus [Cousins] got the loudest cheers among all, I think. Then of course we had Vlade Divac here and Peja [Stojakovic] here. Shaq got huge applause from the crowd; Mitch Richmond got huge applause from the crowd.
What did you do outside of basketball?
A lot. We had an NBA Cares event where our owners and our players spent time with kids who are the children of migrant workers in and around Beijing. So we had a wonderful trip with them, holding a basketball clinic with them, playing Ping-Pong with them and reading with them, opening a computer lab. It was a lot of fun. In addition to that, we had a whole host of business meetings led by Vivek [Ranadivé, majority owner of the Kings]. So we met with the CEOs [of various companies] as we look for ways to leverage technology in different interesting ways. Vivek also joined in on a meeting with the vice premier of China, with Adam Silver, the commissioner of the NBA. It was a signing ceremony. The ministry of education in China has a deal with the NBA, or a partnership with the NBA, whereby basketball is going to be incorporated into the curriculum of thousands of schools throughout China. So Vivek was there for that as a dignitary.
Who's the best Ping-Pong player on the Kings?
Nobody on our team. Ping-Pong is the great equalizer. So it's just wonderful—four, 5, 6, 7 and 8-year-old girls and boys playing Ping-Pong with Rudy [Gay] and DeMarcus and Ben [McLemore]. I think to a person we lost every match.
Have you been to India for the NBA?
No, but we are going with Vivek as well as the commissioner of the NBA the first week of December.
What was the strangest thing you ate on the trip?
You know, I don't even know. I couldn't even tell you. There is such a pride in the cuisine here in China that oftentimes food is just put in front of you. You don't know what it is, but you eat it anyway, and you're always blown away by how good it is.
Anything else you want Kings fans to know about the trip?
Overall it was a spectacular trip. It's such an enormous deal in China. There are 330 million people in China—boys and girls, men and women—who play basketball. More people play basketball [in China] than there are people in the United States. It's a massive sport and I will tell you, I went to the flagship Adidas store—the largest Adidas store in the world—and we went there with Vivek and Shaq and Vlade, and it was just wonderful to see all of the Adidas employees were wearing Kings merchandise. So many fans there were wearing purple. It was really cool to see not just the interest in the NBA but that following the Kings is something that happens on a worldwide basis. It was just fun to see.
How's the arena going?
The arena is going great. The demolition is moving. It's an extremely rapid pace. We have people working virtually around the clock and we remain on time and on target for October 2016.
Have you checked in on it at all while you were over there, with all the Internet cameras?
I check in on it every day, and will do so for the next two years. Absolutely.
Related Links
—Sactown's profile of Kings owner Vivek Ranadivé
—Kings release first round of arena renderings