10 Sacramento Instagrammers you should be following right now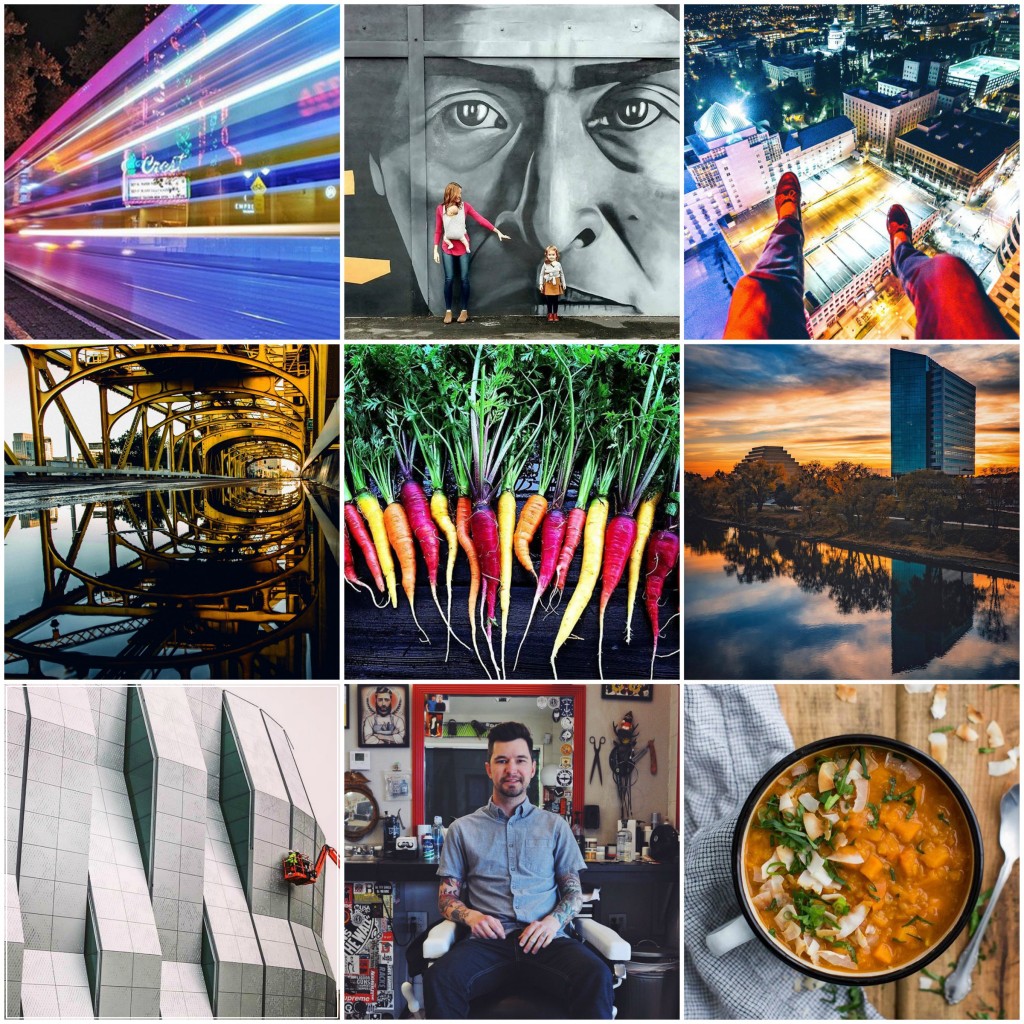 Since Sactown launched its own Instagram page three years ago, we've noticed an increasingly vibrant community of photographers on the social media site popping up to chronicle their own stories from behind their shutters and smartphones. We rounded up 10 of those Instagrammers who push the envelope and the capture moments in the city and surrounding region in extraordinary ways, from stunning street portraits to awe-inspiring views of downtown.
These are, of course, just a fraction of the amazing Instagrammers chronicling life in our city. As such, this is likely just the first of many such posts to come. Enjoy.

Cameron Park-based photographer Dusty Schuh has been known for his Instagram feed that reveals dizzying photos of his own boat shoe-clad feet standing on the ledges of Sacramento's tallest buildings. The photo phenom is still taking shots from the rafters, but for a different reason than the thrill-inducing height factor. Instead, he aims to find the art in the constant movement of Sacramento's urban landscape.
Image by @dustyschuh
For the team behind the Sacramento Kings' new arena, Instagram poses a unique way to document real time updates of the construction progress and connect with everyone from excited Kings fans to curious passersby. The feed is full of inside looks and awe-inspiring views of the arena—slated to open this fall—including construction workers soaring on high-rise cranes and winter sunshine dramatically reflecting off of the angled exterior.
A photo posted by Golden 1 Center (@golden1center) on
Image by @golden1center
In 2011, just a year after Instagram launched, Will Thompson took a photo with his smartphone of City Hall at night. Since then, the Curtis Park resident has been documenting unique scenes of Sacramento. "It's my goal to show off the city now," Thompson says, and he does so by snapping new angles and viewpoints of iconic local structures like the Tower Bridge and the State Capitol, as well as impressive views from the top of stairwells or even from a helicopter above the downtown grid.
Image by @goodthompson
Oak Park resident Mario Maynor has a way of looking at the city from electrifying, unconventional viewpoints, presenting fiery sunset reflections along the river, dizzying views of skyscrapers and the repetitive angles of local architecture. For a long time, Maynor shot only with his iPhone 4, but has recently migrated to a digital camera to capture long-exposure night photography, which he likens to the elusive hobby of fishing. "You spend a lot of time on it and sometimes you win and sometimes you lose," he says.
Image by @maynorchrome
Erin Alderson of North Natomas is showing the world how to use Sacramento's bounty in the home kitchen using her food-focused Instagram page. After visiting area farmers' markets to buy ingredients from local producers like Bird Dog Farm and Soil Born Farms, she displays colorful images of home-cooked vegetarian-focused meals, like her red lentil soup with sweet potatoes, for her 42,000 followers to see. "It's all about inspiring people to get cooking with vegetables," says Anderson.
Image by @naturallyella
At night, when most of Sacramento's residents have left the streets, you might spot a few brave souls scouring the city with tripods and lenses in hand. Photographers Andrew Eggers and Andrew Rodriguez launched this page about a year ago after noticing a lack of nighttime shots circulating in the local Instagram community. Now they pull images from other users to feature, like long-exposures that create beautifully illuminated cityscapes and streaks of neon across the light rail tracks. "I love seeing what people come up with," Rodriguez says. "They're always surprising me."
Image by @angelajb_photo courtesy of @sacafterdark
Elk Grove-based social media specialist Faith Mari (who also runs @visitsacramento and was named one of Italian Vanity Fair's top 10 Instagrammers to watch in 2013), began curating this account from the Sacramento Convention & Visitor's Bureau last February and has since grown it to nearly 14 thousand followers. The colorful feed tells the stories behind America's Farm-to-Fork Capital and the experience of enjoying local food, whether at a restaurant, farmers' market, grocery store or on your own dining room table. "It's so much more than just vegetables and dirt," Mari says.
Image by @24carrotfarm courtesy of @sacfarm2fork
This feed run by local resident Emily Frei is all about local color, from a snapshot of artists collaborating on a surrealist mural outside a midtown corner store to a reflection of a painting bouncing off a post-rain puddle. After moving to midtown in 2011, Frei was inspired by the art decorating Sacramento's alleyways and storefronts and sought to capture glimpses of street art while connecting with the often mysterious artists behind them, like local muralist Shaun Burner and abstract artist Jose Di Gregorio.
Image by @lfisherskanchy courtesy of @streetsac
One of the questions Zayn Silmi, the photographer behind this creative feed, always asks his subjects is: What do you want to be to Sacramento? As a native Sacramentan, Silmi launched his Instagram page to highlight local movers and shakers—from baristas to barbers to artists to chocolatiers—and to showcase the passionate community members around him. In a style similar to the viral feed Humans of New York, he's amassed over 50 interviews so far, peppering the rest of the feed with highlights of everyday life in the capital city.
Image by @thepeopleofsacramento
Natomas-based photographer Wayne Cox explores both the urban and wild sides of Sacramento. From putting a spherical perspective on downtown architectural landmarks like the Cathedral of the Blessed Sacramento or the Tower Bridge through a fisheye lens, or wandering places like Gibson Ranch to capture birds of prey, blooming flowers and shy deer, he uncovers the life that pulses through his hometown.
Image by @waynecox
Follow @sactownmagazine on Instagram for more fun posts and sneak peaks behind the city's latest happenings.
You Might Also Like
Eye in the Sky: Dusty Schuh's vertigo-inducing photographs of Sacramento
Massive new tower proposed for Capitol Mall could end up as city's tallest
Local filmmaker releases new video that shows Sacramento in motion