10 sweet brunch destinations for Mother's Day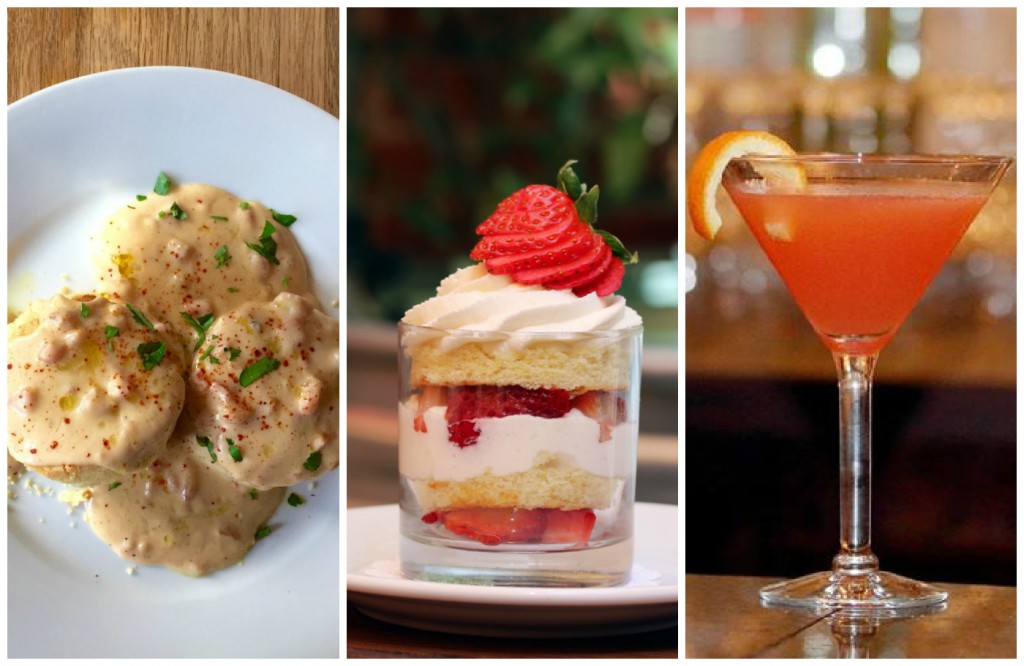 As Mother's Day rolls around on May 10, we've rounded up 10 scrumptuous Sunday brunches around town—from strawberry trifle cake in Old Sacramento to crème brûlée French toast in El Dorado Hills—where you can give thanks to Mom.
The Firehouse
Make Mom feel extra special with this three-course meal prepared by Firehouse executive chef Deneb Williams. The holiday luncheon starts families off with an artisanal cheese and charcuterie meat platter followed by entrées like the Dungeness crab Benedict and blackened wild salmon that's char-grilled with Cajun rub, dressed with chipotle aioli and accompanied by a side of bay shrimp ceviche. Guests can finish their meals with a dessert duet offering a milk chocolate mousse drizzled in white chocolate coulis and caramel, as well as a cherry panna cotta infused with kirsch and topped with Italian meringue. $49.95 per adult; $14.95 per child ages 12 and under (reservations required). 9:30 a.m.–3:30 p.m. The Firehouse. 1112 2nd St. 442-4772. firehouseoldsac.com
Formoli's Bistro
This East Sacramento bistro will offer special Mediterrranean-inspired menu items, such as Persian-style tacos (shirazi salad, braised pork and cucumber-mint sauce sandwiched in lavash bread), a po' boy sandwich with fried shrimp, sriracha and jicama carrot slaw on a soft steak roll, and a fried chicken salad complete with pickled onions, sun-dried tomatoes, bacon and a Dijon vinaigrette. Guests can also nibble on a Formoli's favorite: "croquette Suzanne." Named after chef Aimal Formoli's wife and restaurant co-owner Suzanne Ricci, the item puts a twist on the classic croque-madame by topping toasted pieces of pullman bread with Tesco ham, fried egg and brie cheese underneath a coat of mornay sauce. Prices vary per entrée (reservations recommended). 10:30 a.m.–2:30 p.m. Formoli's Bistro. 3389 J St. 448-5699. Visit Formoli Bistro's Facebook page for holiday menu.
Frank Fat's
This Chinese brunch buffet prepared by executive chef Mike Lim will feature menu classics, such as the restaurant's famous honey walnut prawns, immigrant's beef (marinated flank steaks cooked in brandy, garlic and ginger, served over grilled zucchini) and sang gai shee chow mein (egg noodles with chicken, black mushrooms and snow peas). Plus, the buffet will include special dishes, including chilled Alaskan king crab legs, Fat's own rendition on crab Rangoon (crab meat, garlic herb, cheese, ginger and scallions served on a wonton chip), as well as two dim sum bites of baked barbeque pork buns and steamed shumai dumplings filled with pork and shrimp. Its sister locations Fat's Asia Bistro restaurants in Roseville and Folsom will offer similar menus. $34 per adult; $17 per child ages 12 and under (reservations required). 11a.m.– 3 p.m. Frank Fat's. 806 L St. 442-7092. fatsrestaurants.com
Grand Island Mansion
Dig into a luxury buffet at this Delta mansion, a four-story villa built in 1917 as the centerpiece for an orchard empire and now used for the estate's events and famous Sunday champagne brunches. Nosh on gourmet vegetarian options, such as a Roma tomato salad with fresh basil and ciliegine mozzarella doused in citrus-infused olive oil, Mediterranean orzo pasta salad, and fresh green beans with shiitake mushrooms and Grana Padano. Dig into carnivore-friendly options such as baked ham with fresh bing cherry sauce, herb-crusted prime rib with horseradish sauce and roasted garlic au jus, as well as hand-rolled chicken crepes with Marsala sauce. $39.95 (reservation required). 10:30 a.m.–2 p.m. Grand Island Mansion. 13415 Grand Island Rd. Walnut Grove. 775-1705. grandislandmansion.com
Hawks
Spend the morning brunching on this four-course meal, starting with warm buttermilk biscuits with Chantilly cream and strawberry jam straight from Saeng's Strawberry Stand in Granite Bay, followed by house-cured gravlax salmon accompanied by chilled Delta asparagus, watercress and a black pepper crème-fraîche. Brunch continues with a choice of either eggs Benedict with house-made English muffins, sweet peas and smoked ham, or grilled filet mignon with soft scrambled eggs and potato rösti. Families can end their culinary tour-de-force with sweet finishers like frozen Neapolitan vacherin, strawberry and dark chocolate gelato, or vanilla meringue. $45 (reservations recommended). 10 a.m.–2 p.m. 5530 Douglas Blvd. Granite Bay. 791-6200. hawksrestaurant.com
Hyatt Sacramento
Butter mom up with this luxe buffet offering seafood delicacies, such as marinated mussels, crab claws and bay scallops, as well as a hot buffet stocked with lobster bisque, clam and artichoke-stuffed mushrooms, and pan-seared pork tenderloin. If breakfast beckons, you'll be set with made-to-order omelets, malted waffles, smoked bacon and country sausage, while meat lovers can indulge with hot cuts from the carving station, including maple-glazed country ham, roast turkey and IPA-brined prime rib. If mom's got a sweet tooth, she'll want to leave room for the dessert buffet offering chocolate-dipped strawberries, carrot cake bread pudding and an ice cream sundae bar. $55.95 per adult; $27.95 per child ages 5-12 (reservations required). 10 a.m.–3:30 p.m. Hyatt Sacramento. 1209 L St. 443-1234. sacramento.hyatt.com
La Provence
Roseville families can treat Mom close to home at this French-Mediterranean bistro serving up a starter buffet (complete with sweet and savory breads, crepes and house-made jams) followed by gourmet breakfast dishes, including a crab omelet with asparagus and goat cheese, eggs her way with cherrywood-smoked bacon or a house-made chicken sausage. Mom can also dig into in a veggie-filled scramble with zucchini, eggplant, sweet peppers and a smoked goat and cheddar pistou sauce. La Provence will also offer lavish lunch dishes, such as herb-crusted tombo tuna salad accompanied by fingerling potatoes, Kalamata olives and marinated white anchovies; braised and seared Angus short rib with hand-cut truffle fries; and tarragon-roasted chicken with spelt pilaf and asparagus. $37 per adult; $12 per child ages 10 and under (reservations recommended). 9:30 a.m.–2:30 p.m. La Provence. 110 Diamond Creek Pl. Roseville. 789-2002. laprovenceroseville.com
Revolution Wines
Ditch the traditional breakfast beverages and savor a glass of wine at this special brunch prepared by executive chef Teddy Gibanov. When not sipping on sparkling Chenin Blanc or mimosas, moms can dig into gourmet breakfast dishes, such as truffle poached eggs (sprinkled with Italian pecorino cheese and truffle oil) and eggs Benedict with pork speck and hollandaise sauce on a baguette. Or indulge in heartier plates, including house-made buttermilk biscuits and country potatoes covered in sausage gravy, as well as a vegetable quiche made with oven-dried tomatoes, sautéed spinach and chevre goat cheese. Prices vary per entrée (reservations required). 10 a.m.–2:30 p.m. Revolution Wines. 2841 S St. 444-7711. revolution-wines.com
Sienna
This eatery in El Dorado Hills will be serving bottomless mimosas, along with a buffet featuring classic breakfast fare, such as biscuits and gravy or a bacon, sausage and eggs Benedict made from scratch by executive chef Moses Hernandez. Don't miss the crème brûlée French toast, the seafood bar with fresh oysters and shrimp or heartier choices like a prime rib carving station complete with a house-made au jus. $36.95 per adult, $17.95 per child (reservations required). 10 a.m.–2 p.m. 3909 Park Dr. El Dorado Hills. 941-9694. siennarestaurants.com
Ten22
Indulge in a three-course brunch at this Old Sacramento institution, starting with dishes like a strawberry and almond salad dressed with poppy seed vinaigrette, or chilled cantaloupe-champagne soup sweetened with a honey crème fraîche. Then dig into your choice of main courses, such as the rack of rosemary-roasted spring lamb accompanied by a barley and baby spinach salad, duck hash and sautéed spinach topped with poached ranch eggs, or a French toast pie filled with sweet potato, turkey sausage and strawberry compote. Desserts will include a strawberry trifle cake with lemon chiffon and a Dutch cocoa mousse cake drizzled in caramel sauce. $39.95 per adult; $12 per child ages 10 and under (reservations recommended). 10 a.m.-7p.m. Ten22. 1022 2nd St. 441-2211. ten22oldsac.com
Related Links
New Brunch Boys food truck puts weekend tradition on wheels
Morning Stars: Read our February/March 2013 cover story on the region's best brunches
Carmichael's new Mesa Mercado to include Mexican restaurant, taco bar and market