10 sweet ice cream shops to visit during National Ice Cream Month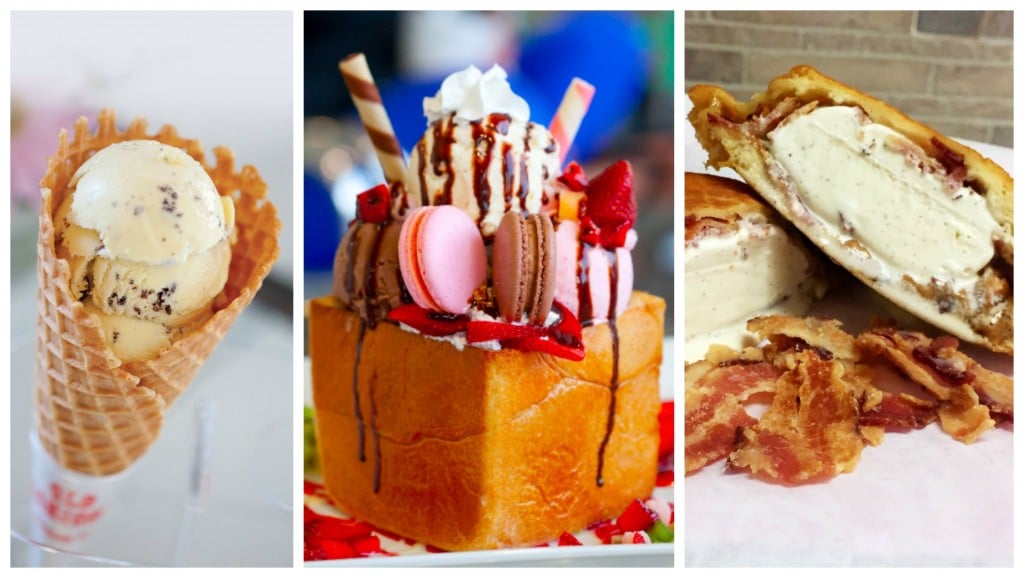 July is National Ice Cream month and from downtown to the foothills, we've got the scoop on some irresistible, local frozen desserts.
Devine Gelateria
Whipping thick, creamy folds of artisanal gelato into a frothy mixture might sound like dessert sacrilege. But, trust us: It's all worth it for Devine's gelato milkshakes. The midtown desserterie combines whole milk with five scoops of your favorite gelato (you can never go wrong with owner Elizabeth McCleary's salted caramel flavor) or beloved combos: the Espresso Chip (made with espresso syrup that uses Temple coffee) blended with the Dark Rich Chocolate makes a creamier version of a mocha Frappuccino. With about half of the air content found in ice cream, gelato shakes churn out bolder, deeper flavors than your typical milkshake, and after just one thick, sweet sip, the idea will sound less dubious and more delizioso than ever before. 1221 19th St. 446-0600. devinegelateria.com
Gunther's Ice Cream
With both classic and inventive flavors, from butter brickle to espresso chip and lemon custard, this old-fashioned Curtis Park ice cream parlor was recently crowned the best ice cream shop in the state of California by Business Insider. Try July's featured flavor of the month: blueberry cheesecake, combining Gunther's signature slow-churned vanilla ice cream (which contains 16 percent butterfat for a richer, creamier taste) with a cheesecake base and blueberry swirl. Regulars know to order the popular mocha almond fudge, with coffee ice cream marbled inside chocolate fudge and almonds. But you may also want to get a scoop or two of the birthday cake ice cream: Gunther's recently celebrated its 75th year in May. 2801 Franklin Blvd. 457-6646. gunthersicecream.com.
Ice-cream-filled doughnuts
This is one food trend we're totally cool with, and shops all around town have started putting them on their menu, each with their own colorful, creative incarnations. At Baker's Donuts in South Sacramento, owners Susie and Randy Hem call them "ice glazers": stuff glazed doughnuts with exotic ice cream flavors like Thai tea, green tea and the brightly colored and eye-catching ube (purple yam) and pandan (green coconut). They're called "ice cream puffs" at The Parlor in Arden-Arcade, where we recommend an apple fritter (ask for it to be heated), or the "Thai Tease," seamlessly blending milky vanilla and Thai tea flavors. Sweet Dozen in Carmichael has created a sweet and savory "melt" coined the MVB (Maple Vanilla Bacon), with scoops of vanilla bean ice cream sandwiched between a fresh, warm maple bar and sprinkled with bacon bits inside. instagram.com/bakersdonuts. theparloricecream.com. sweetdozen.com.
Leatherby's Family Creamery
This family creamery, which was founded in 1982 and has since grown to three locations throughout the region (in Arden, Citrus Heights and Elk Grove), is known for its inventive flavors (blue Cookie Monster ice cream with chunks of Oreos, anyone?) and colossal sundaes topped with everything from peanut butter to pineapple chunks. Just take the "Daddy Dave's Banana Special," for instance. At a whopping 54 ounces, it piles scoops upon scoops of chocolate, strawberry and vanilla smothered in sauces and topped with homemade whipped cream, nuts and a cherry. Leatherby's even has a "Wall of Fame" on Facebook dedicated to customers who have finished the nearly half-gallon sundae on their own. 2333 Arden Way. 920-8382. leatherbys.net.
Snobites
Think of it as French toast's enviable Asian cousin: The decadent House Brick Toast at Snobites in Elk Grove starts with a 4-by-4-inch loaf of Taiwanese milk bread (a denser, fluffier alternative to the conventional American slice) whose insides are scooped out, hand-cut into cubes, and slathered with your choice of sweet butter, coconut butter or cinnamon butter. After browning to a delicate crisp, the squares are placed back in the empty bread shell for an encore of buttery spread, creating layers of "brick," and are topped with chocolate, vanilla and strawberry ice cream from Gunther's. (Adventurous eaters and loyalists to the treat's Asian roots can substitute taro, Thai tea and green tea flavors.) With a pile of macarons, wafers, mochi, and fresh fruit raising the roof even higher. 9170 Elk Grove Florin Rd. Elk Grove. 684-7669. snobites.com
Taylors
When husband-and-wife team Suzanne Carlon and Pat Taylor first opened their milkshake joint Taylors, they debuted with an impressive lineup of 100 flavors. Four years later, these Loomis-based sultans of shakes have tripled down, dreaming up more than 300 intriguing milkshake varieties for adventurous treat lovers—everything from house-made cookie dough and pancake to lavender, rose, maple bacon (which uncannily tastes like the real thing) and Chick-O-Stick (an industrial blender pulverizes pieces of the famous peanut-butter-and-coconut candy before mixing them into the drink). The base is ice cream from D&P Creamery in Roseville, and the pint-size shop has been known to pump out an eye-popping 500 shakes a day on weekends. Even the most decisive milkshake mavens will second-guess their orders, and if you don't have time to read through the full menu that lines the walls, just make something up—it's likely on the list anyway. 3636 Taylor Rd. Loomis. 652-8255.
Treats Ice Cream in Nevada City
Stepping into Treats, a cheery, closet-sized ice-cream shop tucked down an alleyway in historic downtown Nevada City, is the perfect respite from the Sacramento Valley's summertime heat. Owners Bob and Peggy Wright offer about 25 rotating flavors of decadent ice cream, sorbet, vegan ice cream, gelato and "Treatsicles" that use blends of produce from the farmers' market or local grocer BriarPatch Co-op. Don't miss the raspberry chardonnay sorbet using local wine and fruit, or the vibrant scoop that boasts sweet red peppers and strawberries from nearby Mountain Bounty Farm. 110 York St. Nevada City. 530-913-5819. treatsnevadacity.com
Vic's Ice Cream
This fabled family-owned Land Park shop, which opened in 1947, still has its classic black-and-white checkered floor tiles and its employees still tuck their white shirts into their blue jeans in true 1950s fashion. Vic's carries about 30 flavors of ice cream, rotating in seasonal scoops as the months change. This summer, they're bringing back customers' favorite hot-weather flavors, including the boysenberry sherbet—a chilly, fruity iced scoop with the sweet-tart flavor of the dark boysenberry mixed in. Another wildly popular flavor? Vic's cherry amaretto, made with California almonds, fresh cherries and amaretto liqueur. 3199 Riverside Blvd. 448-0892. vicsicecream.com.
You Might Also Like
A new gelateria is set to open in Carmichael this summer, serving more than just desserts
Gunther's Ice Cream rings in 75th anniversary with ice cream social
Ice cream-filled doughnuts sweeten summer in Sacramento