10 sweet spots to celebrate National Pie Day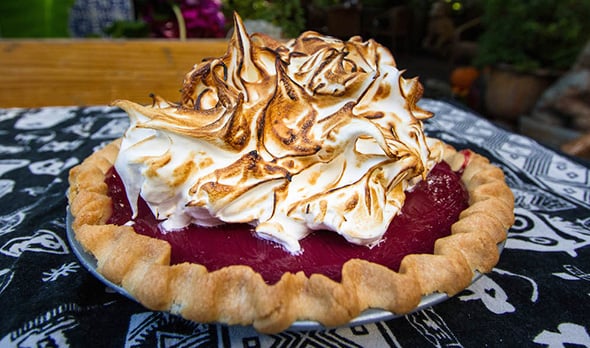 Every day is technically a great day for pie, but only Jan. 23 makes the cut as National Pie Day. If you're hungry for a sweet slice, a hand-size treat or a whole delicious treat right out of the oven, these 10 classic pie practitioners around the region will deliver the goods.
Freeport Bakery
Almost two decades ago, Freeport Bakery's chef-owner Walter Goetzler was faced with a surplus of super sweet peaches in his kitchen. With dark, more intensely flavored olallieberries also in season, he saw a match made in pie heaven. His peach olallieberry pie, which combines these complementary fruits and a dash of cinnamon with a traditional piecrust and crumble topping, has since become a staple at the Land Park establishment. And it's now available year-round (with the exception of the holiday season, when other Freeport highlights like Goetlzer's delectable pear fladen take center stage). 2966 Freeport Blvd. 442-4256. freeportbakery.com
Rick's Dessert Diner
The secret to Rick's classic California walnut pie comes from a technique passed down from the founder's grandmother over 50 years ago: The bakers line the homemade crust with walnuts, then cover them with a layer of brown sugar filling and patiently wait for the nuts to float to the surface before putting the pie in the oven. If you're feeling adventurous, this pie is also offered with a cream cheese layer or with chunks of Guittard semisweet gourmet chocolate. 2401 J St. 444-0969. ricksdessertdiner.com
Tower Café
​Tower Café pastry chefs Louise Maestretti and Lori Allen say they were inspired to create their lemon raspberry meringue pie as a tart and tangy complement to more traditional seasonal fall and winter desserts. The scratch-made pâte sucrée—a dense, cookie-like crust rich with egg yolks and sweetened with a touch of sugar—balances out both the airy topping and the zip of the lemon-and-raspberry purée filling. A quick stroke of flame from Maestretti's hand torch adds the finishing touch to the pie's fluffy yet sturdy Italian meringue. 1518 Broadway. 441-0222. towercafe.com
Karen's Bakery
Jilliane Grodecki, head baker at Karen's Bakery and Café, has perfected the art of apple pie by filling her double crusts with layers of pre-roasted Granny Smith apples—bound together by a mixture of reduced apple cider and Vietnamese cinnamon (which provides more potent, flavorful spice kick than conventional cinnamon). The sweet tartness of the center is rounded out by its buttery crust, glazed with an egg wash and dusted with a crystal sanding sugar. 795 Gold Lake Dr. Folsom. 985-2665. karensbakery.com
Sweetie Pie's
A close relative of the blackberry, the olallieberry is hailed for its tart, juicy flavor and is the main ingredient in Sweetie Pie's signature olallieberry pie. The dish is so popular that baker Margaret Poppelreiter says she makes three times as many olallieberry pies than any of the restaurant's other varieties—and all by hand with no machinery, using the same family recipes for the crust and filling from when the restaurant first opened in Placerville in 1992. 577 Main St. Placerville. 530-642-0128. sweetiepies.biz
Frank Fat's
After 75 years downtown, the iconic restaurant makes its famed banana cream pie from scratch daily, using virtually the same recipe conceived by founder Frank Fat and his original chef in the 1940s. Loaded with freshly sliced bananas and rich custard inside a buttery, flaky crust and topped with a cloud of creamy, fluffy whipped cream, it is easy to see why the dessert is regarded as Fat's—and possibly Sacramento's—quintessential dessert. (The restaurant's chocolate cream pie is no slouch, either.) 806 L St. 442-7092. (Also available at Fat's Asia Bistros in Roseville and Folsom). fatsrestaurants.com
An Honest Pie
At this beloved bakery on wheels, biting into chef Brenda Janssen's personal-size buttermilk mini pie is like eating a sweet crème brûlée thanks to Janssen's famous lush buttermilk custard (made from scratch each morning with fresh buttermilk). Meanwhile, a sturdy yet flaky crust (baked on a hot iron mold) helps contain the gooey goodness and prevent messy fingers. Truck will be at The Home Depot in Auburn (11755 Willow Creek Drive) on Pie Day. 530-990-1303. anhonestpie.com
A Slice of Goodness
Among the highlights at this bakery in the heart of Old Roseville is its coconut crumb cherry pie, which combines owner Debbie Manhart's top-secret crumble recipe with the unusual pairings of the two fruits in its name. The sweet results have helped earn Manhart and her family the following that their Placer County pie destination has had for nearly three decades. 924 Douglas Blvd. Roseville. 781-3727.
Ikedas
Owner Glen Ikeda's traditional apple pie (not to be confused with his Dutch or French apple pies) gets its remarkably sweet and fresh flavor from organic apples grown in his family's own orchard. The pie, which is impressive both in its taste and in its sheer size, contains layers of apples covered by a towering dome-shaped crust that owes its flaky, rich texture in part to a touch of vinegar added to the dough. Auburn: 13500 Lincoln Way. 530-885-4243. Davis: 26295 Mace Blvd. 530-750-3379. restaurant-bakery-auburn-ca.com
Mo Mo's Meat Market
This tri-tip, ribs and barbecue hot spot ensures that every meal ends on a sweet note with its signature sweet potato pie. Using a recipe she's fine-tuned over the years, head baker Joyce Finnegan blends homemade sweet potato mash with sugar, brandy, egg, lemon and vanilla for the filling— an innovative mixture that Finnegan describes as a great year-round alternative to pumpkin pie. 5776 Broadway. 452-0202.
Related Links
–Get a taste of the sweet life at the second annual Sacramento Chocolate Salon
–Love is in the air at pop-up store and wedding chapel in Sacramento
–Hawks Provisions & Public House set to open in March