11 ways to have fun during the Labor Day weekend in Sacramento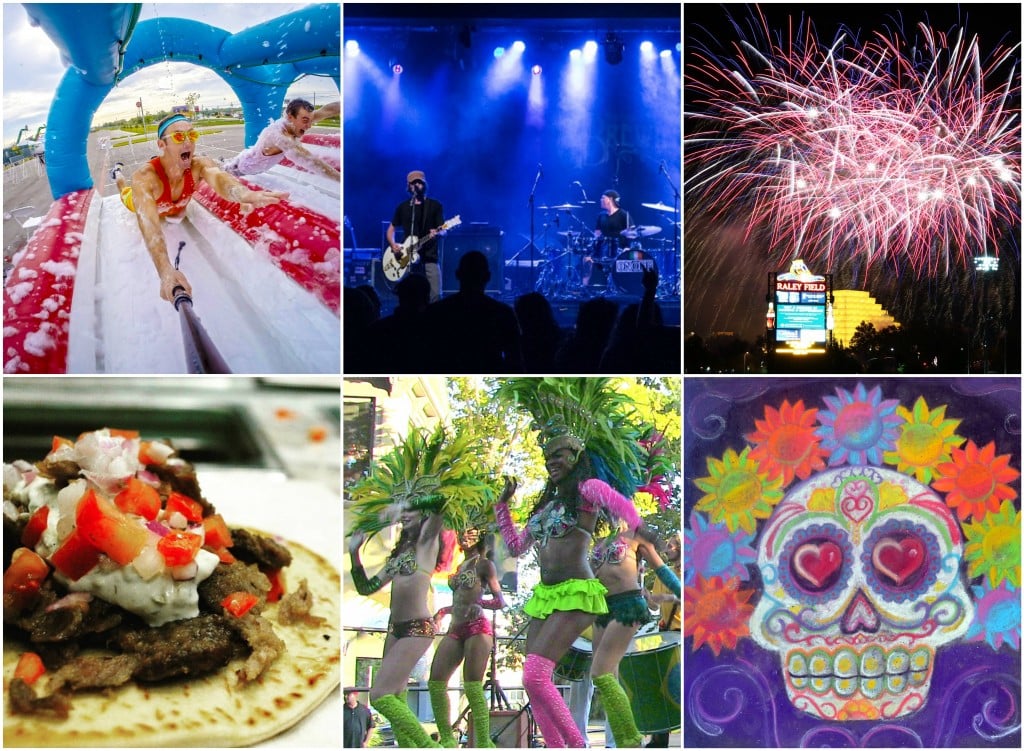 From a Wipeout-inspired fun run to an anime convention and a boot-scootin' Old Sacramento festival, we've rounded up 11 fun ways for you to make the most of summer's last hurrah during the upcoming three-day weekend.
Brazilian Independence Day Street Festival
Sept. 5
Music and dancing will fill the streets of midtown for this Brazilian Independence Day celebration, which was founded in 2013 to bring an appreciation of Brazilian folkloric arts and culture to Sacramento. This year's event features a new line-up of performances by the Casa de Brazilian Folkloric Arts, like drumming, capoeira (Brazilian martial arts that combine acrobatics and dance) and Samba dance lessons. Then cool down with a glass of caipirinha, Brazil's national cocktail, made with sugar, lime and a sugarcane-based liquor. Free. 4-9 p.m. 20th St. between J and K Streets. tabcat.org
Chalk It Up
Sept. 5-7
The sidewalks surrounding Fremont Park will transform into a colorful collage of chalk art this Labor Day with this block party that raises money for local youth art programs. After checking out the street art, attendees can sip suds from Sierra Nevada and Track 7 at a beer garden, or groove to music by hometown acts like The Brodys and Las Pesadillas. Free. 10 a.m.-6 p.m. Fremont Park. 15th and P Streets. 213-5059. chalkitup.org
Gold Rush Days
Sept. 4-7
Step back in time to the 1800s when gold mining, gunfights and dust-covered streets were part of everyday life in Old Sacramento. This Labor Day weekend event celebrates the city's Gold Rush heritage and features live entertainment, theatrical performances like elaborate parades, country western dancing, action-packed melodramas and live music from local bands like the Ariel Jean Band, Blackburn Bullet and the Dave Russell Band. Visit the Tent City—a recreation of town life in early Sacramento—with saloons, doctors, dentists, a gambling tent and old-fashioned fare like corn on the cob and homemade sarsaparilla. Kids can get in on the action too, with activities like storytelling, gold panning and hands-on arts and crafts. Free. Old Sacramento. 101 I St. 808-7777. sacramentogoldrushdays.com
Historic Folsom Farmers' Market Tomato Taste-Off
Sept. 5
Paint Folsom red at this 5th annual event, where you can taste and vote for the sweetest, biggest or most beautiful tomato, including unique heirloom varieties like the Cherokee purple, Brandywine, Beefmaster and Lemon Boy. Partake in several other tomato-based festivities throughout the day, including a salsa competition, canning demonstration, raffles and kids activities like face painting, a balloonist as well as games and prizes. Free. 8 a.m.-1 p.m. Historic Folsom Farmers' Market. 915 Sutter St. Folsom. 484-7000. bemoneysmartusa.org
Hot Jazz Jubilee
Sept. 4-7
More than 20 acts will jam, solo and scat in Sacramento during this four-day jazz jamboree, including headliners Tom Rigney and Flambeau, The Au Brothers Jazz Band, and The Crescent Katz. Try out your Charleston at the Saturday night dance party, where the 18-piece Ron Cunha Big Band, led by trombonist Ron Cunha, will perform songs like "Street Music" and "Bolivia." $40-$55 per day; $110 for event badge. Hours vary by day. DoubleTree by Hilton. 2001 Point West Way. 813-7665. hotjazzjubilee.com
SacAnime
​Sept. 4-6
Become the ultimate fan boy or girl with your favorite animated characters at this pop-culture convention with an anime twist. At the three-day event, you can dance at a masquerade ball, compete in a board game tournament, attend a costumed tea party or check out one of the many panels, featuring stars from shows like the Mighty Morphin Power Rangers, The Legend of Korra and Futurama. The Sacramento Convention Center and Sheraton Grand Hotel are expected to fill up with 15,000 guests and exciting activities like a K-Pop battle, video games and an anime viewing room. Tickets and times vary. Sacramento Convention Center and Sheraton Grand Hotel. 1400 J St and 1230 J St. sacanime.com
Sacramento Greek Festival
Sept. 4-6
The Sacramento Convention Center is going Greek for this 52nd annual jubilee, featuring hands-on cooking demonstrations where guests can learn to use phyllo dough in dishes like spanakopita (an appetizer filled with spinach and cheeses) and baklava (a dessert made with walnuts, cinnamon and honey), and a couples dance contest for the best Ballos, a Greek folk dance. While taking in Hellenic music (including that of a roaming musician strumming the guitar-like bouzouki), indulge in traditional foods like moussaka (an eggplant and beef casserole) and loukoumades, doughnuts dipped in honey and dusted with cinnamon. $5. Hours vary by day. Sacramento Convention Center. 1400 J St. 443-2033. sacramentogreekfestival.com
Sacramento Rainbow Festival
Sept. 6
This 28th annual event will celebrate Sacramento's LGBT pride with live entertainment and carnival activities. Located in Sacramento's Lavender Heights neighborhood, the festival features a rockin' lineup of bands, including the rock group Hero's Last Mission and the Irish rock trio ONOFF, plus headliners like DJ Luciana and country singer Ty Herndon. Feeling adventurous? Dance on stage during a wet tee/wet jockey contest. Proceeds from the festival go toward local charities and the Jose Sarria International Scholarship Fund, which provides scholarships for LGBT youth. $10. 10 a.m.-6 p.m. 2000 K St. 448-7798. More info available on the event's Facebook page here.
Sacramento River Cats
Sept. 4-7
Root, root, root for the home team Labor Day weekend as the River Cats wrap up their season with four consecutive home games. Don your favorite superhero garb for Friday's "Superhero Night," and on Saturday, watch each player play ball as they don a special California state flag jersey that fans can purchase at a silent auction and later have an opportunity to get autographed. At Sunday's "Fan Appreciation Day," kids can imagine themselves as River Cats players by running the bases or partake in a meet and greet with the players prior to the game. Go out with a bang on Monday with a barbecue lunch on Raley field (included in $45 ticket package) or participate in a game of baseball bingo during the game for the chance to win prizes. Of course, don't miss the dazzling 10-minute fireworks display after Friday and Saturday night's games. Friday & Saturday 7:05 p.m. (gates open at 5 p.m.); Sunday 5:05 pm (gates open at 4 p.m.); Monday 1:05 pm (gates open at 12 noon). 400 Ball Park Dr. 376-4722. rivercats.com
Sing-a-long-a Sound of Music
Sept. 6
Raindrops on roses and whiskers on kittens, brown paper packages tied up with strings—these are a few of our favorite things that will be sung aloud at this Crest Theatre screening of the iconic 1965 film starring Julie Andrews and Christopher Plummer, which won five Academy Awards, including best picture. Lyrics at the bottom of the screen will help audience members belt out such songs as "Do Re Mi," "Climb Ev'ry Mountain" and "So Long, Farewell" as they watch the story of Maria, a postulant nun in pre-WWII Austria who becomes a governess to seven children and falls in love with their widowed father. $20 ($15 for ages 12 and under). 2:30 & 7:30 p.m. Crest Theatre. 1013 K St. 476-3356. crestsacramento.com
Wipeout Run
Sept. 5
This fun run, modeled after (and partnered with) the television show Wipeout, boasts obstacles like "Wrecking Balls" (participants race across a log in the water while giant pendulum balls whizz by) and "Sky's the Limit" (course-goers try to make it across a bouncy floor without falling). The 3.1-mile course, which also includes a rope bridge and foam tunnels, ends with a trip down a giant slide. $67-$77 in advance; $87 day of. 7:30 a.m.-3:30 p.m. Cal Expo. 1600 Exposition Blvd. wipeoutrun.com
You Might Also Like
Food trucks, craft beer and live music at Harvest for Hunger event
5 questions: Steven Wright on comedy, Louis C.K. and his upcoming Davis concert
Global Winter Wonderland returns to light up Sacramento for second year