12 colorful spots around town to take your next Instagram photograph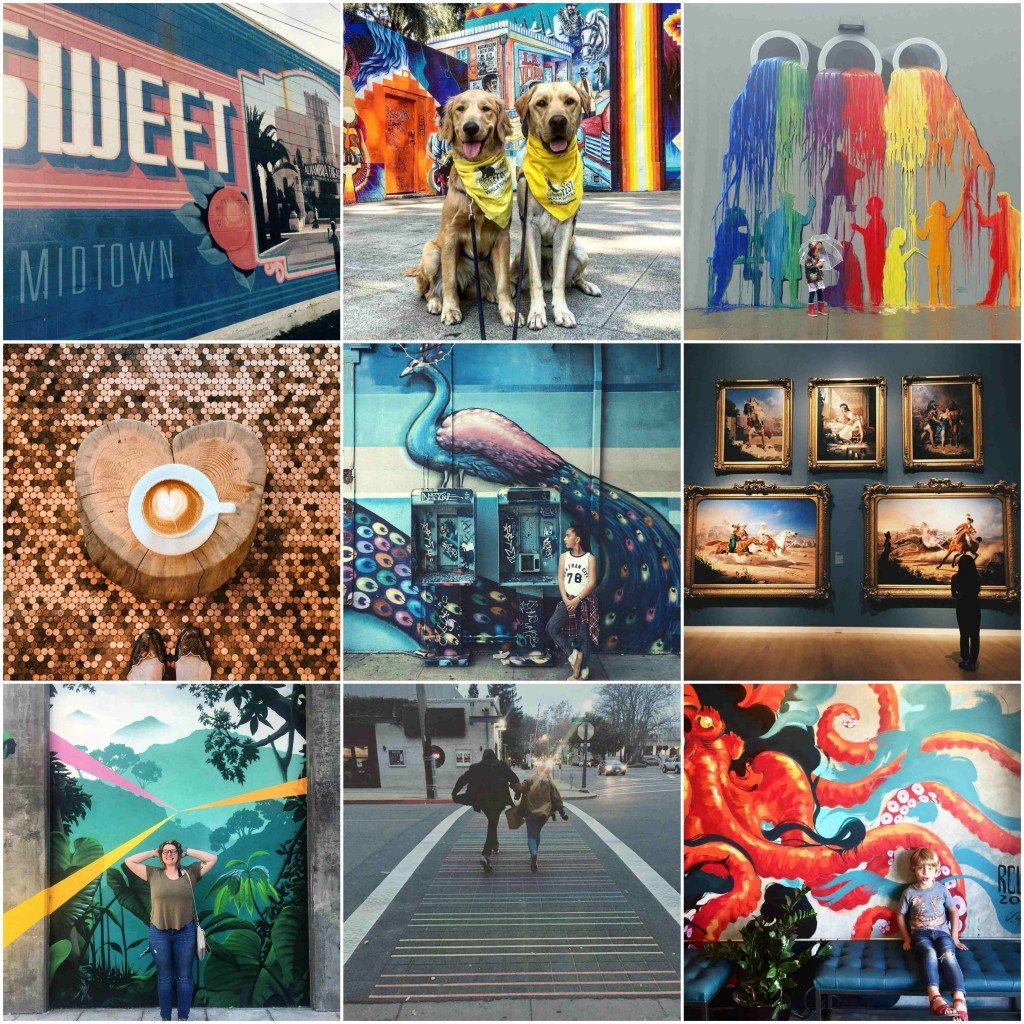 It's no secret Sacramento is a hotbed for both aspiring and established artists, and our city's streetscapes have benefited from a creative burst of hometown pride in recent years.
Earlier this year, we gave you our list of some inspiring local Instagram accounts, and now we've rounded up a dozen local spots around town that make great photo ops. From block-wide murals to clever coffee shop floors, there is no shortage of cool backdrops against which to capture digital memories. Happy 'gramming!
American Market & Deli
A peacock with its feathers on display; a woman, tinged in blue, her face bursting into song. This colorful scene shines in spray-painted glory across the wall of American Market & Deli on 24th and N streets in midtown. The mural, a 2007 collaboration by local artists Daniel Osterhoff, Miguel Bounce Perez and Shaun Burner, even covers two out-of-commission phone booths that still stand on the 24th Street side. Heads up: the mural is slightly shaded by some trees, so approach it in the early daytime to get the best shot.
---
Bright Underbelly
Local artists Sofia Lacin and Hennessy Christophel spent five months underneath Highway 50 painting this larger-than-life mural, which they finished in March. Spanning a whopping 70,000 square feet, it illustrates the journey of a sycamore grove through the year's four seasons, incorporating an ethereal lunar cycle and splashes of wildlife like Canada geese. The mural provides a cheerful backdrop to the Central Farmers' Market each Sunday morning, but you can approach it any other day of the week near 8th and W streets for creative selfies and panos.
---
Crocker Art Museum
The Crocker (216 O St.) is virtual eye candy for colorful Instagram backdrops and a great place to play tourist in your hometown. Show off your artful side with snaps at exhibits in both the historic mansion galleries and 2010 expansion, like the wall of gilt-framed paintings by Charles Christian Nahl in the 1848-1945 California and American art collection (pictured below). If you're wearing white, pose in front of Jennifer Steinkamp's popular Rapunzel No. 10, a cascade of breezy flowers projected onto the wall of a stairwell near the entrance to the museum. Just remember: no flash photography.
---
Lavender Heights Crosswalk
A crosswalk may not be the safest place for a selfie, but in the Lavender Heights neighborhood of midtown, it's a common occurrence. At the intersection of 20th and K streets, a rainbow-striped crosswalk is putting Sacramento's pride movement on the map, following in the footsteps of cities with similar walkways, like West Hollywood and San Francisco. The Sacramento Rainbow Chamber of Commerce, the Midtown Business Association and public donations helped bring it to life in October 2015 and locals have been snapping creative shots (a la Abbey Road) ever since. Just look both ways before you 'gram.
---
Look Deeper
You may have seen Sacramento muralist Anthony Padilla's work on the outside of midtown's Hot Italian, or hashtagged a photo of his city block-wide Sacramento Kings painting on Q and 16th streets with #SacramentoProud. But Look Deeper is our favorite mural of his, located in the alley behind the Warehouse Artist Lofts on 12th and R streets. The idea of a "concrete jungle" inspired Padilla for this street art piece, with long neon beams that Padilla says "draw the viewer into the depths of the jungle" and make it look impressively three-dimensional. Tip: visit in the morning when early daylight brings out the complexity of the painted mountain range.
---
McKinley Park Rose Garden
A frequent destination for wedding, quinceañera and prom portraits, the rose garden in McKinley Park at 601 Alhambra Boulevard is one of the most Instagrammed spots in the region. The 1.5-acre garden is open daily to the public and contains over 1,200 rose bushes spread whimsically throughout. It launched in 1928 (that's about 70 years before the first smartphones burst onto America's radar), and continues to produce lush, multihued flowers. And with blooms lasting for nine months of the year, from April to December, there's no excuse for missing out.
---
Splash
A burst of rainbow colors on an otherwise blank cement wall, this mural can be found on the back of the Ace Housewares at 240 G Street in downtown Davis. Local painter Kerry Rowland-Avrech created this piece, Splash, along with a team of 10 other artists as a part of the 2012 Davis Transmedia Art Walk. The paint-splattered figures are actually traced outlines of the artists she was working with, showing the collaborative effort that went into the piece's conception. Bonus: the mural is also a Pokéstop.
---
Sweet Dream
This mural, entitled Sweet Dream, on 25th between J and K streets depicting the former Alhambra Theatre is a window into Sacramento's past. It stands as a testament to what was once our city's preeminent movie house, located at 1025 Alhambra Boulevard, now the site of a Safeway. The theater was built in 1927 and demolished in 1973, but locals can still stop by the mural to catch a glimpse of its iconic design and take artistic shots of the piece, which artist Stephen Bauer created in 1998, as the first of four works for the Midtown Mural Project. The painted wall shows a boy, inspired by Bauer's son, waving goodbye to the historic movie theater.
---
Temple Coffee's Penny Floor
The floor inside Temple's location at 22nd and K streets may be the most photographed in the city. That's because the surface is composed of 500,000 hand-laid pennies, amounting to a stunning design that makes for some priceless Instagram pix. Using the hashtag #pennyflooryourthoughts, coffee connoisseurs can create a shiny backdrop for their cappuccino and stylish new shoes, or capture the shimmery surface when light pours into the shop's large front windows.
---
Warehouse Artist Lofts
This apartment complex at 1108 R Street is literally home to dozens of local artists, so it's no wonder its public market is decked out in eye-catching art pieces. One of our favorites is the mural by artist Corey Bernhardt in the dining area of Fish Face Poke Bar, which displays a giant orange squid riding waves of water and ink—perfect for a #foodiegram to go with your ahi bowl. In the lobby of the building, a geometric mural painted in vibrant colors by brothers Irubiel and Chris Moreno also makes a great backdrop for smartphone snapshots.
---
Sandra Dee's Bar-B-Que & Seafood
Even on a quiet night, the corner of F and 15th streets in downtown Sacramento seems to come alive with the likenesses of Miles Davis, Marvin Gaye, Billie Holiday and other jazz legends painted on the outside of Sandra Dee's Bar-B-Que & Seafood. Artist Pete Bettencourt created the mural in 2008, the same year he also painted the wall of Spanish Fly Hair Garage at 1723 J Street with icons Bob Dylan and Jimi Hendrix. At Sandra Dee's, soul food is the star, but after you fill your belly with barbecue, you can fill your appetite for soulful street art right outside.
---
Southside Park
Southside Park's Callahan Amphitheater is more often frequented by skateboarders than art-seekers, but its walls are splashed with colorful murals that showcase the Mexican-American community's rich local history. Members of the Royal Chicano Air Force, a Sacramento group of Chicano artists and activists, painted the murals in 1977, which still make for vibrant displays backed by tall pine trees. No filter necessary.
Follow Sactown Magazine on Instagram here!
You Might Also Like
10 Sacramento Instagrammers you should be following right now
Inaugural Sacramento Mural Festival readies to paint the town
When Public Art Fails: how a local art debacle can become a great opportunity