12 spirited holiday events in and around Sacramento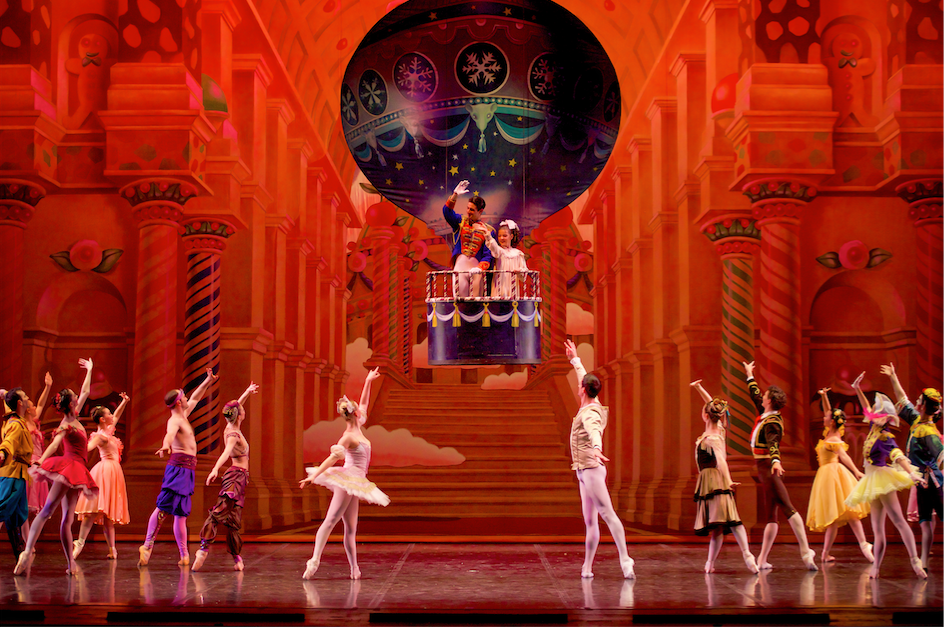 CLICK HERE to see the 2019 guide to the Sacramento holiday season!
It's beginning to look a lot like Christmas in Sacramento. We've found 12 holiday events—from extravagant light shows to a costumed Santa run and David Sedaris' Santaland Diaries—that will help make your season merry and bright.
Holiday in the Hills
Through Dec. 23 There is no place like the hills for the holidays when Sutter Street Theatre mounts its yuletide production for the 11th year. The annual show depicts what the winter season may have been like for the miners, outlaws and other residents of the Gold Rush-era Folsom hills—including such historical figures as Peter J. Hopper, the former editor of the Folsom Telegraph, bandit Tom Bell and madam Emma Spencer—through scenes, comedy sketches and songs like "Santa Baby" and a rousing, interactive rendition of "Twelve Days of Christmas." $15-$23. Fri. & Sat. 8 p.m. Sun. 4 p.m. Dec. 15 & 19-22 at 7 p.m. Sutter Street Theatre. 717 Sutter St. Folsom. 353-1001. sutterstreettheatre.com
Theatre of Lights
Through Dec. 24 Up to 100,000 lights will be twinkling on the rooftops of Old Sacramento at this year's Theatre of Lights. Projections simulate wintry scenes of falling snowflakes on building facades and performers act out 'Twas the Night Before Christmas, with narration by Mark Twain (voiced by Bill Farmer, who has most famously lent his versatile pipes to such Disney characters as Goofy and Pluto). Expect appearances from the impish Jack Frost and Father Christmas himself, who each night will light the 58-foot-tall Christmas tree. Free. Thurs.-Sun. Times vary by day. K Street between Front and 2nd streets. Old Sacramento. 970-5226. oldsacramento.com
A Christmas Carol
Through Dec. 24 Victorian author Charles Dickens' 1843 novella has been retold year after year on stage and screen, adapted by everyone from the Muppets to Bill Murray. In B Street Theatre artistic director Buck Busfield's present-day take on the holiday tale, Scrooge is made to visit his past and future every year and is bristling at the prospect of a new round of time-traveling journeys. He attempts to break free of his story in a comedic deconstruction of the Christmas classic. $26-$38. Times vary by day. B Street Theatre. 2711 B St. 443-5300. bstreettheatre.org
Global Winter Wonderland
Through Jan. 8 You'll be walking in a winter wonderland at Cal Expo during this holiday light show. Dozens of electric displays—some standing upwards of 50 feet tall—cover 17 acres, arranged in scenes like ToyLand, Santa's Village, Fantasy Land and Candy Land, which features a glowing candy forest and a 40-foot-tall candy cake. Step inside the new Glowarium with glow-in-the-dark sea creatures like mermaids, dolphins and jellyfish. Visitors can also ice skate, watch circus performances featuring contortion and fire dancing, ride carnival rides like the Ferris wheel and Gravitron, and feast on cuisines from around the world, including Thai, Greek and French offerings. $18. Days and Hours vary. Cal Expo. 1600 Exposition Blvd. 866-987-8190. globalwonderland.com
Victorian Christmas
Dec. 4-21 Just hear those sleigh bells jingling, ring-ting-tingling too, at this 39th annual yuletide extravaganza in Nevada City, which was named one of Fodor's Travel's "Top 10 U.S. Towns with Incredible Christmas Celebrations" in 2015. While sipping on drinks like spiced cider and mulled wine or munching on handheld eats like roasted chestnuts, kettle corn, Louisiana meat pies and giant turkey legs, folks can meander through the historic downtown, decked out in thousands of lights, to see a living nativity, carolers, minstrels and locals dressed in Victorian garb. Free. Wed. 5-9 p.m. (except Dec. 7). Sun. 1:30-6 p.m. Downtown Nevada City. 530-265-2692. nevadacitychamber.com
Santaland Diaries
Dec. 7-31 Some Christmas traditions don't involve dancing sugarplums or roasting chestnuts, and this story of a disgruntled wannabe actor who takes a seasonal job as a Macy's elf has made its way onto Capital Stage's annual naughty list. Based on an essay by humorist David Sedaris, Santaland Diaries—adapted to the stage by Joe Mantello, who directed the original Broadway production of Wicked—will make its fourth holiday appearance at the midtown theater. $16.50-$42. Times vary by day. Capital Stage. 2215 J St. 995-5464. capstage.org
Handel's Messiah: The Choir of Trinity Wall Street
Dec. 9 The New York Times touts the Choir of Trinity Wall Street's rendition of German composer George Frederick Handel's Messiah as "dazzlingly beautiful each year." Accompanied by the historic Manhattan church's Baroque Orchestra, the 25-member choir—which has performed at Carnegie Hall and Lincoln Center, and with the New York Philharmonic and the Rolling Stones on the band's 50th anniversary tour—treats the oft-produced oratorio, typically sung by four soloists and the choir, as more of an ensemble piece, featuring solos by upwards of a dozen singers. $39-$79. 7 p.m. Harris Center for the Arts. 10 College Pkwy. Folsom. 608-6888. harriscenter.net
Holidays at the Sacramento Zoo
Dec. 10 & 24 The animals at the Sacramento Zoo will be rockin' around the Christmas tree a little early during the annual Holiday Magic event on Dec. 10, during which the zoo's beastly residents will receive festive gifts. Attendees can watch the jaguar tear apart boxes full of spices and bat around a Christmas tree, or the wolf's guenon monkeys take a whack at a holiday piñata and play on a reindeer made of pinecones. Bring a non-perishable food item to receive $1 off the price of admission. On Christmas Eve, dress down and get free admission to the park for the zoo's yearly PJ Party, during which zoo staffers will be wearing their best nighttime garb and wishing passersby a Merry Christmas by belting carols like "Jingle Bells," "Rudolph the Red-nosed Reindeer" and "Deck the Halls." Holiday Magic: Sat. Dec. 10. $11.75 ($7.75 for children ages 2-11; Free for ages 1 and under). 10 a.m.-4 p.m. PJ Party: Sat. Dec. 24. Free. 10 a.m.-1:30 p.m. Sacramento Zoo. 3930 W. Land Park Dr. 808-5888. saczoo.org
Holiday Movie Screenings
Dec. 10-22 Head to the movies for a holly, jolly Christmas as local theaters screen classic holiday faves throughout the month of December. Midtown's Crest Theatre will show films like White Christmas (Dec. 19), the 1954 feel-good flick full of dance numbers; The Muppet Christmas Carol (Dec. 20), which stars Michael Caine as grouchy miser Ebenezer Scrooge while Muppets fill out roles, like Kermit the Frog and Miss Piggy as Mr. and Mrs. Cratchit, in this retelling of the Charles Dickens fable; Frank Capra's It's a Wonderful Life (Dec. 21); and the 1984 Steven Spielberg cult classic Gremlins (Dec. 22). Head to the Tower Theatre for a ride on The Polar Express (Dec. 10) or the Auburn Placer Performing Arts Center for the ultimate display of family dysfunction in the 1989 comedy National Lampoon's Christmas Vacation (Dec. 15). Rocklin's Studio Movie Grill is also serving up a smorgasbord of Christmas cheer with showings of 1983's A Christmas Story (Dec. 12), in which all 11-year-old Ralphie wants for Christmas is a BB gun; Love Actually (Dec. 14), the 2003 British rom-com that follows eight couples in London at Christmas; and Home Alone (Dec. 19), in which 8-year-old Kevin is accidentally left behind on a vacation, but protects his home from two clumsy burglars. Prices, times and locations vary by event.
The Nutcracker
Dec. 10-23 The Sacramento Ballet will return for the 29th year with its enduring holiday tradition, The Nutcracker, featuring choreography by artistic director Ron Cunningham, set to Tchaikovsky's iconic score. Company dancers will be joined by 500 local children to enact the story of Clara and her surreal Christmas Eve journey to the Land of Sweets. The troupe will also present two performances of its Nutty Nutcracker (Dec. 9 & 16), a cheeky, modern version of the classic story that incorporates everything from era-inappropriate toys like Tonka trucks and squirt guns to a lightsaber battle between the Nutcracker and Darth Vader, along with a Spanish ballet turned Mexican hat dance and a hip-hop takeover of the Waltz of the Flowers. $28-$98. Times vary by day. Community Center Theater. 1301 L St. 808-5181. sacballet.org
The Ukulele Orchestra of Great Britain
Dec. 13 Following two sold-out shows at the Mondavi Center (in 2013 and 2015), the Ukulele Orchestra of Great Britain—which has also played to sold-out crowds at the Sydney Opera House and Carnegie Hall—returns to Davis. This year, the orchestra is celebrating 30 "plucking years" since their founding in 1985 with a repertoire culled from their arsenal of uked-up covers (think German composer Richard Wagner's bombastic Ride of the Valkyries and "Psycho Killer" by the new wave band Talking Heads) along with original material. Bring your four-stringed sidekick to this concert, which will also include a sing- and pluck-a-long to holiday carols like "Jingle Bells" and "We Wish You a Merry Christmas." Tickets start at $37. 7 p.m. Mondavi Center's Jackson Hall. Mrak Hall Dr. and Old Davis Rd. Davis. 530-254-2787. mondaviarts.org
Sacramento Santa Run
Dec. 17 Ho, Ho, Ho! The Sacramento Santa Run is back for its 4th annual 5K run/walk and Merry Mile through downtown Sacramento. The route, which begins at the Capitol and finishes at Downtown Commons, includes snow flurries and carolers along the way. And don't worry if your St. Nick wardrobe is lacking: the run provides each participant with a red Santa suit, hat and frosty white beard, along with milk and cookies to fill your bowl full of jelly upon crossing the finish line. Proceeds from event registration will go toward Blessings in a Backpack and Toys for Tots. $30-$50 ($30-$35 for youth ages 17 and under). 9 a.m. State Capitol. 1315 10th St. 530-346-3881. sacramentosantarun.com
You Might Also Like
Shop local at these 8 great holiday maker markets
Set your holiday spirit aglow at these 10 local tree lighting ceremonies
Shop, stroll and play during the 12 Days of Midtown