5 bucolic farms to visit during Placer County's Mountain Mandarin Orchard Days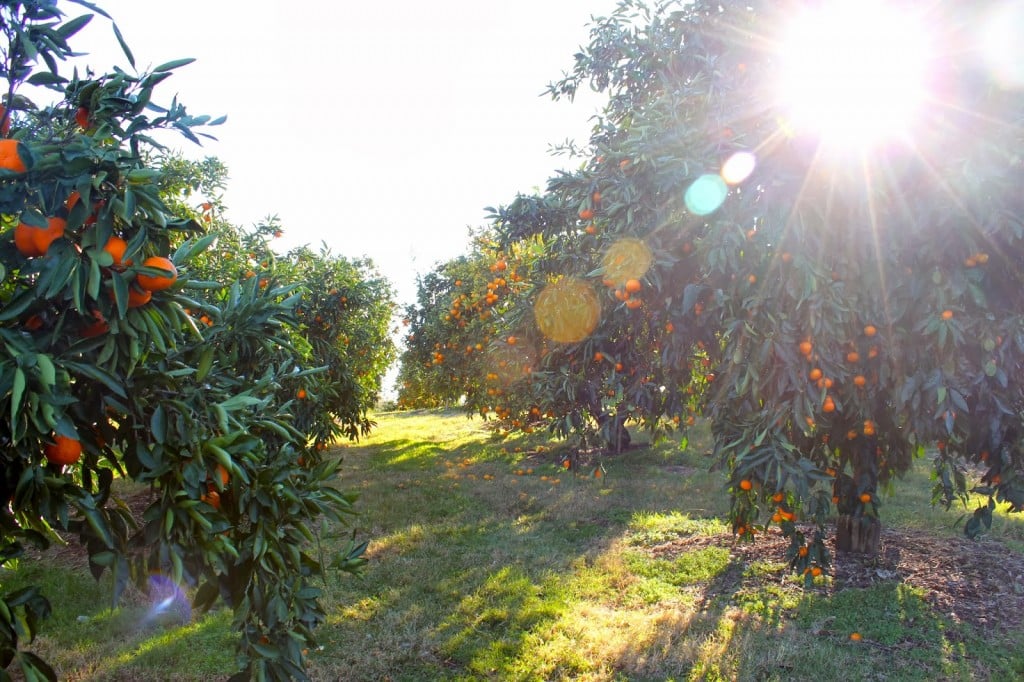 Celebrate Placer County's bountiful citrus season during Mountain Mandarin Orchard Days, which takes place over two weekends in December (Dec. 2-3 and 16-17) and features everything from orchard tours and hayrides to mandarin blossom honey tastings. View a map of all of the participating farms here and read on for five fruit-full highlights.
Colwell Thundering Herd Mandarin Ranch
You can't miss the charming 100-year-old green carriage outside this family-run ranch in Penryn, where you can load up on Owari Satsuma mandarins, tour the 8-acre orchard with a view of Mount Diablo, sip Mount Saint Joseph's wine and snack on freshly baked peach pie on the covered patio. Sample homemade treats like mandarin barbecue sauce, mandarin marmalade and the ranch's mandarin blossom honey, which has been voted the best local honey at the Placer County Fair for the past three years. If you're hunting for holiday gifts, Colwell also sells mandarin olive oil soaps and body butters, along with Burly Beverages' new mandarin-elderflower shrub syrup. 2500 Penryn Rd. Penryn. 672-7451. mandarinoliveoil.com
Highland Orchard
Just two miles down the road from Colwell's ranch, pick up sweet Owari Satsuma mandarins in 5- and 10-pound bags or 25-pound boxes at this quaint Penryn farm, where a towering blow-up snowman stands sentry at the central packing shed. Inside, you'll find house-made mandarin-infused goodies like white chocolate oatmeal mandarin cookies, sweet mandarin fudge and mandarin olive oil, plus mandarin syrup that owner Noreen Aguilar recommends for both pancakes and cocktails. If you're hungry for lunch, grab a frank from the hot dog wagon and olallieberry pie made from fruit grown at Highland, then frolic through the 10-acre mandarin grove just outside. 2170 Aguilar Ln. Penryn. 663-3897. highlandorchardmandarins.com
Mandarin Hill Orchards
Hop on this 74-year-old farm's trailer for a hayride through its bucolic 20-acre grove (on a clear day, downtown Sacramento is visible), or go by foot on a tour with owner Tom Aguilar, who will point out some Owari Satsuma trees dating back to the 1880s and reveal how he cultivates the plentiful harvest each year. Afterward, visit the packing shed, where a fruit sizer separates mandarins into six different sizes, or warm up at the tearoom's cozy fireplace for a cup of hot coffee, tea or Lincoln-based Ciotti Cellars wine paired with pastries, sandwiches and homemade chicken, pork or cheese tamales. 2334 Mandarin Hill Ln. Penryn.
663-3852. mandarinhillorchards.com
R4 Farms
Become a farmer for a day on a guided walking tour through the 100-tree grove at this family-run orchard in Penryn, during which R4 Farms owners Guy and Danielle Roland will teach you about the cultivation and care that goes into growing up to 4,000 pounds of orange orbs each year, like how the specific color of the rind can indicate ripeness. Clip off some juicy mandarins to enjoy the fruits of your own labor (you-pick prices are $1.40 per pound), or load up on 5- or 10-pound bags to take home. Bonus for parents: R4 Farms provides kid-friendly pruning shears for little hands. 5920 English Colony Way. Penryn. 674-2203. facebook.com/R4-Farms
Struble Ranch
This third-generation farm in Loomis, run by Jim and Jan Struble, sells Owari Satsuma and Clementine mandarins picked from 328 trees, some over 60 years old. Request a tour of the three-acre orchard and check out the antique yellow Caterpillar tractor and colorful quilts that Jan hand-painted on 4-by-4-foot plywood squares hanging from the ranch's barn. From their 108-year-old Victorian farmhouse, the Strubles sell 7-pound boxes and 10- or 20-pound bags of mandarins, homemade mandarin jelly, and peach and plum marmalade. 4927 Hansen Rd. Loomis. 652-7503. strubleranch.com
Mountain Mandarin Orchard Days will take place Dec. 2, 3, 16 and 17 from 10 a.m. to 4 p.m. For a growers' map and complete list of mandarin farms, visit mountainmandarins.com.
You Might Also Like
Chill out at these five local ice rinks this holiday season
Dip into brunch with Hook & Ladder's Nutella cream puffs
Global Winter Wonderland will set Cal Expo aglow once again