5 questions for blogger and bestselling author Michelle Tam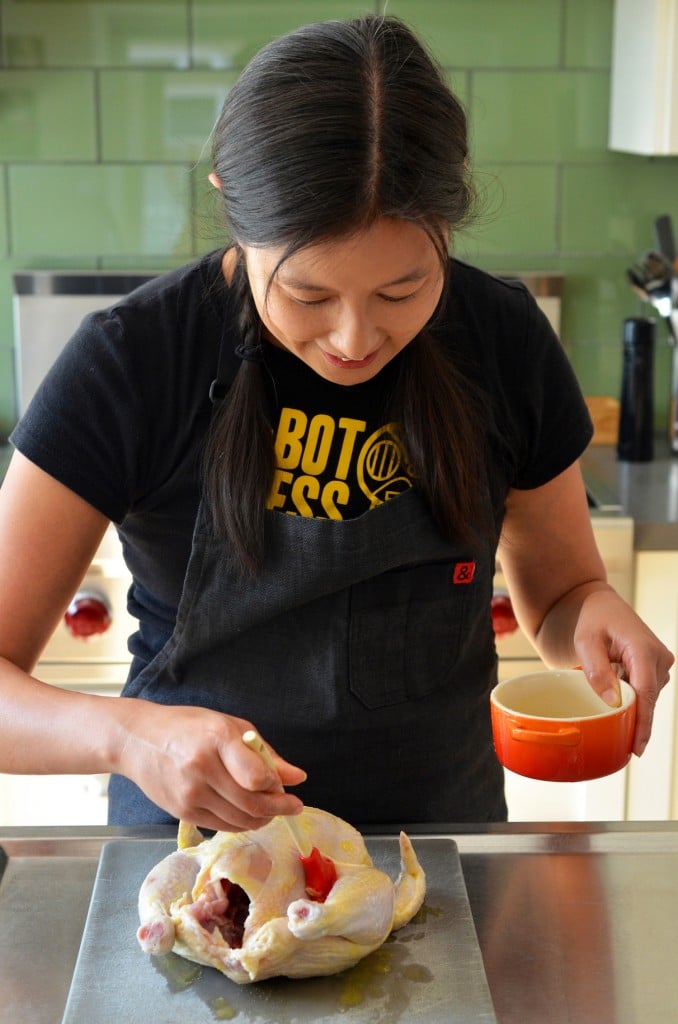 From Tumblr to The New York Times bestseller list, Palo Alto-based Michelle Tam, the face of the fan-favorite blog Nom Nom Paleo, is a foodie phenomenon. Tam's accessible, entertaining style is a large part of why so many of us are modeling our diets after what our paleolithic (think pre-agricultural) ancestors might have eaten. On the heels of her latest cookbook, Ready or Not!, Tam will touch down in the capital city for a cooking demonstration at the Farm-to-Fork Festival Sept. 23 on Capitol Mall, where she'll make one of her original recipes: Ollie's Cracklin' Chicken. We spoke with Tam about living in The Matrix, the farm-to-fork movement and that Martha Stewart comparison.
How does it feel to have The New York Times call you "a Martha Stewart of Paleo?"
[Laughs] Well, actually, the whole quote is "something of a Martha Stewart of Paleo," so initially I thought it was kind of a dig at me, which I don't mind because it's The New York Times mentioning [me] at all. I'm like, "Woah, that's amazing." But then CBS This Morning did a segment and they just called me "the Martha Stewart of Paleo," so I was like, "Okay, I guess we'll just go with it," and [now] everyone has picked up on that.
How would you describe yourself?
That's a hard question, because I would feel really weird anointing myself as some sort of expert on anything. I am a home cook that is really passionate about trying to get people to start cooking again. I myself was a reluctant cook but a super picky eater, [so] the way we developed Nom Nom Paleo, we have step-by-step pictures, funny cartoons and just a lighthearted approach. It is super encouraging, because cooking is a really important life skill, like flossing your teeth and going to sleep at night. It's something that you just have to do.
What are the benefits of Paleo in a nutshell?
Paleo can be controversial, because some people say, "Paleo is exactly this, this and this," but to me, it means cooking your own meals with wholesome real ingredients and trying to eat as expansively and as healthily as possible. But everybody is a unique flower, and so you have to figure out what works for you. Paleo taught me the importance of cooking my own meals again, being mindful of what I'm putting in my mouth and realizing that the food that I put in my body has a huge, huge impact on how I feel. One of the jokes I always make is when I went Paleo I found out I was living in The Matrix. And was like "Oh my gosh, I feel so much better when I cut out all this like processed crap." And because of that I just became this crazy evangelist.
You are coming to Sacramento, which is known as America's Farm-to-Fork Capital. How did you get involved with the Farm-to-Fork Festival?
Luckily, I was invited because I have a partnership with Whole Foods through the end of September in Northern California and Reno, where I try to show people my favorite kind of "Nom Nom Paleo" picks throughout the store. The folks at Whole Foods were like, "Would you want to do a cooking demo at the Farm-to-Fork Festival?" I know lots of people who live in Sacramento and I've heard about how there is this huge farm-to-fork movement in restaurants [and] in grocery shopping. I'm really excited to kind of see for myself how it is. I think it's probably way more progressive than down here in Palo Alto where I'm sad to say people don't really seem to care as much where there food comes from. I think because they're so removed from it that they don't see it.
How does the farm-to-fork movement intersect with the Paleo lifestyle?
I think it totally intersects. Before I went Paleo I would say, "Oh, I'm eating these things because they're healthy." But after going Paleo I really started to dig in deep, to really care about where my food comes from and what goes into my food. I never paid attention to the difference between local and organic farming before, but it's something that I really pay attention to [now]. By going Paleo I've befriended a bunch of people who are organic farmers. I stayed at my friend's farm once and I was able to see how much work goes into food production when you do it the right way. So I think that there's a huge intersection, and people should care where their food comes from and they should try to support their local farmers.
Michelle Tam will lead a cooking demonstration at the free Farm-to-Fork Festival's Whole Foods Market Stage on Capitol Mall on Sept. 23 at 1:15 p.m. For more information, visit farmtofork.com.
You Might Also Like
5 questions for chef, author and food activist Alice Waters
This year's Tower Bridge Dinner menu revealed
Q&A with New York Times best-selling author Michael Pollan