7 Days of Pie: Apples and olallieberries take center stage in El Dorado County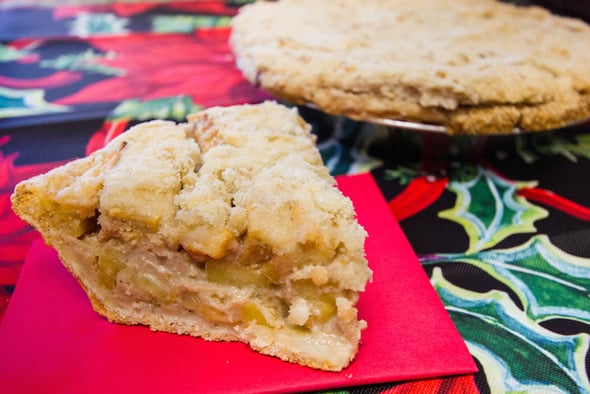 Fall is here, and Thanksgiving is right around the corner. If you're looking for just the right dessert to take to your holiday gathering, share with the office or just enjoy at home, we have you covered: Every day this week, we'll be dishing out some highlights from the region's seasonal bounty of pie, from pumpkin to pecan to fruit and beyond. Today, we head to El Dorado County for a pie two-fer at the Apple Hill institution Abel's Apple Acres and the Placerville bakery Sweetie Pie's. Enjoy Sactown's 7 Days of Pie!
THE PIE: Buttermilk apple pie from Abel's Apple Acres
WHY IT'S SPECIAL: This apple pie—made with freshly picked apples from owner Evelyn Abel's orchard in Apple Hill—is taken up a notch with the addition of a rich, tangy buttermilk custard (made with fresh butter cream and a secret blend of fall spices) poured over a mountain of crisp apple slices. A crumbly brown sugar streusel and flaky hand-crimped crust add a sweet crunch and contrast to the pie's rich, creamy texture.
CHEF NOTES: "It all started because I had too much buttermilk in the kitchen, and I decided to experiment," Abel says. "Everybody loved it and it was like a happy accident. The buttermilk adds a rich creaminess that you don't find in traditional apple pie. It's a big hit with the customers and we sell out all the time."
COST: $11.95 per pie
WHEN TO ORDER: For Thanksgiving, order by Nov. 21 at 4 p.m.
WHERE TO FIND IT: Abel's Apple Acres. 2100 Hassler Rd. Placerville. 530-626-0138. abelsappleacres.com
THE PIE: Olallieberry pie from Sweetie Pie's
WHY IT'S SPECIAL: A close relative of the blackberry, the olallieberry is hailed for its tart, juicy flavor and is the main ingredient in Sweetie Pie's signature pie. The pie is so popular that baker Margaret Poppelreiter says she makes three times as many olallieberry pies than any of the restaurant's other varieties. Despite the increased demand (Poppelreiter says she anticipates baking 300-400 pies for Thanksgiving alone), Sweetie Pie's still makes all its pies by hand with no machinery, using the same family recipes for the crust and filling from when the restaurant first opened in Placerville in 1992.
CHEF NOTES: "I go through hundreds of pounds of [olallieberries] to make sure each pie is packed with just fruit," Poppelreiter says. "Also, our pie crust isn't overworked, and that's what really makes a difference. You know it will be flaky, and that's why people come back."
COST: $15.95 per pie
WHEN TO ORDER IT: For Thanksgiving, order by Nov. 25 at 3 p.m.
WHERE TO FIND IT: Sweetie Pie's. 577 Main St. Placerville. 530-642-0128. sweetiepies.biz
Also in Sactown's 7 Days of Pie
Day 1: Lemon raspberry meringue pie at Tower Café
Day 2: Spiked pecan pie at Karen's Bakery and Café
Day 3: Pumpkin pie from Selland's Market-Cafe
Day 5: Enjoy a trio of treats at An Honest Pie, Ikedas and Flour Garden
Day 6: Perfect pear pie is in season at Freeport Bakery
Day 7: Frank Fat's banana cream pie is a Sacramento classic