7 Days of Pie: Enjoy a trio of treats at An Honest Pie, Ikedas and Flour Garden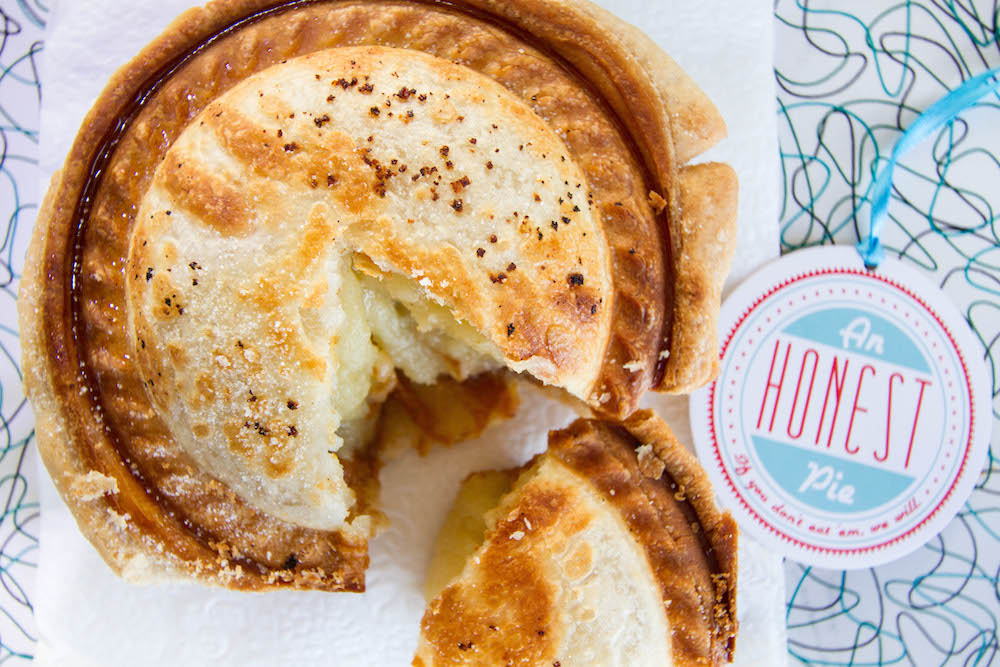 Fall is here, and Thanksgiving is right around the corner. If you're looking for just the right dessert to take to your holiday gathering, share with the office or just enjoy at home, we have you covered: Every day this week, we'll be dishing out some highlights from the region's seasonal bounty of pie, from pumpkin to pecan to fruit and beyond. Today, we head to the Placer County foothills for a triple play of pie possibilities. Enjoy Sactown's 7 Days of Pie!
THE PIE: Harvest brew from An Honest Pie
WHY IT'S SPECIAL: An Honest Pie—the Grass Valley-based bakery on wheels showcased in the 2014 edition of Sactown's Best of the City issue—adds fresh pumpkin purée to its personal-size buttermilk mini pie for a fall twist on its decadent signature offering. Biting into the pie is like eating a sweet crème brûlée, thanks to owner Brenda Janssen's famous lush buttermilk custard (made from scratch each morning with fresh buttermilk), while a sturdy yet flaky crust helps contain the gooey goodness and prevent messy fingers.
CHEF NOTES: "America loves pie, but people have lost what a good pie tastes like," Janssen says. "Everything in my pie is 100 percent made from scratch, and I've had this recipe for over 40 years."
COST: $5 per mini pie
WHEN TO ORDER IT: For Thanksgiving, order by Nov. 24 at noon.
WHERE TO FIND IT: An Honest Pie. 530-990-1303. anhonestpie.com. The food truck will be in Auburn from Friday, Nov. 21, through Sunday, Nov. 23, at the Mountain Mandarin Festival (Gold Country Fairgrounds. 1273 High St. Auburn — times vary day day).
THE PIE: Apple pie from Ikedas Country Market in Auburn and Davis
WHY IT'S SPECIAL: Owner Glen Ikeda's signature apple pie is available year-round, but Ikeda cites fall as peak pie season because the Fuji and Granny Smith apples used to make the pie are perfectly ripe. (Ikeda says his bakers even adjust their recipe depending on the individual taste of each batch of apples as the harvest season progresses.) The hand-crimped and folded crust owes its flaky, rich texture in part to a touch of vinegar added to the dough.
CHEF NOTES: "I think having our own farm apples is what sets us apart," Ikeda says. "We pick the apples riper than most [other orchards] because we want them to be sweeter and flavorful. It really makes a difference when you taste the pie."
COST: $17.95 per pie
WHEN TO ORDER IT: For Thanksgiving, order by Nov. 24 at 6 p.m.
WHERE TO FIND IT: Ikedas Country Market. Auburn: 13500 Lincoln Way. 530-885-4243. Davis: 26295 Mace Blvd. 530-750-3379. restaurant-bakery-auburn-ca.com
THE PIE: Gluten-free pumpkin from Flour Garden in Auburn
WHY IT'S SPECIAL: A star of the ever-expanding gluten-free menu, Flour Garden's seasonal pumpkin pie—made in both standard and personal sizes—ensures that the gluten-sensitive won't miss out on this holiday staple.
CHEF'S NOTES: "We use a blend of organic tapioca and rice flours, and a fresh baked potato in our gluten-free crust," says head baker Matt Renfrew. "It's great because it's a little lighter than the traditional pumpkin pie, but still has the same delicious, buttery flakiness."
COST: Six-inch, $7.99; nine-inch, $16.50
WHEN TO ORDER IT: For Thanksgiving, order by Nov. 25 at noon.
WHERE TO FIND IT: Flour Garden Bakery. 340 Elm Ave. Auburn. 530-888-1011. flourgarden.com
Also in Sactown's 7 Days of Pie
Day 1: Lemon raspberry meringue pie at Tower Café
Day 2: Spiked pecan pie at Karen's Bakery and Café
Day 3: Pumpkin pie from Selland's Market-Cafe
Day 4: Apple buttermilk pie from Abel's Apple Acres and olalieberry pie from Sweetie Pie's
Day 6: Perfect pear pie is in season at Freeport Bakery
Day 7: Frank Fat's banana cream pie is a Sacramento classic