7 Days of Pie: Karen's Bakery and Café's spiked pecan pie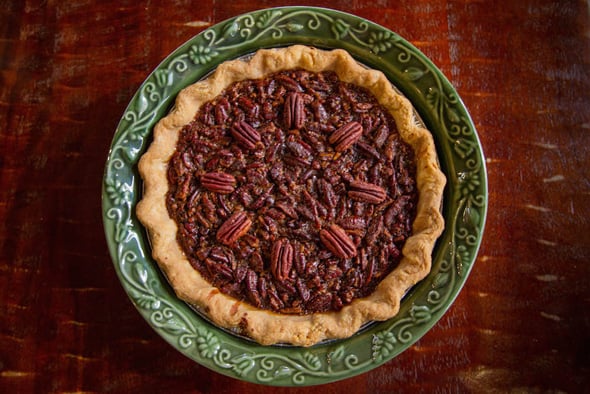 Fall is here, and Thanksgiving is right around the corner. If you're looking for just the right dessert to take to your holiday gathering, share with the office or just enjoy at home, we have you covered: Every day this week, we'll be dishing out some highlights from the region's seasonal bounty of pie, from pumpkin to pecan to fruit and beyond. Today, the second entry of the series features spiked pecan pie Karen's Bakery and Café. Enjoy Sactown's 7 Days of Pie!
THE PIE: Spiked pecan at Karen's Bakery and Café
WHY IT'S SPECIAL: Baked atop a flaky homemade crust, this pie draws its flavor from a potent blend of local, seasonal ingredients like pecans (sourced from Napa Nuts) and oranges (from West Sacramento's Del Rio Botanical)—as well as raisins and bourbon, which offer a bold alternative to the classic pecan pie.
CHEF'S NOTES: "We are always open to stepping away from tradition," says manager Amanda Biasi, who, along with the rest of the staff at Karen Holmes' bakery, takes inspiration from family recipes and favorite savory foods when collaborating on the creation of new pies. "We want to incorporate different ingredients and to try something new."
COST: $25
WHEN TO ORDER IT: For Thanksgiving, order by Nov. 22 at 4 p.m.
WHERE TO FIND IT: Karen's Bakery and Café. 795 Gold Lake Dr. Folsom. 985-2665. karensbakery.com
Also in Sactown's 7 Days of Pie
Day 1: Lemon raspberry meringue pie at Tower Café
Day 3: Pumpkin pie from Selland's Market-Cafe
Day 4: Apple buttermilk pie from Abel's Apple Acres and ollalieberry pie from Sweetie Pie's
Day 5: Enjoy a trio of treats at An Honest Pie, Ikedas and Flour Garden
Day 6: Perfect pear pie is in season at Freeport Bakery
Day 7: Frank Fat's banana cream pie is a Sacramento classic