7 Days of Pie: Perfect pear pie is in season at Freeport Bakery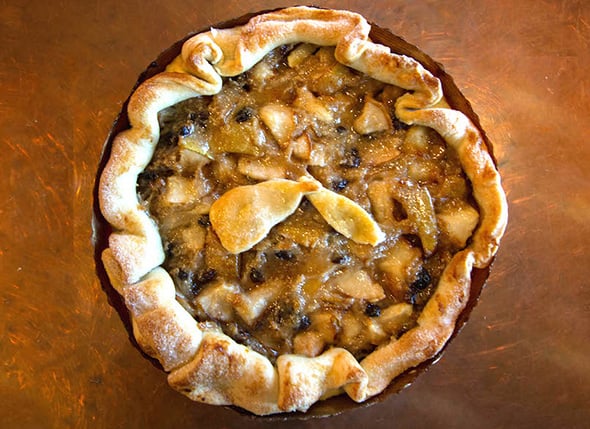 Fall is here, and Thanksgiving is right around the corner. If you're looking for just the right dessert to take to your holiday gathering, share with the office or just enjoy at home, we have you covered: Every day this week, we'll be dishing out highlights from the region's seasonal bounty of pie, from pumpkin to pecan to fruit and beyond. Today, check out a European classic at a Sacramento institution.
THE PIE: Pear fladen, from Freeport Bakery
WHY IT'S SPECIAL: Chef-owner Walter Goetzler interweaves his German roots and California produce in this seasonal pie that features a crust covered with a layer of almond paste and a mixture of cream, dark raisins, brown sugar, cinnamon, clove, cardamom and ginger. Of course, the real stars of this pie are the pears—picked from Boa Vista Orchards in Apple Hill just in time for the holidays.
CHEF'S NOTES: "Pear pies aren't very common," says Goeztler, who discovered the recipe in a small countryside village in his native Bavaria. "But when you pick pears from the tree at the right time—just before they are ripe—the taste just can't be matched."
WHEN TO ORDER: For Thanksgiving, order by Nov. 23 at 3 p.m.
WHERE TO FIND IT: Freeport Bakery. 2966 Freeport Blvd. 442-4256. freeportbakery.com
Also in Sactown's 7 Days of Pie
Day 1: Lemon raspberry meringue pie at Tower Café
Day 2: Spiked pecan pie at Karen's Bakery and Café
Day 3: Pumpkin pie from Selland's Market-Cafe
Day 4: Apple buttermilk pie from Abel's Apple Acres and olalieberry pie from Sweetie Pie's
Day 5: Harvest brew pie from An Honest Pie, apple pie from Ikedas, and gluten-free pumpkin pie from Flour Garden
Day 7: Frank Fat's banana cream pie is a Sacramento classic