7 Days of Pie: Selland's Market-Cafe's pumpkin pie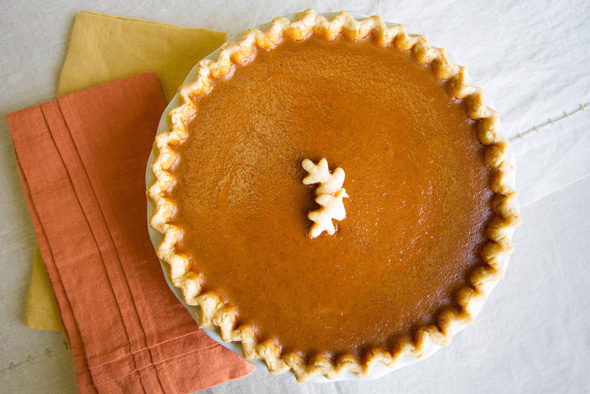 Fall is here, and Thanksgiving is right around the corner. If you're looking for just the right dessert to take to your holiday gathering, share with the office or just enjoy at home, we have you covered: Every day this week, we'll be dishing out some highlights from the region's seasonal bounty of pie, from pumpkin to pecan to fruit and beyond. Today, the third entry of the series features a seasonal classic from a local favorite. Enjoy Sactown's 7 Days of Pie!
THE PIE: Pumpkin pie from Selland's Market-Cafe
WHY IT'S SPECIAL: For the last three years, executive pastry chef Kristine Bertram has been baking the ultimate pumpkin pie to top off the Thanksgiving menu at Selland's. Using a 100 percent natural pumpkin puree, classic ingredients like cloves, ginger and cinnamon and a crust devised in-house by chef-owner Randall Selland, Bertram creates a pie that's so perfect, it's almost hard to believe it's handmade.
CHEF'S NOTES: The secret of Selland's flawless pumpkin pie is in the crust, which Bertram and her team have down to a science. "We only roll the dough out twice, to make sure it's just right," she says. "And we use a lot of butter to make a nice, crisp, crunchy crust."
COST: $18
WHEN TO ORDER IT: For Thanksgiving, order by Nov. 21 at 3 p.m.
WHERE TO FIND IT: Selland's Market-Cafe. East Sacramento: 5340 H Street; 736-3488. El Dorado Hills: 4370 Town Center Boulevard; 932-5025. sellands.com
Also in Sactown's 7 Days of Pie
Day 1: Lemon raspberry meringue pie at Tower Café
Day 2: Spiked pecan pie at Karen's Bakery and Café
Day 4: Apple buttermilk pie from Abel's Apple Acres and ollalieberry pie from Sweetie Pie's
Day 5: Enjoy a trio of treats at An Honest Pie, Ikedas and Flour Garden
Day 6: Perfect pear pie is in season at Freeport Bakery
Day 7: Frank Fat's banana cream pie is a Sacramento classic