7 Days of Pie: Tower Café's lemon raspberry meringue pie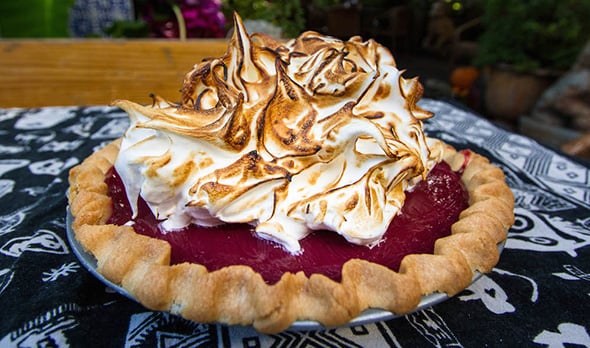 Fall is here, and Thanksgiving is right around the corner. If you're looking for just the right dessert to take to your holiday gathering, share with the office or just enjoy at home, we have you covered: Every day this week, we'll be dishing out some highlights from the region's seasonal bounty of pie, from pumpkin to pecan to fruit and beyond, starting with this seasonal meringue pie from Tower Café. Enjoy Sactown's 7 Days of Pie!
THE PIE: Lemon raspberry meringue from Tower Café
WHY IT'S SPECIAL: Tower Café pastry chefs Louise Maestretti and Lori Allen say they were inspired to create this pie as a tart and tangy complement to traditional fall desserts. The scratch-made pâte sucrée—a dense, cookie-like crust rich with egg yolks and a touch of sugar—balances out both the airy topping and the zip of the lemon-and-raspberry purée filling. A quick stroke of flame from Maestretti's hand torch adds the finishing touch to the pie's fluffy yet sturdy Italian meringue.
CHEF'S NOTES: "You eat with your eyes first, so I wanted to make it as pretty as possible," says Maestretti. "I wanted something with color, and this time of year, because lemons are at their best, it's a great combination that you don't see very often."
COST: $30 per pie.
WHEN TO ORDER IT: For Thanksgiving, order by Nov. 25 at 4 p.m.
WHERE TO FIND IT: Tower Café. 1518 Broadway. 441-0222. towercafe.com
Also in Sactown's 7 Days of Pie
Day 2: Spiked pecan pie at Karen's Bakery and Café
Day 3: Pumpkin pie from Selland's Market-Cafe
Day 4: Apple buttermilk pie from Abel's Apple Acres and ollalieberry pie from Sweetie Pie's
Day 5: Enjoy a trio of treats at An Honest Pie, Ikedas and Flour Garden
Day 6: Perfect pear pie is in season at Freeport Bakery
Day 7: Frank Fat's banana cream pie is a Sacramento classic