7 sweet spots to visit on National Ice Cream Sandwich Day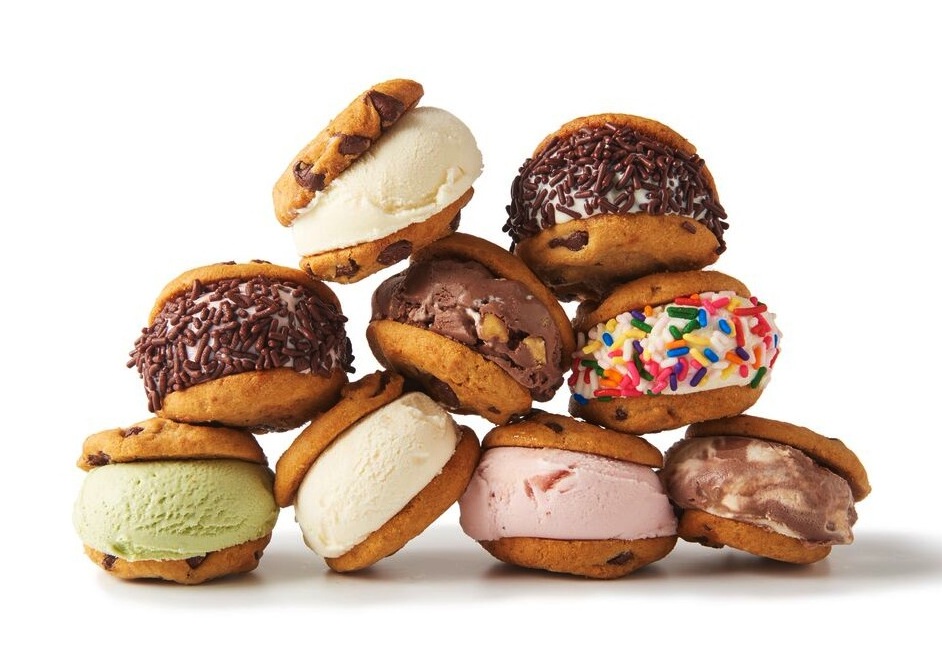 Today is National Ice Cream Sandwich Day, and we're celebrating with seven of our favorite local stops for the creamy, cool dessert, including variations made with cookies, macarons, doughnuts and even waffles!
Cream
The moniker of this Berkeley-born shop—with local outposts in Davis and Elk Grove—is really an acronym that stands for "cookies rule everything around me," and that motto rings true. Cream's vast selection of freshly-baked cookies and ice cream pairings range from white chocolate macadamia nut cookies enclosing Pistachio Delight ice cream to snickerdoodle cookies sandwiching Caramel Cinnamon Chill ice cream. Cream offers 11 house-made cookies to combine with 20 flavors of ice cream, along with fun toppings like gummy bears and Fruity Pebbles cereal. 110 F St. Davis. 530-750-1905. 8469 Elk Grove Blvd. Elk Grove. 896-5537. creamnation.com
---
Ginger Elizabeth Chocolates
Fine, handcrafted chocolate is this charming midtown shop's claim to fame, but don't overlook its assortment of French macaron ice cream sandwiches. Owner Ginger Hahn uses locally sourced ingredients like coffee from Chocolate Fish Coffee Roasters and pistachios from Lincoln-based Fiddyment Farms for small batches of ice cream, which she sandwiches between house-made macarons. Don't miss the melt-in-your-mouth salty caramel sandwich, a heaven-sent blend of creamy-sweet ice cream with a snap of salt from Portland-based Jacobson Salt Co. 1801 L Street. 706-1738. gingerelizabeth.com
---
Goodie Tuchews
This closet-sized shop in downtown Sacramento has been tempting passersby with its freshly baked cookies for the last 35 years. Inside, a spread of chocolate chip, peanut butter, oatmeal raisin and 16 other classic homemade cookie varieties can be mixed and matched into ice cream sandwiches with Gunther's Ice Cream. Our favorite is the white chocolate macadamia nut cookie with a simple scoop of vanilla complimenting the salty-sweet crumb on the fresh-from-the-oven cookie. 1015 L St. 444-6048.
---
Gunther's Ice Cream
Business Insider named this 76 year-old Curtis Park ice cream shop the best in California last year, so it's no wonder the creamery is a regional favorite, supplying ice cream for other popular shops like Baker's Donuts and Bombolone Cafe. Wedged between two chewy macaron cookies from Stockton's Bõn Mange desserterie, Gunther's ice cream sandwiches take Gunther's classic flavors—like salted caramel, cookies and cream, birthday cake or purple taro root—to a new level, for a handheld indulgence that screams summer. 2801 Franklin Blvd. 457-6646. gunthersicecream.com
---
Magpie Cafe
Since opening in 2009, this restaurant owned by couple Ed Roehr and Janel Inouye, has built a reputation for inventive, seasonal dishes. But insiders know to save room for dessert, especially Magpie's picture-perfect ice cream sandwiches in flavors like Orange Ginger, Lemon Lavender, and Citrus Fruit. The rectangular desserts are crafted with house-made shortbread cookies, neatly pressed over Gunther's vanilla ice cream and cut into thin bricks, arriving at the table on a wooden cutting board. Current flavors, also found at sister cafes Yellowbill and Nido, include Star Anise and Lemon Poppy Seed. 1601 16 St. 452-7594. magpiecafe.com
---
Smoosh
This shop, which soft-opened in June in Rocklin and is launching a Folsom location soon, specializes in cookie ice cream sandwiches, offering 14 cookie flavors and 20 ice cream options. Signature combos include PB&J Royale (made with butter sugar cookies sandwiching vanilla bean ice cream and peanut butter and jelly), or the Carameldoodle, with salted caramel ice cream and Heath Bar crumbles inside snickerdoodle cookies. The grand opening of Smoosh's new Rocklin location takes place today from 6 to 10 p.m. to align with National Ice Cream Sandwich Day, featuring a 20-foot inflatable slide, DJ'ed music and free ice cream sandwiches. 5410 Crossings Dr. Rocklin. 259-1575. 811 Wales Drive. Folsom. smooshfactory.com
---
The Parlor Ice Cream Puffs
Since it opened in 2014, The Parlor in Arden-Arcade has been pushing the dessert envelope, stuffing ice cream inside anything the staff dreams up. Its classic combo is the "ice cream puff"—a must-try doughnut ice cream sandwich—but The Parlor also whips up macaron ice cream sandwiches and "puffles"—ice cream between two warm waffles. The Parlor is known for its unique flavors of ice cream with ingredients like Earl Grey tea, ube or potato chips as well as its seemingly endless assortment of toppings, like Cinnamon Toast Crunch cereal, strawberry jam and marshmallow sauce. 2620 Fair Oaks Blvd. 977-3997. theparloricecream.com
You Might Also Like
10 of our favorite ice cream shops to visit in the region
Ice cream-filled doughnuts sweeten summer in Sacramento
Farm-to-freezer: Beat the heat this summer with local gourmet popsicles