8 vibrant backdrops around town for your next Instagram selfie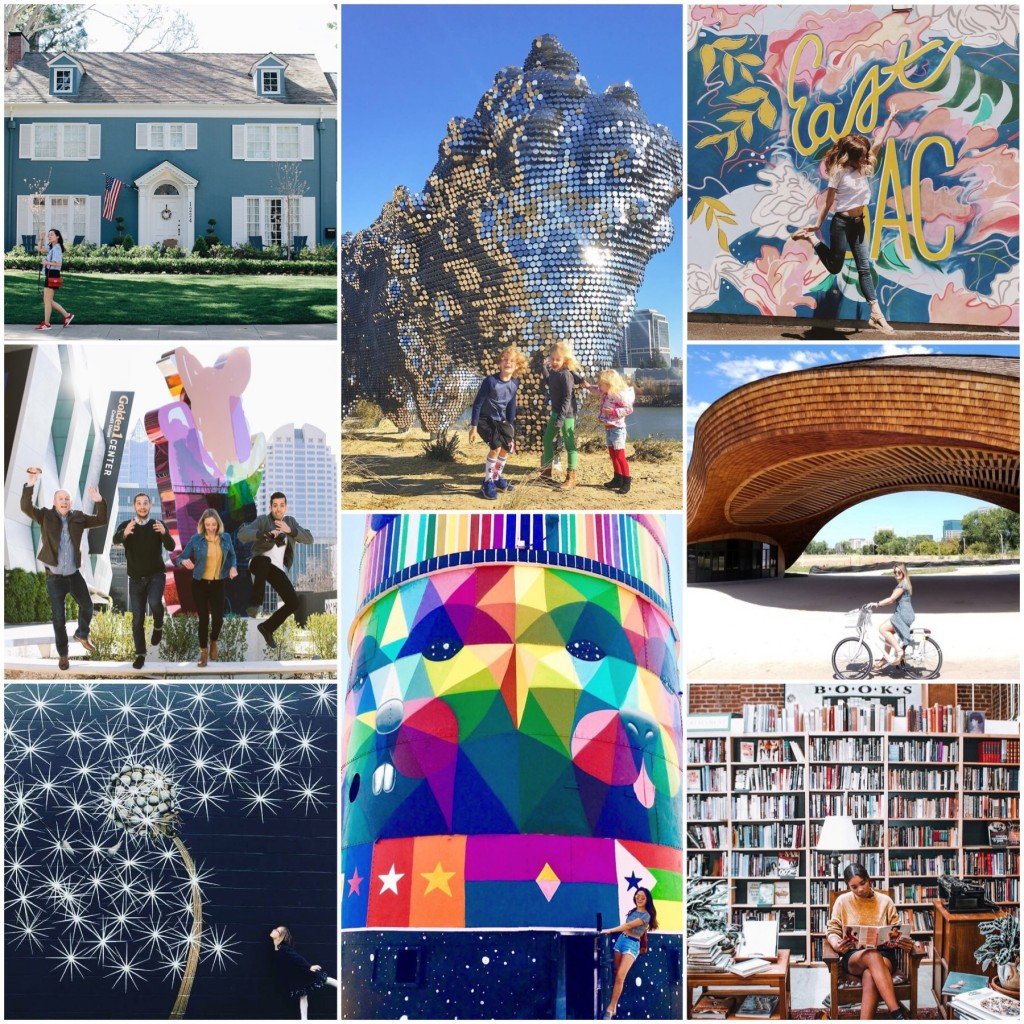 In 2016, we gave you our list of 12 colorful spots in and around Sacramento to take your next Instagram photograph. But between hosting mural festivals, getting public art installations and starring in a Golden Globe-winning film, the region is bursting with cool new options for your next selfie backdrop. Here are eight of our fave local locations that will make your feed #SacramentoProud.
Jeff Koons' Coloring Book
This 18-foot-tall sculpture by artist Jeff Koons is called Coloring Book but is nicknamed "Piglet" since the shape comes from the character in Winnie the Pooh, made its debut at Downtown Commons in 2016. The $8 million piece stands sentry at the Golden 1 Center's main entrance, with its bright colors (intended to mimic the way a child would use crayons in, yes, a coloring book) and fanciful shape making it a favorite spot for selfie-takers. The best way to capture "Piglet" is to carefully stand on its surrounding ledge and pose mid-air. It's all worth it for the 'gram. 500 David J Stern Walk
---
The Blue House
While it took Sacramento native Greta Gerwig four trips to convince the owners of the now-iconic Fab Forties home in East Sacramento to allow her to feature it prominently in her directorial debut, Lady Bird, it should only take you one shot to immortalize your own cinematic moment. Tip: Take your photo on the sidewalk or the lawn during a summer sunset when the orange sky contrasts with the blue exterior of this handsome two-story colonial (just remember to respect the owners). 1224 44th St.
---
The Wishing Wall
When creating The Wishing Wall mural in March, local artist Maren Conrad wanted to develop an art piece that would inspire others to take a leap of faith or simply make a wish. This 30-foot-tall painting, which depicts a dandelion whose "seeds" are stars casting off into the ether and can be found in the Historic Alley on 19th Street between I and H, is an ideal backdrop. Conrad—who painted a Lady Bird-inspired mural on 16th between I and J streets earlier this year—dreamed up The Wishing Wall with social media in mind, suggesting that fans pose as if they're blowing on the giant flower. Historic Alley on 19th Street between I and H
---
The Mill at Broadway
During last year's Wide Open Walls mural festival, Madrid-based artist Okuda San Miguel took over a 60-foot-tall silo at The Mill at Broadway and turned it into a local Instagram sensation. Named Multiuniverses Totem for its rainbow-clad geometric patterns and animal head shapes, the structure looks best at dusk. Social media addicts should plan to shoot from the bottom to capture the sunlight hitting the colors, intensifying their tones. Or better yet, Boomerang it. 439 Tailoff Ln.
---
Subtile
This public art installation is no disfigured disco ball or low-flying cloud—instead, it's a combination of many 2-inch steel discs (4,000 in total) that Prague-based artist Federico Díaz organized into a 40-by-16-foot masterpiece. Located along the West Sacramento's River Walk Trail, halfway between the Barn and the Tower Bridge, Subtile is an ideal place to stop during an early evening stroll for that quick photo op while the golden hour glow reflects off the kinetic rounds.
---
The Barn
A short walk from Subtile in West Sacramento's Bridge District stands the Barn, an event venue designed by Dutch architect Jerry Van Eyck of !melk. Opened in 2017, this curvilinear-shaped wooden structure—which has hosted events like outdoor concerts, and will soon harbor an indoor-outdoor restaurant by Drake's Brewing Company—makes another picturesque stop on that riverside ramble. Boost those "likes" by catching a glimpse of where urban landscape meets the natural terrain, and take some rustic selfies for your feed. 985 Riverfront St.
---
Canon
After tasting inventive brunch dishes like the Millionaire's Bacon toast and the ricotta pancakes with apple filling, Canon diners can pop around the corner of the East Sacramento restaurant, which opened in October 2017, and snap the perfect shot in front of the mural painted by local artist Tyson Anthony Roberts during last year's Wide Open Walls. The piece features a watercolor-like blend of vibrant white and pink perennial flowers, which Roberts refers to as an abstract tribute to the East Sacramento rose garden in McKinley Park. 1719 34th St.
---
Time Tested Books
Just like the Last Book Store in Los Angeles, Sacramento also has its very own photo haven for bibliophiles in Time Tested Books. Located on 21st Street between K and L, this second-hand bookstore is packed to the rafters with hundreds of volumes, which, as a backdrop, can boost your next photos with a nostalgic and literary air. Cozy up in an armchair with a Virginia Woolf novel or wander the aisles with an Oscar Wilde classic for just the right shot. 1114 21st St.
Follow Sactown Magazine on Instagram here!
You Might Also Like
10 Sacramento Instagrammers you should be following right now
"Hope" poster creator to headline this year's Wide Open Walls
Auburn to host typewriter exhibition and film screening this fall
SaveSave