A Birthday Wish
In a collision of artistic serendipity, our city's greatest artist, Wayne Thiebaud, and our greatest museum, the Crocker, both celebrate major milestones next fall. Here's why we hope they both take the cake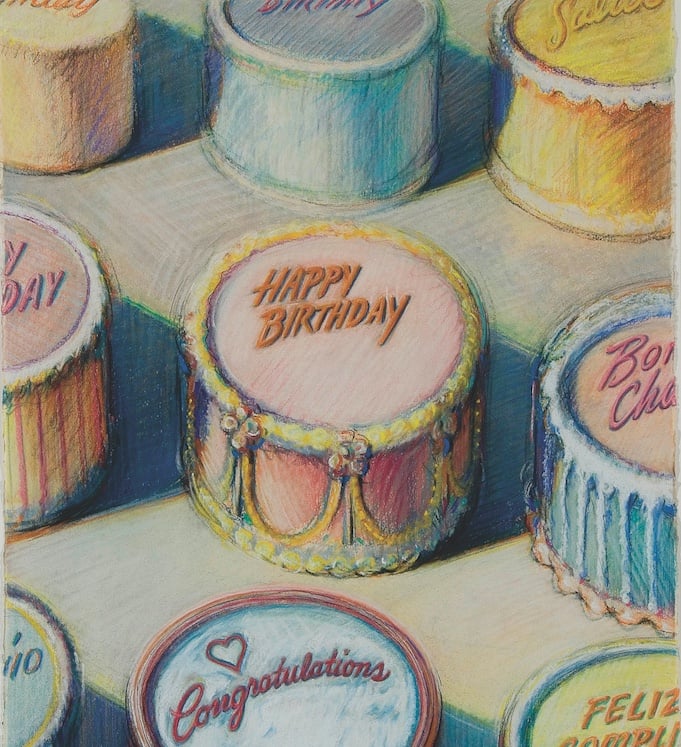 In 1968, Sacramento native daughter Joan Didion published the book Slouching Towards Bethlehem, in which she wrote, "What happened in New York and Washington and abroad seemed to impinge not at all upon the Sacramento mind."
In that passage, Didion was recounting how she once heard an old widow make a disparaging comment about a friend's son. "That Johnston boy never did amount to much," the widow remarked. Reminded that the young man, Alva Johnston, had actually gone on to win the Pulitzer Prize as a reporter for The New York Times, she refined her response: "He never amounted to anything in Sacramento."
Didion's portrayal of 1940s Sacramento openly criticized the city's then-provincial nature. And while much has obviously changed as the city has grown more cosmopolitan over the decades, this passage makes me think of my onetime UC Davis professor, the artist Wayne Thiebaud.
Thiebaud, who moved to Sacramento from Southern California as a young man in 1950 has, in the nearly 60 years he's been here, risen to become one of the world's most respected living artists. His works have sold for as much as $4.5 million at Christie's, and he's been fêted by the art world in one-man shows at the San Francisco Museum of Modern Art, Washington D.C.'s Corcoran Gallery and the Whitney Museum of American Art in New York, among many others.
A Sacramento without a Thiebaud exhibit is akin to Picasso showing everywhere but Spain, or Monet everywhere but Paris. If this cultural vacuum were an art movement, it would be absurdist or surrealist.
And in a rave review in 2001, New York Times art critic Michael Kimmelman wrote, "If the world were a perfect place, the Wayne Thiebaud retrospective that has just opened at the Whitney Museum would be nailed to the walls for good and we would be free to stop by whenever we needed to remind ourselves what happiness feels like." Wow.
But here in Sacramento, sadly, you need an airline ticket to see a major exhibit by this artist who lives in Land Park.
The last time the Crocker and Thiebaud joined forces for an exhibit of his paintings was in 1996. To put that in perspective, you would have had a better chance of seeing a major Thiebaud retrospective in the last 13 years if you lived in New York, San Francisco, D.C. or even Kansas City. In fact, the '96 exhibit is the only show of Thiebaud's lush paintings at the Crocker in over 25 years.
The Crocker did mount a show of his prints and drawings nearly a decade ago, but nothing remotely reflecting the impact that this adopted native son has made on the art world. It's not as if the good folks at the Crocker don't appreciate him; they most certainly do. And it's not as if Thiebaud doesn't want to show here in his hometown. But for whatever reason, since his first Crocker show in 1952, it's happened with about as much regularity as the national census.
A Sacramento without a Thiebaud exhibit is akin to Picasso showing everywhere but Spain, or Monet everywhere but Paris. If this cultural vacuum were an art movement, it would be absurdist or surrealist.
As if that weren't unfortunate enough, Thiebaud is turning 89 in November. Though he still plays tennis, paints and occasionally lectures, the laws of nature suggest that the clock is ticking on our community's opportunity to recognize and celebrate this man's achievements while he's still with us.
But it's not too late.
Art is rich in symbolism, and what better symbolic gesture than to celebrate Thiebaud's life and work with an exhibit that coincides with his 90th birthday, Nov. 15, 2010, almost exactly when the Crocker's massive new Charles Gwathmey-designed expansion wing opens? There could be no more fitting way to open this $100 million wing than with an homage to one of our own ("Thiebaud at 90" has nice ring to it). There's no other artist who has ever lived here who begins to approach Thiebaud's international stature. To open a world-class museum wing in his hometown without him would certainly dampen some of the artistic street cred we'll gain as a city with this new space.
And it's not only a cultural opportunity, but a civic one. Since the Crocker's last Thiebaud show, his work has risen to a level that would draw art cognoscenti galore from San Francisco, L.A. and New York. Sure, Gwathmey's expansion may snag some national headlines, but it would pale in comparison to the blockbuster story of pairing it with what could be the last major retrospective of Thiebaud's lifetime. Like people, museums only have one chance to make a great first impression. Why not make it count?
Global art aficionados aside, every man, woman and child in this region should be introduced to his work. It's accessible and delicious-looking enough to capture anyone's imagination. In many ways, it feels uniquely Sacramento, from the middle-American innocence in his cakes and pies to his aerial landscapes of the Delta. And there are so many of his works on the walls of the city's art collectors that an exhibit could be a true community event.
But don't think for a second that he will lobby for the honor. Ask anyone who knows him and they will tell you that there is not an ounce of self-importance in him. I recognized as much as a college sophomore in my Art Theory & Criticism class at Davis as Professor Thiebaud mocked art critics who infused his famous pie and cake paintings with speculative artspeak gobbledygook, and again earlier this year when he humbly and summarily dismissed the notion of a Thiebaud Museum (a wonderful idea, by the way) here in his hometown. "Maybe after I'm dead," he said.
But while he's still very much alive, we have an opportunity to do the right thing here that can't be missed, regardless of other plans or contracts, regardless of timing or complications. Sacramento will never fully conquer Didion's portrait of mid-century provincialism unless we learn to appreciate what we already have before it's gone. So it's time to start planning the birthday of the century. Let's have our cake and see it, too.