A Bridge to Our Future
With a year-long study about building a new bridge for the River City in its final stages, now is the time to think big and bold. But forget New York and San Francisco. Let's follow Redding's lead instead.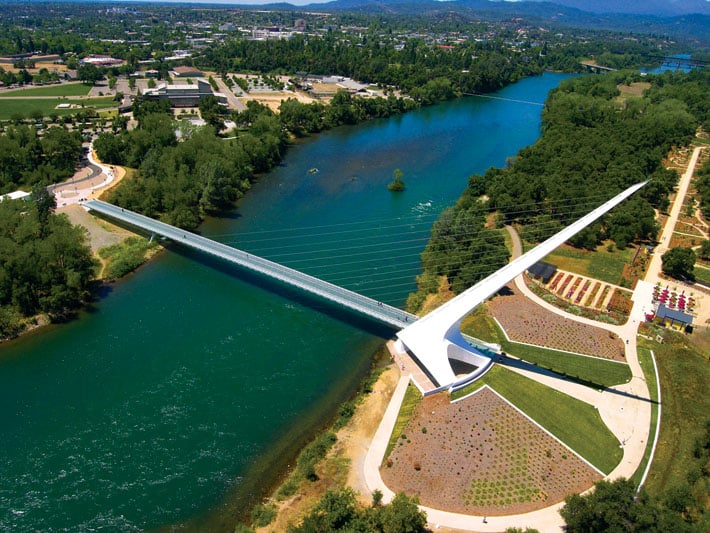 As you read this, the cities of Sacramento and West Sacramento are mulling the possibility of adding a new bridge near downtown. Surveys are being taken, "stakeholders" are convening and neighborhood groups are, naturally, already kvetching. No one yet knows where the bridge will go, how it will be funded or if it will be used for cars, bikes, trolleys, pedestrians or all of the above. By December, they tell us, there will be some answers. Sound exciting?
It should. Done right, this could actually be one of the biggest things to happen to our region in a very long time.
The fact is, new urban bridges come along with far less frequency than new skyscrapers, performing arts centers, professional sports teams or even basketball arenas (and we know how often they come along around here). In fact, our only three downtown Sacramento river spans were built in 1966 (the Hwy. 50/Pioneer Memorial Bridge), 1935 (the beautiful Tower Bridge) and 1911 (the I Street Bridge). But like a new arena or theater, bridges hold the promise of being instant civic game-changers. They are utilitarian, certainly, but in addition to nurturing a walkable city, relieving traffic and connecting neighborhoods, the right design can reposition the perception of entire cities. How often, for instance, do you see a picture of San Francisco without the Golden Gate? Or try to imagine New York without the Brooklyn Bridge.
And consider, if you will, Redding. Our northern neighbor, a mere two hours away, went from a small, rural town to a "destination city" virtually overnight when world-renowned Spanish architect Santiago Calatrava designed the stunning Sundial Bridge that opened there in 2004 (and, yes, it's an actual sundial). The elegant pedestrian span has been celebrated worldwide for its sleek lines and translucent deck, putting redding on a must-see list of Western cities for lovers of architecture. And the river it spans? The Sacramento.
To be clear, the bridge wasn't cheap. In the end, it cost over $23 million to build. The city paid $1.4 million, state and federal grants covered $9.7 million, and the McConnell Foundation, a Redding-based nonprofit that helps fund community projects in mostly rural parts of Northern California, was the major donor (and impetus for the project) at over $12 million.
Sure, great architecture is expensive, but it can also pay major dividends. The bridge, and by association Redding, has since been praised in The New York Times, Los Angeles Times and other national and international publications too numerous to mention. Today, visitors flock from around the world to admire it, pouring money into the local economy as they pass through. And not long ago, when a friend of ours in New York was planning a visit, his first question was, "how far is Sacramento from Redding?"
Then there's Tacoma, Wash. In 2002, the Chihuly Bridge of Glass opened to great acclaim. The 500-foot pedestrian bridge crosses a freeway that separates downtown from the riverfront and the Museum of Glass. The bridge is covered in art by Dale Chihuly, the most celebrated glass artist in the world, and is now as much of a destination as the museum it gives access to.
But bridges can serve as much more than civic trophies and simple transportation structures. They can draw locals, too. In a city that has struggled to bring its own population to the riverfront, the right bridge in Sacramento could easily serve as a magnet. People want reasons to come to the river. This can be one of them.
Downtown Portland has eight bridges across the Willamette River (and more may be on the way), each with its own character and each connecting Portlanders to their river. The city, which routinely lands on the most walkable cities lists, is celebrating its first PDX Bridge Festival through Aug. 8 with massive art installations on their city's bridges, along with music and even a "Brunch on the Bridge" fundraiser where the Hawthorne Bridge will close its lanes to host a giant picnic to raise awareness of issues surrounding hunger. How cool does that sound?
As for Sacramento, perhaps we could build one with a glass bottom for viewing the river, or a bike-friendly crossing that can extend our already celebrated riverfront bike trails. In London, a design competition last year yielded a concept for a bridge across the Thames with a solar- powered vertical farm and organic market. or, we can think really big and bookend the Sacramento river by putting up our own awe-inspiring Calatrava bridge. The possibilities are limited only by our imaginations.
The fact is, as our city grows, we'll need more bridges. And now we have an extraordinary—perhaps once-in-a-lifetime—opportunity to do something great on our riverfront. So today, as the numbers are being crunched, the traffic projections analyzed and the objections weighed, let's make sure that "design" gets a bullet point on the discussion list before it's too late. This is one case where we should cross that bridge before we come to it.