A Bridge with Curve Appeal
A new architect has been selected to design a $172 million bridge planned for the Sacramento River. Early ideas include observation decks, High Line-style landscaping and a soaring arch. We weigh in. You can too.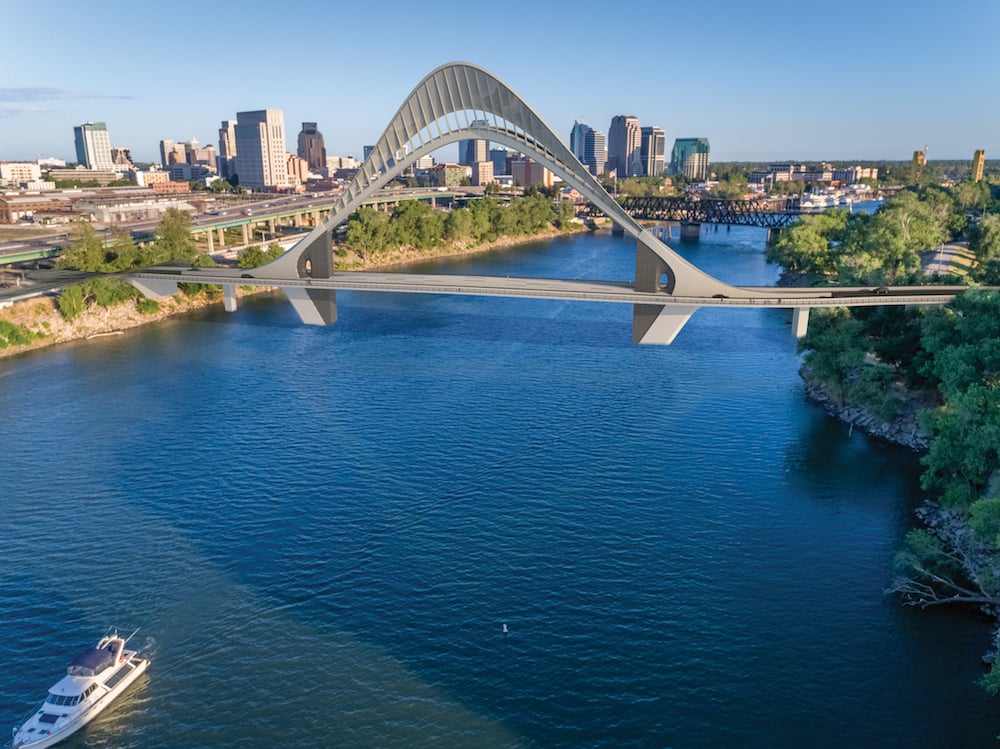 Now we're getting somewhere.
Last year, I was critical of the early designs created by the city and its then-architect of the new bridge that will soon replace the 107-year-old I Street Bridge over the Sacramento River. Yes, they were merely rough concepts, but they borrowed liberally from the past, clumsily copying and pasting together elements from our two historic spans—the Tower and I Street bridges.
I urged the city to scrap the direction of its design process and instead elicit ideas from architects around the world. And to the city's credit, after a bit of time, it did just that. In the end, it invited three firms with extensive global experience—one based in Amsterdam, one in Copenhagen and one in San Francisco—to submit detailed proposals, each with three distinct designs for our new $172 million bridge that will, when it opens in 2023, connect the railyards to the burgeoning Washington neighborhood in West Sacramento.
Teams of architects descended on Sacramento, studied the landscape, dreamed big and returned to pitch their best ideas. And on Oct. 31 of this year, city officials announced the selection of San Francisco-based T.Y. Lin International Group (which has a Sacramento office) as the winning team. As a result, I'm very happy to say that there are now a lot of reasons to be optimistic that Sacramento will get a great new bridge, maybe even an iconic one.
The T.Y. Lin group, helmed by the firm's lead bridge architect Noel Shamble, submitted wildly different designs for the new span that collectively provide a great springboard from which to begin a larger community discussion. The conceptual building blocks include everything from walk-up observation decks to landscaped gardens that will rise far above the water, and soaring sculptural forms that could help define our skyline.
The next step in the process is the public component—where we can all weigh in—which will kick off soon.
So here's how this is going to work.
None of these three concepts, seen throughout this article, have been selected yet. At this point, they simply represent a peek inside the creative minds of the team at T.Y. Lin. What happens next is that a series of public engagement events will take place—likely beginning in February or March—during which the architect and city officials will seek feedback from the community. The public process will last roughly nine months to a year.
It should be noted, however, that it's somewhere between hard and impossible to know how much actual influence these public events will ultimately have on the final design. There are those who believe that gatherings like these are primarily PR stunts. The state of California, for example, has "sought" public comment on many of its buildings in Sacramento, only to largely ignore the desires of the community (the notorious East End Complex in midtown—an urban design nightmare with little regard for its neighborhood context—leaps to mind).
But to be fair, the city has, in fact, been open to outside input thus far, so I'm hopeful. I'd like to believe that as long as thoughtful and civic-minded people show up and offer constructive and practical feedback, there's a chance for us to make a positive contribution here.
To that end, I'd like to offer up my own brief, armchair assessments of T.Y. Lin's concepts in an effort to help get that conversation going.
The first of the three concepts is one the architects call "Garden Skyline." The most overt design feature of this proposal is the set of four large columns that anchors the bridge and its "lift" system.
Quick "Bridge 101" aside: The design of this structure is restricted by the requirement that it must be a lift bridge (like the Tower Bridge, as opposed to a swivel-style span like the old I Street Bridge), meaning that the roadway in the middle section literally lifts up to allow boats to pass underneath. It's an unfortunate restriction because it severely limits the design, but it was a state and federal requirement, so the city had little choice.
Now back to the "Garden Skyline": For me, this proposal includes one of the most interesting components of T.Y. Lin's concepts, and one of the least. My favorite part, by far, is the "garden" aspect. Look closely, and the pedestrian experience on this design far eclipses that of the other two submissions.
The middle section of the span is lushly landscaped with trees and other greenery that not only provide shade and beauty, but also echo the tree-dense topography of the surrounding riverbanks. There are two sets of walkways—an upper and a lower one, each with appealing wood plank surfaces. The upper deck provides sweeping 360-degree views, and the lower deck is more experiential, separated from the vehicular traffic, with tiered seating that beckons visitors to sit and read, or relax and take in the vistas of the river and the skyline.
Regardless of which design ultimately prevails, this kind of High Line-style pedestrian amenity provides a perfect way for the bridge to connect people to the river, and should be included in some form or fashion. (In fact, the historic I Street Bridge will continue on as Amtrak's river crossing, and its upper deck—now used for vehicular traffic—will be converted into its own version of the High Line.)
I'm less excited, however, by the four-column design that defines the "Garden Skyline" silhouette, primarily because it's the least unique of the firm's submissions. There are a number of bridges around the world that are strikingly similar to this design (one in Bordeaux, France, was built just a few years ago). The more distinctive this bridge is, the better chance it will have to become an architectural icon.
The next concept, which the firm calls "The Perch," is defined by the observation decks on its two towers. This is an idea that I personally love. I've long felt that the best way to understand why Sacramento is called the City of Trees is to see it from a lofty "perch"—the city is truly an endless blanket of treetops from up high—but there are virtually no public spaces in town that offer this perspective. This could change that.
All that said, the profile of this design, when viewed from either side, bears far too strong a resemblance to the rectangular towers of our 1935 Tower Bridge and the steel truss of the 1911 I Street Bridge. This was, unfortunately, an intentional decision. But it's not the architect's fault.
Back in 2016, the consultant assisting the city on this project, a firm called Mark Thomas, produced a report which stated that the look of the new span "should represent a current modern 21st-century design that relates to the rich local bridge history. … The use of exposed trusses as the main structural feature of both the lift bridge and the lift towers connects this new landmark with the existing I Street Bridge and the Tower Bridge just downstream to visually create a family of bridges."
As I wrote last year: In other words, make a modern bridge that looks like two really old ones.
[Insert heavy sigh here.]
This is, in my opinion, the worst possible direction we could take with this new structure. When the Tower Bridge was built in 1935, it was designed explicitly to represent the future. It was a forward-looking symbol for a forward-looking city. To purposely create a modern bridge that looks backward is to undo all of the momentum we've gathered in recent years.
And if there's one word that our elected officials on both sides of the river have used more than any other when describing what they want to see in a new span, it's "iconic." You can't have an iconic 21st-century bridge that relies on design aesthetics that predate the Slinky.
If, however, we can find a way to incorporate observation decks into a modern design, then that would certainly be a conversation worth having. Or perhaps we could borrow a page from the playbook of the amazing Sydney Harbour Bridge in Australia, and create a way for people to safely climb the new bridge for a breathtaking view of the city.
Regardless, we need to keep our eyes focused on the future, not the past.
Which brings us to T.Y. Lin's third design, dubbed "Solar Arch."
I've written before that part of the reason it's so critical to get the design of our new span right is that large-scale infrastructure projects like this one have the potential to dramatically impact the physical landscape of an entire city. When you think of San Francisco, the first image that comes to mind is probably a bridge. The same is true with Brooklyn.
We have precious few opportunities to create a $172 million work of functional art on the river. But with the right design, we can do that here.
For me, T.Y. Lin's "Solar Arch" comes closest to realizing that potential. Arches aren't a new feature when it comes to bridge design, but curves like this one are rare indeed. Its asymmetric shape bears a slight resemblance (in a good way) to Santiago Calatrava's stunning Oculus—the new transportation hub near One World Trade Center in New York City—but it also serves a dual function of acting as a solar array, an element meant to convey California's leadership in green technology. The top of the arch would collect the sun's rays on photovoltaic cells and power the bridge's lift mechanism and architectural lighting.
Rising approximately 230 feet above the water's surface (about 70 feet taller than the Tower Bridge), this shape boasts a soaring verticality that could make it an instantly recognizable part of our skyline.
One possible downside: I could be wrong, but I do worry that using 2023 solar technology on a bridge designed to last until the year 2123 (when who knows, there might be photovoltaic paint available) might be a mistake.
Also, I know these renderings are just conceptual, but the non-solar backside of the arch (seen in the first image) looks unfinished. That side will greet out-of-towners from the airport and should get just as much design love as the front.
Lastly, as excited as I am about the potential of this kind of sculptural gesture on the river, I'm far less enthused about the unimaginative space for pedestrians in this design. Whereas the "Garden Skyline" proposal invites visitors to engage with the bridge and the river, the "Solar Arch" walkways are, well, downright pedestrian, with no landscaping or gathering spaces to stop and appreciate the view.
That said, we already know that this team has the vision to program a welcoming pedestrian experience. We just need to do a little mixing and matching.
And who knows—perhaps T.Y. Lin, now freed from the restrictive time frame that a quick-turnaround competition requires, has some more tricks up its sleeve and will surprise us with a new direction altogether. Regardless, there's a lot to like in these early renderings. We've come a long way in the past year. As long as we keep moving—and looking—forward, I think we'll finally have our bridge to the 22nd century.