A Competitive Spirit
A novel concept behind the new arena campaign (public input) and a strategy for a revamped Capitol Mall (a design competition) are steps in the right direction toward great civic design. But they're just a start.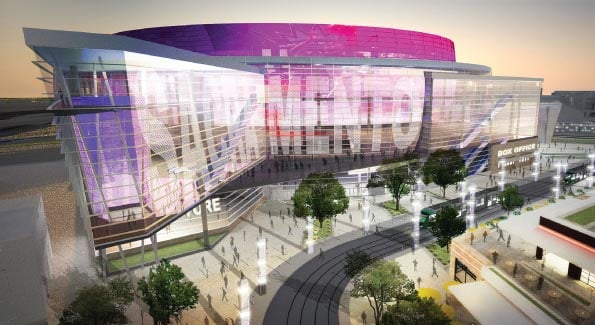 TThe theme of Mayor Johnson's new campaign to build a downtown arena is "Think Big,"
and for reasons having little to do with the arena itself, I for one am glad to see that particular slogan suddenly getting a lot of attention around here.
One of my favorite parts of the "Think Big" campaign is the notion of "citizen architects," community volunteers who will not only act as evangelists for the project, but will also weigh in on some small part of the actual design process. That's potentially exciting stuff.
And it's an attitude that we'd do well to emulate in other civic projects—even ones that don't cost hundreds of millions of dollars.
Another current, high-profile example of opening up the design process   is the newly launched competition to reimagine Capitol Mall, which invites local, national and international designers, architects and others to dream big about Sacramento's future. Under the stewardship of the local chapter of the American Institute of Architects, it promises to stir public debate about what physical form this symbolic entryway to our city should take. As downtown gradually morphs into the exciting urban core that it should be, this stretch has long been one of the missing pieces of the puzzle. And now that may soon change.
It's not the first time that international design competitions have been held here. The Crocker Art Museum landed one of the country's most prominent architects, New York's Charles Gwathmey, through such a contest (he beat out fellow heavyweights I.M. Pei and Robert Venturi). The city of Elk Grove also scored a huge coup when Zaha Hadid Architects of London responded to its competition for the master plan of a new civic center. And the young suburban city plans to launch another such competition for the actual design portion of the structure this year.
In fact, many of the world's greatest structures were born out of these kinds of contests, including the St. Louis Arch, the Sydney Opera House and the Eiffel Tower. A more recent example is New York's 1,776-foot Freedom Tower that is rising on the former site of the World Trade Center as we speak.
After the twin towers were destroyed, a high-profile competition was launched to replace them. The world's top architects submitted breathtaking designs that got the entire city buzzing about the future of its skyline. Suddenly,  it became part of a larger civic conversation. From cocktail parties to water coolers, New Yorkers polled each other on the aesthetic merits of Sir Norman Foster's "kissing towers" versus Rafael Viñoly's oddly skeletal vision. And thousands showed up when the finalists' models were displayed for public comment.
Not long after, the city launched a design competition for the memorial portion of the site, and not only architects, but everyone and anyone was welcome to submit proposals.
In fact, a handful of the 5,201 submissions for the memorial site in Lower Manhattan came from far-flung cities like Sacramento, Davis, Rocklin, Fair Oaks and Woodland. And many came from non-designers, and even high school students who simply felt strongly about what had happened and had ideas they wanted to develop and share. (The winner, Michael Arad, was a young unknown architect who was primarily designing New York police stations at the time.)
I'm not suggesting that we start letting just anyone design arenas or skyscrapers. But even in contests where only architects are invited to participate, the design selection process for public projects should be far more competitive and transparent than what we've typically seen in Sacramento. That means town halls, online comment boards and public presentations.
The fact is, these kinds of competitions get people of all ages, nationalities and economic backgrounds involved in thinking about the design of their city and how they interact with it. They have the potential to spur the kind of dialogue that will both educate and excite our citizens about what's possible.
That's why this Capitol Mall competition and the citizen architect concept for the arena should be the first two of many such exercises in community participation. By opening up the process, we can open up the possibilities for extraordinary structures all over our region. In coming years, we should launch high-profile contests for the designs of new bridges, theaters and projects for areas like the riverfront and the railyards.
And great design doesn't need to be restricted to high-profile public projects. In Columbus, Indiana (population 44,000), a businessman in the 1950s named J. Irwin Miller began offering to pay the architects' fees for public works like schools, fire stations and libraries if the city would choose an architect from a list he compiled. The result is a town smaller than Woodland which has become an international tourist destination, filled with buildings designed by world-renowned architects like César Pelli, Eero Saarinen (who designed the St. Louis Arch) and the aforementioned I.M. Pei and Robert Venturi, to name just a few.
Imagine if the new Greyhound bus station in Natomas had been designed by Frank Gehry or Daniel Libeskind. Sometimes it's possible to think big and small.
Of course, it's not all about big-name "starchitects." Local architects are doing extraordinary work here, too. But competition makes everyone think bigger. And design contests that get the public involved in some way will spur the kind of civic dialogue that will make this a better—and far more interesting—place to live.
And while we're thinking big, let's hold our new arena project to the same high aesthetic standards that we would for a sky-scraper,  museum or theater. Few buildings that we ever construct will compete with the national attention we'll get for this one.
The late architect Daniel Burnham—who championed great design in his master plans of cities like Chicago and Washington, D.C.—is credited with the saying, "Make no little plans. They have no magic to stir men's blood."
If that sounds a little erudite for a discussion about the design merits of a downtown sports arena, then let's put it in the sage words that TV talking heads love to use during the NBA playoffs: "Go big or go home."