A downtown bus shelter transforms into "The World's Smallest Concert Hall"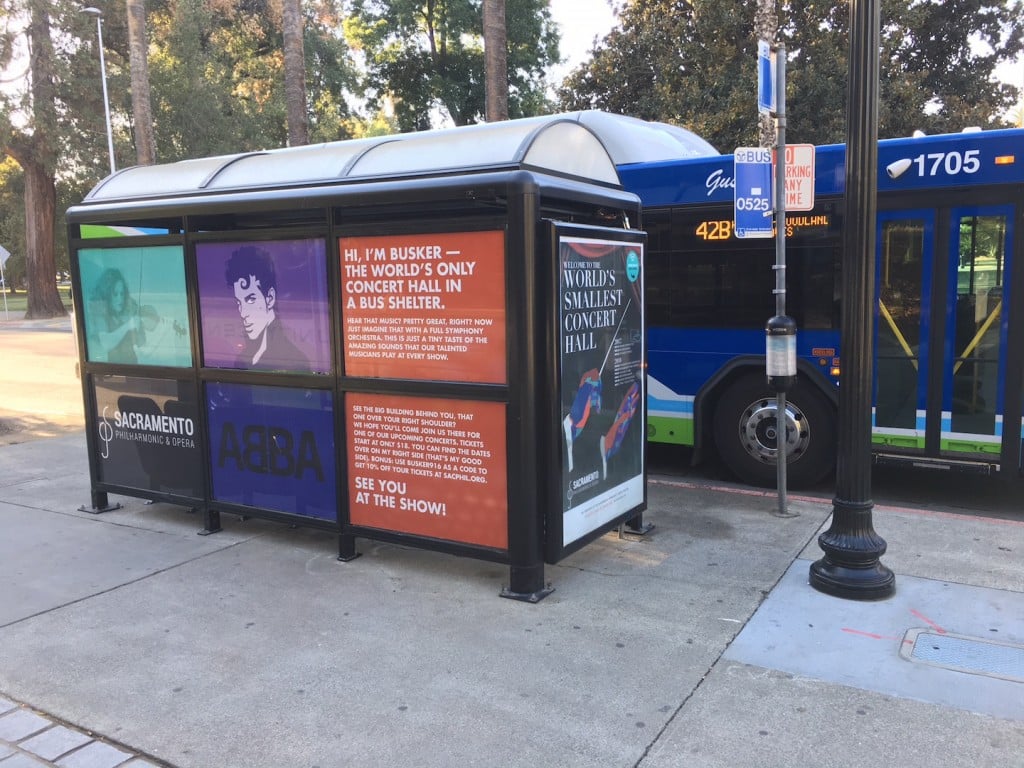 A new music venue opened this morning in downtown Sacramento—in a bus shelter.
The partially enclosed bus stop at 14th and L streets—steps from the Sacramento Community Center Theater—has been converted into "The World's Smallest Concert Hall," and until the end of November, passersby and those waiting for public transit can sit in one of four red theater seats and listen to arias from operas like Don Giovanni and The Barber of Seville and symphonic pieces from composers such as Mozart, Brahms and Tchaikovsky.
The classical masterpieces, which are piped into the bus shelter 24 hours a day via speakers and an iPod, represent the music patrons would hear at a concert by the Sacramento Philharmonic & Opera, whose season kicks off tomorrow night at the much bigger hall steps away.
Launched at 8 a.m. today with a short concert performed by members of the Sacramento Philharmonic, the mini music hall was developed as a way to raise awareness of the regional arts scene. "It's a wonderful opportunity to draw attention to some of the creative and cultural experiences we have in the city for people who maybe walk past that building every day and don't know what it is," says Matthew Buckman, general manager of the Sacramento Philharmonic & Opera. "It's an opportunity for us to display a little bit of what we do in front of our home."
For the project, the Philharmonic partnered with Sacramento Regional Transit (SacRT), ClearChannel and Sactown magazine. The B Street Theatre donated the bus shelter's four seats and Allied Custom Upholsterers donated upholstery services, covering the seats in red vinyl to withstand the elements.
Devra Selenis, vice president of communications for SacRT, says it was a no-brainer for SacRT to get involved. "It really is a great example of a creative partnership that not only makes transit fun, but also benefits the community as a whole," she says. "You would never have heard of this 10 years ago. It's really nice to see how the landscape is changing."
The idea for the pint-sized concert space in a bus shelter—which is nicknamed "Busker" and features graphics created by local designer David Angstead that pertain to the symphony's upcoming lineup—came from an article published in Sactown magazine's December 2015/January 2016 issue for its back-page "Why Not Here?" column, which described a similar project in Pittsburgh, Pennsylvania. A jazz collective turned an area bus shelter into "Pittsburgh's Smallest Jazz Club" in July 2015 and filtered brassy tunes into the covered stop. The concert hall vibe in the Sacramento shelter is amplified with the addition of the seating which, depending on how the chairs hold up during the seven-week run, could conceivably stay in place permanently as a visual nod to the adjacent theater.
Buckman says that the project in Sacramento could be a way to get people excited about the performing arts here, adding, "I hope because we've gone the full route here—we've got theater seats replacing the bus bench, we've got cool graphics and the music—that we can create a unique and special experience for people for the brief time they are sitting there."
"The World's Smallest Concert Hall" is located in the bus shelter at 14th and L streets. The Sacramento Philharmonic & Opera's 2017-18 season starts Oct. 14, at 8 p.m. at the Community Center Theater at 1301 L St. Tickets range from $18-$50. For more information or to purchase tickets, call 808-2000 or visit sacphilopera.org
You Might Also Like
Taking It to the Streets: the rise of the civic guerilla movement
Street Art: how Sacramento can get creative with its crosswalks
Ready Set Glow: let's create our own luminescent bike lanes