A drive-thru summer art festival brings a taste of Burning Man to Rancho Cordova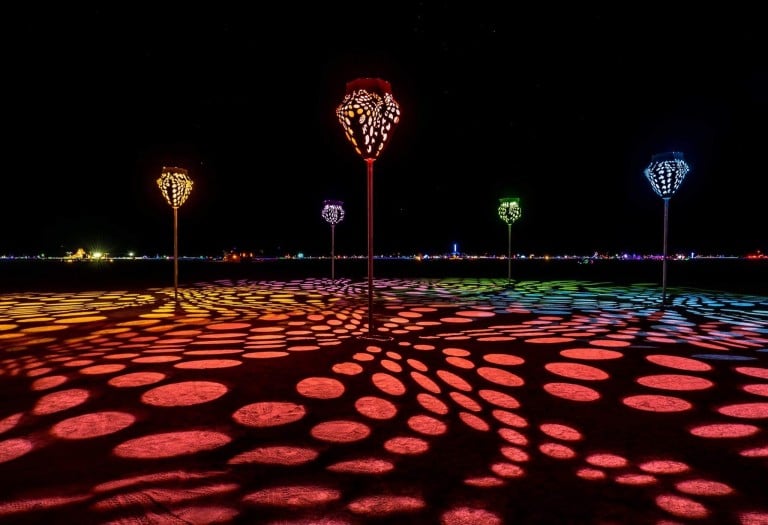 A 12-foot-tall aluminum humanoid figure with a glass heart stands sentry with arms outstretched. A metal bear-like quadruped looks ready to wind its gears and swipe at passing prey. A cluster of coiled tubes resembles something that might have come from outer space or the deep ocean.
This surreal scene is known as Summer Spark, a 1.3-mile drive-thru nighttime festival inspired by Burning Man (canceled this year due to the pandemic) and taking place this weekend, July 24 and 25, at Rancho Cordova's Mine Shaft Center. Organizer Ed Fletcher—former Sacramento Bee reporter and current president of Sac Valley Spark, a community-focused arts nonprofit that operates on Burning Man principles (of which there are 10, including radical self-reliance, civic responsibility and radical inclusion)—says that since people couldn't go to Burning Man this year, he wanted to bring Burning Man to the people.
As you steer through 19 larger-than-life art installations, you'll see 11 that have come from past Burning Man festivals, including Bee or Not to Bee, featuring a 15-foot-long honeybee hovering over a flower of more than 33,000 glass marbles, and Circle of Friends, the aforementioned humanoid sculpture created by Folsom's Christopher Wiggins and the Circle of Friends Camp.
The remaining eight pieces are brand-new commissions by local artists, like Motherhood by Sacramento's Melissa Uroff, a 3D collage of neon lights and fake flowers, capturing the beauty and chaos of birth. Elsewhere along the route, the Burning Man experience will manifest in performances by fire dancers and demos of "mutant" vehicles, like a 1990 Volvo sedan souped up with steel plating and plywood to resemble a blazing medieval castle. Tune into 96.5 FM to set the apocalyptic mood—Summer Spark DJs will be spinning house music and EDM tracks.
You can also grab festival food without leaving your car. At the beginning of the drive, order carne asada fries from Azteca Street Tacos or pulled-pork-topped tater tots from Drewski's Hod Rod Kitchen using Sac Valley Spark's website—staff from the food trucks, parked along the route, will deliver the grub to your car window as you pass by, a twist on a Sonic Drive-In.
While you may not be able to camp out under the stars or trade a hug for a piece of mushroom jerky, Fletcher hopes Summer Spark ignites a bit of Burning Man energy closer to home. "We're trying to translate what happens out there in the desert to Sacramento in a meaningful way," he says.
$20 per vehicle for a timed-entry ticket. $30 per vehicle for a drop-in ticket. Fri. & Sat. July 24 & 25. 7 p.m.-midnight. 2300 Mine Shaft Ln. Rancho Cordova. svspark.org
You Might Also Like
In the Name of the Father
Fields of Gold
The Fall & Rise of Hobo Johnson