A Fair Assessment
With a new CEO on board, the California State Fair has a chance to start fresh and live up to the grand plans made by Cal Expo's creators nearly 50 years ago. A little Disney magic might just do the trick.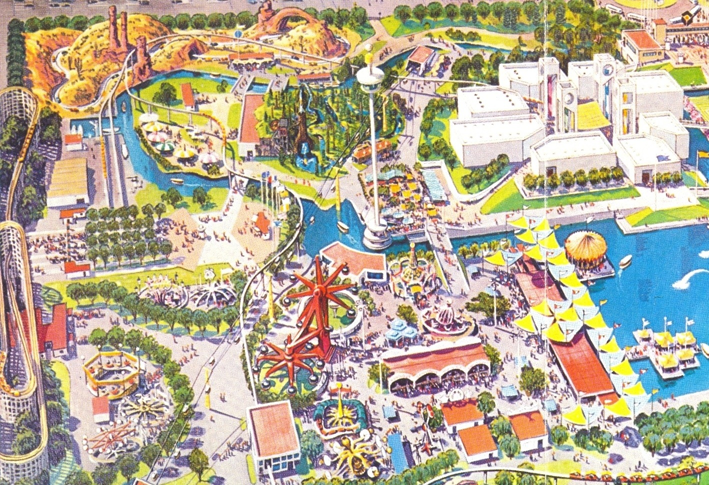 WWhen Walt Disney opened Disneyland in 1955, he famously remarked, "Disneyland will
never be completed. It will continue to grow as long as there is imagination left in the world."
If only that could be said of today's California State Fair.
When Governor Ronald Reagan christened the most recent location of the peripatetic state fair on Exposition Boulevard in the summer of 1968, 13 years after Disneyland opened, the state seemed fully prepared to embrace Disney's philosophy of family entertainment and world-class grandeur, and even went so far as to emulate the Magic Kingdom with nightly fireworks, then-striking architectural elements and even a wonderfully futuristic monorail.
In fact, the general manager of the bold new Cal Expo complex, Eugene "Doc" Lemmon, was previously director of operations for Disneyland. And Cal Expo's director of design and construction, Louis H. Roth, was a project engineer for Disneyland (his name is even painted on one of the Main Street windows there). And a 1960 Sacramento Union article reported that state officials envisioned "a futuristic combination of Space Age exhibition, Disneyland, and Knott's Berry Farm."
Today, 45 years after Cal Expo opened, what are the most memorable features of the state fair? Nightly fireworks, now-retro architectural elements and, yes, the still wonderfully futuristic monorail.
So much for progress. Cal Expo was built nearly a half-century ago, but unlike Disneyland, it's barely changed a bit.
But with a brand-new CEO on board—Rick Pickering—now's the time for change. So where should he start?
Blue Sky Thinking
At Disneyland, there's a program called Blue Sky where the company's "Imagineers" dream big and float ideas, initially without much consideration for cost or complexity. It's the stage where wild ideas are encouraged. And, believe it or not, that's how Cal Expo and the state fair started, too. The ambitions of its planners were as big as California.
In 1966, the GM, Doc Lemmon, wrote that "the Exposition is unique because it will be operated on a year-round basis, it is being planned by some of the best architects in the nation, and it is drawing on the knowledge of experts gathered from far and wide."
In the '50s and '60s, fair organizers planned two 18-hole golf courses designed by the legendary Robert Trent Jones, a 10,000-seat arena, a structure resembling the St. Louis arch, two themed islands, and much more to meet their goal to "bring California the most dynamic year-round exposition and fair that any state or country ever produced."
Wow.
If Pickering wants to live up to the high bar set by his predecessors, he and his board need to bring in some new blood, both from the community and from throughout the state, to help create a new vision for Cal Expo.
But not just more fair experts, please. Instead, Pickering should convene a diverse advisory committee of people, including world-renowned California architects like Frank Gehry or Thom Mayne; entertainment giants like AEG (which now has a relationship with our city, thanks to the proposed arena deal); Hollywood set designers; Silicon Valley venture capitalists; editors at California-based magazines like Dwell and Wired, which track the newest innovations in science and design; the VisionMakers entertainment group, comprised of former Disney executives; and, yes, some executives and Imagineers from Disney itself (as it happens, one of Disney's chief Imagineers, Joe Rohde, was born in Sacramento).
There should also be local representatives who will keep Sacramento's best interests in mind. Politicians like Mayor Kevin Johnson, State Senate Pro Tem Darrell Steinberg, Congresswoman Doris Matsui; deep-pocketed investors and philanthropists like Joyce Raley Teel and Angelo Tsakopoulos; and creative minds like prominent local architects, and nontraditional creative thinkers like Stage Nine's Troy Carlson (who has been designing some of the fair's best exhibits in recent years).
Give this new advisory committee a grand tour during this summer's fair and invite its members to think big—not for a regional fair, but for a brand-new vision that represents California. Some might be willing to make investments, and others might be willing to donate time and talent if they believe they're being asked to serve their home state in a bold and ambitious undertaking.
Building Blocks
When you think of the state fair's physical attributes today, you likely think of the towering concrete structures that stand sentry over the exhibit spaces, along with the oddly iconic, egg-shaped water tower, and that's about it (by the way, Rick, please repaint it with the original, mod '60s stripes again; very retro cool).
But like Disneyland or a bustling metropolis, the physical design of a place should inspire some measure of wonder and awe. The new California State Fair needs its own physical iconography that excites the senses. That's where the architects come in. A dream scenario, of course, is that Frank Gehry is willing to design an iconic new entrance or pavilion.
But because the fair only runs a few weeks per year, tens of millions of dollars likely can't be spent building out the entire fair (though done right, a summer-long or year-round fair—as originally conceived by the Cal Expo founders—could be an economic and cultural boon for the city).
So build a few iconic structures and instead of merely asking counties to construct folksy little exhibits, start holding annual statewide design competitions to create extraordinary temporary works of architecture.
There are, for example, designers and architects who create mesmerizing inflatable (and thus portable) architecture. There's even a global design movement built around constructing pop-up shops from massive steel shipping containers (we do, after all, have a deep water port).
Another form of destination architecture is the new Top o' Texas Tower ride that will debut at the site of this year's State Fair of Texas. The 500-foot tower will lift 100 people up to the top, where it will slowly spin, offering breathtaking, 360-degree views. Its $12 million cost is being funded by attendance receipts collected in recent years.
The original designers of Cal Expo actually envisioned something similar (you can even see it on the rendering on the previous page)—an "exhilarating sky ride" that was to tower over the fair. But it was never built. Sacramento has never had an observation tower. Cal Expo could change that.
Music for the Masses
One of the biggest mistakes that Cal Expo has made over the years was giving up its 14,500-seat outdoor amphitheater. Once run by Bill Graham Presents, the venue hosted acts from David Bowie to Depeche Mode to Tina Turner. But because of noise complaints from residential areas across the river and an ensuing lawsuit from the City of Sacramento, Cal Expo booted Bill Graham and shuttered the venue in 1998, forcing today's concertgoers to trek 45 minutes north to Wheatland to take in large-scale outdoor shows.
Since then, Cal Expo's concert series, now held in a much smaller venue, has devolved considerably. Last year, the Kentucky State Fair in Louisville featured Rascal Flatts, Hank Williams, Jr. and Journey. Minnesota's state fair booked Bonnie Raitt and Blake Shelton. Cal Expo's musical entertainment options in recent years have included acts like Rick Springfield and Weird "Al" Yankovic.
When Cal Expo opened in 1968, it booked the Royal Philharmonic Orchestra of London.
Rebuild a permanent outdoor amphitheater at Cal Expo and bring back big-time outdoor concerts. The NIMBYs across the river agreed to a set of noise curfews back then, and we're confident that new technology can make a quieter outdoor arena a reality.
Farm to Fork
One way that the state fair has been ahead of the curve is in its celebration of agriculture, such as it is. There are, in fact, a few agricultural exhibits past the barricades of Bloomin' Onions stands and assorted fried food shacks (alas, no fried Twinkies this year, may they rest in peace), beyond the sea of Jacuzzi vendors, and tucked back behind the industrial buildings that house the Ginsu knife hawkers.
Now that Sacramento has rightly proclaimed itself as the Farm-to-Fork Capital of America, it's time to find a way to shine a brighter spotlight on agriculture and local food at the state fair.
The fair should be inviting chefs like Alice Waters, Thomas Keller, Patrick Mulvaney, Grange's Oliver Ridgeway, Enotria's Pajo Bruich and other regional champions of local food to brainstorm ways to bolster Sacramento's claim. Celebrating agriculture, after all, was one of the fair's founding principles. Long ago, when the fair was located in the central city, there was even a majestic agricultural pavilion (unfortunately it was torn down in 1908).
There now exists an extraordinary opportunity for the state fair to champion healthier eating and educate the public about our agricultural heritage, including our world-class wine and beer industries, in a more exciting, engaging way.
Tomorrowland
In the end, the California State Fair needs to emulate Disneyland in its focus on telling stories through experiences, sounds and tastes. In this case, the stories aren't fairy tales, but extraordinary examples of the things that make this region and this state so amazing.
Echoing Walt Disney's 1955 hopes for Disneyland, Cal Expo's original general manager, Doc Lemmon wrote in 1966 that "the new Exposition will be a dynamic, ever-changing affair, reflecting the constant growth and advancement taking place in the nation's most vital and progressive state."
This past year, prompted in part by the actions of Sactown magazine, Disneyland donated the massive letters spelling "California" that once stood in front of Disney's California Adventure Park to the State Fair. They will be installed at Cal Expo in the near future.
Let's hope the new letters spell more than just our state's name, but provide some much-needed Disney pixie dust for the fair that time forgot.