A Fork in the River
In Oregon and Idaho, rafting trips combine nature with riverfront farm-to-fork dining. With stunning rivers, great weather and a rich agricultural heritage here at home, why not feed ourselves on the river that feeds our land?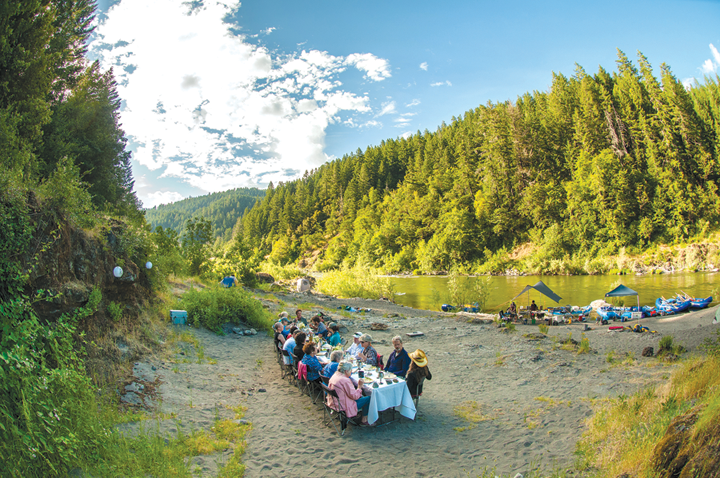 The Idea
The beauty of Sacramento pursuing a higher profile as America's Farm-to-Fork Capital is that it embraces who we are already are. Agriculture is an intrinsic part of our historical identity. But there's also a strong argument to be made for us declaring ourselves the Outdoor Adventure Capital of America. People have moved here from all over the country for our rivers, bike trails, stunning hikes, nearby mountains and more. So why not combine the best of both worlds?
In Oregon, a group called Farm to Fork Event Co. partners with Momentum River Expeditions, as well as top regional chefs, farms and wineries, to create an immersive celebration of all things scenic and culinary with two multiday rafting trips down the Rogue River in Oregon and Idaho's Salmon River. Each day, rafters come ashore and are wined and dined with local bounty. And a portion of the proceeds go to river conservancy groups and a nonprofit that supports small family farms.
Sacramento is tailor-made for such excursions. Not only do we have some of the best river rafting in America, with a host of companies already offering overnight trips, but we also have extraordinary regional wineries, farms and chefs who are committed to local food. Soil Born Farms in Rancho Cordova is located only yards from the lower American River and would make a perfect venue for a rafting trip to visit. And the American is also home to incredible bass and salmon fishing. Rafters could feast on fish caught mere hours before lunch or dinner, paired with crops grown right on the river's edge.
The Players
There are a number of regional rafting companies that could partner with chefs, farms and wineries. One of the largest, O.A.R.S., based in Angels Camp, organizes rafting trips around the world and already offers a local food rafting trip in Oregon featuring "farm-fresh produce, meats and cheeses sourced exclusively from the local 'foodshed,' with fresh seafood from the Oregon coast." In fact, they already offer a "Wine & Raft" tour on the American River with visits to El Dorado County wineries. And Soil Born Farm's proximity to the river makes it a natural fit; there's little doubt that some local chefs and wineries would want to get involved, too.
The Bottom Line
The relatively new niche of "culinary tourism" is a fast-growing business around the world, and Sacramento already has all the ingredients to make it a success here. With our newfound farm-to-fork identity and rafting season upon us, now is the time to make some serious waves.