A (Fresh) Fish Tale
An all-star restaurant team launches a sushi-focused Japanese bistro in El Dorado Hills that keeps things pure and simple.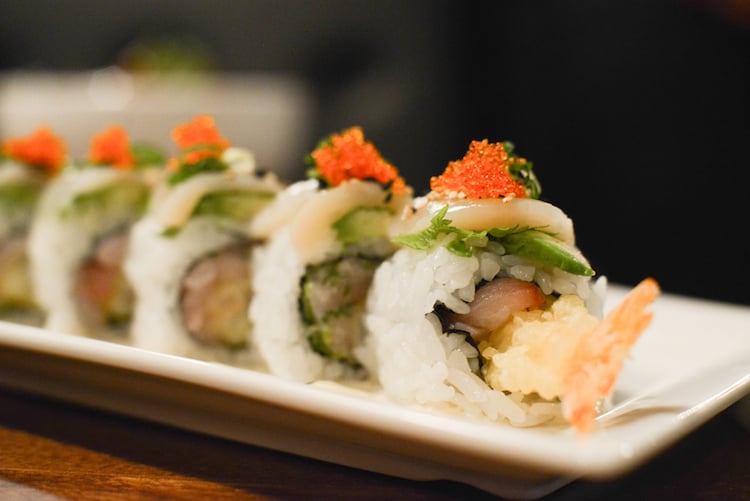 Aji Japanese Bistro
4361 Town Center Blvd.
El Dorado Hills
941-9181
aji-bistro.com
R
EElk Grove native Nick Dedier's résumé reads like a bucket list for jet-setting gourmands: GM of Thomas Keller's Ad Hoc in Yountville, manager of San Francisco's Gary Danko, assistant general manager of Las Vegas' Daniel Boulud Brasserie and another Keller restaurant, Bouchon, and a worldwide consulting gig for Auberge du Soleil resorts.
But when the 34-year-old hospitality hotshot decided to open his own eatery, there was only one location he considered—the Sacramento region, a return to his roots and his relatives. "It absolutely had to be Sacramento," he says with conviction, adding he was tired of "living a fabulous life with no one to share it with."
These days, he's got plenty of company at Aji Japanese Bistro, a joint venture with Russell Okubo, a veteran local chef with formidable credentials of his own. A graduate of the California Culinary Academy, Okubo started out at The Firehouse and worked his way up to executive chef for Fat's Family of Restaurants, with stints at Tokyo Fro's, Bel Air Markets (where he introduced sushi into the grocery store chain in the early '90s) and his own joint, Sumo Sushi in Elk Grove, among others, in between.
In mid-December, open just three days at the El Dorado Hills Town Center, Aji's sleek rustic-industrial space is filled with a warm, energetic buzz. Behind an entryway made of rough-cut birch branches, servers in crisp gray shirts navigate the polished concrete floors, trays laden with sushi rolls, ramen and Asian "street food" appetizers. Dedier, low-key in a violet V-neck sweater, faded jeans and an easy smile, wanders among the simple dark wood tables, chatting up the patrons with gracious aplomb, while behind a long counter with crab cages dangling overhead, sushi chefs slice maguro and hamachi with quick, deft motions.
It's no surprise that, despite their European culinary training, Dedier and Okubo decided to go Japanese—the two first met when Dedier was at Elk Grove High School and landed a job as a waiter at Okubo's Sumo Sushi.
And they've remained close friends ever since, though Dedier moved on to jobs at casual chains like Strings Italian Cafe, earning tips to put himself through Sacramento State, where he graduated with a degree in government. He considered being a financial advisor or a CHP officer before committing to his passion for food and attending The Culinary Institute of America in New York, an idea that had appealed to him since reading about it in Gourmet magazine when he was only about 12.
After finishing in 2005, Dedier took a job as a cook at the Bellagio in Vegas, but quickly realized that $10 an hour wasn't going to pay his student loans. He decided to put down the pan and move to the front of the house, landing a gig as a server at the then-new Daniel Boulud Brasserie in the Wynn. The hotel had just opened as well, and things were chaotic. Within a few months, he worked his way up to GM, after replacing an assistant manager who "just cracked." From there, he earned a reputation as a premier player in the exclusive enclave of high-end dining operations.
Okubo knew he needed that determined discernment when his concept for a traditional Japanese establishment morphed into something grander. He had left Fat's in 2011 to run the food and beverage program at gambling den Casino Royale because they made him a "good offer." But when he found himself making mostly grilled cheese sandwiches and chili dogs, he realized that stability can be stifling and started thinking about another venture of his own because "you can only be recognized and do so much when you're working for someone." So he called up Dedier.
The concept that they decided on was an upscale, yet fun, family-style bistro—five-star food with great service but no fuss. While sushi is the anchor of that angle, Dedier and Okubo are adamant that Aji isn't your typical crazy roll place, where the maki can come out looking like a freeway accident of 15 kinds of fish, doused in a bloodbath of pink mayo. "It's clean, simple, affordable and fresh," says Okubo.
Aji (pronounced ah-jee), a Japanese term that translates loosely to both taste (the kind that lingers and teases) and potential, delivers on that vision. The food is all about clarity and restraint—fish and excellent rice in a monogamous marriage, unsullied by sauce. The result is exactly what sushi was always meant to be: refreshing, interesting, satisfying and virtuously clean. Take the spicy scallop and cucumber roll, which arrives barren, the spice coming from a sparse zigzag of sriracha and miso sauce layered on the plate. The scallops are thick chunks of day-boats, pulled moments ago from the genteel raw bar that graces the corner of the dining room, an elegant display with oysters, lobster and shrimp that speaks to Dedier's sophisticated Napa sensibilities.
Venturing away from the sushi is equally as rewarding. The siu mai spring rolls are crispy and flavorful without any oiliness, and the house ramen is a rich, comforting bowl perfect with chewy noodles, egg, bamboo shoots and fried shrimp, while the kakuni buns, a deconstructed take on baos, combine sweet, tender pork belly and onion slaw inside a dense roll that's served looking like an Asian version of the taco. Okubo's trademark is layered flavors that reveal themselves slowly, and every bite at Aji Japanese Bistro seems to end with an unexpected but pleasing finish.
The restaurant also has a full bar, where "cocktail guru" Balele Shoka (formerly of Restaurant Thir13en) has created an inventive collection of drinks like the Kyoto New Year, a fizzy mix of Bombay gin, Banzai Bunny sparkling sake and Heering cherry liquor, with a brandied cherry resting on top of a lemon zest shell, meant to be slurped like an oyster.
While Okubo deftly manages the kitchen (even giving lessons on the proper way to scrub a grill), Dedier does his magic on the floor, creating an atmosphere where the experience is as much of a draw as the meal itself—that electric vibe that makes a restaurant feel like the place to be rather than just a place to eat. "There's got to be value on something other than the food, and it's got to be the hospitality," he says of his management philosophy. "People are paying for knowledgeable, confident service that's warm and welcoming and very familial."
While Aji Japanese Bistro is off to a deservedly strong start, both Okubo and Dedier know that consistency is the key to long-term success. But that, says Okubo, is where their combined experience pays off. "We are both really good in our departments. We're called the dynamic duo in our families," he says with confidence. "I'm excited. It's perfect."