A holiday-themed pop-up bar comes to Sacramento this December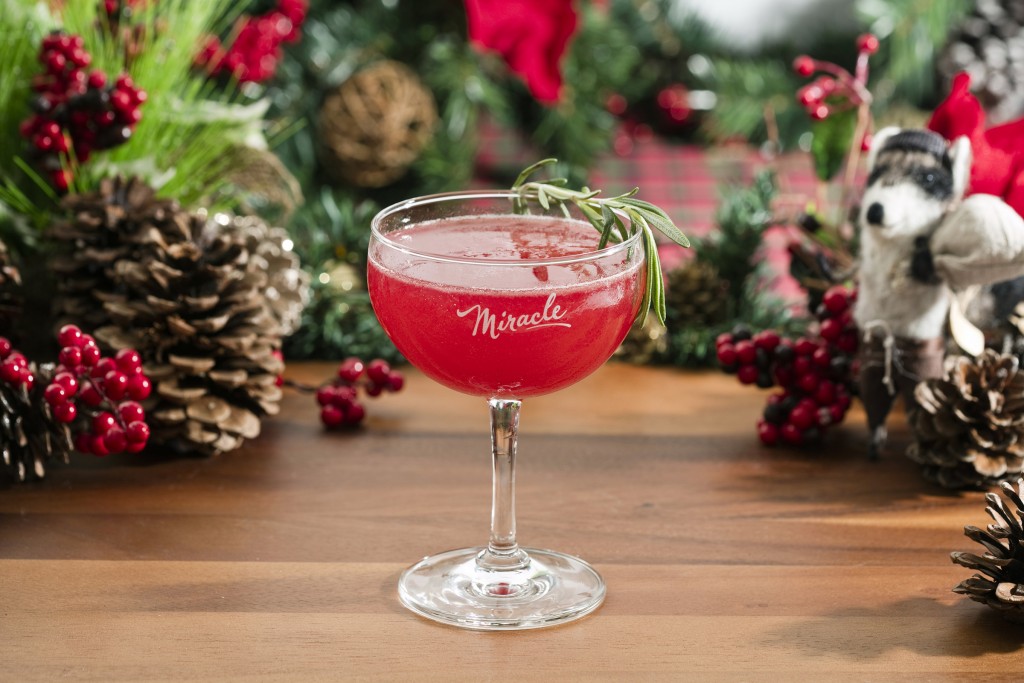 The Red Rabbit Kitchen & Bar will transform into a holiday haven this December, replete with festive decor and unconventional Christmas-themed cocktails, as part of the worldwide yuletide pop-up bar concept called Miracle.
Matt Nurge, co-owner and bar manager at Red Rabbit, got the call from Miracle manager Joann Spiegel about six months ago, inviting Red Rabbit to join the roster of 50 bars around the globe that would take part in the Christmas-themed bar—which got its start at the New York cocktail bar Mace in 2014—this season. Other participants include New York's Boilermaker, Chicago's Orbit Room, San Diego's Polite Provisions and The Trap in Athens, Greece.
"I was so honored that she would even think of us," Nurge says, "I just said, 'Yes. I don't know how we're going to do it, I don't know where we're going to do it, but yes.' Because you just don't say no to something that cool."
From Dec. 3-24 starting at 3 p.m., the midtown hot spot will serve a selection of holiday-themed cocktails created by Spiegel and Mace owner and beverage director Nico de Soto. The drinks bear tongue-in-cheek names that are references to holiday movies (like "How the Gimlet Stole Christmas," a blend of gin and pine-caraway sage cordial, and "You'll Shoot Your Rye Out," made with pumpkin-spiced rye whiskey, Budweiser-marshmallow syrup and an egg) and classic Christmas songs ("Jingle Bell Nog," with cognac, amontillado sherry and peanut butter, and "Run Run Rudolph," tequila, coffee liqueur and iced Mexican hot chocolate), or plays on words like the Christmopolitan, which is made with vodka, elderflower, spiced cranberry sauce, rosemary and lime.
The beverages will be served in designated glassware created exclusively for Miracle by Cocktail Kingdom—think Santa face mugs and tumblers sporting flying reindeer—that kitsch collectors can take home (10 percent of glassware sales will be donated to Action Against Hunger, which works to fight global hunger and malnutrition).
During the pop-up, Nurge says that Red Rabbit will be serving a truncated dinner menu made for pairing with the Miracle cocktails and featuring items reminiscent of a traditional Christmas dinner, like roast beef porchetta, green bean casserole and roasted Brussels sprouts.
The restaurant itself will also get a Yuletide makeover. Nurge says to expect LED-lit trees, wrapping paper, gifts hanging from the ceiling, holiday scenes painted on the glass windows, and a life-size Santa chair, where on the weekends people can likely find Santa (played by Nurge's bar-owner friends like Shady Lady's Garrett Van Vleck) or Buddy the Elf for a photo-op. The holiday ambiance will be further enhanced by seasonal tunes—Nurge says the soundtrack will be "cheeky," with potential for themed music nights like punk rock or rockabilly.
"The cool thing about Miracle is that because they hand choose their partners, they trust everyone they're partnering up with," says Nurge. "So other than the cocktails themselves, they kind of let each bar do their own original tweak on it, and we'll definitely be doing a Rabbit tweak on it."
The Miracle pop-up runs from Dec. 3-24 daily beginning at 3 p.m. at the Red Rabbit Kitchen and Bar, 2718 J Street. For more information or questions, call 706-2275. theredrabbit.net
You Might Also Like
Five bucolic farms to visit during Placer County's Mountain Mandarin Orchard Days
Chill out at these five local ice rinks this holiday season
Global Winter Wonderland will set Cal Expo aglow once again