A la Cart
Tiger—a new bi-level restaurant and bar on K Street—reinvents the dining wheel with dim-sum-style trolleys that roll out inventive craft cocktails and tasty New American bites.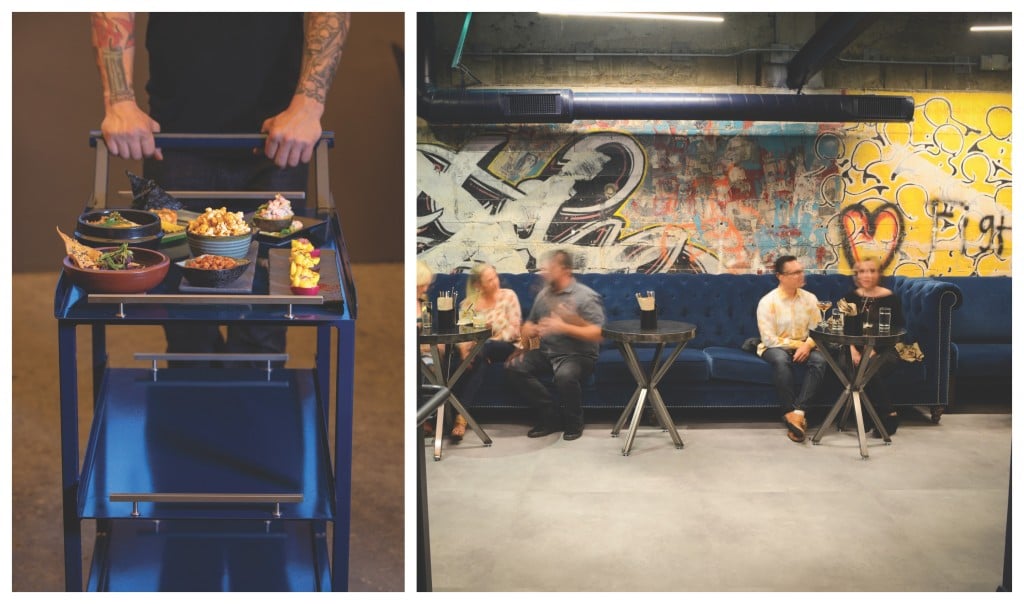 Tiger
722 K St.
916-382-9610
tiger700block.com
R
TTake a seat on one of Tiger's plush, jewel-toned banquettes, beneath an animated fuchsia neon milk bottle at street level or a wall splattered with authentic vintage graffiti downstairs in the basement, and start counting. In five minutes or less, on average, a bar cart will rumble up to your table, laden with draft cocktails, such as a Negroni Bianco and an Old Fashioned—ready to be dispensed tableside.
Drinks secured, nab a plate of earthy, sweet vegan beet poke, with ginger-roasted beets, crunchy bean sprouts and two types of seaweed off the next dim-sum-style cart. Sound a little too healthy? Wait another few minutes until a bacon-ranch cheese log rolled in pecans glides into view, or snap up a boat of flash-fried cauliflower spiked with Fresno chilies, herbs and crunchy chili-garlic "crack" instead.
Maybe you're here before or after a Kings game (Tiger is open until 2 a.m. every night), or ducking in for happy hour after a long day in a beige cubicle. Whatever brings you to the new bi-level food and beverage palace that opened in early November a stone's throw away from Golden 1 Center, you'll be as entertained by the novel service format as you are by the clever eats, drinks and décor.
Sonny Mayugba and his partners sharpened their hosting skills at popular midtown hangout The Red Rabbit before setting their sights on this more ambitious, high-risk, high-concept enterprise. Mayugba, barman Matt Nurge, chef John Bays and investor David Pringle signed the lease on the two-tiered restaurant space on the 700 block of K Street (aka The Hardin) way back in 2012, pre-downtown renaissance.
"The arena wasn't even there. The Maloofs owned the Kings then and later, they were going [to move the team] to Seattle," Mayugba recalls. "Still, we believed in [Hardin developers] Bay Miry and the late Ali Youssefi's vision for the 700 block, which included downtown housing and great locally owned places, and we wanted to be a part of their thing. "
The risk, it seems, was worth taking. The Kings stayed, G1C and Downtown Commons were built, and expectations for downtown as a destination rose. Meanwhile, the new venture went through various concepts—including an idea for a "hipster bowling alley" similar to Punch Bowl Social, which opened at The Sawyer hotel last December—but the partners kept circling back to the idea of a cart-based fast casual dining experience.
"What if we had no menu and the food just came around in front of you and you looked at it and said, 'I want this, I want that?' " Mayugba remembers of his brainstorming process. "Like the Instagram of food." He was partly inspired by childhood outings with his mom to local dim sum spots like King's Chinese Restaurant in West Sacramento and downtown's Capital Tea Garden. "I dig dim sum because you sit down and you have hot tea and food in three minutes," he says, adding, for the record, that he had the idea before he knew of and visited State Bird Provisions—the cart-style eatery in San Francisco that opened in 2011 and has since claimed a Michelin star—although he likes the comparison.
The room itself influenced the restaurant's eventual aesthetic. After living with the raw space for so long, Mayugba and company became attached to the basement-level street art and decided the restaurant's design should preserve it.
The downstairs walls are covered in this street art: swooping green block letters; bulbous pink clouds on a maroon sky; a shadowy silhouette of a graveyard; neat but drippy lettering spelling out "Who Cares"; and Mayugba's favorite, yellow-tinted human figures behind a red and black heart and the words "Fight War" written in block letters.
"When we saw the space, we said, 'It's filthy in here, but let's make it gorgeous. Wow, look at the crazy graffiti,' " says Mayugba. His wife, Lynn, thought up the name Tiger. "I wanted an animal that was stealthy and elegant, but had a ferocious side too," she says. Ferocious, elegant and #filthygorgeous. That was the design brief presented to Whitney Johnson of MTA Hospitality, and she loved it.
"In Sacramento, we have a whole [festival] now that celebrates graffiti and wall artists. We couldn't come into the space and cover this up—it's art," says Johnson, who worked with Lynn and Nurge's wife, Carrie, to hone the design. "These are the scars. This is what tells the story." Inspired by the colors in the original artworks, she purchased some smoky blue mid-century modern lounge chairs and collaborated with Bay Area upholstery company Cypress to custom-build mustard yellow and midnight blue velvet banquets. The gritty, urban art motif was extended by inviting local painters Jake Castro, Tyson Anthony Roberts and David Garibaldi to create, respectively, splashy geometric graphics for upstairs, floor murals for downstairs and a wall-sized tiger piece at the top of the stairs. Johnson also commissioned a 17-foot-long walnut table for the private dining room with claw-like grooves filled with fuchsia resin.
They had the place, they had the look. Now the team needed drinks and food to match. For the latter, they tapped Sacramento native Eric Sarmento. (For those who might be confused about Tiger's identity as a restaurant, bar or lounge, its tagline is "Bar. Bites. Carts," which Sarmento explains to mean "a New American cocktail bar that also happens to have really great food.") The venue's executive chef/operations manager—who has previously worked at Tuli Bistro and Tyler Florence's El Paseo in Mill Valley—was finishing up a stint at the Arden-Arcade outpost of Bandera in the spring of 2017 when he was approached by the Tiger group. Excited to craft a menu of shareable, cocktail-party-friendly bites, Sarmento quickly got on board with the dim sum concept.
At Tiger, that means instead of steamer baskets of soup dumplings or plates of pork ribs and chicken feet, the carts offer eye-catching contemporary dishes, like a snack trio of paprika popcorn, roasted garbanzo beans and addictive dukkah (clusters of cashews and sesame and nigella seeds fused by brown rice syrup and honey), or the tangy, toothsome fried "rice" with chewy farro, tart Granny Smith apples and a sunny-side-up egg, or a colorful assortment of savory pickled deviled eggs.
The trolleys move in a continuous flow, so guests can pick plates as their hunger and eyes move them. (Pro tip: While sitting next to the kitchen is less than ideal at most restaurants, request a seat near it downstairs for first dibs at dishes emerging from the swinging kitchen door.) For those looking for a more traditional dining experience, menus are also available, proffering a la carte "bites"—think succulent bulgogi sliders or gluten-free mac and cheese with slow-braised Superior Farms lamb neck and a flourless cheese sauce with yogurt, cream cheese and mozzarella—and "shares," big protein-packed plates meant for two or more, like a 32-ounce rib eye or a whole pan-roasted branzino.
"I love that style of eating—getting to try a ton of different things and not having to commit to one plate," Sarmento says. "When I go to restaurants with my wife, we order two things that we're both interested in to share because I don't want to just sit there and stare at my one plate of salmon or whatever."
And, as previously mentioned, it's not just food that folks can lift off the rolling trays. Tiger's bar program, which was developed by Nurge, who long helmed the bar at The Red Rabbit, is also crafted for wheeled service: Three draft cocktails—a classic Manhattan, an Old Fashioned made with an artichoke aperitif, and a Negroni Bianco, a variation of the traditional Negroni that uses a clear bitter liqueur instead of the typical Campari—are presented in carafes and poured tableside. House wines and canned beers are on offer on the carts as well.
Those drinks are additionally available at both the ground-floor and underground bars, as is the signature Tiger's Milk, which is served in an upside-down milk bottle filled with a proprietary blend of coconut milk, crème de cacao, hazelnut liqueur and Genever gin, and topped with a dusting of carob powder in the shape of the restaurant's logo. "When I was a kid, I used to eat Tiger's Milk bars," says Nurge, "and I was trying to hit the same malty flavor notes—kind of like a hippie Reese's peanut butter cup."
The restaurant's head-turning array of offerings and its eclectic design are a perfect match for the growing diversity of its city's residents, according to Mayugba. "Sacramento is a melting pot of not just demographics, it's a melting pot of lifestyles. You've got jet-setting tech wizards, Kings [fans], entrepreneurs and political lobbyists," he says. "Tiger is a place you can make fit your lifestyle—it's grungy in some ways and it's really sexy in some ways. Sacramento is ready for it now."