A Little Less Conversation
For decades, Sacramento's political leaders have watched windows of opportunity slam shut as they talk until they're blue in the face. Now we have a chance to let our current and future mayors do exactly what we elect them to do—lead.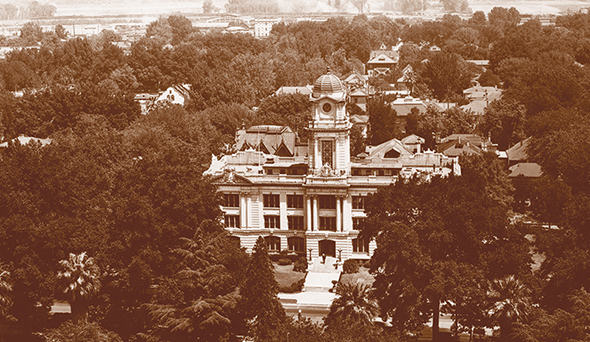 When I moved back home to Sacramento in 2004 after a decade in New York City, I could hardly believe all of the exciting projects that were on the drawing board for my hometown. No sooner than we'd settled in, my wife and I were attending more "charrettes"—public discussions about various civic projects—than we could count.
We showed up for debates about the future of the riverfront, the J-K-L street corridor downtown, a new state office skyscraper, and the "intermodal" transportation hub in the railyards. We sat in on design review meetings to hear from internationally acclaimed architects and from developers about their ambitious plans for high-density residential skyscrapers, civic centers, K Street redevelopment and, of course, plans for a new arena. 
These charrettes and other public meetings took place throughout 2004, 2005, 2006 and 2007. Sacramento's exciting not-too-distant future was the talk of the town. Unfortunately, that's largely all it ended up being—talk. Project after project fizzled, all in the midst of a national economic boom that was spurring other cities to new heights. Even when the recession's long, dark shadow began sweeping across the country, other cities were building new civic amenities like stadiums, performing arts centers and arenas. 
In Sacramento? Here we talked.
So if other cities found a way to thrive pre- and mid-recession, what was holding us back? In most big cities, citizens look to their mayors to make the big calls and take decisive action to help push their cities forward. But not in Sacramento. 
Here, the mayor's vote carries exactly the same weight as that of the other eight city council members. So, there isn't one leader; there are nine. That's like having nine governors in one state, or nine CEOs at one company. If the buck doesn't stop with the mayor in Sacramento, who does it stop with? City council members can point the fingers of blame at their colleagues or other city departments, but no one person is truly in charge. How can that possibly be?
Why are we content with this weak mayor system when most other large cities aren't? Where did Sacramento get the monopoly on wisdom?
The fact is, we elect a mayor every four years, and I strongly suspect that most people assume that the mayoral candidate they're voting for is the person who will actually be running the city. Instead, Sacramento is largely run by a city manager and a city council with nine equal votes. That's a fine model for smaller cities like Stockton and Chico. That's the system they use.
But other California cities like Los Angeles, San Francisco, Fresno, Oakland and San Diego have all moved to the so-called "strong mayor" system. In fact, of the 25 largest cities in America, more than two-thirds of them are now governed under such a system. When Gov. Jerry Brown was mayor of Oakland, he successfully pushed for the strong mayor system, insightfully arguing that it "counterbalances the parochialism of council districts." In other words, it allows the mayor to act in the entire city's best interests. 
So why are we content with this weak mayor system when most other large cities aren't? Where did Sacramento get the monopoly on wisdom? 
On Nov. 4, Sacramento will have the opportunity to join those cities when the public votes on an initiative called Measure L that, if passed, would alter our city charter by changing our form of city governance from a "council-manager" system to the strong mayor, or "executive mayor" system.
The crux of Measure L is that the current mayor and future mayors would no longer sit on the city council. He or she would propose city budgets, have the authority to hire and fire department heads, and make other key decisions that are now made by the unelected city manager. The mayor would also be able to veto certain council actions. There are some other points as well (all easily accessible on the city's website), but those are the major ones. It probably sounds a lot like what you thought mayors already do.
The opposition to Measure L is being led by Sacramento City Councilman Steve Hansen and former Mayor Heather Fargo. Their campaign slogan—carefully and unfortunately worded to scare the public rather than to educate it—is "Stop the Power Grab." It reminds me of the highly misleading "Save Memorial Auditorium" campaign of 1992, even though not a single person in the city wanted to tear the building down.
What the campaign is calling "power," of course, is actually "responsibility." Currently, our unelected city manager has that responsibility; if Measure L passes, our elected mayor would have that responsibility. 
The foundations of their argument, as they've articulated in the media and at various local functions, is that they are concerned with giving one person—the mayor—so much "power," they say, because it might lead to corruption or cronyism. The other tentpole on which their campaign rests is this: Things seem to be working pretty well now, so why fix what's not broken?
These are wildly specious arguments. First, Measure L dictates that any mayoral veto can be overturned by a vote of six of the eight council members. In other words, a strong mayor isn't a "king," as opponents have suggested. Secondly, this is a pilot program. This is an important point that is being lost in the debate. The measure mandates "voter reapproval" six years from now—a civic escape clause that allows us to jettison the new system if it proves problematic. Both Oakland and San Diego had similar voter reapproval requirements and, notably, both cities voted a second time to reaffirm the strong mayor form of governance six years later. In Fresno, a decade after instituting its own strong mayor system, The Fresno Bee's editorial page editor opined, "One thing is certain: It's far better than the old system."
And the opposition's oft-cited example of how the current system is working fine the way it is now is that Sacramento successfully kept the Kings and funded a new arena. 
But the arena almost didn't happen under the current system.
Just a couple of years ago, the arena project was nearly dealt a fatal blow by the city council. The NBA's deadline for producing a financing package for a new arena was March 1, 2012. Without a package, the NBA would allow the team to move to Seattle. The city council met on Feb. 7, 2012 to decide whether or not to require a public vote to use parking revenues to help fund the new arena. However, the public vote would not have taken place until June—after the NBA's March 1 deadline—which would have effectively ended the city's bid to keep the Kings and build an arena. 
The council was split on the issue, and the mayor was the deciding vote, resulting in a narrow 5-4 decision that ultimately kept the team here and forged a path for the new arena. Had just one more city council member opted for the public vote, the team would have been gone. However, in a strong mayor system, even if that had happened, the mayor could have vetoed the council decision.  
So it was not our weak mayor system that kept the Kings here. It was the 2012 city council that kept the Kings here (barely). If previous city council members who had strongly opposed any public funds for an arena had still been on the council in 2012, there would have been no recourse for the mayor.
The "No on L" proponents also suggest that such a system has the potential to breed corruption. But do they really think that corruption and cronyism are exclusive byproducts of empowering a leader with authority? 
Prior to 2008, when the current debate on strong mayor first started, the last time that Sacramento contemplated such a system was back in 1990. At the time, the city and county were considering a merger that would make Sacramento the seventh largest city in America, and the topic of creating a strong mayor position to oversee the newly merged metropolis was controversial then, too.
Concerns over corruption were also floated by the opposition at that time. In response, former City Councilman and then-Sacramento County Supervisor Grantland Johnson told The Sacramento Bee, "Certainly there could be incompetence, there could be corruption, there could be graft, but that can occur—and has occurred, I would submit—under a city manager form of government." 
And on June 11, 1990, the city council voted 6-2 to support the stronger mayor form of governance. Among the six council members who voted to give the mayor veto power over the council: Mayor Anne Rudin, and then-future Sacramento mayors Joe Serna and Heather Fargo. Yes, the same Heather Fargo who lost to Kevin Johnson and now opposes mayoral veto power. 
The strong mayor system was never enacted, however, because three of the four county supervisors opposed it, and the city-county merger never transpired. But then-Councilman Serna was particularly passionate in his response to the county opposition to the strong mayor concept, telling the Bee, "[They're] saying, 'Take this gigantic city … and run it like a village.' "
So, instead of focusing on what could go wrong by trying the strong mayor system on for size, why don't we focus instead on what could go right? Could decisions be made faster, allowing us to compete more effectively with other cities? Could we attract a deeper talent pool of mayoral candidates every four years? 
Mayor Kevin Johnson is a national celebrity who can open doors and garner support that most U.S. mayors can't. Regardless of what you think of his politics, he's able to give Sacramento a competitive edge on many levels. But it's highly unlikely that we'll see another celebrity mayor here in our lifetime. That's all the more reason that we need to empower future mayors with the ability to get things done. A strong mayor system will attract successful, decisive leaders who can take bold action instead of dragging out decisions until we miss even more windows of opportunity. 
Besides, are we really so self-satisfied to believe that we can't improve the way our city government works? As recently as 2002, being mayor of this city with nearly a half-million people was actually a part-time job. Even Stockton had a full-time mayor, but we didn't. We now look back and realize that was ludicrous, and thankfully we voted to change the city charter and fix that outdated system. We improved the city in a way that made sense. 
Now it's time to change the city charter again. In a manner frustratingly consistent with our outdated system, we've been actively talking about strong mayor for six long years. Since 2008, various council members have repeatedly asked, "What's the hurry?" The concept needs more study, they said in 2008; more time, they asked for in 2010; more discussion, they pleaded in 2012. This is how a weak mayor system operates. This is why progress comes slowly here. This is why we need change.
It's time, Sacramento, for a little less conversation, and a little more action, please.