A Man for All Seasons
At his new midtown restaurant, chef Chris Barnum puts the "local" in Localis with his inventive farm-fresh fare.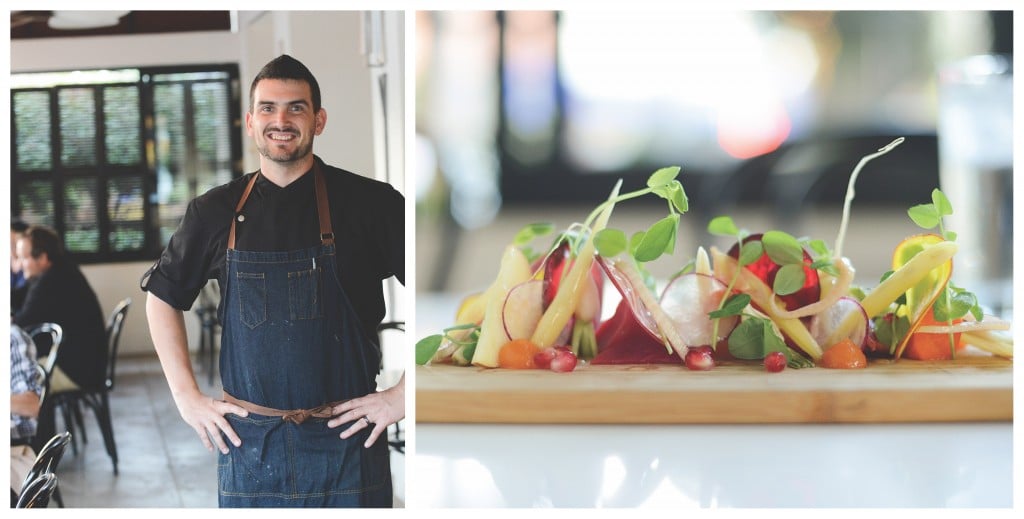 Localis
2031 S St.
916-737-7699
localissacramento.com
OOn a recent Saturday night at Localis, the new upscale farm-to-fork spot in midtown, the patio was bustling. A sharp-dressed Annie Lennox doppelgänger was strategizing with her dining partner on the best way to cover the menu highlights in a single, well-ordered meal ("You get the rabbit, I'll get the duck. Or should one of us try the tasting menu?"), and a group of highly coiffed suburbanites were toasting a night on the town with a dry rosé.
Localis patrons span a vast cross section of Sacramento culture—no ordinary feat in the five short months since the restaurant's opening—and everyone in the 40-seat house has heeded the word on the street: Localis is serving up haute farm-fresh food at a decent price, with a heaping side of equally sincere intentions. Executive chef Chris Barnum sources 95 percent of his proteins and produce from farms within 150 miles of the restaurant's midtown location at 20th and S streets. (The awkward corner spot, most recently home to the short-lived Neapolitan pizza joint, Trick Pony, features an engaging open kitchen, a lively eight-seat chef's counter and a no-frills outdoor patio—which the management team plans to renovate—that functions as a main dining room.)
"A 150-mile [radius] is just the half of it," says Barnum, previously the executive chef at Cibo7 in Roseville; before that, he was top chef at Winchester Country Club in Meadow Vista; before that, an electrician; and before that, a drummer in a touring death metal band called Dismal Lapse. "We're taking the idea of 'local' steps further. We're dealing with farmers one-on-one. We know what they're growing and what's coming up next in the crop rotation. We know their spouses, their kids and their pets. They're our friends."
The purest manifestation of Barnum's local-or-bust concept—which he's been ready to hatch since 2010 when he graduated from the culinary program at the Art Institute of California—is the Farm Plate, an infinitely Instagrammable, ever-changing showcase of the regional bounty. Beans from the vine, pickled cucumbers, and beets roasted and shaved fresh are arranged in a delicate tangle alongside globules of cucumber "gel"—most of the participating produce courtesy of Barnum's pal Scrivner Hoppe-Glosser at Azolla Farm in Pleasant Grove. The outward simplicity of the dish belies its precision, and that's how Barnum likes it—so impeccably sourced, so flavor forward, so technique driven that Localis will never be mistaken for just another restaurant jumping on the farm-to-fork bandwagon.
"Farm-to-fork isn't so much about being exclusive, it's more about being genuine," says the chef. Authenticity in food is an ideology Barnum, 33, has known since birth: He grew up in the historic gold-mining town of Foresthill, where his family and neighbors raised animals and crops for food. "I hunt. I fish. I cook in season. I eat in season. I've been attached to nature in this [way] my whole life. I've never bought a watermelon in December. I'm one of those guys."
Though Localis' menu changes "when it needs to, based on what's going on at the farms," chances are sterling that within a 10-block radius of the restaurant, you won't find anything on par with its greatest hits so far: The buttermilk-fried rabbit, for instance, is as soul-satisfying as any Southern fried chicken, but with a finer texture and more delicate taste. The jerk-seasoned quail is stuffed with coconut milk-braised greens to really underscore the recipe's Jamaican roots. And the umami-tastic grilled octopus is balanced by a pickled fennel salad and slightly spicy piquillo pepper "pearls."
From the last dish, Barnum has learned the most: First, tenderness from ocean-fresh octopus requires a bit of culinary TLC, and Barnum has perfected his proprietary technique over the last few years. (As expected, he's pleading the fifth on the cookery details, but that doesn't stop chef and seafood expert Billy Ngo of Kru restaurant from earnestly inquiring.) Second, California octopus can be unappetizingly stringy, so Barnum is using the five-percent leeway he's given himself to source beyond local boundaries to bring in more, er, robust tentacles from Spain. Third, and perhaps most importantly, the young chef has learned to curb his culinary enthusiasm.
An overzealous version of the octopus dish also included Monterey squid in tempura and pan-sautéed preparations, plus bits of preserved lemon. It was among the plates presented to a who's who of the Sacramento dining world—think Patrick Mulvaney and The Selland Group's Josh Nelson—during pre-opening test dinners set up by restaurateur and Localis co-owner Chris Jarosz. Needless to say, when critical comments from the industry bosses rolled in—among them, "Think about what's really necessary for the plate" and "Focus your flavors"—Barnum was in turmoil.
"I wanted to cry. I wanted to quit," he says. "I was in a Michelin mindset and putting too much on the plates. But then I started taking away elements until all that was left was the heart of the dish. That's the sweet spot."
The fine balance between mind-blowing inventiveness and tightly edited flavors and plating is an unspoken Michelin requirement that Barnum strives to achieve. Deft preparations of game proteins—such as quail from Fairfield's Tolenas farms or rabbit provided by another farmer friend, Kathryn MacRoberts of Newcastle-based Laughing Duck Farms—whet the appetites of curious diners, as does the occasional flourish of molecular gastronomy: Calabrian pepper foam, for instance, added smokiness to a recent corn risotto, and Tombo tuna nigiri is elevated with citrusy brightness from lemongrass pearls.
A Michelin-inspired five-course tasting menu—reasonably priced at a very un-Michelin-like $77—is the restaurant's signature offering. During our visit, the meal included a beet medley featuring fried, puréed, roasted, salt-cured, and pickled versions of the root vegetable; a melt-in-your-mouth beef-tongue pastrami with a rye tuile; and a last course of seasonal pâte de fruits, a grown-up version of Sunkist Fruit Gems.
In the city's rapidly evolving food scene, such finery is still viewed as an unapproachable display of chefly swagger. Even Jarosz, a food truck veteran who made his name with the success of Broderick Roadhouse, the West Sacramento destination for flavor-bomb sandwiches of the infinitely stacked and impossibly gooey variety, admits that this sudden shift in his portfolio toward more refined fare has been an education. "For me, shoot, it's a whole different world," says Jarosz. "Chris wants to sous vide this, foam up that, and my instinct is just to throw everything on the damn grill! But what we have in common is our devotion to really cool food."
"The American culture is very much meat-and-potatoes," notes Barnum, who serves more familiar grub (or his interpretation thereof) during lunch—jerk chicken tacos with black bean purée, pickled red onions, and lime crema on housemade corn tortillas, anyone? "I think people should be more open to eating different things. How many memories do you have of food? I have so many great ones. I hope to make those memories happen for other people. Seriously, it would be my pleasure."