A Moment in Time
Artist Joan Moment reflects on an upcoming Sacramento exhibit and six decades of adventurous art, including landing a solo exhibit at the Whitney Museum at the age of 36.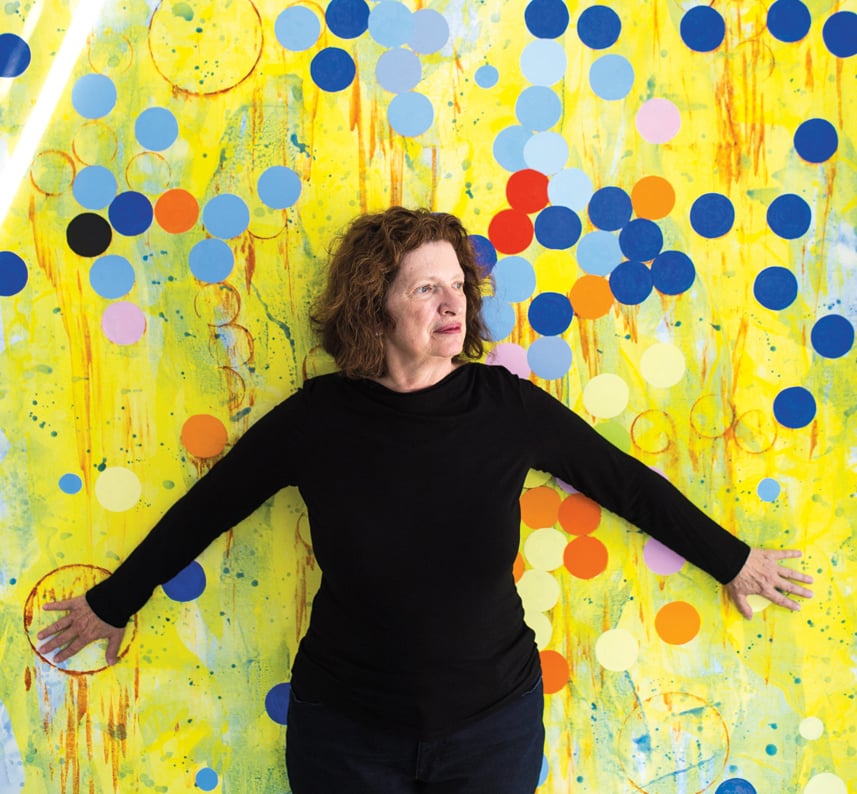 J
Joan Moment answers the door to her house, a modest Tudor on 35th Street in East Sacramento. A pale, short woman, her head a thick bushel of hair, she could easily be a decade younger than her 75 years. Lunch is waiting out back. The walls of the home are lined with her work, in particular the paintings with geometric patterns that have become a defining signature of her output.
The divide between Moment's home, which she cohabits with art critic David M. Roth, and her studio is marked by a slate walking path that traverses a lovingly attended garden. The studio, a voluminous detached building that rivals her house in size, is also filled with her art. There are works in progress, some of which will be featured in an upcoming exhibit at Sacramento's JayJay gallery starting on Nov. 6, as well as evidence of the six decades that she has been an active artist, since her grad school days back in the 1960s at the University of Colorado Boulder (where she studied with, among others, Sacramento area art legend William T. Wiley, who at the time was a visiting professor from his regular job at UC Davis).
The rare studio wall space that is not covered by Moment's paintings is given over to two posters of the composer Philip Glass, best known for his hypnotically repetitive operas and film scores. Glass' gazing presence makes perfect sense in this place: his music's rhythmic minimalism serves as a useful sonic parallel to her own art. She is too varied to be pigeonholed as a minimalist, but Moment's paintings are rich with visual patterning—circles like the foam of some massive surf, tiny spots that resemble distant stars, rough brushwork that suggests waveforms—and their seeming simplicity, like Glass' music, belies an underlying provocative intensity.
"The themes of sex, mortality, sensuality and transformation, spirituality," Moment says, before passing an avocado salad, "have been in the work from the beginning. In spite of the fact that the work appears, visually, to change, that is the thread." Moment has the patient tone of an artist-educator, having served as a professor for some three and a half decades at Sacramento State. She is as adept at explaining her own techniques as she is at describing those of the masters who preceded her. But while she retired from teaching in 2004, as an artist she is more productive than ever. She estimates that she typically spends six hours painting almost every day, ideally starting early in the morning.
In conversation she is vibrant and funny, reflective and curious. She is also a generous host, serving an alfresco afternoon meal of quinoa and grilled chicken, and discussing her long career, one that took a giant leap forward on one of the single biggest stages in the art world.
If Moment's career can be said to have had its specific moment, so to speak, it would have been in 1974, when, at the age of 36, she was granted a solo exhibit at Manhattan's esteemed Whitney Museum of American Art, home to major work by such painters as Edward Hopper, Georgia O'Keeffe and Jackson Pollock. That 1974 solo Whitney show followed her participation just the year prior in http://jayjayart.comone of the Whitney's celebrated, taste-making biennial group shows, in which her work was displayed on the same walls as those by famed artists such as Jasper Johns, Roy Lichtenstein, Robert Rauschenberg and Richard Serra.
In the essay accompanying the solo exhibit, the Whitney's then curator Marcia Tucker called Moment's work a "keyhole view of paradise, a still and magical world that seduces, enchants, and captivates us with eccentric, impossible delights." This success came early, and Moment says that what she felt primarily was a sense of shock throughout the experience. "It was kind of like a dream," she says. "Not a dream come true—there was something very surreal about it." In the early 1980s she began maintaining a second home in New York, but financial considerations, as well as her attachment to Sacramento State, had her give up her lease in 1993.
It was the Sacramento State position that brought Moment to this area in 1970, immediately following graduate school in Colorado. (Moment was born in rural Pennsylvania in 1938 and the family moved to Connecticut when she was 4 years old.) She has remained here ever since—that is, when she has not been serving as an in-demand visiting artist at Princeton or Wake Forest, among other institutions.
Even if you've never stepped inside the Whitney or a local gallery, chances are that you're familiar with Moment's work, having probably walked on top of one of her pieces. The Sacramento International Airport serves as the permanent home to her A Fragment of the Universe, a floor mosaic that measures a dozen feet by a dozen and a half. It rests in the upper level of Terminal B. Her mosaic depicts a broad suite of rough circles, some filled with colors, others letting the deep, aquatic blue of the background tiling show through. Moment was one of only three area artists invited to contribute to the airport's billion dollar expansion.
The mosaic was such a complex logistical undertaking, you might be surprised to find it was her first mosaic ever. Yet, if you appreciate how Moment ticks, it makes perfect sense that she would dive headfirst, with no prior experience, into a project involving countless tiny intricate little pieces—because trying a new medium has never intimidated her. Over the years she has actively worked with varied materials, ranging from a quilt made of balloons, to a pillowcase created from condoms, to painted fabric, to the abstract paintings with which she is so widely associated. And Moment does not paint only with brushes. She also paints with her fingers and with found objects, such as the tops of old film containers. At one point during her studio tour, mention is made of a lovely wooden vase of dried shrub branches situated on a cabinet in between mugs and mason jars full of paintbrushes. She pulls out one of the branches and begins to scratch at the floor. The branch shudders with the jerky motion of a divining rod, and Moment explains that she has been doing a series of paintings with these ragged, spindly sticks.
The exhibit during graduate school in Colorado that gained her the attention of legendary funk artist William T. Wiley (who, along with Moment and fellow former UC Davis professor Roy De Forest, earned a spot in the 1973 Whitney biennial show) was a room where she had lined up small piles of fecal matter. It was a characteristic Moment move: an earthy if controversial material, with an emphasis on decay, and an inherent testing of boundaries. And it was Wiley, then a faculty member at UC Davis, who would later recommend her for the Sacramento State position. The work also made newspaper headlines for weeks, as reports tweaked the work as outlandish. Speaking today, Wiley credits Moment's "nice balance of energies" as one of the reasons he felt strongly about her potential way back when. "[She had a] willingness to step off into the unknown, and yet there was a calm presence," he says.
Beth Jones, who now runs JayJay gallery with Lynda Jolley, talks about a time in the late 1980s when she was working at another local gallery and a "monumental" exhibit of Moment's paintings was in the planning. But because Moment was temporarily working from the East Coast at the time, Jones was unable to witness the art as it was being produced. When the work arrived in Sacramento, she recounts, "I looked at it, and I think at one point I cried, [thinking] 'My God, I might not be able to do anything with this.' " The work was too new, too different from what had preceded it, and she feared for her ability to find its rightful audience. Needless to say, all went well—and Jones represents Moment to this day.
Even when Moment's work does not make radical shifts in style, she has continuously distinguished herself in the broader context of the Sacramento art community. There is a centrality of abstraction to her catalog, and that differentiates her among the area's renowned figures. So many of the artists to gain fame in the area are firmly rooted in the figurative, in the objects of everyday life—from Gregory Kondos' placid landscapes, to Wayne Thiebaud's radiant desserts, to Mel Ramos' luscious women. Each of those men in their own way wrestled with abstract expressionism and found a subsequent, more realist means to view and portray the world. Moment, to the contrary, managed to make abstraction her own.
Not that there isn't a figurative impetus to her work. Early on she portrayed landscapes herself, and she uses impressions of foliage from her garden in some of her more recent efforts. She looks to the rough images of early cave art for a place in distant art history where the figurative and the abstract were one and the same. Philip Linhares, former curator at the Oakland Museum of California, has known Moment and her output even longer than has JayJay's Beth Jones. He accompanied the Whitney curator Marcia Tucker on the numerous California artists' studio visits that led to Moment's inclusion in the 1973 biennial exhibit. "She was interested in biomorphic forms," he recalls of Moment, "which would represent a seed or a pod or a bubble, or the center of a flower. The work changed from being figurative to boldly abstract, but still maintained an obsession."
As chief curator of art at the Oakland Museum for over 20 years until his retirement in 2011, Linhares included Moment in shows and added her to the museum's permanent collection. Locally, the Crocker Art Museum has acquired three of her pieces, and in addition to the airport, her work is displayed at the University of California Davis Medical Center, a bright triptych to calm nerves. Museum curators and leaders themselves have purchased her work for their personal collections, including the Whitney's Tucker and Lial Jones, director of the Crocker.
Despite the national appeal of her work and Moment's own East Coast youth, JayJay's Beth Jones sees a strong California impact on the transplant's fixation. "Turning her attention to nature, as she did in the 1980s," explains Jones, "meant looking at biology and archeological ideas: think of the Sierras, the ocean, but also the space industry, California being out on the frontiers of certain kinds of thought." In regard to the deep thoughtfulness in her art, Linhares credits what he calls Moment's "meditative quality," which comes out in the "rituals and process" of her practice. Moment herself refers to some of her starry portraits as "cosmic nets."
The work at JayJay will all be recent paintings, with the majority of pieces created during this year and last. Moment is hard put to verbalize a specific theme to this set, but confirms that primary colors (deep blues and yellows) and elementary shapes will rule the gallery walls at JayJay. There will be an emphasis on bright, immersive fields of carefully layered patterning. A piece titled Jiggling Polarities balances black and white circles atop a sunflower-yellow canvas marked with wavelike brushstrokes. One of the "blue" works, titled Planetary Realm, seems both macro and micro—the vast cosmos envisioned in the colors of a day sky, and also, on the other end of the spectrum, a life-giving petri dish as viewed through a massive microscope.
This is the mortality she speaks of as her lifelong subject—she pays witness to the tininess of human life in the broad universe, and yet the complexity of a living organism that is even more infinitesimal than our own. Asked about the biological undercurrent in her work, Moment mentions the nursing studies she pursued before attending art school. "The bacteriology class got in my blood," she says with a wink.
Joan Moment's paintings will be displayed at JayJay gallery (5520 Elvas Ave., 453-2999, jayjayart.com) from Nov. 6 through Dec. 21.