A new '80s cafe is a blast from the past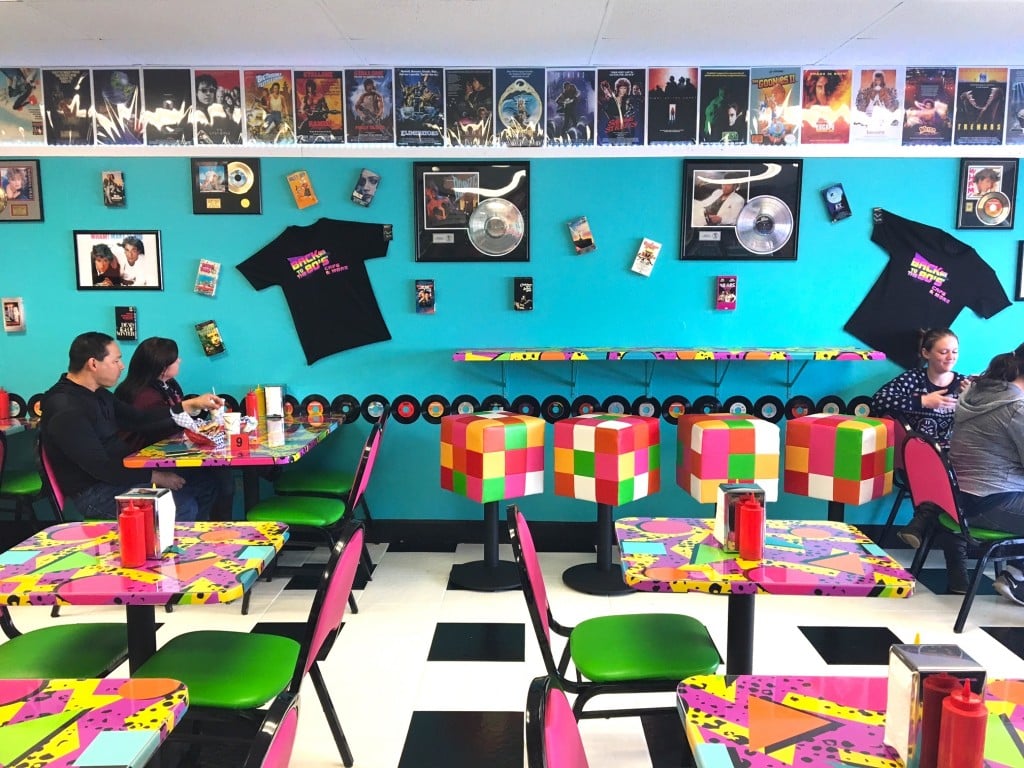 If you were first in line to see Star Wars: The Last Jedi last week or binge-watched season two of Stranger Things, or still break out the moonwalk whenever you hear "Billy Jean," a new retro cafe in Rancho Cordova will seem totally tubular.
The colorful restaurant, aptly named Back to the '80s Cafe & More (which originally debuted in 2014 as a collector's shop), opened on Dec. 2 with MTV music videos lighting up flat screens, movie posters from classics like Goonies and Pretty in Pink , and a Pac-Man machine beeping in the corner.
Run by owner Chris Knecht, who previously managed locations of Cheesecake Factory and Buffalo Wild Wings—the eatery is located in an unassuming strip mall, but on a recent Friday it was packed with customers, hungry for both lunch and a dose of nostalgia. And Back to the '80s delivers—right down to the beverage case, where you'll find once-popular drinks like twist-off Kool-Aid bottles and Jolt Cola.
The menu skews toward American comfort food, with era-appropriate names like the Risky Business Burger and the "Where's the Beef" Tri-Tip Salad. On the morning "Breakfast Club" menu, you'll find Tubular Pancake Sausage Roll-Ups and French Toast Busters, both served with a cup of fresh fruit. For something both sweet and savory, don't miss the melty throwback Monte Cristo sandwich with ham and Swiss between two thick slices of Texas Toast; it comes dusted with powdered sugar and ready to dip in house-made strawberry preserves.
The creative milkshake menu also celebrates '80s culture, like one inspired by Family Matters character Steve Urkel, which mixes cotton candy ice cream with Nerds candy; the E.T. shake with Reese's Pieces; or the Madonna shake, which comes topped with whipped cream and—what else?—two conical, cinnamon-sugar Bugles.
Though food is now the focus, the older shop portion of Knecht's venture has not disappeared. T-shirts, toys and collectibles are still available for purchase, including Michael Jackson trading cards, New Kids on the Block stickers, Gremlins plush dolls and pairs of Back to the Future Part II sunglasses that Knecht says he can barely keep in stock. So you can eat like an '80s icon and accessorize like one too.
3084 Sunrise Blvd. 368-7616. backtothe80scafe.com
You Might Also Like
A weekly pop-up will serve up fresh doughnuts in midtown
Sacramento fashion designer creates retro baby onesie line
Golden 1 Center now makes a doughnut chicken sandwich