A new artisan chocolate company sets the bar for mixing sweet goodness with wellness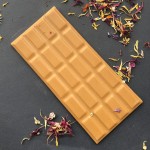 What if chocolate, quite possibly the world's most craved food, were the delivery vehicle for botanicals linked to, say, supporting mental cognition or preventing heart disease? Tack on the reported health benefits of organic cocoa (lowering cholesterol levels with flavanols or stabilizing your mood thanks to tryptophan) and consuming a daily dose could be the next "apple a day." For the new local boutique chocolate line Chelsea & the Chocolate Factory, this intersection of vice and virtue just may be the golden ticket.
"The West Coast seems much more open to incorporating wellness ingredients into food than the East Coast," says owner Chelsea Russo, a Folsom native and former managing director of Pennsylvania-based Nathan Miller Chocolate. Russo's just-released, limited-edition wellness bars double down on cacao's souvenir health benefits. She blames being a redhead—"We're allergic to everything," she says—for the minor health issues that have inspired the nutrient-rich capsule collection, which she handcrafts, one flavor per day, in a shared commercial kitchen in West Sacramento.
The Golden Milk White Chocolate, for example, contains organic turmeric, a proven anti-inflammatory, while the dark, malty-rich Camel Milk is more gut-friendly than a bar made with traditional moo juice, and the Matcha White Chocolate benefits from the bioactive compounds that naturally occur in green tea, like cancer-fighting antioxidants and fat-burning amino acids.
The Purist 100% Dark Chocolate has no added dairy or sugar to lighten up its intense bitter note—Russo, who sources fair trade cocoa from countries like Peru and Ghana, likes to break off a shard to function as a keto-friendly cracker for peanut butter and honey. Debuting Monday, Aug. 31, will be a cocoa-based morning-smoothie mix, made with 72% dark chocolate and adaptogens like moringa, maca and holy basil—a luscious and healthy energy boost to begin the day.
In the few years leading up to Russo and Miller working together to launch his eponymous confectionary in 2010, they learned to craft chocolate from the school of YouTube. Miller—who honed his dessert-making skills as a pastry chef at such vaunted restaurants like Jean-Georges and Aureole in New York—had a head start, but Russo wasn't far behind him.
The pair eventually graduated from video tutorials, fine-tuned their expertise with long hours in the kitchen and in the field on sourcing trips to what Russo calls "cocoa country" (hot and steamy equatorial locales like Guatemala, Peru, Madagascar and Hawaii). They conceptualized such crowd-pleasing flavors as Rum Raisin Milk Chocolate and Salt & Wafer, a buttermilk-based homage to the Kit Kat.
Such playfulness might be the biggest legacy that Russo brings from Nathan Miller to the Chocolate Factory, which she launched earlier this year after Miller's death in January, and which prompted her return to the Sacramento area (she now lives in West Sacramento). The Gingersnap bar is a riff on Nathan Miller's Good Food Award-winning Gingerbread bar, for example. The Chocolate Cherry Pretzel was a popular crowd-sourced flavor combination (the chocolatier takes requests from customers over social media). Russo's Strawberry Milk bar, made with freeze-dried strawberries and spiked with whiskey, is an upgrade from the Nestlé drink mix of your youth.
This summer, Russo has gone where most chocolatiers dare not tread—hot-weather home delivery. All Chocolate Factory bars—wrapped in whimsical washi paper made by Nepalese artisans—can be shipped across the country with ice packs, or, if you live in the Sacramento region, delivered to your door via contactless drop-off by Russo on Mondays and Tuesdays. Which means that you could add-to-cart now and be biting into a delicious bar choc-full of health benefits in no time. "Nothing should come between people and their chocolate," says Russo, laughing.
chelseaandthechocolatefactory.com
You Might Also Like
Is takeout safe? A UC Davis virologist shares how to stay healthy and support local restaurants
Pods Save America – Waterfront restaurants are transforming greenhouses into cozy dining rooms
A new yacht-rock bar from the team at The Snug sets sail