A New Breed of Zoo
As the city weighs the pros and cons of a far larger zoo, it's asking where, when and how much. But the most important question should be, "What do we want to build?" We offer a starting point for a conversation about conservation.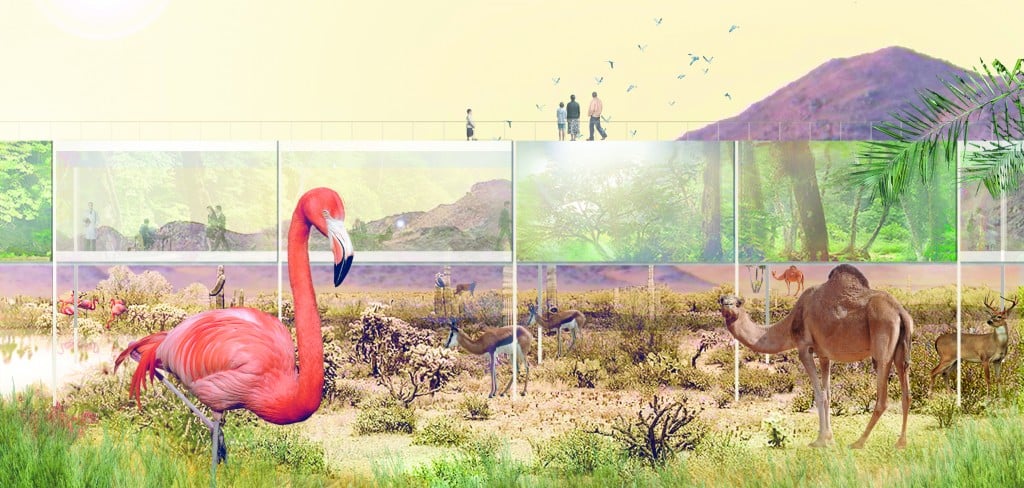 IIn May, the Sacramento City Council commissioned a six-month, $150,000 study to evaluate the best location for an all-new Sacramento Zoo—a concept floated by the management team of the zoo, which says the current site in Land Park is too small. The consultants are tasked with answering questions about size, vehicular access, marketability, return on investment and such.
Here's the problem: They're putting the cart before the zebra.
The way I see it is that, unlike a zebra, the issue of building a new American zoo isn't black and white, as many on both sides of this debate are contending.
For their part, the pro-zoo contingent has valid points: The current facility is at risk of losing its accreditation from the Association of Zoos & Aquariums because it doesn't have the infrastructure to maintain the level of care the AZA requires. They also argue that a city this size deserves a major zoological attraction that includes the species that people most want to see. And a larger zoo would be better for the animals, proponents assert, giving them more room to roam.
But the anti-zoo crowd also makes a valid case: There are more ways than ever to learn about animals today—on the internet, TV and in extraordinary films, none of which were around when the Sacramento Zoo opened in 1927. Further, times are changing, and so are modern views on animal captivity for the purposes of tourism and entertainment.
Consider this: In 2017, a poll by YouGov showed that 25 percent of respondents said they were "more opposed" to zoos than they were 10 years earlier. And within that group, the younger demographic—those 18-34 years old—the number was even higher: 34 percent. In other words, those who represent our future are growing increasingly concerned about the roles zoos play in our culture. And who exactly are we considering building a new zoo for if not future generations?
So if we're really thinking about creating a new zoo from scratch, then I think we need to be asking ourselves a different set of questions altogether:
1. What should a zoo in the 21st century look like?
2. Is there a way to elevate the focus on the needs of the animals?
3. Can we find a way for the new facility to dramatically increase its emphasis on education and conservation?
To my mind, the answers to all these questions should begin by consulting the one entity that should be at the forefront of this entire discussion: the University of California at Davis.
In February, UC Davis was once again named the best veterinary school in the United States by the QS World University rankings. In March, it was named No. 1—again—by U.S. News & World Report. (The publication rates vet schools every few years and UCD also topped the list in 1997 and 2015.)
If we're serious about building the first new major metropolitan zoo in America in over 20 years (the AZA says the last one opened in Nashville in 1997), let's do this the right way. Let's use our hometown advantage and turn to the single greatest academic institution for animal science in the country.
Yes, the Sacramento Zoo and UC Davis already have a near 50-year partnership where vet students help care for animals at the zoo. But that's not what I'm talking about. I'm suggesting a wholesale rethinking of what it means to be a modern zoo, not with the school as a consultant, but as a full-fledged partner, or perhaps (if we're not ruling anything out) even the operator.
What might that involve? It could mean a facility that is far larger than has yet been envisioned in order to give animals the space they need and to better replicate the natural habitats of their species. It could mean a zoo that doubles as a fully functioning university program. Might UCD, for example, consider moving all or part of its animal science program to Sacramento, as it did with its med school, if it meant working with animals in environments that simulated their species' native terrains?
Could the UC Davis-Sacramento Zoo alliance become the model for big cities everywhere—raising the bar for how other zoos partner with their local universities in a more comprehensive way to benefit animal species across the globe?
At least one other major zoo is already taking bold steps in that direction.
In May, the Barcelona Zoo announced that it will undertake a $73 million effort over the next 12 years to become the first "animalist" zoo in Europe. In short, it will place a far greater emphasis on education, research and conservation. That means, among other things, "groups of animals put together in accordance with their natural environment," a doubling of the zoo's budget for conservation research, and the formation of a new Biodiversity Research Institute in partnership with, yes, Barcelona's three public universities.
Inspired by the zoo's plans, a group in Spain called Archstorming held an international design competition called "Coexist: Rethinking Zoos" that yielded dozens of submissions—and ideas—from around the world on how best to reimagine a 21st-century zoo with an emphasis on animal welfare. That contest focused more on design than science, but the instinct was spot on—to start with ideas on how to do things differently—and it's an approach we should adopt here too.
To its credit, the team at the Sacramento Zoo has released some beautiful renderings for its would-be new park that show much larger animal environments, including elevated walkways for visitors and an "African savanna larger than the entire current Sacramento Zoo." There's no doubt that a bigger footprint will be better for the animals.
But to build a zoo for the future, we need to do more.
Yes, the zoo cites the role of conservation as part of its future, but its "Relocation Vision" document doesn't include one word about UC Davis. If we want to build a zoo we can be proud of in a world increasingly concerned about animal welfare, I believe we need a full-fledged partnership with the best university veterinary program in the country. Zoos around the world are at risk of becoming an endangered species if they don't evolve.
With UC Davis' participation and leadership, the goal should be no less than to build the American epicenter for wildlife conservation. As it happens, one of the greatest animal conservationists in the world, the late Dian Fossey—the renowned primatologist who gained global acclaim for her work with gorillas in Africa—was an Aggie. One idea: Perhaps the school could honor her legacy with an on-site museum that chronicles her contributions to conservation.
Not only does an animal-first model make sense from the perspective of wildlife health and welfare, but it dovetails nicely with the city's efforts to form a far stronger bond with the university. But that also means it's possible that every single location currently under consideration for a new zoo is far too small for a facility like this.
I'd love to see Mayor Darrell Steinberg and UCD Chancellor Gary May join with the zoo to kick off a summit on how best to envision the world's most forward-thinking "zoo"—or whatever other name we might come up with for it. The Zooniversity of California, perhaps? The Sacramento-UC Davis Wildlife Reserve & Sanctuary?
Imagine tapping into the vast scientific, educational and, yes, financial resources of the university to create not just another cookie-cutter zoo, but a globally recognized wildlife center that melds cutting-edge science and conservation efforts with a public component that drives tourism and educational opportunities for the children of our region.
One of the greatest resources the university can offer is its students—nearly all of them in that "more opposed" 18-to-34-year-old group that represents our future. In fact, its Graduate School of Management has a program where teams of MBA students spend months swarming real-world business problems to find actionable solutions. Why not combine the school's MBA prowess with its top-ranked animal science programs to conjure a new model for the zoo?
I strongly believe that Sacramento is in desperate need of more civic amenities—museums, attractions, parks, etc. We trail nearly every major American city on this front. But I also believe those amenities need to be unique. On a trip to San Diego a few years ago, I visited its zoo because of its reputation as one of the best in the world, but on recent trips to Houston, Memphis, Atlanta and New Orleans, it didn't even cross my mind to visit their zoos. For many people, if you've seen one zoo, you've seen them all. I don't personally believe that a newer, larger zoo will necessarily result in huge increases in tourism, unless it offers something radically different, and better.
The good news is that we do have the opportunity to create something different and better here. And we have this opportunity exclusively because of our proximity to the No. 1 veterinary program in America. We'd be fools not to capitalize on the natural resources right here in our backyard.
When Dian Fossey was found murdered in her mountain cabin in Rwanda in 1985, the last entry in her journal read: "When you realize the value of all life, you dwell less on what is past and concentrate more on the preservation of the future."
So let's stop talking in terms of simply building bigger. Now is the time to come together and start thinking bigger—about our region, our world and, yes, the preservation of the future.