A new exhibit remembers Bee editorial cartoonist Rex Babin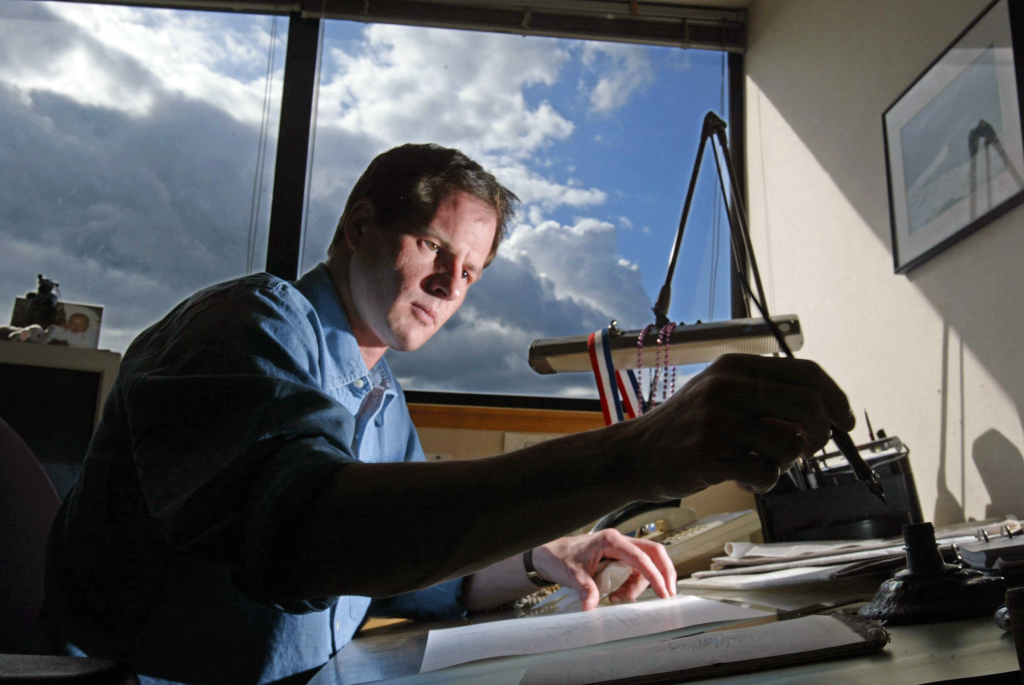 When The Sacramento Bee's Rex Babin passed away from cancer in 2012 at the age of 49, it rocked the world of editorial cartoonists.
"Rex's death was like the Kennedy assassination of American political cartooning in a lot of ways," says Jack Ohman, Babin's longtime friend who took over the cartoonist position at the Bee in 2012. "He was this young, vital guy who was there one minute… it was like, this seems so unfair and inexplicable and wrong."
During his 13 years at the paper, Babin—who was a Pulitzer Prize finalist in 2003, and was honored posthumously with the California Press Foundation's Mark Twain Award for Journalistic Excellence in 2015—drew thousands of cartoons that critiqued and poked fun at politics on the local, state and national levels, covering everything from Sacramento's homelessness crisis to Arnold Schwarzenegger's reign as governor and the Bush and Obama administrations. Now 40 of those cartoons will be on display at the California Museum from Aug. 14-Oct. 14 in the retrospective, Drawing Caleeforneeya: Political Cartoons of Rex Babin, 1999-2012.
Museum director Amanda Meeker says that when Babin's widow Kathleen approached the museum with the idea of showcasing Babin's drawings, the idea immediately resonated with her.
"His work represented the best of California's long tradition of incisive political cartoons, and brilliantly captured an era of our collective history," she says. "Anyone who lived through the Iraq War, the gubernatorial recall or California's energy crisis will immediately remember those events in vivid detail through Rex's pen and ink drawings."
Museum-goers can expect to see a selection of Babin's drawings, including a cartoon featuring the California state flag with a marijuana leaf where the star should be; a sketch of Jerry Brown in a meditative posture, sitting in a recycling bin labeled "Governor"; and a comic panel depicting Schwarzenegger as the Terminator eliminating Gray Davis in the 2003 gubernatorial recall.
Ohman, who guest-curated the exhibit, rifled through hundreds of Babin's cartoons before settling on the ones in the exhibit.
"It was very emotional," Ohman says. "Frankly, I could only look at a couple hundred and then I would have to stop. I was very close to this guy and it hurt me to look at them more than anything else on a lot of different levels. I had a very brotherly relationship with him."
The exhibit will coincide with the Association of American Editorial Cartoonists' convention—Babin served as president of the group in 2009; Ohman in 2014—which will occur in Sacramento this year from Sept. 20-23, giving Babin's former colleagues a chance to remember him through his work.
"Most people don't have a work legacy or a body of work," says Ohman. "And it's not their fault—most people aren't artists and most people aren't writers. It just so happens that people like Rex have a physical, tangible legacy and when you are able to display it in some way, you are passing their memory and legacy and their world view through their work. That's very poignant."
"Drawing Caleeforneeya: Political Cartoons of Rex Babin, 1999-2012" is on display from Aug. 14-Oct. 14 at the California Museum located at 1020 O St. Admission is $9. Museum hours are Tues.-Sat. 10 a.m.-5 p.m. and Sun. 12-5 p.m. For more information, please call 916-653-7524 or visit californiamuseum.org.
You Might Also Like
Crocker Art Museum announces architect for new Crocker Park
"Hope" poster reator to headline this year's Wide Open Walls
Why Not Here?: Let's convert our garage rooftops into creative hubs